PDF attached
USD
was 4 points lower (reversal) and WTI up 57 cents as of 7:41 am CT. US stocks are on the defensive in part to vaccine rollout concerns. US and SA weather forecast is mostly unchanged. Slower than expected start to the US corn planting season is not expected
to have that much impact on prices but drier weather ahead for the western Corn Belt and colder than normal temperatures will be talked about this week. US corn seedings advanced nicely across the Delta and lower Midwest last week. The lower Midwest will
see additional rain this week, delaying fieldwork activity. US winter wheat ratings came in at expectations. SK bought a cargo oof optional origin corn. Jordan passed on barley and SK bought feed wheat. Japan is back in for food wheat. China March soybean
arrivals were up 82 percent form a year ago.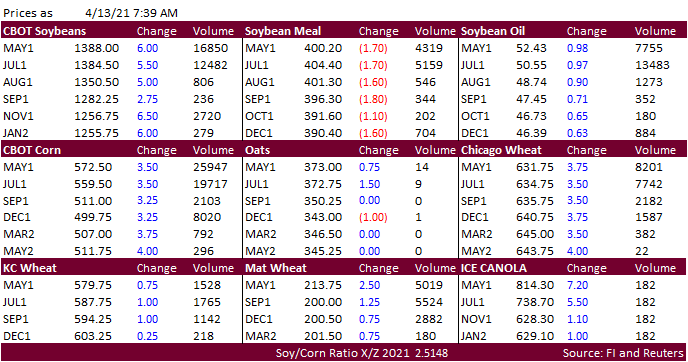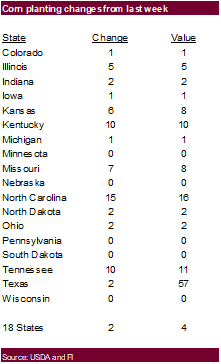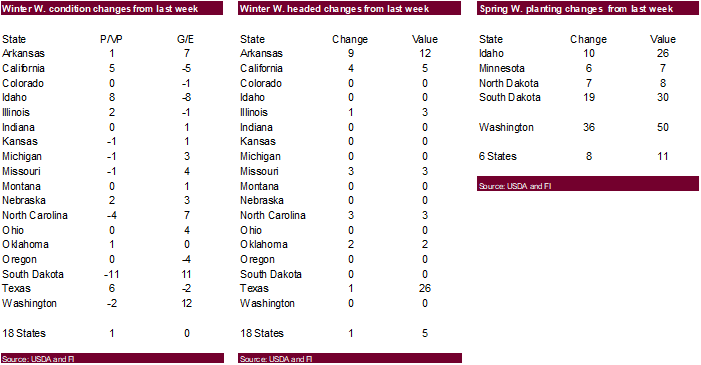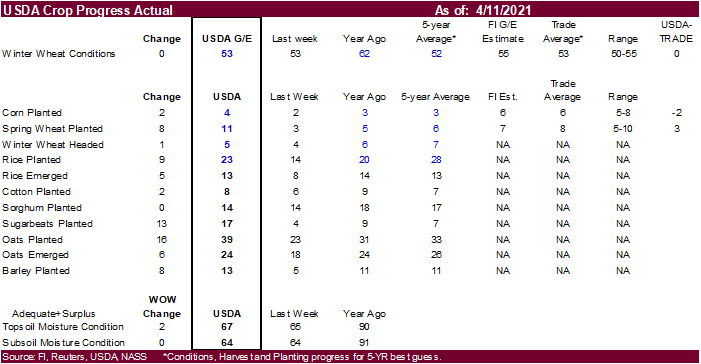 Tuesday,
April 13:
China
customs to publish trade data, including imports of soy, edible oils, meat and rubber
France's
agriculture ministry updates on 2021 crop plantings
Malaysian
Cocoa Board releases 1Q 2021 cocoa grinding numbers
HOLIDAY:
Thailand
Wednesday,
April 14:
EIA
weekly U.S. ethanol inventories, production
Unica's
data on cane crush and sugar production in Brazil's center-south region (tentative)
FranceAgriMer
monthly grains report
European
Cocoa Association's quarterly grind data (tentative)
HOLIDAY:
India, Bangladesh, Thailand
Thursday,
April 15:
USDA
weekly crop net-export sales for corn, soybeans, wheat, cotton, pork, beef, 8:30am
Malaysia's
April 1-15 palm oil export data
The
U.S. National Confectionery Association releases first quarter cocoa grinding data for North America
USDA
updates monthly North American sugar and sweeteners outlook
White
sugar May contract expires
New
Zealand food prices
HOLIDAY:
Thailand
Friday,
April 16:
ICE
Futures Europe weekly commitments of traders report (6:30pm London)
CFTC
commitments of traders weekly report on positions for various U.S. futures and options, 3:30pm
Cocoa
Association of Asia releases 1Q 2021 cocoa grinding data
FranceAgriMer
weekly update on crop conditions
Source:
Bloomberg and FI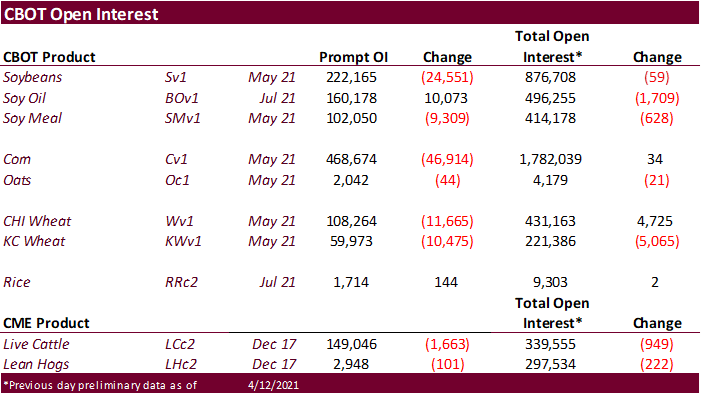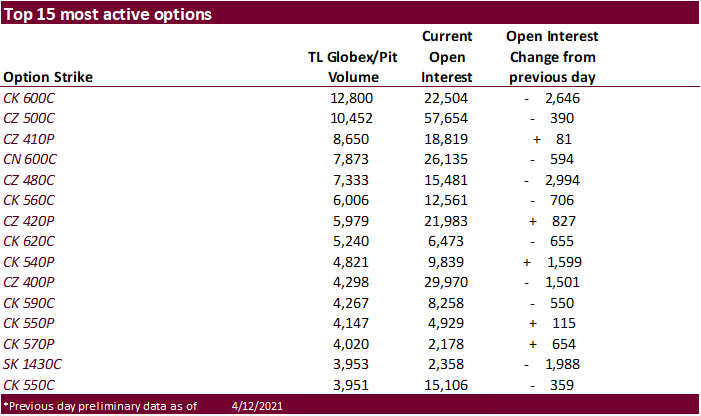 USDA
inspections versus Reuters trade range

Wheat
458,432 versus 300000-550000 range
Corn
1,584,761 versus 1200000-2100000 range
Soybeans
327,799 versus 100000-400000 range
Macro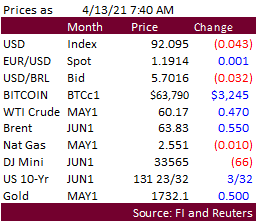 CBOT
corn
was higher led by the back months in a light trade. US corn seeding progress came in less than expected and that is supporting back month corn futures. Ongoing concerns over the Brazil corn crop may prompt major importers to book US corn.

Funds
on Monday sold an estimated net 11,000 corn contracts.
Rains
will occur across Brazil's northern Mato Grosso this week. Central Parana and western RGDS will see light rain.

Today
is day four of the "Goldman Roll."
Export
developments.
South
Korea's FLC bought 65,000 tons of optional origin corn at $296.79/ton c&f for arrival in SK in July.