PDF Attached
USDA
reported corn and soybean sales to China, Japan and unknown. The larger than expected decline in corn and soybean conditions sent futures higher. Corn hit a 6-week high. Wheat appreciated on increasing global import demand.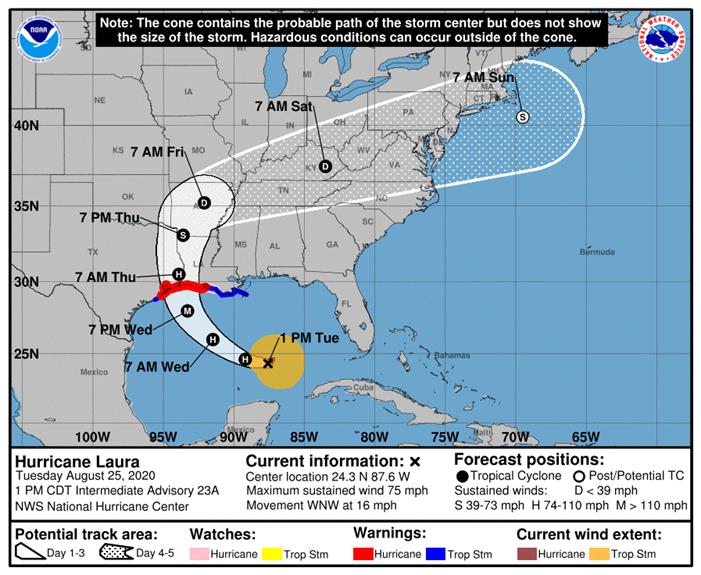 MOST
IMPORTANT WEATHER AROUND THE WORLD
Biggest
issues of concern

Tropical
Storm Laura is poised to be a viable hurricane and may induce some serious damage to the Lake Charles, Louisiana area late Wednesday and Thursday
Tropical
Depression Marco is dissipating off the coast of Louisiana
Typhoon
Bavi will be the next world issue with its strong wind and heavy rain impacting the northwest corner of North Korea and northeastern China where some flooding is expected
India's
heavy rain from Madhya Pradesh to Gujarat is over, but a new round of heavy rain and flooding will occur in the coming week from West Bengalto Madhya Pradesh as a new monsoon depression moves from the northern Bay of Bengal into Madhya Pradesh
Australia
will stay dry with concern over limited moisture in Queensland continuing

Western
Australia is drying out too
Additional
frost and a few freezes occurred in eastern winter crop areas this morning

Argentina
will get some needed rain over the next few days
Dryness
continues from eastern Ukraine into Kazakhstan and Russia's Southern Region
First
cold surge of the year is slated for western Canada late in the weekend and early next week with a possible second surge later next week
U.S.
weather will trend wetter in the Midwest briefly over the next couple of weeks to stop declining crop conditions with the Ohio River Valley getting rain first this weekend and the northwestern Corn Belt waiting until early next week for its rain

Tropical
Storm Laura still represents the greatest threat to the U.S. Gulf of Mexico Coast, although landfall is not likely before late Wednesday night or early Thursday


At
0700 EDT today, the center of the storm was 145 miles northwest of the western tip of Cuba at 23.4 north, 86.4 west moving west northwesterly at 17 mph and producing maximum sustained wind speeds of 70 mph; tropical storm force wind was occurring out 175
miles from the center of the storm
Laura
will intensify as it moves across the Gulf of Mexico during mid-week and could become a significant hurricane prior to reaching the U.S. coast late Wednesday night and early Thursday
The
storm's latest forecast path is not expected to shift much more over the next few days, but some adjustment may continue Landfall will be near the Texas/Louisiana coast, but the greatest wind, rain and flooding will be from the Lake Charles area east to Lafayette,
La.
The
storm's hurricane forecast wind speeds will likely extend outward 20-40 miles prior to landfall
Louisiana's
western coastline will be most vulnerable to the storm's fury with a notable coastal storm surge, wind speeds may surpass 100 mph and rainfall of 5.00 to 15.00 inches will accompany the storm inland
Heavy
rain will reach into the western Delta and the lower Midwest late this week and during the weekend respectively
Crop
damage is possible in western sugarcane production areas in Louisiana

Rice,
corn, sorghum and soybeans areas in the western Delta are not likely to be seriously impacted, although some rain and breezy conditions will occur

Personal
property damage will be greatest around the Lake Charles area of southwestern Louisiana

Tropical
Depression Marco was dissipating 60 miles south of Louisiana this morning

The
storm's remnants will have no serious impact on any land

Tropical
wave in the western Gulf of Campeche may follow Laura into the Texas coast this weekend with no more than scattered showers and thunderstorms expected
Typhoon
Bavi was located 197 miles northwest of Okinawa Japan at 0900 GMT today near 29.5 north, 125.5 east moving northwesterly at 8 mph while producing a maximum sustained wind speed reached 104 mph with typhoon force wind occurring out 35 miles from the center
of the storm

Tropical
storm force wind speeds were occurring out 120 miles from the storm center
Bavi
will move north northeast through the East China Sea and then into the Yellow Sea through Wednesday and then move across northeastern China into southeastern Russia Thursday and Friday

Very
heavy rain and windy conditions will impact a part of the western Korean Peninsula and into Liaoning China during the middle to latter part of this week

Damaging
wind and flooding rain could impact rice in parts of northwestern North Korea and northeastern China

Northeastern
China will receive some significant rain early this week before the tropical cyclone arrives causing the soil to be saturated before the typhoon arrives resulting in a higher than usual risk of serious flooding in Liaoning, southern Jilin and North Korea

Parts
of this region is still excessively wet from previous heavy rain further complicating the flood situation

East-central
China will experience net drying this week as Typhoon Bavi moves up the East China Sea and Yellow Sea

Totally
dry weather is not expected, but warm temperatures and quick evaporation will lead to some firming soil

The
change will be welcome after recent abundant rain

Southeastern
China will experience more frequent rainfall over the coming week ending the recent stretch of drier days that has firmed the soil in some areas after recent months of flooding
Xinjiang
China will continue to experience milder than usual conditions at times through mid-week this week with some rain expected in the northeast early through mid-week this week

Recent
temperatures have been milder than usual which may be reducing some of the degree day accumulations for cotton and other crops
Warming
is expected late this week through much of next week which may help cotton finish out in a more favorable weather environment

Flooding
on the Yangtze River will continue for a while as the region continues to drain surplus water from behind the Three Gorges Dam
India's
excessive rain event of the weekend shifted mostly into Gujarat Monday where more than 5.00 inches of additional rain fell expanding flood conditions out of Madhya Pradesh into that state

Most
of the heavy rain is now ending

India
rain in this coming week will become greatest from Odisha and West Bengal to Madhya Pradesh with amounts of 3.00 to 7.00 inches common and local totals over 10.00 inches

Some
of this region is already saturated and flooding will result causing some concern over rice, sugarcane, pulse, soybean and other crops produced in the region
Frequent
rain may impact northern India during the weekend and early next week perpetuating concern over some crop conditions

Early
maturing cotton may be opening bolls and could encounter some decline in fiber quality because of the rain in far northern India during the weekend and early next week

Tropical
cyclone development was advertised for the southern Bay of Bengal next week, but confidence is very low with impact possible in the far south of the nation in early September
Australia
experienced additional frost and a few freezes in southeastern Queensland and New South Wales this morning, but no more damage of significance than that which occurred during the weekend was suspected
Australia
rainfall over the coming week will be most significant in Victoria while most other areas in the nation are left dry

Rain
will evolve in Western Australia early next week before moving east across the remaining southern crop areas in the nation through Friday, September 4.

Queensland
still needs rain immediately to support reproduction that is expected to begin in early September

Europe
will experience alternating periods of rain and sunshine during the next ten days favoring the North and Baltic Sea regions and areas from the Alps into western Ukraine, northern Romania and western Russia

Some
relief from dryness is expected in some areas of France and Germany during this period of time, but most of the greatest rain will fall after the middle part of next week
Temperatures
will be seasonable in the west and above average in the southeast

Eastern
and southern Ukraine, Russia's Southern Region, southeastern Romania and eastern Bulgaria will continue too dry for at least another ten days, despite a few sporadic showers

Rain
is most likely from Moldova to eastern Bulgaria next week and it may bring a little relief to persistent dryness
Any
showers that occur in eastern Ukraine or Russia's Southern region will be minimal and offer little to no relief to persistent dryness

Russia's
central and eastern New Lands will receive rain periodically during the next ten days

Some
areas in the region are becoming a little too wet and need to dry down to protect small grain and sunseed quality

Argentina
is still expected to receive significant rain in a part of its winter wheat and barley production region over the next few days

Rainfall
of 0.20 to 0.70 inch will occur in many areas through Thursday with local totals of 1.00 to 2.00 inches

Wettest
in Entre Rios, the northeast half of Buenos Aires and a few immediate neighboring areas of Santa Fe

The
bottom line will be good for many winter crops, although rainfall in Cordoba will still be too light for a serious change in drought status and follow up rain will be of critical importance

There
will not be much follow up rain through September 7 – at least not in the driest areas

Brazil
rainfall this week will be confined to the upper east coast through mid-week and then alternating periods of light rain and sunshine will occur in Rio Grande do Sul during the following full week

Aggressive
corn planting is expected
Wheat
development will continue to advance well
Some
areas in Rio Grande do Sul may become too wet over time
Temperatures
will be warmer in Argentina and southern Brazil this week after last week's bitter cold

U.S.
weather

Will
be warmer than usual except in the Delta, southeastern Plains and southeastern states where readings will be closer to normal
Limited
rainfall is expected in the Midwest through mid-week this week and then wet biased conditions are likely late this week through next week

Remnants
of Tropical Storm Laura will be responsible for much this week's rain beginning late in the week and lasting through early next week in the Ohio River Basin
A
colder airmass coming into the Midwest from Canada next week will be responsible for rain at that time

Rain
will fall erratically in eastern Texas this week while the remainder of the southern and western Plains will experience restricted rainfall, warm temperatures and net drying
Heavy
rain is expected on the west side of the Delta because of Tropical Cyclone Laura and its remnants, but the heart of the Delta should miss the storm's extremes

Sugarcane
damage is expected in southwestern Louisiana

Alternating
periods of rain and sunshine are expected in the southeastern United States
Monsoonal
moisture will continue to fall in the central and southern Rocky Mountains during the coming week before diminishing next week
West
Texas may get some rain early and again late next week as a couple of frontal systems impact the region

Cooler
air advertised in Canada's Prairies and the northwestern U.S. Plains August 30-September 5 will bring down temperatures and induce a little precipitation

Some
frost or a brief bout of light freezing conditions might occur in a small part of Alberta and far northern Saskatchewan during this period


Hot
weather will continue to impact the northern U.S. Plains and southern Canada periodically early this week with additional bouts of 80- and 90-degree afternoon highs while rainfall is minimal

A
few extremes near and above 100 will occur in eastern Montana and especially South Dakota
Some
cooling will occur briefly late this week
Greater
relief should come in the Aug. 30-Sep. 6 period as a notable cool airmass arrives

Ontario
and Quebec weather is mostly good with alternating periods of rain and sunshine over the next two weeks

Temperatures
will be seasonable

South
Africa rain over the coming week will be erratically distributed over the next ten days

Eastern
winter wheat and barley areas still need a general rain to support dryland crops which represent 8% of the total crop in the region

Wetter
conditions may occur next week

Temperatures
will be warm in the east and mild in the west

Mexico
precipitation in the coming week to ten days will be greatest in western and southern parts of the nation benefiting many corn, sorghum and dry bean production areas

Coffee,
citrus, sugarcane and many fruit and vegetable crops will also benefit
Northeastern
Mexico will be mostly dry

Some
of the region is still drought stricken

Central
America rainfall will be frequent enough to support all crop needs
Southern
Oscillation Index was +5.47 this morning and it will continue positive this week
Source:
World Weather Inc.
QPF
7-day Precipitation Forecast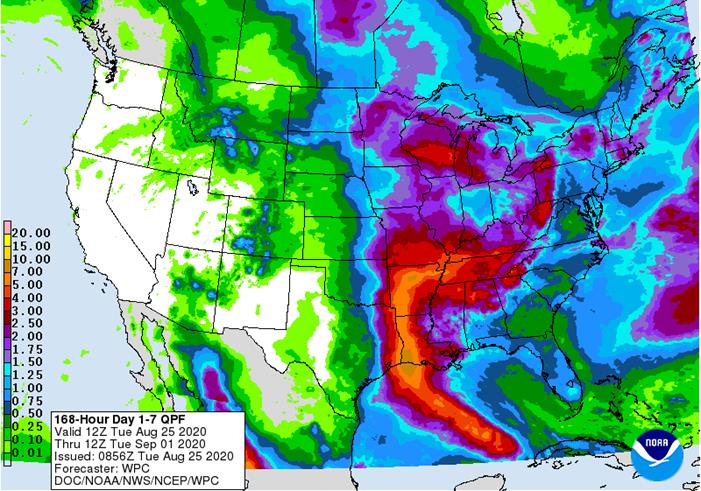 Bloomberg
Ag Calendar
TUESDAY,
August 25:
China
customs publishes country-wise soybean and pork import data
Malaysia
palm oil export data for August 1-25
WEDNESDAY,
August 26:
EIA
U.S. weekly ethanol inventories, production, 10:30am
THURSDAY,
August 27:
USDA
weekly crop net-export sales for corn, soybeans, wheat, cotton, pork, beef, 8:30am
International
Grains Council monthly report
Port
of Rouen data on French grain exports
EARNINGS:
Sime Darby Plantation
FRIDAY,
August 28:
ICE
Futures Europe weekly commitments of traders report, 1:30pm (6:30pm London)
CFTC
commitments of traders weekly report on positions for various U.S. futures and options, 3:30pm
FranceAgriMer
weekly update on crop conditions
U.S.
agricultural prices paid, received, 3pm
Source:
Bloomberg and FI
US
New Home Sales Change Jul: 901K (est 790K; prev R 791K)
–
New Home Sales (M/M) Jul: 13.9% (est 1.8%; prev R 15.1%)
September
and December corn futures gapped higher on robust US export demand and a large drop in US corn crop conditions. USDA announced 408,000 tons of corn to China and 100,000 for Japan. December corn high of the day reached $3.55, level not seen since July 10.

Funds
bought an estimate net 30,000 corn contracts.

Two
tropical storms for the US Gulf this week are expected to delay grain loadings. Gulf basis firmed yesterday on this expectation.

Brazil/Conab:

2020-21
corn crop seen at 112.9MMT
2020-21
total grain crop seen at 278.7MMT

A
Bloomberg poll looks for weekly US ethanol production to be down 2,000 at 924,000 barrels (900-940 range) from the previous week and stocks to decrease 126,000 barrels to 20.144 million.

A
Reuters poll for South Africa's corn production came in at 15.386 million tons for 2019-20, down from 15.545 estimated by the CEC in July. That includes 8.954MMT white and 6.432 million tons of yellow.

US
frozen pork inventories at the end of July came in at a nine year low of 458.902 million pounds (pork – including ribs, loins and hams), down from 460.173 million in June and 611.692 million a year earlier. China has been stepping up imports recently.

China
plans to auction off another 10,000 tons of pork from reserves on August 28. More than 500,000 tons had been sold so far this year.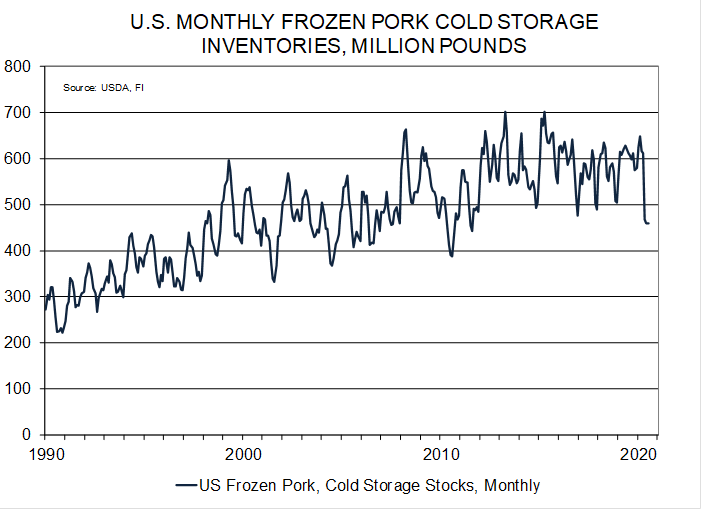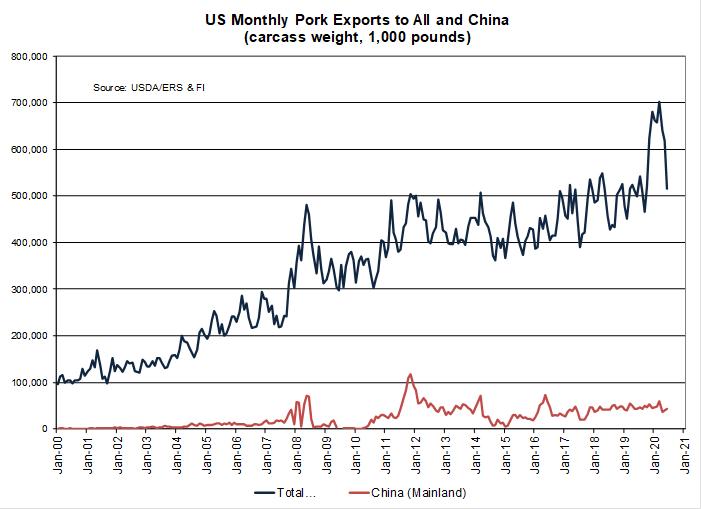 Corn
Export Developments
Under
the 24-hour announcement system, USDA reported private exporters reported to the U.S. Department of Agriculture the following activity:
–Export
sales of 408,000 metric tons of corn for delivery to China during the 2020/2021 marketing year
–Export
sales of 100,000 metric tons of corn for delivery to Japan during the 2020/2021 marketing year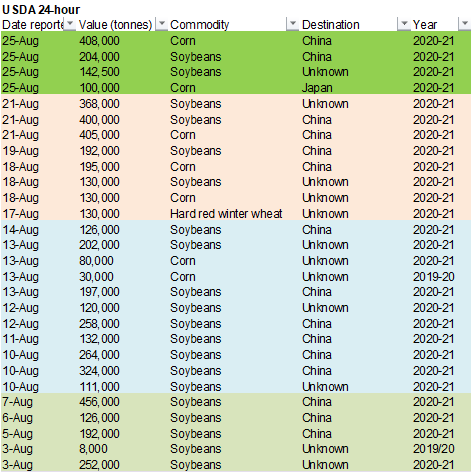 IA
corn still in better shape than TX, CO, PN, & OH.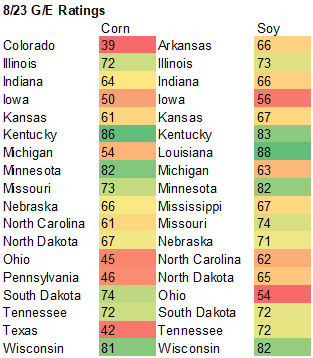 September
corn is seen in a $3.30 and $3.55 range. December $3.40-$3.75 range.
CBOT
soybeans traded sharply higher again after USDA showed a drop in US soybean crop conditions. September position was up 14 points and November up 14.50 cents. For the November, the contract reached its highest level since early March.
Soybean
meal appreciated $2.40-$3.10 per short ton. Soybean
oil stared the day session lower but rallied on higher energy prices and reversal in the overnight product spreading activity. Note the 7-day weather forecast calls for a larger coverage of rain for the US, extending westward, including parts of IA, but a
recovery in crop conditions are slim.
US/China
trade talks held Monday apparently went well. We heard China's Sinograin bought up to 12 cargoes of US beans out of the US Gulf and PNW for shipments between December and January.

Funds
bought an estimated net 15,000 contracts, bought 3,000 meal and bought 3,000 soybean oil.

September
first notice day delivery is Monday.

China
imported 8.18 million tons of Brazilian soybeans in July out of the 10.09-million-ton total. The 8.2 million tons compares to 6.42 million for July 2019 Brazil shipments to China and down from 10.51 million tons in June. US July imports totaled 38,331 tons,
down from 267,553 tons in June.
Brazil/Conab:

2020-21
soybean crop seen at 133.5MMT (USDA 131MMT vs. 126MMT for 2019-20)
NOTE
Conab revised their production figures for the last seven years.
2020-21
soybean producer sales reached 40 percent as of August, up from 20% same time year earlier.

2020-21
soybean exports projected at 86.79MMT, up from 2020 forecast of 82MMT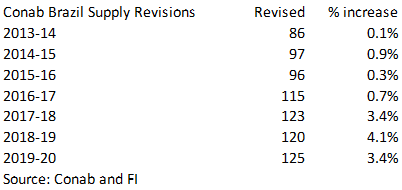 <![if !supportLists]>·
<![endif]>Malaysian Palm oil hit a 4-week low. Futures were down about 47MYR.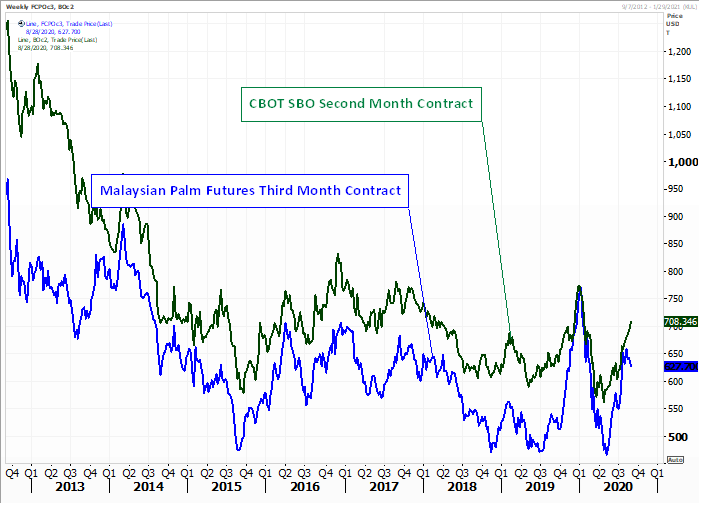 Under
the 24-hour announcement system, USDA reported private exporters reported to the U.S. Department of Agriculture the following activity:
–Export
sales of 204,000 metric tons of soybeans for delivery to China during the 2020/2021 marketing year;

–Export
sales of 142,500 metric tons of soybeans for delivery to unknown during the 2020/2021 marketing year.
Algeria
seeks 30,000 tons of soybean meal on Wednesday for shipment by September 25, optional origin.

Results
awaited: Syria
seeks 50,000 tons of soybean meal and 50,000 tons of corn on Aug 25 for delivery within four months of contract signing.
Argentina:
Biofuels Annual
The
Covid-19 pandemic is negatively impacting the Argentine biofuels sector in 2020 as long-term lockdown provisions continue to restrict the full range of personal and commercial activities. Bioethanol consumption is forecast at 880 million liters, the lowest
in five years, with capacity utilization at 55 percent. Biodiesel production in 2020 is projected to drop to 1.85 billion liters, the lowest in the past decade in response to a reduction in local and export demand. The biofuels law requiring blend mandates
for ethanol and biodiesel (the mandate for biodiesel has not held in 2020) will expire in May 2021, with ongoing discussions as to whether an extension or new law may be options under consideration by the government.
https://apps.fas.usda.gov/newgainapi/api/Report/DownloadReportByFileName?fileName=Biofuels%20Annual_Buenos%20Aires_Argentina_07-27-2020

September
soybeans are seen in a $8.85-$9.20 range. November $8.80-$9.50.
September
soybean meal is seen in a $285 to $300 range. December $285-$325.
September
soybean oil range is seen in a 31.25 to 32.25 range. December 29.75-34.00 range.

Egypt
bought 530,000 tons of Russian wheat, with 230,000 tons for October 11-20 shipment and 300,000 tons for October 21-31 shipment. They paid $213/ton fob plus $14.50 to $15.35 for freight. They last paid around $222-223/ton second week of August.

Pakistan
initially bought 210,000 tons of wheat for their import tender for up to 1.5 million tons of wheat. They paid around $233.85/ton C&F.

Lowest
offer $331/ton c&f for durum, $209 for soft wheat and $192 for feed barley: Turkey seeks 390,000 tons of red milling wheat and 110,000 tons of durum wheat on August 25. They also seeks feed barley.


Red
wheat shipment period is between Sep 4 and Oct 10
Durum
shipment period is between Sept. 15 and Oct. 10.
Feed
barley shipment period is between Sept. 11 and Sept. 25.

Jordan
seeks 120,000 tons of wheat on Wednesday for October through December shipment.

Japan
seeks 80,000 tons of feed wheat and 100,000 tons of feed barley (SBS) on August 26 for November 30 loading.

Japan
seeks 100,952 tons of food wheat this week.

Taiwan
seeks 100,645 tons of US wheat on Aug 27 for Oct/Nov shipment.
Syria
looks to sell and export 100,000 tons of feed barley with offers by Sep 1.




Syria
seeks 200,000 tons of soft wheat from EU/Russia on Sept. 9 and 200,000 tons of wheat from Russia on Sept. 14.

Results
awaited: Pakistan seeks 1.5 million tons of wheat. Lowest offer was $233.85/ton for 200,000 tons of milling wheat.

<![if !supportLists]>·
<![endif]>The two tropical storms slated for the US Gulf will not be good for unharvested rice. 17 percent of the US rice crop had been harvested as of Sunday.

Updated
8/25/20
Chicago
September is seen in a $5.10-$5.45 range. December $5.15-$5.50 range.
KC
September; $4.20-$4.60 range. December $4.35-$4.75.
MN
September $5.00-$5.30 range. December $5.10-$5.45.
Terry Reilly
Senior Commodity Analyst – Grain and Oilseeds
Futures International │190 S LaSalle St., Suite 410│Chicago, IL 60603
W: 312.604.1366
AIM: fi_treilly
ICE IM:
treilly1
Skype: fi.treilly

Trading of futures, options, swaps and other derivatives is risky and is not suitable for all persons. All of these investment products are leveraged, and you can lose more than your initial deposit. Each investment product is offered
only to and from jurisdictions where solicitation and sale are lawful, and in accordance with applicable laws and regulations in such jurisdiction. The information provided here should not be relied upon as a substitute for independent research before making
your investment decisions. Futures International, LLC is merely providing this information for your general information and the information does not take into account any particular individual's investment objectives, financial situation, or needs. All investors
should obtain advice based on their unique situation before making any investment decision. The contents of this communication and any attachments are for informational purposes only and under no circumstances should they be construed as an offer to buy or
sell, or a solicitation to buy or sell any future, option, swap or other derivative. The sources for the information and any opinions in this communication are believed to be reliable, but Futures International, LLC does not warrant or guarantee the accuracy
of such information or opinions. Futures International, LLC and its principals and employees may take positions different from any positions described in this communication. Past results are not necessarily indicative of future results.