PDF Attached
Another 132k soybeans were announced for China. Conab reported the 2019-20 soybean production at 120.9 million tons, 100,000 tons above the previous month. Exports were seen up 2 million tons to 82 million tons for 2020. Conab Brazil corn production was upward revised 1.6 million tons to 102.1 million, with the second corn crop seen at 74.9MMT, up from 73.5MMT last month and compares to 73.2 million tons for 2018-19. Egypt bought 120k Russian wheat and Syria floated an import tender for wheat.
WEATHER OF GREATEST INTEREST
A strong storm, called a derecho, brought welcome rain to some of the driest areas in and around northwestern and central Iowa Monday, but damaging winds accompanied the storm and some corn was damaged was also noted from eastern Nebraska across central Iowa and into northern Illinois.

Corn was flattened in many central Iowa locations as reported wind speeds of 75-95 mph with extremes as high at 112 mph were received

It is too soon to speculate on the extent of the damage to the corn crop as local factors could help to block damaging winds from affecting fields while other fields nearby could have been fully exposed to the wind.
Rain in the heart of the U.S. Midwest Monday was good for corn and soybeans
U.S. outlook remains very good for the next two weeks in the Midwest, Delta and southeastern states, although there will still be some pockets of dryness and crop stress

The stressed crop areas will be relatively small compared to the majority of the nation's production region
Losses in Iowa from drought and wind will be the biggest negative for the nation this year, but so many other areas have done or are doing well
Dryness will also remain a concern in parts of the Delta, but there will be some rain periodically in the coming week to offer at least a little relief
No excessive heat is expected anytime soon, although some warmer conditions are expected for a little while
West Texas will get some showers and thunderstorms this week and into early next week, but they will be brief and light failing to soak the region

Sufficient moisture will be present to help keep temperatures from becoming excessively hot

Highest temperatures this week will occur Wednesday through Saturday when readings range from 97 to 106 degrees Fahrenheit
Highest temperatures early this week will be in the 90s to 103

Temperatures will not be quite as warm late in the coming weekend or next week due to some higher relative humidity and a few showers
U.S. northwestern Plains and southwestern Canada's Prairies will not receive much rain for the next ten days favoring harvest progress for early season crops, but stressing some of the late season crops
Far western U.S. weather will be dry and warm during the next ten days as the monsoon flow remains sporadic and light
Ontario and Quebec weather is mostly good with alternating periods of rain and sunshine over the next two weeks

Recent rain bolstered topsoil moisture and removed concern over dryness
Most of eastern China will receive rain at one time or another over the next ten days to two weeks with only a few areas in the interior southeast of China getting little to no rain.

Some locally heavy rain is expected, but mostly in the second week of the outlook
Central Sichuan is the area most likely to see excessive rain over the coming week and flooding of significance may result.
Production cuts have already occurred in China this year. The extent of the losses is not known and speculation over those losses will continue for a while. The most important grain and oilseed production areas were not impacted by the worst flooding, but some losses still occurred in a small part of the North China Plain and Yellow River Basin. Rice, rapeseed and some minor corn, soybean and cotton crops were damaged by flooding in the south earlier this year. Groundnut losses could be highest out of all crops noted above.
Xinjiang, China weather during the weekend was warm and dry

Highest temperatures reached the 80s Fahrenheit northeast and the 90s to 108 in other crop areas
The region will not likely see much change in weather this week
Cotton and other crops are suspected of developing favorably, although cool conditions in the minor production areas of the northeast have reduced yields and may be delaying maturation for some crops.
Much of India's key summer crop areas will get significant rain over the next two weeks with a few areas getting a little too much moisture and some areas of local flooding will result

Central parts of the nation will likely see a notable increase in rainfall reducing the region's moisture deficits for the season to date
Some increase in rainfall may eventually reach into northern India as well
No large scale region of moisture stress is present, although northern Rajasthan into Himachal Pradesh and Jammu and Kashmir need some significant moisture
Korean Peninsula torrential rain events of late seem to be over or at least winding down

A little more heavy rain is possible in the coming week in North Korea
Damage to some rice and other crops has occurred in the past week to ten days because of excessive rain and flooding
More frequent and more abundant rain is expected in mainland areas of Southeast Asia during the coming ten days

The moisture boost will be good for rice, sugarcane, coffee and a host of other crops
Flooding rain is expected in western and southern Myanmar over the next couple of weeks
Rain continues erratic and mostly absent in Sumatra, Java and parts of Borneo in Indonesia and Malaysia

Temperatures have been ebbing warmer than usual as well
Rainfall will continue erratic and light for a while in these areas, but some slowly increasing rainfall is expected late this week through most of next week
Philippines rain recently has been bolstering soil moisture in many areas from western Luzon Island southward to northern Mindanao

Recent rainfall has been supportive of crops and little change will occur over the next ten days
Rain in Western Europe from Wednesday of this week through Wednesday of next week will be sufficient to notably ease dryness in the U.K., France, Belgium and some areas in Germany, Italy and Spain

Good model agreement is present today regarding the coming rain of significance
Eastern Europe will trend drier during the coming ten days with northeastern areas driest and east-central areas wettest
Ukraine into Russia's Southern Region and neighboring areas will continue to be quite dry over the next week to ten days

Temperatures will be warm keeping evaporation rates high and limiting the benefit of any rain that falls
Russia's New Lands will experience periods of rain through the next ten days to two weeks

Sufficient rain is expected to bolster soil moisture with some Ural Mountains region crops becoming a little too wet

Spring wheat and sunseed are advancing toward maturity and need dry and warm weather to protect grain and oilseed quality. Rain in the eastern New Lands will improve top and subsoil moisture for late season crop improvements
West-central Africa rainfall remains minimal in Ivory Coast, Ghana and Benin impacting coffee and cocoa production areas as well as some sugarcane and rice areas

Some of the dryness is not unusual for this time of year, but there has been little to no rain since early July which is unusual
No rain is expected for the next couple of weeks, but rain will resume late this month and more notably in September
South Africa rain will continue periodically in the southwest over the next couple of weeks, but most of it will be near the coast and it will not be frequent enough to seriously bolster topsoil moisture for long term crop use

Eastern winter wheat and barley areas still need a general rain to support dryland crops which represent 8% of the total crop in the region
Temperatures will be cooler than usual
Australia rainfall will overspread most of the nation at one time or another in the next two weeks

The bottom line remains a very good outlook for the nation's winter crops, although there will still need follow up rain to fix long term moisture deficits in Queensland as well as South Australia
Argentina's drought stricken wheat areas will continue mostly dry through August 20

Any showers that occur after that will continue sporadic and light into Aug. 25
Buenos Aires wheat conditions are still rated favorably along with some in southeastern Santa Fe, Entre Rios and a few areas in La Pampa. Drought continues to seriously threaten wheat production in Cordoba and Santa Fe
Southern Brazil will receive rain today through August 20 and it will be good for winter wheat, corn planting and early corn establishment

Most of the precipitation will fall in Rio Grande do Sul, Santa Catarina, Parana, Paraguay and southern Mato Grosso do Sul leaving areas to the north drier biased; including Sao Paulo and a few locations in southern Minas Gerais and Rio Grande do Sul
Dry weather is expected elsewhere in Brazil except coastal areas from Espirito Santo to Bahia where rain is expected periodically
Mexico precipitation in the coming week to ten days will be greatest in western and southern parts of the nation benefiting many corn, sorghum and dry bean production areas

Coffee, citrus, sugarcane and many fruit and vegetable crops will also benefit
Northeastern Mexico will be mostly dry

Some of the region is still drought stricken
Central America rainfall will increase this week and continue plentiful next week
New Zealand rainfall will be below average this week in South Island and above normal briefly in North Island during mid-week this week

August 19-21 is expected to trend briefly wetter in the south and drier north
Southern Oscillation Index was +4.21 this morning and it will continue positive most of this week
Tropical Storm Jiangmi dissipated in the Sea of Japan overnight

Remnants of the system will bring a little rain to Hokkaido, Japan today
Tropical Depression 06W was located 681 east of Okinawa, Japan at 26.6 north, 139.9 east moving westerly at 10mph and producing maximum sustained wind speeds of 30 mph

The storm is very small and expected to move west southwesterly over open water for the next few days while changing little in intensity
The system is not likely to impact any major landmass as a significant tropical cyclone and will move toward the southern Ryukyu Islands late this week and into the weekend
Typhoon Mekkhala (07W) moved into Fujian, China overnight and was quickly dissipating today

Some locally heavy rain and brief strong wind speeds accompanied the system inland
Little negative impact was suggested on crops, although a little flood damage was suspected to a minor amount of rice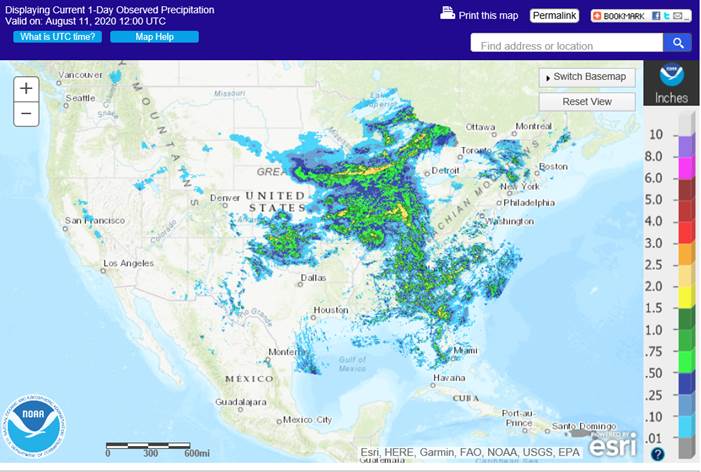 7 Day Precipitation Outlook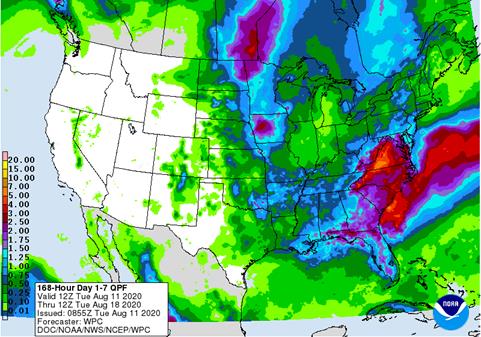 Brazil Conab releases area, production and yield data for corn, soybeans
EARNINGS: Wilmar
WEDNESDAY, August 12:
USDA's monthly World Agricultural Supply and Demand (Wasde) report, noon
China CASDE monthly crop supply and demand report
Vietnam data on coffee, rice and rubber exports in July
EIA U.S. weekly ethanol inventories, production, 10:30am
U.S. soybean, corn acreage, noon
EARNINGS: BRF, Marfrig
HOLIDAY: Thailand
THURSDAY, August 13:
USDA weekly crop net-export sales for corn, soybeans, wheat, cotton, pork, beef, 8:30am
Port of Rouen data on French grain exports
New Zealand Food Prices
EARNINGS: JBS, Olam
FRIDAY, August 14:
ICE Futures Europe weekly commitments of traders report, 1:30pm (6:30pm London)
CFTC commitments of traders weekly report on positions for various U.S. futures and options, 3:30pm
FranceAgriMer weekly update on crop conditions
EARNINGS: Golden Agri-Resources
SATURDAY, August 15:
Malaysia palm oil export data for Aug 1-15 from AmSpec
Source: Bloomberg and FI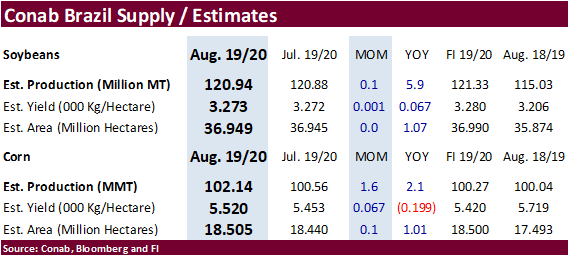 Canadian Housing Starts Jul: 245.6K (est 205K; prevR 212.1K; prev 211.7K)
US PPI Final Demand (M/M) Jul: 0.6% (est 0.3%; prev -0.2%)
US PPI Ex Food, Energy (M/M) Jul: 0.5% (est 0.1%; prev -0.3%)
US PPI Ex Food, Energy, Trade (M/M) Jul: 0.3% (est 0.2%; prev 0.3%)
US PPI Final Demand (Y/Y) Jul: -0.4% (est -0.7%; prev -0.8%)
US PPI Ex Food, Energy (Y/Y) Jul: 0.3% (est 0.0%; prev 0.1%)
US PPI Ex Food, Energy, Trade (Y/Y) Jul: 0.1% (est 0.1%; prev -0.1%)
https://twitter.com/search?q=corn%20derecho&src=typeahead_click
About 1 million residents lost power from the storm.
There was talk upward to 400 million bushels of corn could be lost and another analyst warned the national yield could slip 2.5 bu/ac or more. We think the US harvest area will decline in October but don't think the yield will decline that much if the producer claims insurance and takes the acres out of production.
Corn basis firmed 10 cents at Burns Harbor, IN, and was up 2 cents at Blair, NE. River Terminals were steady to easier. Ethanol plant location at Annawan, IL, was up 10 cents.
Conab Brazil corn production was upward revised 1.6 million tons to 102.1 million, with the second corn crop seen at 74.9MMT, up from 73.5MMT last month and compares to 73.2 million tons for 2018-19. The corn yield was revised up slightly to 5.520 tons/hectare from 5.453 last month.
AgriPac sees the new-crop Argentina corn area at 6.3-6.4 million hectares, up from their forecast for 6.0 million for 2019-20. Argentina will start corn plantings next month. Another analyst sees 6.3 million hectares, according to a Reuters story.
USD was 10 points higher as of 2:20 CT and WTI 31 cents lower.
Argentina is in talks with China to sell pork.
Corn Export Developments
<![if !supportLists]>· <![endif]>Israel seeks on July 20 seeks about 200,000 tons of corn and 350,000 tons of soybean meal.
<![if !supportLists]>· <![endif]>Taiwan's MFIG on August 13 seeks up to 65,000 tons of optional origin corn for October 28-Nov 16 shipment. Egypt is in for wheat.

Updated 8/10/20
September corn is seen in a $3.05 and $3.35 range. December lows could reach $2.95. The US is staring down at a large crop.
The soybean complex traded mixed. Positioning ahead of USDA's initial survey of the 2020 US soybean supply kept prices in a tight trading range. Soybean oil saw pressure much of the day after palm futures shed another 2 percent overnight. Soybeans ended higher in the nearby contracts and lower in the deferred. US soybean conditions saw an improvement, offset by additional Chinese import demand. Under the 24-hour reporting system, private exporters reported 132,000 tons of soybeans for delivery to China for 2020-21 shipment.
Soybean meal ended lower.
Conab reported the 2019-20 soybean production at 120.9 million tons, 100,000 tons above the previous month. Exports were seen up 2 million tons to 82 million tons for 2020.
Paraguay, Argentina, and Brazil co-own the Itaipu and Yacyreta dams along the Parana River. They released water from the dams today, second time this year, that will allow 115,000 tons of Paraguayan grains to set sail down river for export and allow upriver transportation of fertilizer and petroleum products. They had to discharge water in May from low water levels.
We heard China bought up to 5 US Oct/Nov soybean cargoes out of the Gulf and one from the PNW, along with up to 6 Q1 2021 Brazilian soybeans.
The third month palm futures contract fell 66 points and cash was down $11.50/ton. China vegetable oil prices were up 0.2-0.5 percent, meal unchanged and soybeans up 16 yuan or 0.3%.
<![if !supportLists]>· <![endif]>Under the 24-hour reporting system, private exporters reported 132,000 tons of soybeans for delivery to China for 2020-21 shipment.
<![if !supportLists]>· <![endif]>Israel seeks on July 20 seeks about 200,000 tons of corn and 350,000 tons of soybean meal.
NOPA. We are hearing downtime during July was larger than June and much larger than July 2019.

Updated 8/10/20
September soybeans are seen in a $8.50-$8.90 range.
September soybean meal is seen in a $275 to $295 range.
September soybean oil range is seen in a 29.75 to 31.75 range.
Egypt bought 120,000 tons of Russian wheat for Sep 25-Oct 5 shipment at $205.50/ton plus $14.10 freight. Payment will be at sight.
Syria seeks 200,000 tons of soft wheat from Russia on Sept. 14.
Jordan seeks 120,000 tons of optional origin wheat on August 12 for Nov-Dec shipment. Lowest offer was $205.90 for Russian wheat.
<![if !supportLists]>· <![endif]>The World Food Program plans to send 50,000 tons of wheat to Lebanon.
Pakistan seeks 1.5 million tons of wheat on August 18.
Syria looks to sell and export 100,000 tons of feed barley with offers by Sep 1.
<![if !supportLists]>· <![endif]>Mauritius seeks 6,000 tons of white rice on August 17 for October through December delivery.
<![if !supportLists]>· <![endif]>South Korea's Agro-Fisheries & Food Trade Corp. seeks 60,556 tons of rice from Vietnam and other origins, on Aug. 19, for arrival in South Korea between Dec. 31, 2020, and February 28, 2021.
Updated 8/5/20
Chicago September is seen in a $4.95-$5.40 range.
KC September; $4.10-$4.55 range.
MN September $4.9Z0-$5.40 range.
Terry Reilly
Senior Commodity Analyst – Grain and Oilseeds
Futures International │190 S LaSalle St., Suite 410│Chicago, IL 60603
W: 312.604.1366
AIM: fi_treilly
ICE IM: treilly1
Skype: fi.treilly
Trading of futures, options, swaps and other derivatives is risky and is not suitable for all persons. All of these investment products are leveraged, and you can lose more than your initial deposit. Each investment product is offered only to and from jurisdictions where solicitation and sale are lawful, and in accordance with applicable laws and regulations in such jurisdiction. The information provided here should not be relied upon as a substitute for independent research before making your investment decisions. Futures International, LLC is merely providing this information for your general information and the information does not take into account any particular individual's investment objectives, financial situation, or needs. All investors should obtain advice based on their unique situation before making any investment decision. The contents of this communication and any attachments are for informational purposes only and under no circumstances should they be construed as an offer to buy or sell, or a solicitation to buy or sell any future, option, swap or other derivative. The sources for the information and any opinions in this communication are believed to be reliable, but Futures International, LLC does not warrant or guarantee the accuracy of such information or opinions. Futures International, LLC and its principals and employees may take positions different from any positions described in this communication. Past results are not necessarily indicative of future results.