This is definitely of interest with the west already facing low hydro level. PG&E doesn't typically cycle this gas (the did not the past 2 years), but it's a meaningful amount of gas that will not be available.
Our initial thinking is that this will show up as a reclass on the EIA storage number next week.
Here is the notice and link: www.pge.com/pipeline/news/newsdetails/index.page?title=20210610_2445_news
Modified PG&E Total Gas in Storage
Thursday, June 10, 2021
The 2019 Gas Transmission and Storage (GT&S) Rate Case Final Decision (D.) 19-09-025, issued on September 23, 2019, adopted the Natural Gas Storage Strategy (NGSS) that substantially changed PG&E's gas storage asset holdings, its operational functions and CGT's role in the market. As part of the NGSS, the Commission adopted PG&E's proposal to reclassify 51,098 MMcf of PG&E owned gas from working gas to cushion gas (or base gas). Under the NGSS, PG&E's working gas capacity is approximately 52,460 MMcf. PG&E is changing the reporting of the storage inventory level to be consistent with this change in working gas capacity. Beginning with the actual data for June 11, 2021, PG&E Total Gas in Storage inventory numbers will reflect the reduction in current inventory of the reclassified 51,098 MMcf to cushion gas. The current inventory of PG&E Total Gas in Storage and Storage Activity Archives will be adjusted going forward and can be found on the Pipe Ranger Operations page
________________________________________________________
PG&E storage is currently 75 Bcf full, out of the 102 Bcf capacity. So PG&E working gas after the change would show up as ~50 Bcf lower.
This from PG&E website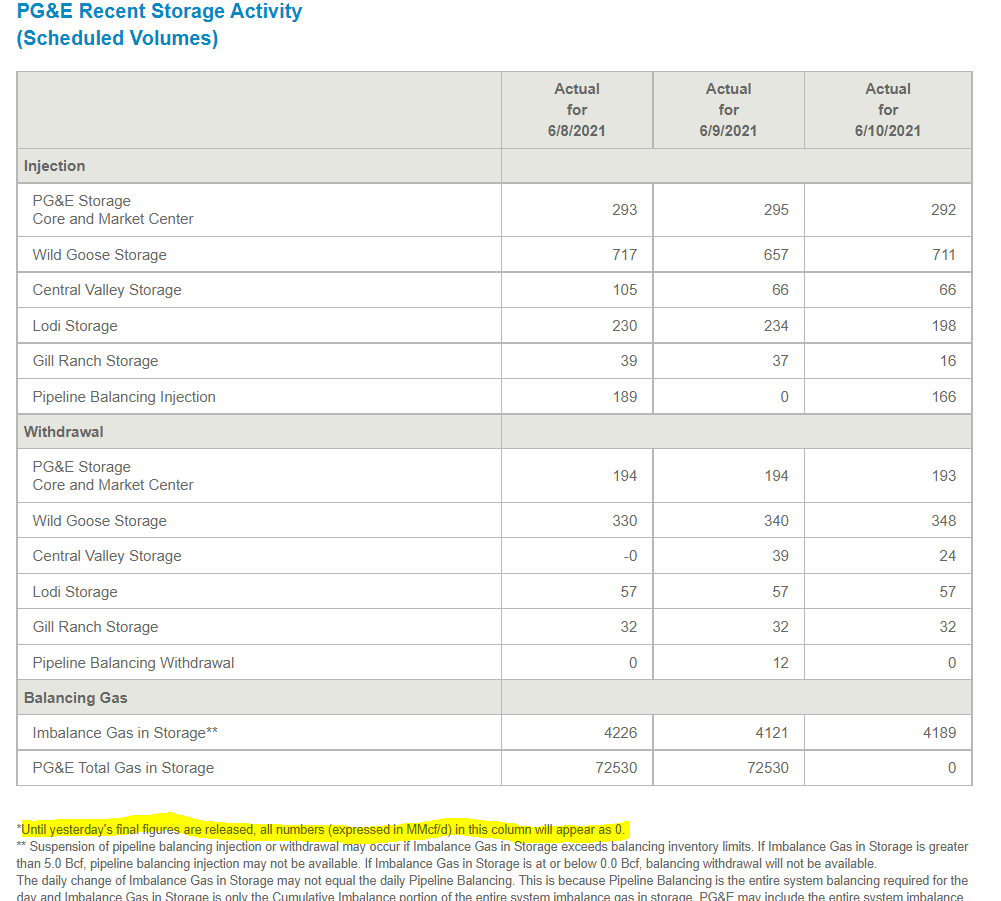 This from the EIA
| | | | | | | | |
| --- | --- | --- | --- | --- | --- | --- | --- |
| Reservoir Code | Company Name | Field Name | Reservoir Name | Field Type | County Name | Base Gas | Working Gas Capacity(Bcf) |
| 2 | PACIFIC GAS AND ELECTRIC COMPANY | MCDONALD ISLAND | MCDONALD | Depleted Field | San Joaquin | 54.6 | 82.0 |
| 3 | PACIFIC GAS AND ELECTRIC COMPANY | PLEASANT CREEK | PETERS | Depleted Field | Yolo | 5.1 | 2.3 |
| 1 | PACIFIC GAS AND ELECTRIC COMPANY | LOS MEDANOS | DOMENGINE | Depleted Field | Contra Costa | 11.2 | 17.9 |
| | | | | | | 70.8 | 102.2 |
This email, any information contained herein and any files transmitted with it (collectively, the Material) are the sole property of OTC Global Holdings LP and its affiliates (OTCGH); are confidential, may be legally privileged and are intended solely for the use of the individual or entity to whom they are addressed. Unauthorized disclosure, copying or distribution of the Material, is strictly prohibited and the recipient shall not redistribute the Material in any form to a third party. Please notify the sender immediately by email if you have received this email by mistake, delete this email from your system and destroy any hard copies. OTCGH waives no privilege or confidentiality due to any mistaken transmission of this email.