---
From:
research
Sent:
Sunday, June 07, 2020 10:01:51 AM (UTC-06:00) Central Time (US & Canada)
To:
research
Subject:
Weekend Market Report – June 7, 2020
A steep decrease in U.S. LNG export will likely ripple through the US natural gas market this summer as the coronavirus pandemic continues to hit global demand. With the onset of June, we saw deliveries drop to a low of 3.6 Bcf/d with a small recovery by the end of the week.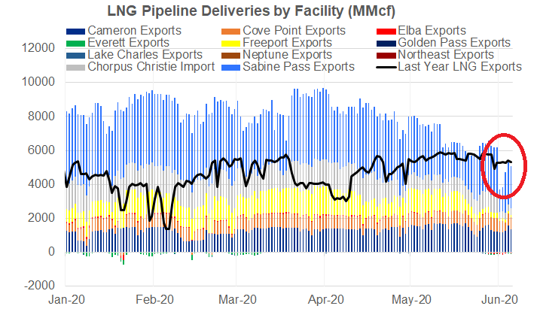 We were already expecting LNG cargo cancellations, but the current LNG delivery level indicates a deeper level of cancellations. Poten & Partners forecast US LNG exports will total 2,350 Bcf (6.4 Bcf/d average or 49 million tonnes), reflecting a shut-in of about 432 Bcf (1.2 Bcf/d average or 9 million tonnes per annum) in 2020. Poten noted 33 U.S. LNG cargo cancellations for June, with an expectation of 20 cancellations per month through October. This was from mid-May, and therefore it's a good chance they bumped those cancellations up)
ICIS released a note on Thursday painting a gloomier picture. They noted 39 cargo cancelled for July, and used that to make further downward revisions to the August and September outlook. The majority of the cargoes will are expected to be cancelled from the Gulf Coast LNG plants.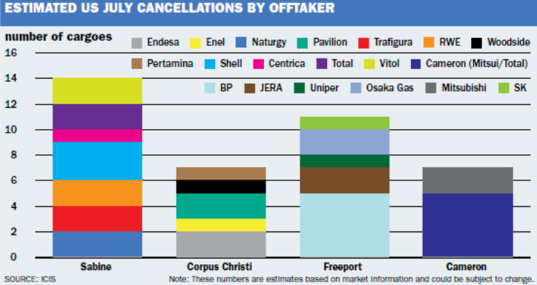 The bad LNG economics help explain the cancellation. Current spreads to European and Asian markets don't entice LNG movement from the Gulf Coast.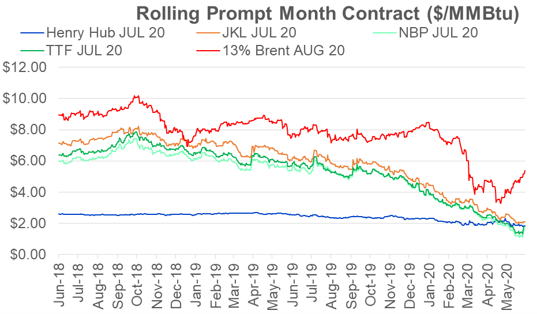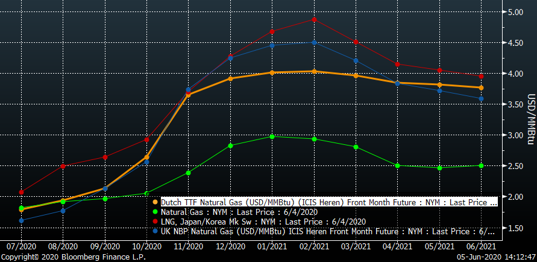 This week there was also chatter about potential LNG imports. There were two specific tankers with US ports listed as their destination. Interestingly, both these tankers were flowing partial laden based on the draught – so half full.
The 1st tanker – The British Diamond set sail from the Netherlands with Sabine noted as it destination earlier this week. As can be seen from the ship path below (from ClipperData), the LNG tanker has since changed its destination to Livorno, Italy. It is expected to arrive there on June 7th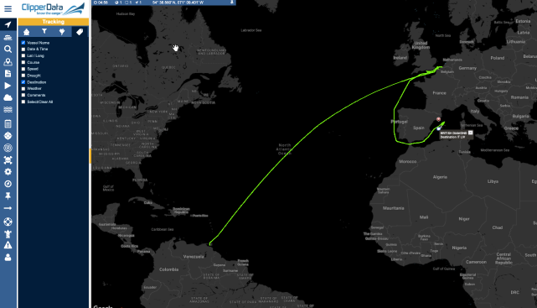 See the live location on Marine Traffic: https://www.marinetraffic.com/en/ais/details/ships/shipid:192939/mmsi:235060455/imo:9333620/vessel:BRITISH_DIAMOND
The 2nd tanker – The Kinisis is enroute from Trinidad to Cove Point. ClipperData noted that its likely the LNG tanker does dock at Cove Point, but to pick up more gas rather than discharge.
See the live location on Marine Traffic: https://www.marinetraffic.com/en/ais/home/shipid:5627341/zoom:10
It's not typical for a LNG tankers to flow without a full cargo, but it has been observed before.
Although regasification is possible at all US facilities (except at Corpus Christie) – logistically there are a lot of hurdles to make this happen. The more likely solution is cargo swaps, where a cargo bought at sea is used to fulfill a contracted delivery rather than liquefaction new gas. This seems like what happened with the British Diamond cargo.
Here are how the economics look for potential imports. I ran the BNEF LNG calculator with potential sources that could economically flow to the US – at this time cargos from Malaysia or Australia do not make sense due to the long journey and canal tolls. I also ran a case of flowing from the US Gulf Coast up to Everett (even though the Jones Act prohibits that) – to show if this could be a economic route.
This first chart shows variable costs only (liquefaction costs are assumed to be sunk) to ship from each the listed ports to Everett,

The chart below shows the netback (P/L) economics to flow from each of those destinations based on the futures prices. As can be seen, cargos from Trinidad and Qatar are in the money over the next 12 months. Trinidad economics work due the short distance, while Qatar works due to very lower source gas cost.
It should be noted that Gulf Coast to Everett does make sense in the Winter months.

Lastly, we should mention that LNG tanker traffic is likely to be disturbed with TS Cristobal travelling right through production platforms into the Lafayette, LA. The intensity of the storm isn't expected to damage any plants, but ships have been diverted until the storm passes.
Fundamentals for week ending June 5: Our early view for the upcoming storage report is a +101 Bcf injection for the lower 48. This would take storage levels to 2813 Bcf

US natural gas dry production is higher week-on-week with domestic production averaging 84.5 Bcf/d for the week. Average weekly production is 0.8 Bcf/d lower than 4 weeks ago.

Natural gas demand moved higher last week as weather patterns continued to turn warmer. Residential and commercial sector consumption increased modestly by 0.3 Bcf/d, but power consumption rose by 1.7 Bcf/d.
Canadian imports were lower last week averaging 4.2 Bcf/d.
Mexican exports stayed flat to average 5.4 Bcf/d.
Deliveries to LNG facilities decreased week-on-week to 5.1 Bcf/d.
Expiration and rolls: UNG ETF roll starts on June 12th and ends on June 17th.
July futures expire on June 26th, and July options expire on June 25th
This email, any information contained herein and any files transmitted with it (collectively, the Material) are the sole property of OTC Global Holdings LP and its affiliates (OTCGH); are confidential, may be legally privileged and are intended solely for the use of the individual or entity to whom they are addressed. Unauthorized disclosure, copying or distribution of the Material, is strictly prohibited and the recipient shall not redistribute the Material in any form to a third party. Please notify the sender immediately by email if you have received this email by mistake, delete this email from your system and destroy any hard copies. OTCGH waives no privilege or confidentiality due to any mistaken transmission of this email.