---
From:
Terry Reilly
Sent:
Monday, June 01, 2020 10:42:58 AM (UTC-06:00) Central Time (US & Canada)
Subject:
GRAINS INSPECTED AND/OR WEIGHED FOR EXPORT 06/01/20 w/ PDF
PDF attached
USDA inspections versus Reuters trade range
Wheat 499,353 versus 350000-600000 range
Corn 1,128,091 versus 800000-1200000 range
Soybeans 396,387 versus 350000-600000 range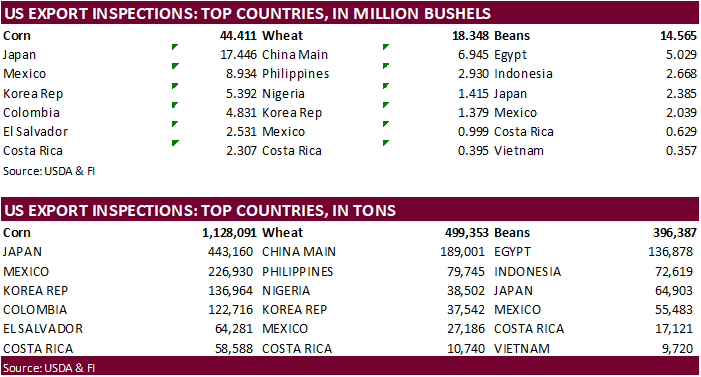 WA_GR101
Washington, DC Mon Jun 1, 2020 USDA Market News
*CORRECTIONS AT BOTTOM OF REPORT ARE INCLUDED IN CURRENT MARKET YEAR TO DATE*
COUNTRY OF DESTINATION IS REPORTED AS KNOWN AT THE TIME OF EXPORTATION.
INFORMATION CONTAINED IN THIS REPORT REFLECTS EXPORTED GRAIN INSPECTED AND
WEIGHED THROUGH THE AUTHORITY UNDER THE U.S. GRAIN STANDARDS ACT.
NO ADDITIONAL ANALYSIS, COMPILATIONS OR DATA IS AVAILABLE.
GRAINS INSPECTED AND/OR WEIGHED FOR EXPORT
REPORTED IN WEEK ENDING MAY 28, 2020