---
From:
Terry Reilly
Sent:
Friday, May 29, 2020 6:02:46 PM (UTC-06:00) Central Time (US & Canada)
Subject:
FI Evening Grain Comments 05/29/20
PDF attached
MARKET
WEATHER MENTALITY FOR CORN AND SOYBEANS: U.S. planting weather will improve with drier and warmer conditions in the coming week. Faster crop development is also anticipated. In South America, conditions have not changed much and Brazil's second season corn
crop will continue to fill and mature into early June under mostly favorable conditions.

Harvest
weather is advancing well in Argentina and the planting outlook for Australia is fair to good, although greater rain is needed in many canola production areas. There is also need for rain in central and eastern portions of Saskatchewan while planting delays
due to too much rain continue in parts of western Alberta.
Central
and parts of northern China need rain for some of its unirrigated coarse grain and oilseed production areas and not much is expected for a while.

Europe's
dryness in the southeast has been largely eliminated in recent weeks along with dryness in Ukraine, but northwestern parts of the continent continue to dry out. Rain in France and Germany is needed soon to protect summer grain and oilseed production potentials.

Weather
today will likely have a mixed influence on market mentality.
MARKET
WEATHER MENTALITY FOR WHEAT: Concern about Black Sea and eastern CIS New Lands' dryness continues to ease. The only areas that will experience serious dryness will be in Kazakhstan and the lower Volga River Valley, although some areas in the southeastern
New Lands will also experience some crop moisture stress until greater rain evolves. The southeastern New Lands will get some rain next week.

Northwestern
Europe's dry bias remains a concern for some of its small grain crops and a close watch on the situation is warranted. Little to no rain is expected in the U.K., northern France and northern Germany for at least another week. Rain in Eastern Europe and the
western CIS will be great for their small grains.
Rain
in Australia will be limited to southern coastal areas only during the coming week to ten days which may raise some concern for interior crop areas as time moves along. South Africa still needs rain in its wheat areas as does western and some southern Argentina
crop areas.
Some
wheat damage may have occurred from flooding rain in interior southern Brazil late last week, but the lighter rain in Sao Paulo, Paraguay and Mato Grosso do Sul was very good for those crops. Conditions are expected to improve in southern Brazil, but additional
rain coming up soon will disrupt the drying process.
China's
winter wheat crop has performed well. Dryness occurring now is expected to spur on faster crop maturation and eventual harvesting. Spring grains in northeastern China have benefited greatly from recent rain and crop conditions have improved.

Canada's
Prairies are too wet in the west and a little too dry in portions of central and eastern Saskatchewan and west-central Manitoba. Changes in Canada are at least a full week away with rising crop stress in the dry areas of Saskatchewan and west-central Manitoba.
Ontario and Quebec are experiencing better wheat development conditions, although recent heat has accelerated drying trends.

Heat
and dryness are now slated for the western U.S. high Plains region through the next week to ten days. This will stress immature crops that are unirrigated resulting in some lower yield and grain quality. The more mature crops will be sped faster to full maturity
by the heat. Recent rain in Nebraska and northern Kansas was good for wheat development and yield.

U.S.
spring wheat planting and establishment is advancing well. Some rain would be welcome, but the drier areas may not get much until late next week.

Overall,
weather today may provide a mixed bias to market mentality.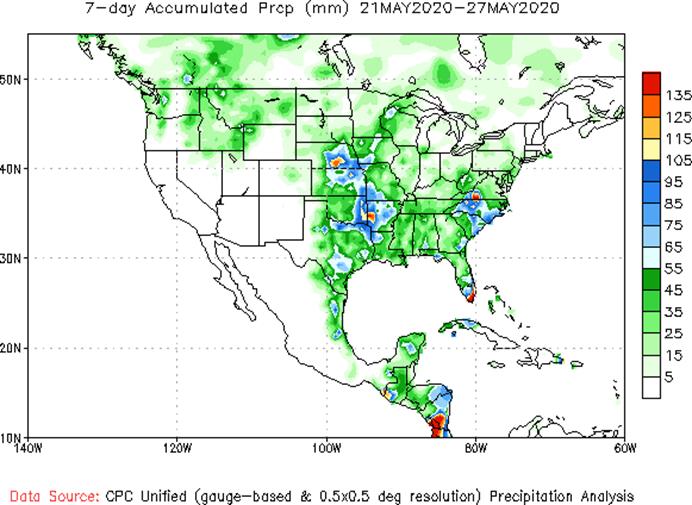 FRIDAY,
May 29:
ICE
Futures Europe weekly commitments of traders report on coffee, cocoa, sugar positions
CFTC
commitments of traders weekly report on positions for various U.S. futures and options, 3:30pm
FranceAgriMer
weekly update on crop conditions
USDA
weekly crop net-export sales for corn, soybeans, wheat, cotton, 8:30am
U.S.
Agricultural prices paid, received, 3pm
Vietnam's
General Statistics Office releases data on coffee, rice, rubber exports in May
Shanghai
exchange's weekly commodities inventory
MONDAY,
June 1:
International
Coffee Organization to hold virtual meeting of International Coffee Council, June 1-5
USDA
weekly corn, soybean, wheat export inspections, 11am
U.S.
crop progress — corn, soybean plantings, winter wheat conditions, 4pm
International
Cotton Advisory Committee releases monthly market balance outlook
USDA
soybean crush, DDGS production, corn for ethanol, 3pm
Honduras
and Costa Rica May Coffee Exports
Malaysia
palm oil export data for May 1-31
Australia
Commodity Index
Ivory
Coast cocoa arrivals
Brazil
soybean exports
HOLIDAY:
Germany, Italy, Belgium, New Zealand
TUESDAY,
June 2:
U.S.
Purdue Agriculture Sentiment, 9:30am
New
Zealand global dairy trade auction
EU
weekly grain, oilseed import and export data (delayed because of holiday)
WEDNESDAY,
June 3:
EIA
U.S. weekly ethanol inventories, production, 10:30am
China's
CNGOIC to publish monthly forecast on crop output, supply and demand
EARNINGS:
Tereos
THURSDAY,
June 4:
USDA
weekly crop net-export sales for corn, soybeans, wheat, cotton, 8:30am
FAO
world food price index, 4am
Port
of Rouen data on French grain exports
New
Zealand commodity price
FRIDAY,
June 5:
ICE
Futures Europe weekly commitments of traders report on coffee, cocoa, sugar positions
CFTC
commitments of traders weekly report on positions for various U.S. futures and options, 3:30pm
FranceAgriMer
weekly update on crop conditions
Malaysia's
palm oil export data for June 1-5
Source:
Bloomberg and FI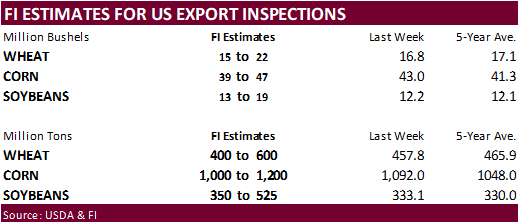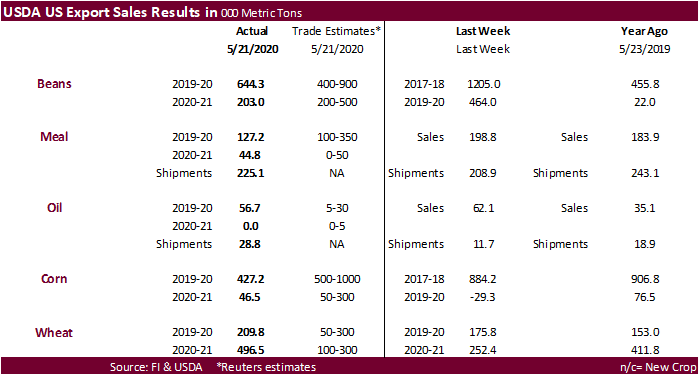 ·
Corn futures
closed
lower today following gains this week. Hot and dry weather seems to be a catalyst to this week's gains, but with most of the corn sown in moist soil, the heat will act as a greenhouse for the growing corn and should improve conditions on Monday afternoon.

·
Corn futures are seeing their best weekly gain in 6 months and best month performance in 9 months.
CFTC
Commitment of Traders Report showed that corn speculators increased their net short position by 22,355 contracts to 312,459 for the week ending May 26.
Funds
were net sellers of 12,000 corn contracts on the session.
·
China sold 4 million tons of corn on Thursday at an average price of 1,765 yuan per ton.

·
(Reuters) – China may reduce its imports of agricultural products from the United States if Washington issues a severe response to Beijing's push to impose national security laws on Hong Kong, three sources
said.
·
USDA export sales for corn of 427,200 tons were below expectations and down from 884,200 tons previous week.

Under
the 24-hour reporting system, private exporters sold 101,600 tons of corn to unknown for 2019-20 delivery.