---
From:
Terry Reilly
Sent:
Tuesday, May 19, 2020 5:02:02 PM (UTC-06:00) Central Time (US & Canada)
Subject:
FI Evening Grain Comments 05/19/20
PDF attached
US
ag markets were mixed. USD traded lower. US stocks fell towards the end of the session. WTI traded higher. Jordan passed on wheat. Japan is in for food wheat this week.


USDA
announced their Coronavirus Food Assistance Program
https://www.farmers.gov/cfap/non-specialty

Threat
of La Nina occurring during the Northern Hemisphere summer growing season remains low.

SST's
were near zero by the beginning of May.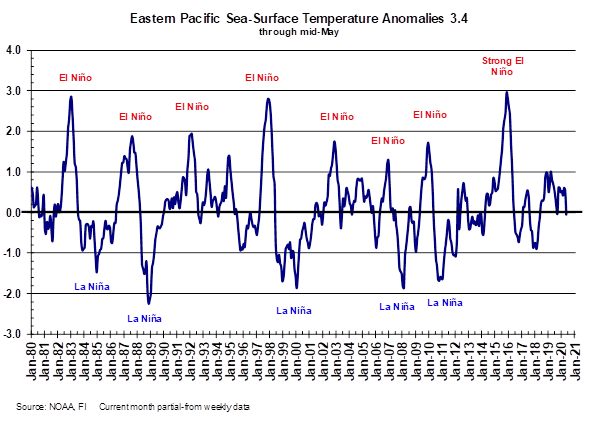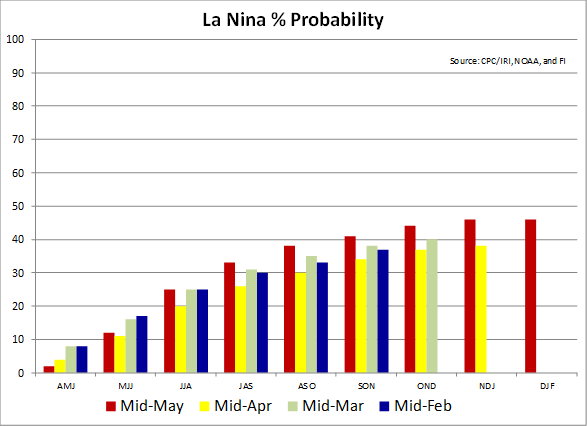 MARKET
WEATHER MENTALITY FOR CORN AND SOYBEANS:


A little more delay is expected in the eastern U.S. Midwest planting this week due to rain and mild temperatures. Rain a part of the northwestern Corn Belt during the weekend was good for areas that had been drying out, but more rain is needed in those areas.

Better
than expected rainfall in a part of the southeastern U.S. states this week will improve crop conditions in many areas.
Rain
in western Canada's Prairies this week will stall spring fieldwork Wednesday into Friday while weather in the east will be dry and warm favoring spring planting progress. More rain in Ontario, Canada this week will keep fieldwork on hold for corn and soybean
production areas. Next week looks drier and warmer.
Brazil
and Argentina weather will not change much over the coming ten days and that should translate into ongoing good western Safrinha crop conditions in Brazil while conditions in the east are quite varied leaving many areas in need of rain. Harvesting in Argentina
may be briefly delayed by rain Wednesday and Thursday.
Good
harvest weather is expected in South Africa and India. Crop planting and establishment in China is expected to advance favorably.

Hot
and dry weather in the southern Balkan Countries during the weekend stressed some corn and soybean crops by depleting soil moisture. Temperatures were cooler Monday, but conditions were still dry.

Rain
in Ukraine and a part of Russia's Southern region this week will be welcome, but more rain will be needed near the Black and Caspian Seas
Western
and northern Europe will be drying out this week. Crop stress is expected in Germany, northern France, the United Kingdom and parts of western Spain.

Overall,
today will likely provide a mixed influence on market mentality.
MARKET
WEATHER MENTALITY FOR WHEAT: Weather
conditions around the world changed little overnight. Dryness remains in the southwestern U.S. Plains and in some areas near the Black Sea and developing in northern Europe. Dryness was also continuing in Western and South Australia with little potential for
greater rainfall this week.

Some showers may impact Queensland and far northern New South Wales, Australia briefly this week, but much more rain will be needed to induce the best autumn planting. Western Australia may receive some rain Sunday into Monday and that too will be welcome.

Small grain crops in Europe and the western CIS vary greatly from one location to another. Crops in northern France, the United Kingdom, Germany and the Balkan Countries need more rain. Portions of Kazakhstan, parts of Russia's Southern region and areas near
the Black Sea in southern Ukraine also need rain along with the southwestern U.S. high Plains region.


Canada's Prairies planting has been advancing favorably while wheat development in Quebec and Ontario should begin improving this week due to warmer temperatures. A storm in Alberta and western Saskatchewan Wednesday into Friday will stall farm progress.


Rain is needed in Argentina and South Africa to support planting.

Overall, weather today is expected to have a mixed influence with some bullish bias.
Source:
World Weather Inc. and FI
Seven-day
outlook: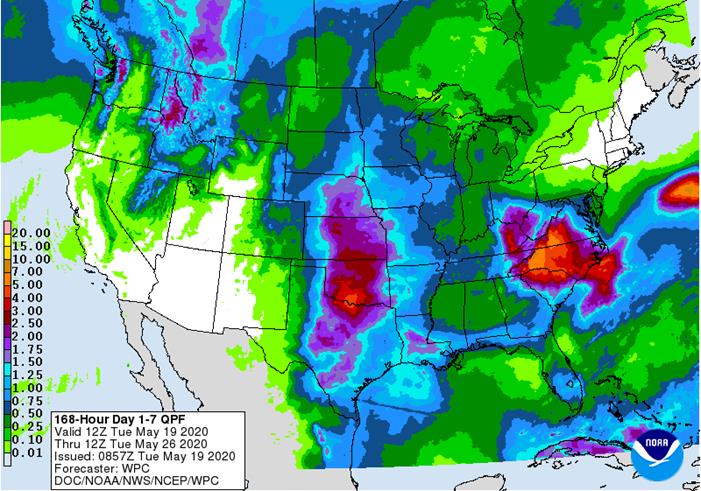 TUESDAY,
May 19:
Brazil's
Conab releases 2nd estimate for 2020 coffee crop, Sao Paulo
Deadline
for the Australian government to deliver its final defense against a Chinese anti-dumping probe into the country's exports of barley
New
Zealand global dairy trade auction
WEDNESDAY,
May 20:
EIA
U.S. weekly ethanol inventories, production, 10:30am
EU
set to present its Farm to Fork strategy for sustainable food
New
Zealand food prices, 6:45pm ET Tuesday
Malaysia's
palm oil export data for May 1-20
USDA
milk production, 3pm
THURSDAY,
May 21:
USDA
weekly crop net-export sales for corn, soybeans, wheat, cotton, 8:30am
Port
of Rouen data on French grain exports
USDA
red meat production, 3 pm
U.S.
cold storage – pork, beef, poultry
HOLIDAY:
France, Germany, Belgium, Indonesia
FRIDAY,
May 22:
ICE
Futures Europe weekly commitments of traders report on coffee, cocoa, sugar positions
CFTC
commitments of traders weekly report on positions for various U.S. futures and options, 3:30pm
FranceAgriMer
weekly update on crop conditions
U.S.
cattle on feed, poultry slaughter, 3 pm
Shanghai
exchange's weekly commodities inventory, 15.30
EARNINGS:
Sime Darby Plantation
SATURDAY,
May 23:
China
May trade data, including agricultural imports
Source:
Bloomberg and FI
Macros
·
US Housing Starts Apr: 891K (exp 900K; prev 1216K)

–
Housing Starts (M/M) Apr: -30.2% (exp -26.0%; prev -22.3%)
–
Building Permits Apr: 1074K (exp 1000K; R prev 1350K)
–
Building Permits (M/M) Apr: -20.8% (exp -25.9%; R prev -5.7%)
·
Corn futures ended higher from ongoing short covering and lower USD. At the open we heard there was some algo corn buying and short covering. Prices ended off their contract day highs. July corn took out
its last week's high of $3.24 but failed to find much support above that level. Futures are up three consecutive days, leaving some to think of a slight correction on Wednesday.

·
Funds bought an estimated net 5,000 corn contracts.

·
US corn plantings reached 80 percent complete, up 13 points from the previous week, one point below an average trade guess, well up 44 percent from last year and above 71 percent 5-year average.

·
A Bloomberg poll looks for weekly US ethanol production to be up 54,000 at 671,000 barrels (621-762 range) from the previous week and stocks to decrease 275,000 barrels to 23.915 million.