---
From:
Terry Reilly
Sent:
Thursday, February 13, 2020 2:29:05 PM (UTC-06:00) Central Time (US & Canada)
Subject:
FI Evening Grain Comments 02/13/20
PDF attached. Funds will be sent later

Attached
is our US wheat balance sheet. Covid-19 continues to hang over the markets.

USDA
on Friday will release its 2020:
·
Agriculture projections at 11:00 am CT
https://www.ers.usda.gov/publications/
·
Agriculture Baseline Database at 2:00 PM CT

https://www.ers.usda.gov/calendar/?month=2&year=2020&day=14

Nearby
spreads Chng
SH/K
-10/-9.75 1.25
SMH/K
-5.7/-5.6 0.10
BOH/K
-0.37/-0.36 0.00
CH/K
-5.25/-5 -0.75
WH/K
-0.25/0 0.75
KWH/K
-7/-6.75 -0.75
MWH/K
-9.75/-9.5 -0.25
The
CPC looks for 60 percent chance for a neutral ENSO through the NH spring.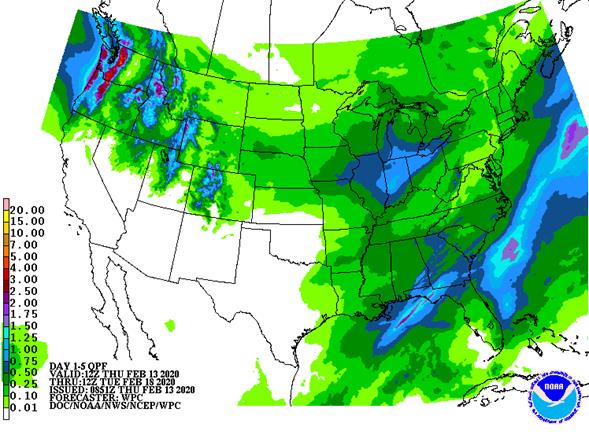 MARKET
WEATHER MENTALITY FOR CORN AND SOYBEANS:

Not
much has changed overnight. Favorable soil moisture is present in Argentina, Brazil, South Africa, India and some eastern Australia locations which should support crop development. There is still some concern over harvest conditions in early season soybean
areas of Brazil which may lead to more delay in second season corn planting, but progress is being made every day and it looks as though the paces is not far from the five year average even though much slower than last year.

Too
much rain in northeastern South Africa in the past week has resulted in some flooding. Crop damage has not been assessed, but the region impacted is a minor production region in eastern Limpopo and northeastern Mpumalanga. Other areas in South Africa have
ideal crop development conditions.
More
rain will fall this week in northern and eastern Europe and from there to Ukraine and that will improve early season crop development potentials for areas that were too dry last autumn.

China's
winter crops are still rated favorably with a big potential for improving rapeseed conditions in the early weeks of spring after recent weeks of rain.

India's
winter crops are still poised to perform quite favorably, despite a drier biased outlook for the next ten days.

Southeast
Asia crops are still rated well, despite erratically distributed rainfall in recent weeks.

Eastern
Australia sorghum conditions have improved, but drought remains in key production areas and much more rain will be needed before winter planting of canola begins in late April. Summer crop development has improved, but it will still be a very small crop.

Today's weather will have a mixed influence on market mentality.
MARKET
WEATHER MENTALITY FOR WHEAT:

Many
of the winter crop areas in the world that experienced poor crop establishment because of dryness last autumn have seen some timely precipitation in recent weeks. The moisture should help improve winter crop establishment prior to reproduction this spring.
There has also been very little winterkill this year and that should be supporting larger crops. With that said there may have been some damage in a few minor wheat areas in central Nebraska this morning where morning temperatures fell near slightly below
zero Fahrenheit.
The
biggest dry concern today is in North Africa and in particular southwestern Morocco where durum wheat and barley production has been cut. There is potential for larger small grain losses from North Africa if improved rainfall does not occur soon. Spain and
Portugal are also drying out, but have adequate subsoil moisture for now.

Overall, weather today will continue to provide a mixed influence on market mentality.

Source:
World Weather Inc. and FI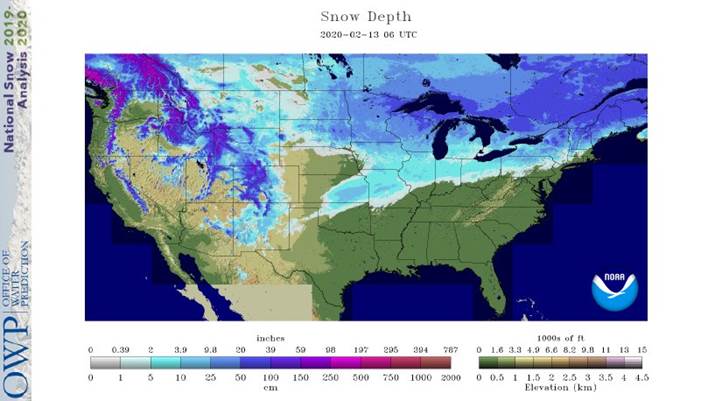 USDA
weekly crop net-export sales for corn, soybeans, wheat, 8:30am
Giant
pulp maker Suzano holds investor day in Sao Paulo
Brazil's
grain exporter group Anec holds conference on 2019-20 crop outlook
FRIDAY,
FEB. 14:
ICE
Futures Europe weekly commitments of traders report on coffee, cocoa, sugar positions ~1:30pm (~6:30pm London)
CFTC
commitments of traders weekly report on positions for various U.S. futures and options, 3:30pm
FranceAgriMer
crop conditions – French crops office expected to resume crop-conditions reports after winter break
New
Zealand food prices
Biosev
holds analyst conference call to discuss 4Q earnings.
Source:
Bloomberg and FI


Informa
US 2020 acreage
Corn
93.44 vs 89.70 last year
Soybeans
86.50 vs 76.10 last year
All
wheat 45.53 vs 45.20 last year
OS
30.80 vs 31.20 last year
Durum
1.45 vs 1.34 last year
Cotton
13.01 vs 13.74 last year
FI
is using 92.50 for corn, 87.10 for soybeans, and all-wheat 45.6. (table attached)
USDA
2019 Feb. outlook was 85.0 soybeans, 92.0 corn and 47.0 wheat
Source:
newswires and trade
US
CPI (M/M) Jan 0.1% (est 0.2%; prev 0.2%)
–
US CPI (Y/Y) Jan 2.5% (est 2.4%; prev 2.3%)
US
Core CPI (M/M) Jan 0.2% (est 0.2%; prev 0.1%)
–
US Core CPI (Y/Y) Jan 2.3% (est 2.2%; prev 2.3%)
US
Initial Jobless Claims Feb 8 205 K (est 210 K; prevR 203 K; prev 202 K)
–
US Continuing Claims Feb 1 1.698 Mln (est 1.745 Mln; prevR 1.759 Mln; prev 1.751 Mln
·
Corn, oats and US wheat trended lower. March corn fell 3.50 cents on lack of fundamental bullish news, large SA crop prospects and spike in coronavirus deaths and cases. China has been a heavy buyer of Ukraine
corn this week. PNW fob corn was last around $15 premium to Ukraine spot fob corn. The quality of the US corn has been in question when looking at the slow US sales for South Korea.

·
USDA corn sales of nearly 970,000 tons were within expectations.

·
1350+ deaths and more than 60,000 cases of coronavirus was recorded. Click on the BBC link for charts:
https://www.bbc.com/news/world-asia-china-51482994

·
Today was the last day of the Goldman Roll.

·
Argentina Buenos Aires Grain Exchange estimated the 2020 corn crop at 49 million tons. USDA is at 50 million tons versus 51.0 million tons in 2019. BA exchange is using a forecast of 50.6 million tons for
2019 (2019-20 local crop year).
·
Agroconsult looks for the Brazil second corn crop to end up near 74.7 million tons, up from 74.0 from their previous projection. USDA is using a combined crop-year production of 101.0 million tons for Brazil.

·
USDA pork sales last week were 28,600 (China 3.7k).

·
Port of Milwaukee will see a $31 million uplift to create space for handling DDGS.

https://www.jsonline.com/story/money/2020/02/13/new-port-milwaukee-facility-ship-grain-overseas/4748713002/

Results
awaited: Algeria's ONAB seeks 35,000 tons of optional origin corn on Feb. 13 for shipment in the second half of March
·
China's state reserve will sell 20,000 tons of frozen pork on Feb. 14.
Soybean
complex.