---
From:
Terry Reilly
Sent:
Tuesday, February 11, 2020 2:12:41 PM (UTC-06:00) Central Time (US & Canada)
Subject:
FI Evening Grain Comments 02/11/20
PDF attached (funds sent later)
USDA
updated their February S&D's and wheat turned out to be the most price sensitive commodity by late morning trading. Conab Brazil soybean production fell short of expectations by 1.1MMT. China left their 2019-20 soybean and corn balance sheets unchanged from
the previous month.
USDA
February S&D
Initial
reaction:
Bearish
soybeans with Brazil upward revisions to production and exports weighing on prices, despite USDA increasing their outlook on US soybean exports. Bearish corn on large South American corn output. USDA did increase its US corn for ethanol projection but lowered
exports. Wheat neutral. We believe unwinding of wheat/corn spreads are pressuring wheat prices despite the 25-million-bushel reduction in USDA US ending stocks. Fact remains US wheat stocks will remain very high relative to a ten-year average.

USDA
NASS and OCE executive summaries
https://www.nass.usda.gov/Newsroom/Executive_Briefings/index.php

https://www.usda.gov/oce/commodity/wasde/Secretary_Briefing/index.htm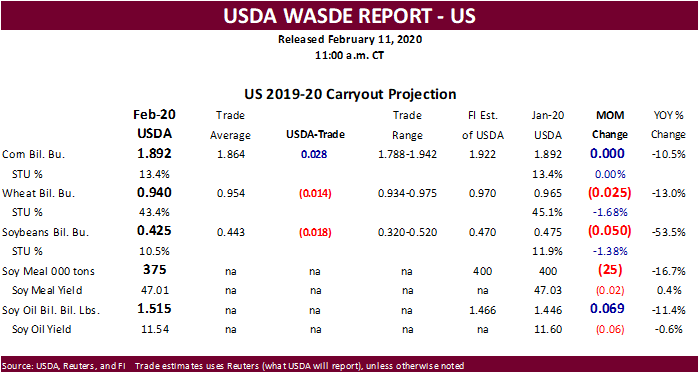 Soybeans
・
USDA lowered the 2019-20 US soybean carryout by 50 million bushels to 425 million, 18 million less the average trade guess. US soybean stocks are down 53.5 percent from 2018-19.

・
US 2019-20 soybean STU decreased to 10.5 percent from 11.9% projected in January.

・
2019-20 US soybean exports were lifted higher by 50 million (we were looking for 25) to 1.825 billion bushels, above 1.748 billion in 2018-19. USDA noted "increased imports for China" – something the trade
is still looking for in large quantities. This comes after USDA raised Brazilian soybean exports by 1 million tons to 77 million tons. All other US soybean demand components were left unchanged.

・
USDA lowered its 2019-20 US soybean oil yield to 11.54 from 11.60 pounds per bushel. We were at 11.54 before the report. US soybean oil production is projected lower by 130 million pounds to 24.290 billion.
USDA lowered biodiesel by 300 million pounds and food use by 100 million and raised exports by 200 million pounds. Ending stocks were increased 69 million pounds to 1.515 billion pounds, below 1.775 billion pounds at the end of 2018-19. Note end of January
soybean oil stocks were reported at 2.094 billion pounds, 148 million above year earlier. It appears USDA is bullish soybean oil demand for second half 2019-20.

・
The US soybean meal yield was taken down slightly to 47.01 from 47.03. USDA lowered US soybean meal production by 25,000 short tons and lowered ending stocks by same amount to 375,000 short tons. We agree
with these changes.
・
USDA increase global soybean production and stocks by 1.7 and 2.2 million tons. World ending stocks at 98.9 million tons are projected 11.1% below 2018-19. USDA boosted Brazil soybean production by 2 million
tons to 125.0 million tons and increased Brazil soybean exports by 1.0 million tons to 77 million tons. Argentina soybean production was left unchanged at 53.0 million tons. China soybean imports were upward revised 3.0 million tons to 87.0 million, up nearly
7 percent from 2018-19.
Corn
・
USDA left its 2019-20 US corn carryout unchanged at 1.892 billion bushels, 28 million greater the average trade guess. US corn stocks are down 10.5 percent from 2018-19.

・
US 2019-20 corn STU was left unchanged at 13.4 percent.

・
US corn for ethanol was taken up 50 million bushels to 5.425 billion, above 5.376 billion for 2018-19. US corn exports were lowered 50 million bushels, a surprise in our opinion. The large SA crops, and
strong pace of Ukraine corn exports, are expected to gain cut into the US export market program.

・
World corn stocks were lowered 1 million tons to 296.8 million tons, 7.4% below 2018-19. World corn production was taken up 800,000 tons to 1.112 billion tons, 1 percent below 2018-19. USDA left Brazil and
Argentina corn production unchanged. SAf corn production was upward revised 500,000 tons.

Wheat
・
USDA lowered the 2019-20 US all-wheat carryout by 25 million bushels to 940 million, 14 million less the average trade guess. US all-wheat stocks are down 13.0 percent from 2018-19.

・
US 2019-20 all-wheat STU decreased to 43.4 percent from 45.1% projected in January.

・
USDA lifted US all-wheat exports by 25 million bushels to 1.0 billion bushels, above 936 recorded for 2018-19.

・
By class, USDA reduced US HSW stocks by 15 million bushels.


・
World wheat production was lowered 0.4MMT to 764.0 million (4.4% above 2018) and global stocks were down slightly from January estimate. USDA left production estimates unchanged for Brazil, Australia, Argentina,
Canada, EU and Russia.
MARKET
WEATHER MENTALITY FOR CORN AND SOYBEANS:

Not
much has changed overnight. Favorable soil moisture is present in Argentina, Brazil, South Africa, India and some eastern Australia locations which should support crop development. There is still some concern over harvest conditions in early season soybean
areas of Brazil which may lead to more delay in second season corn planting.

More
rain will fall this week in northern and eastern Europe and from there to Ukraine and that will improve early season crop development potentials for areas that were too dry last autumn.

China's
winter crops are still rated favorably with a big potential for improving rapeseed conditions in the early weeks of spring after recent weeks of rain.

India's
winter crops are still poised to perform quite favorably, despite a drier biased outlook for the next ten days.

Southeast
Asia crops are still rated well, despite erratically distributed rainfall in recent weeks.

Eastern
Australia sorghum conditions have improved, but drought remains in key production areas and much more rain will be needed before winter planting of canola begins in late April. Summer crop development has improved, but it will still be a very small crop.
South
Africa crop conditions are still rated quite favorably with little change likely, despite some net drying for a while.

Today's
weather will have a mixed influence on market mentality.
MARKET
WEATHER MENTALITY FOR WHEAT:

Many
of the winter crop areas in the world that experienced poor crop establishment because of dryness last autumn have seen some timely precipitation in recent weeks. The moisture should help improve winter crop establishment prior to reproduction this spring.
There has also been very little winterkill this year and that should be supporting larger crops.

The
biggest dry concern today is in North Africa and in particular southwestern Morocco where durum wheat and barley production has been cut. There is potential for larger small grain losses from North Africa if improved rainfall does not occur soon. Spain and
Portugal are also drying out but have adequate subsoil moisture for now.

Overall, despite market performance of late, there is still no good weather related reason for futures price appreciation and some caution is warranted there.

Today's
weather will maintain a low impact on market mentality.
Source:
World Weather Inc. and FI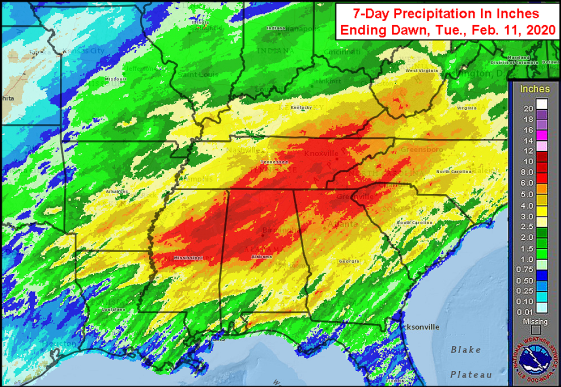 Source:
World Weather Inc. and FI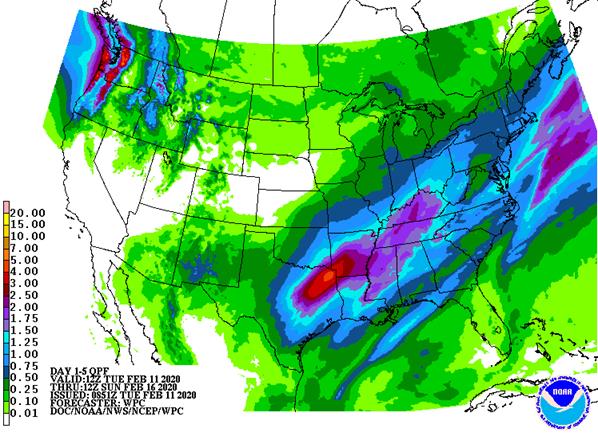 USDA's
monthly World Agricultural Supply and Demand (Wasde) report, noon
France
agriculture ministry gives estimate for 2020 winter grain and rapeseed plantings
China
agriculture ministry's (CASDE) supply, demand monthly report
Brazil
Conab soybean and corn yield, area and production
Sao
Martinho Earnings Conference Call, Sao Paulo
HOLIDAY:
Japan
WEDNESDAY,
FEB. 12:
EIA
U.S. weekly ethanol inventories, production, 10:30am
FranceAgriMer
monthly cereals balance sheet
THURSDAY,
FEB. 13:
USDA
weekly crop net-export sales for corn, soybeans, wheat, 8:30am
Giant
pulp maker Suzano holds investor day in Sao Paulo
Brazil's
grain exporter group Anec holds conference on 2019-20 crop outlook
FRIDAY,
FEB. 14:
ICE
Futures Europe weekly commitments of traders report on coffee, cocoa, sugar positions ~1:30pm (~6:30pm London)
CFTC
commitments of traders weekly report on positions for various U.S. futures and options, 3:30pm
FranceAgriMer
crop conditions – French crops office expected to resume crop-conditions reports after winter break
New
Zealand food prices
Biosev
holds analyst conference call to discuss 4Q earnings.
Source:
Bloomberg and FI
China
CASDE: They
left unchanged their 2019-20 balance sheets for major ag commodities but did mention coronavirus did have a short-term impact on crop supplies. Corn sales had been significantly slower, according to the Ministry of Agriculture and Rural Affairs. Edible oils
production was adjusted for 2018-19, down 3.5 million tons to 21.92 million tons.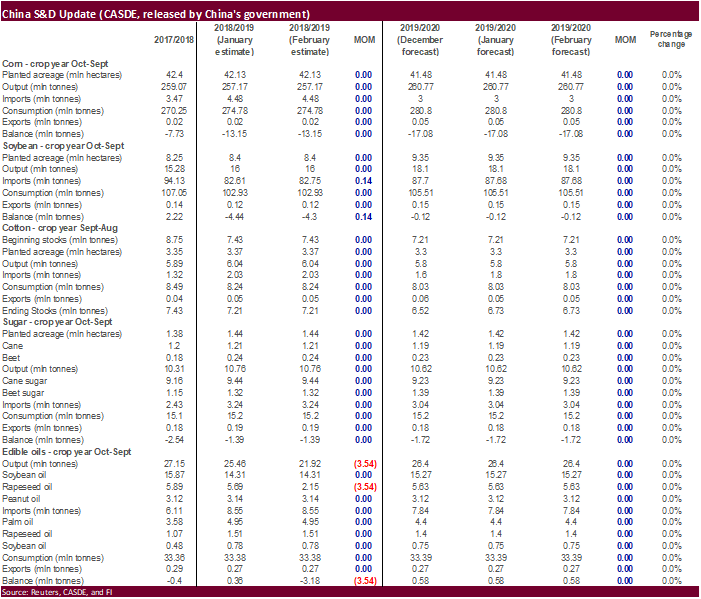 ・
Corn futures ended 1.50-2.50 cents lower on ongoing demand concerns for China and large Brazil corn production prospects. South Korea was in for corn.

・
USDA's S&D report did little to draw buying interest

・
China left their 2019-20 soybean and corn balance sheets unchanged from the previous month.

・
Conab estimated Brazil's corn production 1.8 million tons higher from last month, but 0.3MMT below a Bloomberg trade guess. They are at 100.5 million tons versus 100.0 million tons year ago.

・
1000+ deaths and more than 43,000 cases of coronavirus was recorded.
https://www.bbc.com/news/world-asia-china-51453848

・
UkrAgroConsult pegged Ukraine 2019-20 corn exports at 29.8 million tons, up 500,000 from previous estimate. USDA is at 30.5 million tons.

・
Brazil internal corn prices are near a 4-year high due to strong demand by feed end users, good export demand and higher consumption for industrial use. FAS Attaché updated their Brazil corn S&D (link below).
Earlier today USDA left their Brazil corn production estimate unchanged at 101.0 million tons but increased domestic feed use by 0.5MMT to 56.5 million, up from 55.4 million tons in 2018-19.

Export
Developments
South
Korea's Major Feedmill Group (MFG) seeks up to 140,000 tons of corn for May arrival. We heard they got offers between $211.50 to $221/ton. Reuters noted lowest offer was $212.95/ton. Details of the tender are as follows:

TONNES(M/T) ARRIVAL/PORT

55,000-70,000 May 19/ Pyeongtaek and Gunsan

55,000-70,000 May 27/ Pyeongtaek and Gunsan

USDA
FAS: Brazil: Grain and Feed Update
101-million-ton corn crop, same as USDA January update
https://apps.fas.usda.gov/newgainapi/api/Report/DownloadReportByFileName?fileName=Grain%20and%20Feed%20Update_Brasilia_Brazil_01-16-2020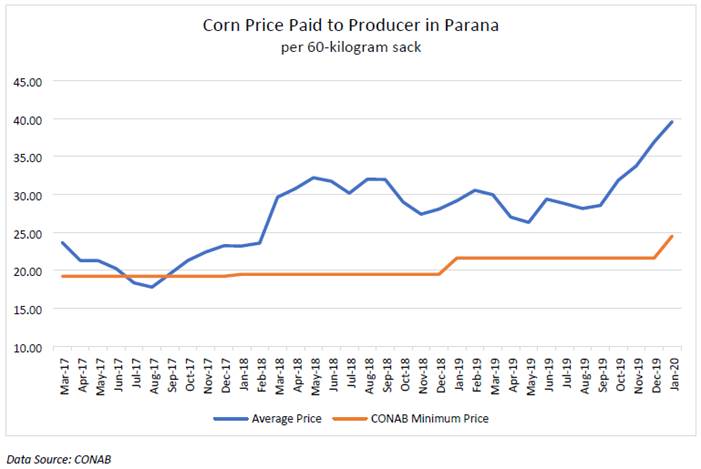 Soybean
complex.