---
From:
Terry Reilly
Sent:
Monday, February 10, 2020 4:43:29 PM (UTC-06:00) Central Time (US & Canada)
Subject:
FI Evening Grain Comments 02/10/20
USDA
is due out with updated S&D's on Tuesday.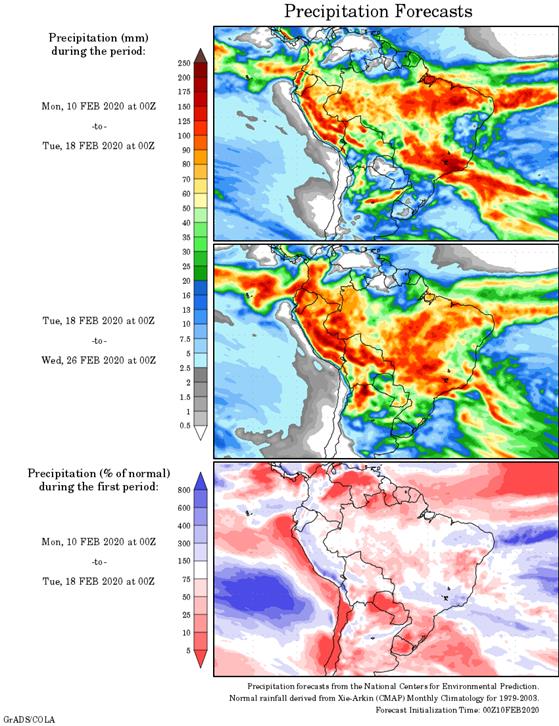 MARKET
WEATHER MENTALITY FOR CORN AND SOYBEANS:

Not
much has changed since Friday. Favorable soil moisture is present in Argentina, Brazil, South Africa, India and some eastern Australia locations which should support crop development. More rain will fall this week in southeastern Europe and from there to
Ukraine and that will improve early season crop development potentials for areas that were too dry last autumn.

Today's
weather will maintain a bearish influence on market mentality, although the lack of change in weather should minimize its overall influence
MARKET
WEATHER MENTALITY FOR WHEAT:

Many
of the winter crop areas in the world that experienced poor crop establishment because of dryness last autumn have seen some timely precipitation in recent weeks. The moisture should help improve winter crop establishment prior to reproduction this spring.
There has also been very little winterkill this year and that should be supporting larger crops.

The
biggest dry concern today is in North Africa and in particular southwestern Morocco where durum wheat and barley production has been cut. There is potential for larger small grain losses from North Africa if improved rainfall does not occur soon. Spain and
Portugal are also drying out but have adequate subsoil moisture for now.

Overall, despite market performance of late, there is still no good weather related reason for futures price appreciation and some caution is warranted there. Today's weather will maintain little change from that of late last week and that should include a
bearish bias to market mentality.
Source:
World Weather Inc. and FI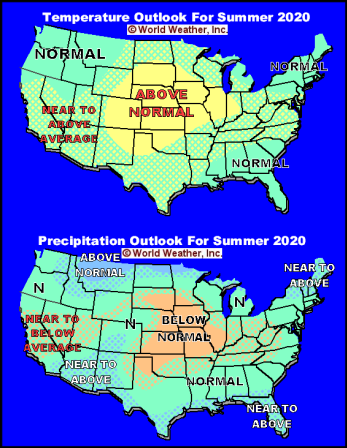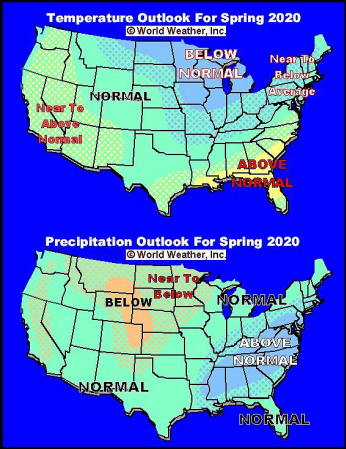 Source:
World Weather Inc. and FI
USDA
weekly corn, soybean, wheat export inspections, 11am
National
Ethanol Conference, Feb. 10-12

Speakers
include former U.S. President George W. Bush and USDA Undersecretary Ted McKinney

EU
weekly grain, oilseed import and export data
Malaysia's
Feb. 1-10 palm oil exports data
Ivory
Coast cocoa arrivals
TUESDAY,
FEB. 11:
USDA's
monthly World Agricultural Supply and Demand (Wasde) report, noon
France
agriculture ministry gives estimate for 2020 winter grain and rapeseed plantings
China
agriculture ministry's (CASDE) supply, demand monthly report
Brazil
Conab soybean and corn yield, area and production
Sao
Martinho Earnings Conference Call, Sao Paulo
HOLIDAY:
Japan
WEDNESDAY,
FEB. 12:
EIA
U.S. weekly ethanol inventories, production, 10:30am
FranceAgriMer
monthly cereals balance sheet
THURSDAY,
FEB. 13:
USDA
weekly crop net-export sales for corn, soybeans, wheat, 8:30am
Giant
pulp maker Suzano holds investor day in Sao Paulo
Brazil's
grain exporter group Anec holds conference on 2019-20 crop outlook
FRIDAY,
FEB. 14:
ICE
Futures Europe weekly commitments of traders report on coffee, cocoa, sugar positions ~1:30pm (~6:30pm London)
CFTC
commitments of traders weekly report on positions for various U.S. futures and options, 3:30pm
FranceAgriMer
crop conditions – French crops office expected to resume crop-conditions reports after winter break
New
Zealand food prices
Biosev
holds analyst conference call to discuss 4Q earnings.
Source:
Bloomberg and FI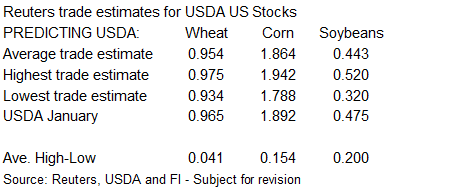 USDA
inspections versus Reuters trade range

Wheat
523,713 versus 300000-600000 range
Corn
769,390 versus 500000-800000 range
Soybeans
603,852 versus 700000-1350000 range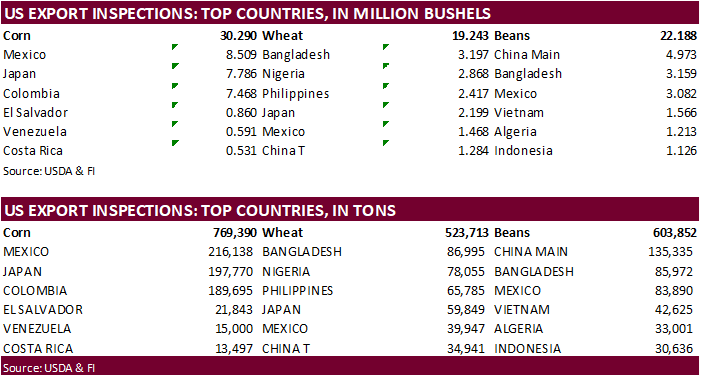 Macros
U.S.
Crude Futures' Discount To Brent Crude Futures Hit $3.45 A Barrel, Smallest Since March 2018
·
March corn futures ended 1.75 cents lower at $3.8175, below its 50-day MA.

·
Corn futures were under pressure on Monday on lack of US demand and favorable weather in South America. The harvest progress of soybeans in Brazil is running near a five-year average. Producers tend to follow
up with second corn crop plantings about a day or two following soybean harvest. Bloomberg noted corn was lower on aggressive US cash sales by producers.

·
Funds were estimated net sellers of 8,000 corn contracts.
·
908 deaths and more than 40,000 cases of coronavirus was recorded by the end of Sunday. 97 people died on Sunday.

·
We are hearing many businesses in China will not reopen until March. The coronavirus also is impacting planned events outside China. The Global Grains conference scheduled to take place March 9-11 is pushed
back until June 17-19 or June 29-July 1.
·
USDA US corn export inspections as of February 06, 2020 were 769,390 tons, within a range of trade expectations, above 562,380 tons previous week and compares to 752,758 tons year ago. Major countries included
Mexico for 216,138 tons, Japan for 197,770 tons, and Colombia for 189,695 tons.

·
China sold 10,000 tons of pork from state reserves late last week. They look to import more meat to satisfy consumption demand.

·
African swine fever was confirmed in the Philippines, first case since September. The Philippines is the world's seventh largest pork importer and tenth largest consumer, according to Bloomberg.

·
The capesize index fell 20 points to a negative 254, down for the 42nd straight session. Updated after the text is the FI charts for Baltic Dry Index.

·
President Trump's 4.8 billion USD budget hinted cuts to crop insurance. See table S-6 from link below. It looks like the objective is to cut agriculture support programs by 57.7 billion dollars over a 10-year
period.
https://www.govinfo.gov/content/pkg/BUDGET-2021-BUD/pdf/BUDGET-2021-BUD.pdf


·
Germany reported a case of H5N8 bird flu outbreak in the southwest. The virus killed 44 birds.

·
US cold storage stocks of pork at the end of December of 54.4 million pounds ended up at their highest level since 1989. USDA ERS Livestock and Meat International Trade Data:
https://www.ers.usda.gov/data-products/livestock-and-meat-international-trade-data/livestock-and-meat-international-trade-data/

US
corn and soybean basis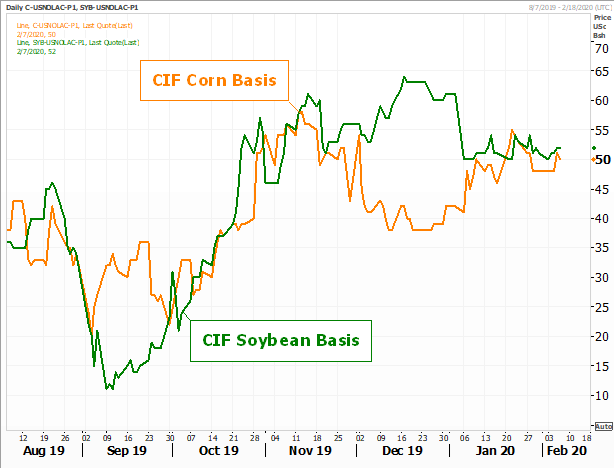 Source:
Reuters and FI
Hubbs,
T. "Corn Consumption Showing Improvement." farmdoc daily (10):24, Department of Agricultural and Consumer Economics, University of Illinois at Urbana-Champaign, February 10, 2020.
https://farmdocdaily.illinois.edu/2020/02/corn-consumption-showing-improvement.html?utm_source=farmdoc+daily+and+Farm+Policy+News+Updates&utm_campaign=cdcbd62346-EMAIL_CAMPAIGN_2018_09_04_04_03_COPY_01&utm_medium=email&utm_term=0_2caf2f9764-cdcbd62346-173649469