---
From:
Terry Reilly
Sent:
Friday, February 07, 2020 4:18:47 PM (UTC-06:00) Central Time (US & Canada)
Subject:
FI Evening Grain Comments 02/07/20
PDF attached
Quiet
on the news front.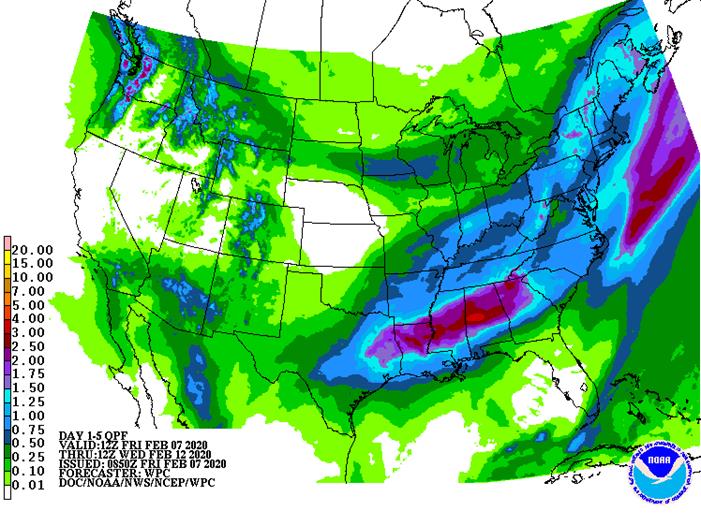 MARKET
WEATHER MENTALITY FOR CORN AND SOYBEANS:

Weather
continues supportive of crops in most of Brazil and Argentina. There is some concern over rainfall in Brazil delaying some of this year's soybean harvest, but the bottom line should not impact production for most areas. A few areas in Argentina may become
too wet in the next few days after some heavy rain already occurred overnight.

There
is more talk about the U.S. facing planting delays again this year and that is weighing on the market a little as well. There is some truth to that outlook and the early spring is not likely to favor fieldwork very much in the Delta, Southeastern States or
possibly the lower Midwest.

Australia's summer crops have benefited from recent rain, but next week will begin trending drier again for a while. India crops will remain in good shape. China still has potential for improving rapeseed production potential once spring arrives due to recent
precipitation and improving soil moisture in parts of southeastern Europe into Kazakhstan may do to the same for those areas in the spring.

Southeast
Asia weather will trend a little wetter in the coming week restoring favorable soil moisture to some Indonesian and Malaysian crop areas. Rain is needed most in parts of Peninsular Malaysia.

Overall,
weather today may offer a more neutral influence than that of recent days.

MARKET
WEATHER MENTALITY FOR WHEAT:

There
is very little risk of crop threatening cold for small grain crops around the world. Cooling in the U.S. this week in the west-central and southwestern Plains proved to be beneficial since recent temperatures were so very warm. No significant crop damage occurred
in the west-central high Plains earlier this week when temperatures turned much colder, but a few fields in Colorado may have suffered some damage.

Improving
precipitation in southeastern Europe and the southwestern grain areas of the Commonwealth of Independent states this week may improve production potentials in the spring. China's winter crops are still expected to improve in the early spring if there are a
few timely rain events as temperatures trend warmer

India is still expecting a huge winter wheat crop and the only thing needed would be a few timely rain events this month and no extreme heat. No excessive heat is expected, but precipitation should be limited over the next two weeks.

Rain
in east-central Australia will be winding down this weekend into early next week with drier conditions coming for a while thereafter. Wheat and barley planting are months away and much of the recent moisture may be lost to evaporation by that time. A close
watch on the situation is warranted, but conditions will favor some rain in southern production areas during the autumn.

North
Africa wheat is still a concern with southwestern Morocco production already expected to be down. Timely rain will be needed later this month and in March to support reproduction and filling throughout northern Africa. Early February will be dry and warm biased.

Overall,
weather today will likely produce a mixed influence on market weather mentality.
Source:
World Weather Inc. and FI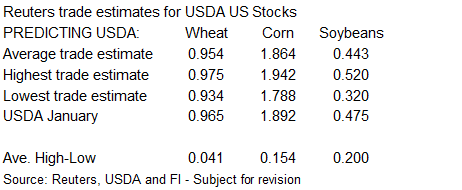 ICE
Futures Europe weekly commitments of traders report on coffee, cocoa, sugar positions ~1:30pm (~6:30pm London)
CFTC
commitments of traders weekly report on positions for various U.S. futures and options, 3:30pm
Agricultural
conference organized by consultancy IKAR, Moscow
Guatemala
Coffee Exports
SUNDAY,
FEB. 9:
Dubai
Sugar Conference, Feb 9-12; speakers include Al Khaleej Sugar
MONDAY,
FEB. 10:
USDA
weekly corn, soybean, wheat export inspections, 11am
National
Ethanol Conference, Feb. 10-12

Speakers
include former U.S. President George W. Bush and USDA Undersecretary Ted McKinney

EU
weekly grain, oilseed import and export data
Malaysia's
Feb. 1-10 palm oil exports data
Ivory
Coast cocoa arrivals
TUESDAY,
FEB. 11:
USDA's
monthly World Agricultural Supply and Demand (Wasde) report, noon
France
agriculture ministry gives estimate for 2020 winter grain and rapeseed plantings
China
agriculture ministry's (CASDE) supply, demand monthly report
Brazil
Conab soybean and corn yield, area and production
Sao
Martinho Earnings Conference Call, Sao Paulo
HOLIDAY:
Japan
WEDNESDAY,
FEB. 12:
EIA
U.S. weekly ethanol inventories, production, 10:30am
FranceAgriMer
monthly cereals balance sheet
THURSDAY,
FEB. 13:
USDA
weekly crop net-export sales for corn, soybeans, wheat, 8:30am
Giant
pulp maker Suzano holds investor day in Sao Paulo
Brazil's
grain exporter group Anec holds conference on 2019-20 crop outlook
FRIDAY,
FEB. 14:
ICE
Futures Europe weekly commitments of traders report on coffee, cocoa, sugar positions ~1:30pm (~6:30pm London)
CFTC
commitments of traders weekly report on positions for various U.S. futures and options, 3:30pm
FranceAgriMer
crop conditions – French crops office expected to resume crop-conditions reports after winter break
New
Zealand food prices
Biosev
holds analyst conference call to discuss 4Q earnings.
Source:
Bloomberg and FI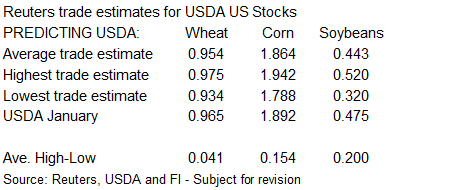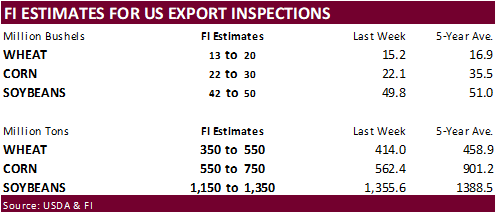 CFTC
Commitment of Traders
Funds
were much less long in corn than expected.

As
of Friday:





·
US Non Farm Payrolls Jan: 225K (est 165K ; prevR 147K ; prev 145K)

·
US Unemployment Rate Jan: 3.6% (est 3.5% ; prev 3.5%)
·
US Average Earnings (M/M) Jan: 0.2% (est 0.3% ; prev 0.1%)
·
US Average Earnings (Y/Y) Jan: 3.1% (est 3.0% ; prevR 3.0% ; prev
·
Canadian Unemployment Rate Jan: 5.5% (est 5.7% ; prev 5.6%)
·
Canadian Full Time Unemployment Change SA Jan: 35.7K (prevR 33.9K ; prev 38.4K)

o
Canadian Part Time Employment Change SA Jan: -1.2K (prevR -6.5K ; prev -3.2K)
·
US Wholesale Inventories (M/M) Dec F: -0.2% (est -0.1%; prev -0.1%)
–
Wholesale Trade Sales (M/M) Dec: -0.7% (est 0.1%; prev R 0.9%)
·
March corn futures ended 4.25 cents higher on short covering. The contract ended at $3.8350, its 50-day MA. For the week it was up 2.50 cents. The higher USD capped gains today, and for the week for that
matter. The USD and weakness in the Brazilian real have had a significant impact on US corn exports in recent months.

Weekly
BRL/USD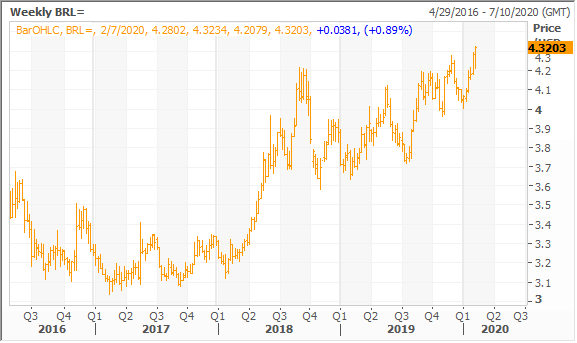 ·
Meanwhile, US corn basis has been sacked since the outbreak of the coronavirus. The threat that China may not buy 32 billion USD of American agriculture goods over the next two years is now in jeopardy, and
this is reflected by US producer sales. Many farmers holding cash corn are reluctant sellers, holding out for higher prices. With this in mind, futures may have found some support level-on lack of producer selling.

·
Funds were estimated net buyers of 20,000 corn contracts.
·
US jobs report (227k vs 165k est.) was a bullish indicator for the US economy.

·
Hong Kong has 25 cases of coronavirus. 630 deaths have been reported in China.

·
China's Hubei province plans to boost food supplies by releasing 2,000 tons of frozen pork from reserves. COFCO will send 200 tons of rice, 50 tons of flour and noodles, and 300 tons of edible oils to Wuhan
– each day.
US
ethanol D6 RIN prices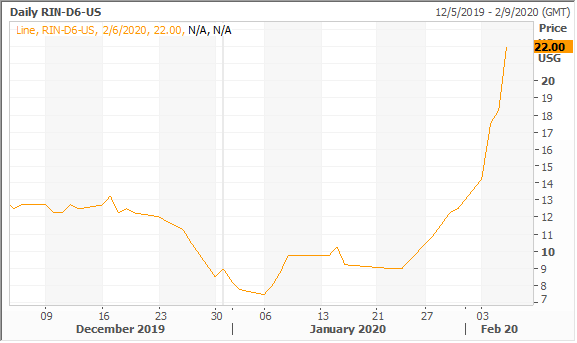 Source:
Reuters and FI
China
plans to sell 2.96 million tons of corn from state reserves on February 7.
Soybean
complex.