---
From:
Terry Reilly
Sent:
Tuesday, January 21, 2020 2:27:35 PM (UTC-06:00) Central Time (US & Canada)
Subject:
FI Evening Grain Comments 01/21/20
PDF attached
There were no 24-hour announcements this morning. Soybeans and corn are lower in a risk off session. Chicago wheat getting a little help from higher Paris wheat futures. Real is weaker and USD is lower.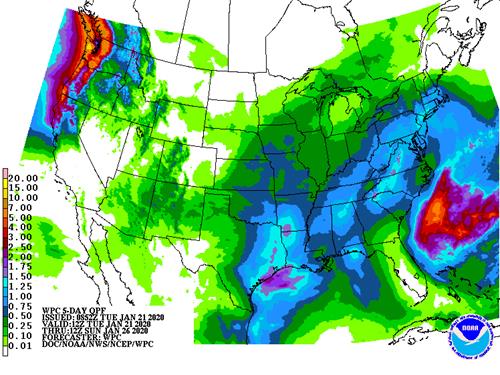 MARKET WEATHER MENTALITY FOR CORN AND SOYBEANS:
Rain is expected to fall more erratically in Brazil and Argentina over the next two weeks which may lead to a few areas of flooding in Minas Gerais and while a few areas in southern Brazil become a little drier biased. Parts of Argentina will also experience some erratic rainfall in the next couple of weeks, but timely rain should occur to prevent dryness from becoming a widespread significant problem.
In the meantime, South Africa rainfall increased in many areas during the weekend improving topsoil moisture especially in Eastern and Western Cape, Limpopo and northeastern Mpumalanga. Additional rain is expected in the next seven days.
Rain in eastern Australia improved some of the irrigated summer crops and more rain is expected there over the coming week.
India's winter oilseed crop is suspected of being in better than usual condition and China will see improved establishment in the spring when seasonal warming occurs. China's winter crops were not well-established last autumn but have experienced improved precipitation in recent weeks that will be of use to establishment when it warms up once again.
Overall, weather today may provide a bearish bias to market mentality.
MARKET WEATHER MENTALITY FOR WHEAT:
Little to no winterkill has likely occurred in key wheat production areas in the Northern Hemisphere so far this winter, although a few crops in Montana might have been negatively impacted by recent cold weather.
In the meantime, India is poised to have a high yielding crop this year. Crops in the Middle East are expected to yield relatively well, and China weather has improved in recent weeks and that should translate into better crop establishment during the spring.
Southeastern Europe crops are not as well established as they should be, but winter weather has been mild leaving very little threat of crop damage thus far. Much of Russia has snow on the ground, but temperatures there are well above average and expected to stay warm minimizing the threat of winterkill. Some snowmelt is expected in Russia, however.
Overall, weather today will likely have a neutral to slightly bearish bias on market mentality.
Source: World Weather Inc. and FI
USDA weekly corn, soybean, wheat export inspections, 11am
New Zealand global dairy trade auction
WEDNESDAY, JAN. 22:
USDA monthly cold storage – pork, beef, poultry, 3pm
EARNINGS: Barry Callebaut 1Q results
THURSDAY, JAN. 23:
USDA total milk, red meat production, 3pm
FRIDAY, JAN. 24:
USDA weekly crop net-export sales for corn, soybeans, wheat, 8:30am
ICE Futures Europe weekly commitments of traders report on coffee, cocoa, sugar positions ~1:30pm (~6:30pm London)
CFTC commitments of traders weekly report on positions for various U.S. futures and options, 3:30pm
U.S. poultry slaughter, cattle on feed (25 jan 1.30 am)
HOLIDAY: China
Source: Bloomberg and FI
USDA inspections versus Reuters trade range
Wheat 435,129 versus 400000-600000 range
Corn 345,859 versus 450000-800000 range
Soybeans 1,199,136 versus 600000-1200000 range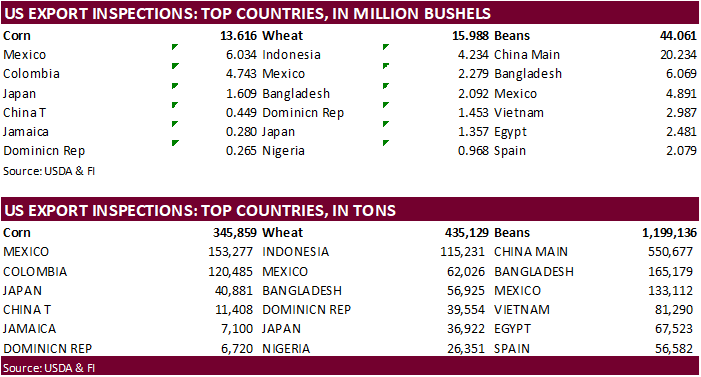 GRAINS INSPECTED AND/OR WEIGHED FOR EXPORT
REPORTED IN WEEK ENDING JAN 16, 2020
— METRIC TONS —
————————————————————————-
CURRENT PREVIOUS
———– WEEK ENDING ———- MARKET YEAR MARKET YEAR
GRAIN 01/16/2020 01/09/2020 01/17/2019 TO DATE TO DATE
BARLEY 318 168 343 17,246 6,534
CORN 345,859 483,559 1,127,279 9,431,246 20,615,492
FLAXSEED 0 0 0 396 218
MIXED 0 0 0 0 0
OATS 48 100 0 2,066 1,793
RYE 0 0 0 0 0
SORGHUM 18,875 20,319 65,845 976,556 564,622
SOYBEANS 1,199,136 1,149,404 1,130,306 24,169,056 19,540,223
SUNFLOWER 0 0 0 0 0
WHEAT 435,129 560,976 524,942 15,917,942 14,016,732
Total 1,999,365 2,214,526 2,848,715 50,514,508 54,745,614
————————————————————————-
CROP MARKETING YEARS BEGIN JUNE 1 FOR WHEAT, RYE, OATS, BARLEY AND
FLAXSEED; SEPTEMBER 1 FOR CORN, SORGHUM, SOYBEANS AND SUNFLOWER SEEDS.
INCLUDES WATERWAY SHIPMENTS TO CANADA.
· Philadelphia Fed Non Manufacturing Regional Business Activity Index Jan 13.4 (prev 13.2)
o -New Orders 16.6 (prev 15.7)
o -Wage And Benefit Cost Index 49.9 (prev 48.7)
o -Employment 12.5 (prev 20.4)
· Canada Manufacturing Sales (M/M) Nov -0.6% (est -0.5%; prevR 0.2%; prev -0.7%)
Corn.
· Corn futures ended 0.75-1.75 cents lower post US holiday in a risk off session. Traders are awaiting to see is China will buy U.S. grains. There were no USDA 24-hour announcements.
· USDA US corn export inspections as of January 16, 2020 were 345,859 tons, below a range of trade expectations, below 483,559 tons previous week and compares to 1,127,279 tons year ago. Major countries included Mexico for 153,277 tons, Colombia for 120,485 tons, and Japan for 40,881 tons.
· China's agriculture ministry formally issued biosafety certificates domestic GMO seed corn and soybeans; same varieties announced last month that were pending review.
· China's fertilizer production was up 3.6% year-on-year to 56.249 million tons in 2019.
· Ukraine, Germany and China reported bird flu cases over the weekend. H5N8 and H5N6 (China) bird flu.
· China meat importers are looking to renegotiate their contracts for beef imports from Brazil, citing high prices. Some Chinese importers are refusing to pay for shipments that already arrived.


CBOT March corn is seen in a $3.70 and $4.05 range