---
From:
research
Sent:
Friday, June 05, 2020 7:08:33 AM (UTC-06:00) Central Time (US & Canada)
To:
research
Subject:
Daily Market Report – June 5, 2020
The EIA reported an injection of 102 Bcf natural gas storage for the week ending May 29 yesterday. This came in at the low end of a range of market estimates.
Ahead of the report, the July contract was up 1 cent to $1.83/MMBtu. The prompt month advanced further to around $1.839 when the EIA data was released, then dipped into the red minutes later. By 11 a.m. ET, the July contract was trading at $1.826.
This morning the energy markets keep a close eye on TS Cristobal. The storm lost some power as it crossed the Yucatan Peninsula, but forecast have it gaining strength as it head back in the GoM. The storm will pass through the GoM offshore platforms tomorrow. The probability of the storm becoming hurricane status is quite low, yet many large E&P have evacuated oil/gas producing platforms ahead of the storm.
The path of Cristobal will likely impact production this weekend, but will have more of a lasting impact on demand as it moves up through central American throughout next week.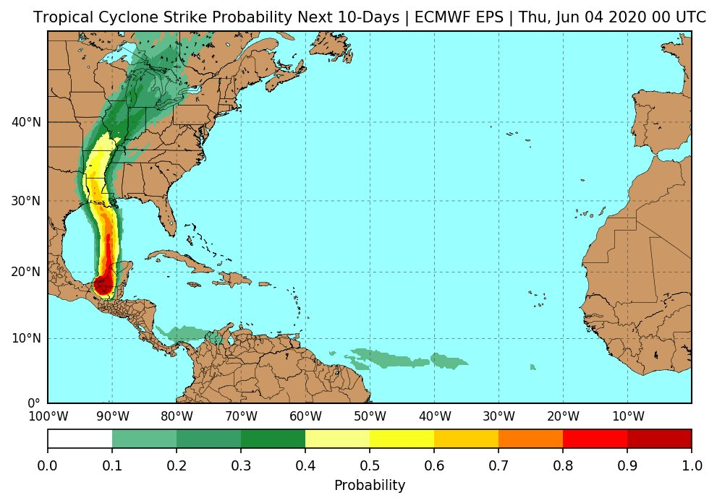 Today's Fundamentals:
Daily US natural gas production is estimated to be 83.9 Bcf/d this morning. Today's estimated production is -0.5 Bcf/d to yesterday, and -0.65 Bcf/d to the 7D average.
Natural gas consumption is modelled to be 68.1 Bcf today, +0.74 Bcf compared to yesterday and +2.34 Bcf to the 7D average. US power burns are expected to be 35.2 Bcf today, and US ResComm usage is expected to be 7.9 Bcf.
Net LNG deliveries are expected to be 5.0 Bcf/d today.
Mexican exports are 5.4 Bcf/d. Net Canadian imports dropped to 4.3 Bcf/d.
Bloomberg IM: Het Shah
enelyst DM: @het.co
Tel: 917-975-2960
This email, any information contained herein and any files transmitted with it (collectively, the Material) are the sole property of OTC Global Holdings LP and its affiliates (OTCGH); are confidential, may be legally privileged and are intended solely for the use of the individual or entity to whom they are addressed. Unauthorized disclosure, copying or distribution of the Material, is strictly prohibited and the recipient shall not redistribute the Material in any form to a third party. Please notify the sender immediately by email if you have received this email by mistake, delete this email from your system and destroy any hard copies. OTCGH waives no privilege or confidentiality due to any mistaken transmission of this email.