PDF attached includes updated US corn and wheat balances

Higher
close in soybeans, nearly meal and sharply higher trade in soybean oil. Corn closed higher and pulled Chicago and KC wheat along with it. Nearby Mn finished lower. Firm US cash corn and meal basis was noted. Talk of La Nina that could threat SA and US
southern Great Plains rainfall prospects was noted. USDA export inspections for corn and soybeans were excellent, but wheat fell well below expectations.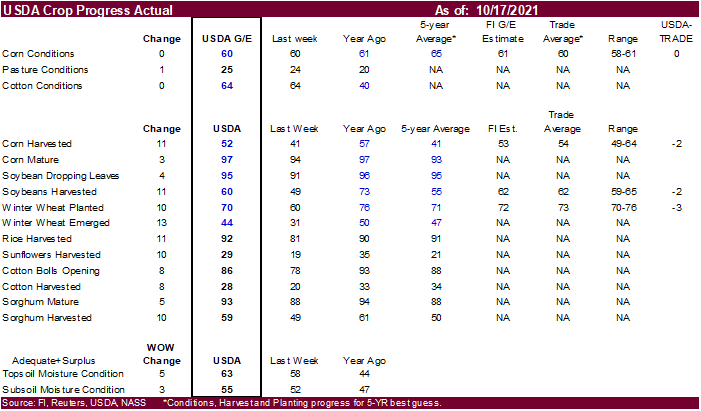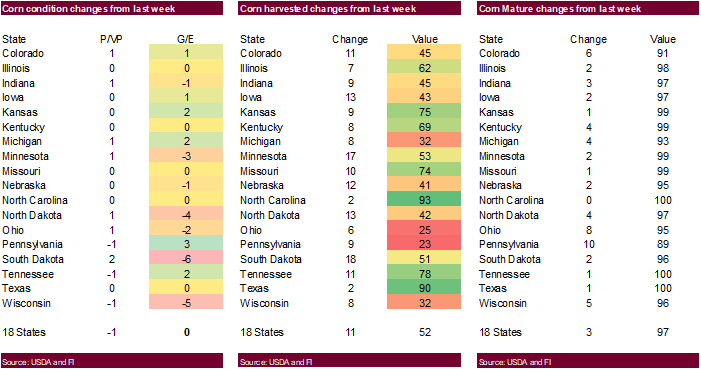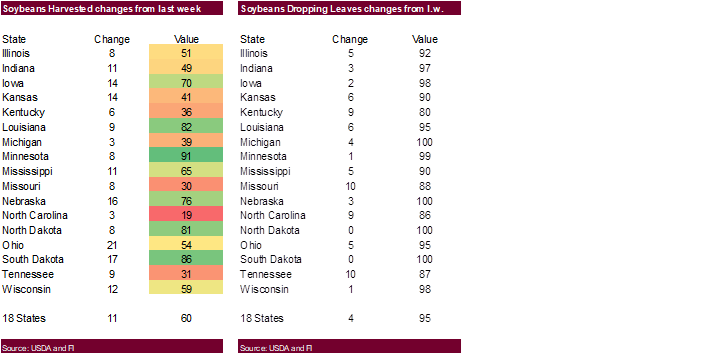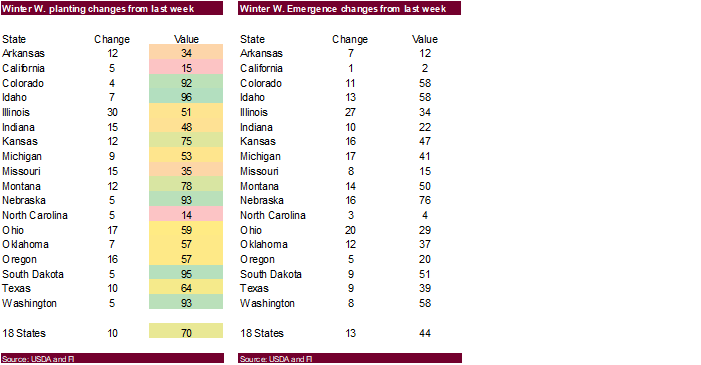 7-day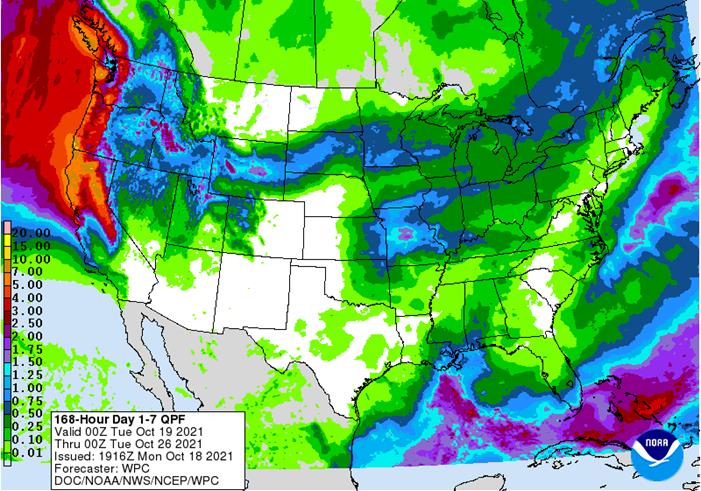 MOST
IMPORTANT WEATHER AROUND THE WORLD
Argentina
was dry during the weekend and will remain that way through Thursday

Rain
will develop late Thursday night and Friday before ending in the northeast Saturday

Moisture
totals will vary from 0.05 to 0.75 inch with a few amounts in the east over 1.00 inch


Another
period of dry weather will occur Sunday through Thursday, October 28 is expected before rain evolves once again
Showers
are possible October 29-November 1 with good coverage, but confidence is a little low because of the amount of time between now and then in which weather patterns can change3
Temperatures
will be seasonable with a slight warmer bias, especially next week
Early
corn, sunseed, rice and cotton planting will advance most favorably in areas that received rain recently. Crop emergence and establishment may be slow in areas that have low soil moisture which includes parts of the west and north. Winter wheat development
should advance relatively well as long as the rain that falls this week and next week is sufficient counter evaporative moisture losses during the drier days.


Brazil
rainfall during the weekend was greatest in parts of center west through interior southern and center south Brazil

Amounts
varied greatly with 1.00 to 2.00 inches in eastern Bolivia, east-central Paraguay, southern Mato Grosso do Sul, northwestern Parana and southeastern Santa Catarina.


Rainfall
elsewhere in the described region varied up to 1.10 inches

Dry
biased conditions prevailed through Sunday morning in Goias, eastern Mato Grosso , northern and eastern Minas Gerais, Espirito Santo and Bahia
Temperatures
were seasonable

Brazil
weather over the next two weeks will be well mixed for many areas, but far southern parts of the nation may experience net drying and should be closely monitored.


No
critically dry weather is expected, but some areas could experience a net loss in soil moisture that might eventually raise the potential for crop stress in November.

Rain
will fall most frequently and significantly in Minas Gerais during the next ten days, but sufficient rain will also occur in surrounding areas to support center west and the remainder of center south crop development in a favorable manner
Most
of Brazil's crop areas will either have sufficient soil moisture or well-timed rainfall to support soybean, corn, rice, cotton and other summer crop planting. Sufficient moisture will also fall to support coffee, citrus and sugarcane development. Less frequent
rain in southern parts of wheat country

U.S.
harvest weather improved during the weekend with precipitation absent in the Great Plains and western Corn Belt and ended in the eastern Midwest, Delta and southeastern states


Moisture
totals for the Friday through Sunday were greatest in the eastern Midwest, Tennessee River Basin and Delta where rainfall varied from 0.20 to 0.60 inch with a few amounts of 1.00 to 2.00 inches


Northwestern
and southern Ohio and northeastern Kentucky were wettest

Highest
temperatures were in the 60s and 70s Fahrenheit
Lowest
temperatures were in the 20s and 30s in the west-central high Plains region and throughout the Rocky Mountain region and Great Basin while 30s and 40s occurred in the northern Plains and upper Midwest

Frost
and a few light freezes occurred in West Texas, but the cold may have been welcome for maturing crops by speeding along leaf defoliation

Frost
and freezes were not threatening to very many immature crops and warming was expected this week

U.S.
weather this week…..

Rain
will be limited to Tuesday into Thursday across the Plains and Midwest, Delta and southeastern states


Resulting
amounts will be very light ranging from 0.10 to 0.35 inch except from South Dakota into the Great Lakes region where a few amounts of 0.35 to 1.00 inch is possible

Temperatures
will be seasonable to slightly warmer than usual with the Plains and interior western states warmest
Favorable
field progress will advance around this week's precipitation

Both
the planting of winter crops and the harvest of summer grain and oilseeds will advance favorably during the week
Cotton
maturation and harvest progress is also expected along with other crops

U.S.
weather next week will be more active in with at least one large storm system bringing precipitation to the northern and eastern Plains, Midwest, Delta and southeastern states

Rainfall
will be sufficient to disrupt farming activity and to bolster topsoil moisture for a short period of time
Rain
is not likely to be significant in the west-central or southwestern Plains




Waves
of rain will impact the Pacific Northwest and northern Rocky Mountain region




Rain
and mountain snow will fall in the Sierra Nevada
A
minor disturbance may produce a few showers this weekend and a second large storm system is possible in the eastern Midwest late next week after the first large system occurs in the upper Midwest and western Corn Belt

Temperatures
will turn colder in the western states and be warmer than usual in the central and eastern states
Farming
activity will be slowed for a little while next week because of rain, but the delays are not expected to be problematic and the moisture will be good for winter crop establishment

Another
wave of rain and snow will move through eastern Canada's Prairies next week while this week will be dry biased

Harvesting
of this year's crops is virtually complete, but the rain is needed to restore soil moisture after a multi-year drought seriously reduced production in 2021

The
moisture must occur to improve spring planting conditions in 2022; however, central parts of the Prairies (southern and eastern Alberta and central through western Saskatchewan) are unlikely to get much meaningful moisture


South
Africa weekend rain was limited to parts of Natal and the far southwestern coastal areas

Net
drying was good for fieldwork, although rain was needed in many areas to supporting spring planting and late season winter crop development

South
Africa will receive periodic rainfall during the coming week and that will bolster soil moisture for improved conditions for late season wheat development and early planting of summer crops

Showers
through Wednesday will impact half of the crop region, but rain amounts will not be more than 0.50 inch
Greater
rain is expected Thursday through and Friday with coverage of 75% from interior parts of Northern Cape and Eastern Cape through Mpumalanga, Natal and southwestern Limpopo
Alternating
periods of rain and sunshine are expected in the coming weekend and next week further supporting summer crop planting and late season winter crop development

China
rainfall Friday and Saturday was greatest from the Yangtze River Basin southward to Yunnan, Guangxi and the southern coastal provinces

Amounts
varied up to 0.79 inch most often with locally greater rainfall in southwestern Hunan where 2.83 inches resulted

Dry
conditions occurred in the North China Plain and northeastern provinces

Temperatures
have been cooler than usual recently and that may continue this week

China
weather over the next ten days will be driest in the northeastern provinces and in the North China Plain as well as lower portions of the Yellow River Basin

Rain
is likely in most other areas at one time or another and in amounts sufficient to support winter crop planting and establishment

Some
delay to farming activity will occur, but the wettest conditions will be in the interior southeastern provinces allowing fieldwork to advance around the precipitation in other areas

Temperatures
will be cooler than usual this week and then warmer next week

Central
Vietnam received heavy rainfall during the weekend

Amounts
through dawn today varied up to 18.15 inches near Hue

Most
of the greatest rain fell from Nha Trang northward to just south of Vinh.
The
heaviest rain will shift farther to the north and end today

Some
serious flooding may be occurring in parts of the region and drier weather is needed to protect personal property and some agriculture
Another
round of excessive coastal flooding is expected to begin Thursday and last into early next week

Rain
will fall frequently in Indonesia, Malaysia and Philippines through the next ten to 12 days maintaining a good outlook for palm oil, coconut, corn, rice, sugarcane, citrus and many other crops
Heavy
rain evolved in India during the week with three areas impacted most significantly

The
first was from coastal Odisha into Bangladesh where amounts ranged up to 3.25 inches, but much more was expected today and Tuesday
Rain
also fell from western and northern Madhya Pradesh to Haryana and northern Uttar Pradesh as well as western Nepal and this rain will continue today

Rainfall
of 1.50 to nearly 4.00 inches occurred in these areas through dawn today

Rainfall
in northern India will range from 2.00 to 5.00 inches today favoring Nepal and Uttaranchal

Rainfall
of 2.00 to 6.00 inches will also impact Bangladesh and immediate neighboring areas today and Tuesday

Far
southern India was the third area of heavy rain during the weekend, but this region will continue receive waves of rain throughout this week resulting in 2.00 to 6.00 inches of additional moisture
Drier
weather will follow Friday through next week

Most
other areas in India will experience a good mix of weather during the next two weeks with southern areas wettest and favorable drying conditions likely in the central and northwest
Western
Australia will receive some important rainfall today and Tuesday easing recent dryness and supporting winter crop development

Yield
potentials will remain very high
Drier
weather will follow later this week into the weekend
A
few more showers may occur early next week
Temperatures
will be seasonable

Other
areas in Australia are expecting to see a few showers and thunderstorms along with many days of drying which should be very good for reproducing and filling winter crops and for early season harvest progress

Temperatures
will trend warmer next week

Western
portions of the CIS will see a boost in precipitation this week in the north and some needed moisture "may" evolve next week from eastern Ukraine into the middle Volga River Basin


Confidence
in the moisture boost for eastern Ukraine and the middle Volga Basin next week is fair, but not high and the potential event will be closely monitored
Winter
crop planting should be complete or nearly complete

Recent
temperatures have been pushing many crops into semi-dormancy

Temperatures
in the coming week to ten days will be near to above normal which might support a little more development in parts of Ukraine and Russia's Southern Region

Southeastern
Europe's heavy rain event finally has ended and now some gradual drying will occur that should eventually help get farmers back into the fields