PDF attached
WASHINGTON,
April 12, 2021—Private exporters reported to the U.S. Department of Agriculture the follow activity:
Export
sales of 132,000 metric tons of soybeans for delivery to China during the 2021/2022 marketing year; and

Export
sales of 110,000 metric tons of soybeans for delivery to Bangladesh. Of the total, 55,000 metric tons is for delivery during the 2020/2021 marketing year and 55,000 metric tons is for delivery during the 2021/2022 marketing year.
Mostly
lower start to the week with weather and MPOB palm oil data in focus. Later we will see USDA export inspections, and US crop progress after the close.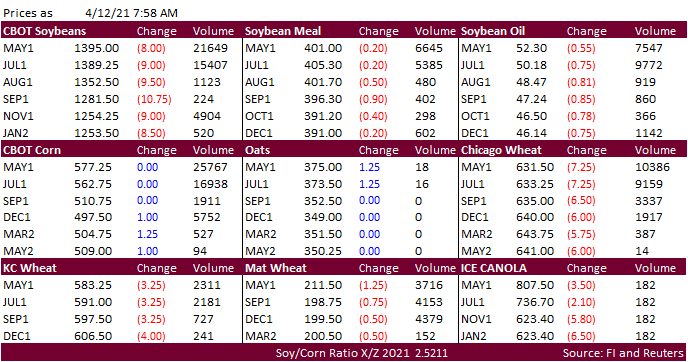 7-day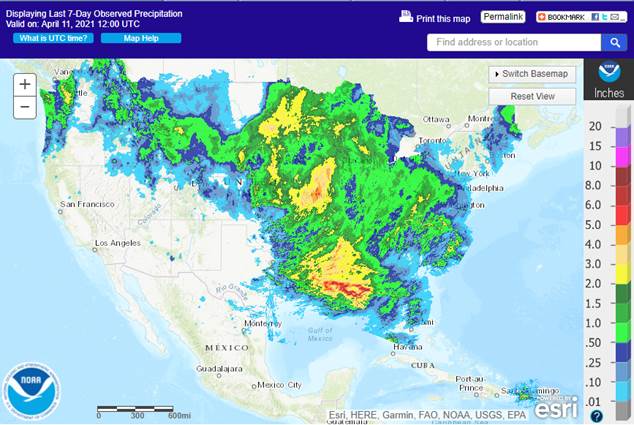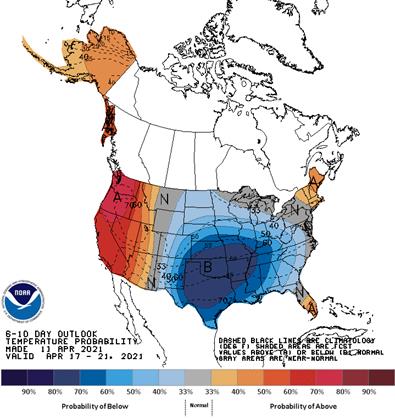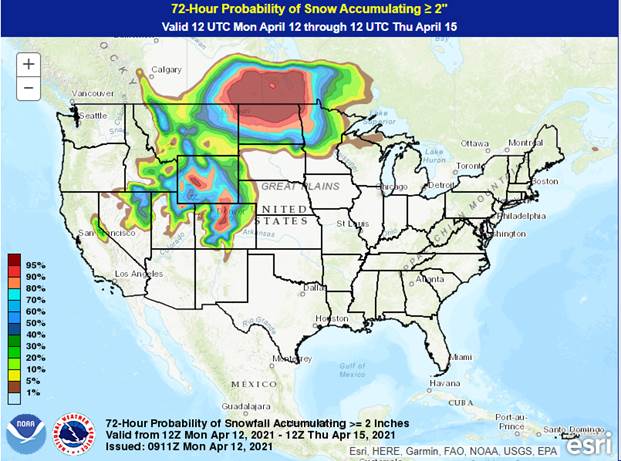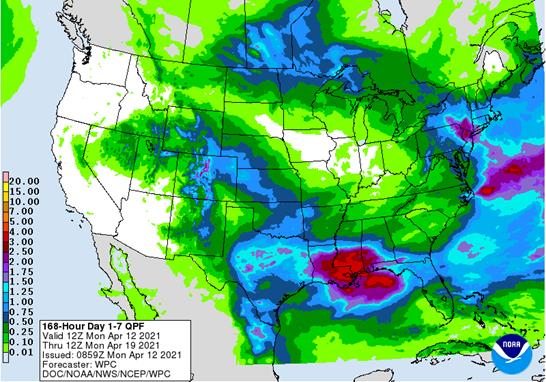 World
Weather Inc.
MARKET
WEATHER MENTALITY FOR CORN AND SOYBEANS: Some relief to dryness in Brazil this weekend into next week will offer a little hope of timely rainfall that may help support reproducing and filling winter crops as they run out of soil moisture from drying that
will continue into Friday. A general soaking is not likely, but if showers occur frequently into late month it might provide some support for reproduction.

Argentina
wet weather late last week disrupted farming activity and saturated the soil in some areas as well as inducing local flooding in central Santa Fe. Improving conditions this week will be good, but more rain during the weekend and next week may set back fieldwork
once again.
U.S.
planting moisture still looks good, although cool temperatures during the next couple of weeks may slow fieldwork and germination as well as emergence. Warmer temperatures with periodic rain are needed for the best scenario. Iowa will be closely monitored
for developing dryness, although it is not too dry today.
Recent
moisture in the upper Midwest and southeastern Canada's Prairies will improve the planting outlook for late this month and especially in May if there is follow up rain. Temperatures will be cool this week limiting any thought of fieldwork for a while.

Southeast
Asia Palm Oil conditions will remain good during the next ten days as will be winter rapeseed in Western Europe, China and India. South Africa summer crops will remain in good condition as well.

Overall,
weather today will likely produce a mixed influence on market mentality with a bearish bias.

MARKET
WEATHER MENTALITY FOR WHEAT AND OTHER SMALL GRAINS: Portions of North Dakota, Saskatchewan and Manitoba will get welcome moisture this week easing long term dryness, although more moisture will be needed. Areas in the southwestern Canada Prairies and the
northwestern U.S. Plains will continue too dry and waiting for significant rain.

Dryness
remains a concern for unirrigated winter crops from central Washington through Oregon and no relief is expected for the coming ten days.

U.S.
hard red winter wheat areas will receive significant rain Wednesday into Friday of this week, although the far southwest may not get a large amount of moisture. The precipitation will bring some needed relief after recent net drying and crop conditions will
respond positively reinforcing good yield potentials. Additional timely rain must continue through the spring, however.

China
winter wheat conditions remain very good with a positive outlook, despite net drying over the next ten days. India's wheat is being harvesting with little reason for lasting disruptions because of rain. North Africa still has need for greater rain in southwestern
Morocco and northwestern Algeria and parts of Tunisia are starting to dry down as well.

Europe
weekend precipitation was good in the west where France and Spain both received needed rain. Other areas in Europe that have been drying out will get some moisture over the coming week. Warming is needed, though, across the continent.

Warming
in the western CIS this week will be short-lived, but will melt snow and warm topsoil temperatures for future crop development. Some greening is already under way in Russia's Southern Region and parts of Ukraine.

Australia's
winter crop planting outlook is favorable and Tropical Cyclone Seroja is bringing a welcome boost to topsoil moisture today in the far west.

Overall,
weather today may have a bearish bias to market mentality.
Source:
World Weather inc.
Monday,
April 12:
USDA
export inspections – corn, soybeans, wheat, 11am
U.S.
crop plantings – corn, wheat, cotton, 4pm
Malaysian
Palm Oil Board data on March end-stocks, output, exports
Malaysia's
April 1-10 palm oil export data from SGS
EU
weekly grain, oilseed import and export data
Ivory
Coast cocoa arrivals
Tuesday,
April 13:
China
customs to publish trade data, including imports of soy, edible oils, meat and rubber
France's
agriculture ministry updates on 2021 crop plantings
Malaysian
Cocoa Board releases 1Q 2021 cocoa grinding numbers
HOLIDAY:
Thailand
Wednesday,
April 14:
EIA
weekly U.S. ethanol inventories, production
Unica's
data on cane crush and sugar production in Brazil's center-south region (tentative)
FranceAgriMer
monthly grains report
European
Cocoa Association's quarterly grind data (tentative)
HOLIDAY:
India, Bangladesh, Thailand
Thursday,
April 15:
USDA
weekly crop net-export sales for corn, soybeans, wheat, cotton, pork, beef, 8:30am
Malaysia's
April 1-15 palm oil export data
The
U.S. National Confectionery Association releases first quarter cocoa grinding data for North America
USDA
updates monthly North American sugar and sweeteners outlook
White
sugar May contract expires
New
Zealand food prices
HOLIDAY:
Thailand
Friday,
April 16:
ICE
Futures Europe weekly commitments of traders report (6:30pm London)
CFTC
commitments of traders weekly report on positions for various U.S. futures and options, 3:30pm
Cocoa
Association of Asia releases 1Q 2021 cocoa grinding data
FranceAgriMer
weekly update on crop conditions
Source:
Bloomberg and FI