PDF Attached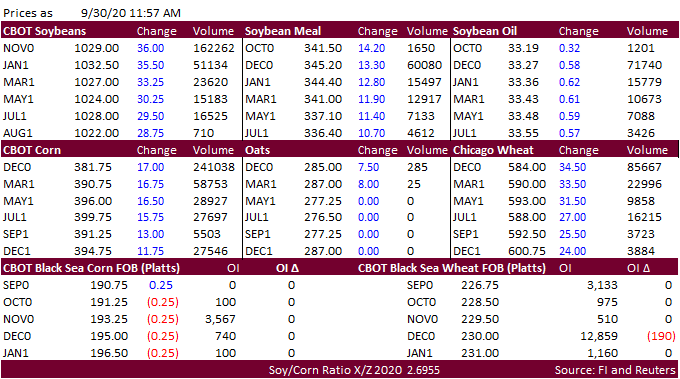 USDA released it September grain stocks update
Reaction: Bullish. We upward revised our near-term trading ranges
September one US soybean stocks were reported at 523 million bushels versus USDA's S&D outlook of 575 million, a huge difference, and 53 million below an average trade guess. Either Q4 crush &/or export were miscounted (usually known), or residual was way off USDA's previous interpretation, which is partially justified in an unchanged production estimate for 2019. June one soybean stocks were 1.381 billion bushels, 5 less than what was reported three months ago, so unlike corn, September one stocks deviations from trade do not reflect previous quarters. The soybean stocks are a mystery, but regardless how one interprets it, stocks are tighter and that should reflect higher prices year over year.
2019 US corn production was upward revised 3 million bushels to 13.620 billion. Going forward USDA will revise previous year corn production in every September Grain Stocks report. Corn September one stocks of 1.995 billion bushels were reported 255 million below trade expectations. Note USDA revised previous quarter June one corn stocks by 205 million bushels! A big explanation for the deviation in corn stocks from USDA's S&D stocks projection of 2.253 billion. Therefore, the trade missed feed/residual demand by roughly 50 million bushels, in our opinion. But what happened with the previous quarters? We will likely see that question come up in October when USDA typically hosts a statistical conference.
US wheat production came in lower than the trade estimate by 15 million bushels to 1.826 billion due to downward revision to winter wheat led by hard red winter. Wheat stocks came in much below trade expectations at 2.159 billion bushels, implying a potential 25 to 50-million-bushel upward revision by USDA to its feed demand in the upcoming supply and demand report.
Price projections revised below.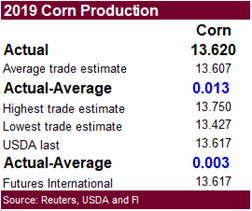 Price outlook:
December corn is seen in a $3.60-$4.00 range. (up 20, up 15)
November soybeans are seen in a $9.90-$10.75 range (up 15, up 25)
December soybean meal is seen in a $330-$360 range. (up 20, dn 10)
December soybean oil is seen in a 32.00-35.00 range. (up 50, dn 50)
December Chicago wheat is seen in a $5.50-$6.10 range. (up 20, up 35)
December KC wheat is seen in a $4.80-$5.25 range. (up 20, up 40)
December MN wheat is seen in a $5.30-$5.60 range. (up 25, up 15)
Terry Reilly
Senior Commodity Analyst – Grain and Oilseeds
Futures International │190 S LaSalle St., Suite 410│Chicago, IL 60603
W: 312.604.1366
AIM: fi_treilly
ICE IM: treilly1
Skype: fi.treilly

Trading of futures, options, swaps and other derivatives is risky and is not suitable for all persons. All of these investment products are leveraged, and you can lose more than your initial deposit. Each investment product is offered only to and from jurisdictions where solicitation and sale are lawful, and in accordance with applicable laws and regulations in such jurisdiction. The information provided here should not be relied upon as a substitute for independent research before making your investment decisions. Futures International, LLC is merely providing this information for your general information and the information does not take into account any particular individual's investment objectives, financial situation, or needs. All investors should obtain advice based on their unique situation before making any investment decision. The contents of this communication and any attachments are for informational purposes only and under no circumstances should they be construed as an offer to buy or sell, or a solicitation to buy or sell any future, option, swap or other derivative. The sources for the information and any opinions in this communication are believed to be reliable, but Futures International, LLC does not warrant or guarantee the accuracy of such information or opinions. Futures International, LLC and its principals and employees may take positions different from any positions described in this communication. Past results are not necessarily indicative of future results.