PDF attached
USDA released it July report update
This a typical buy the rumor/sell the fact. Corn failed to stay above water post USDA report after the world carryout was lowered 22.8 million tons to 315 million tons. But this was largely expected since we already knew there was going to be a billion shaved off US production. The US 2019-20 carryout of 2.248 million bushels, about 29 million below expectations, also failed to gain support. New crop US corn carryout came in at 2.648 billion bushels, 35 million below an average trade guess. Overall the corn S&D was perceived bearish by bull traders looking for a downward revision in the US yield, which was left unchanged.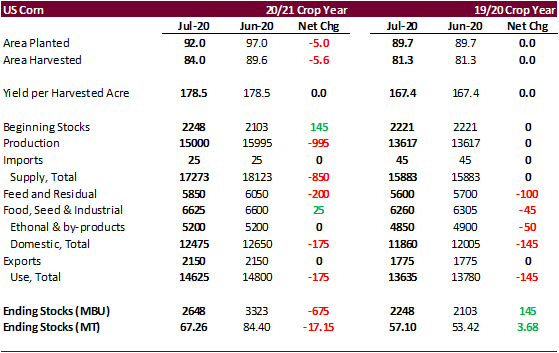 A higher than expected US soybean carryout, 36 million above trade expectations, was perceived bearish, but new crop of 425 million was 9 million above trade expectations. USDA left their US 2020 yield unchanged, as expected. USDA raised both 2019-20 and 2020-21 US crush by a more than expected 15 million bushels. We don't agree based on seasonal crush downtime and projected slow rebound in animal unit numbers for the fall quarter. Soybean oil was flat out bearish on higher supply and downgrade in 2019-20 US food use resulting in higher stocks. 2019-20 US soybean oil for biodiesel use is too low in our opinion. Note USDA increased their China 2019-20 import forecast by 2 million tons to 96 million, same as CASDE and what is projected for 2020-21.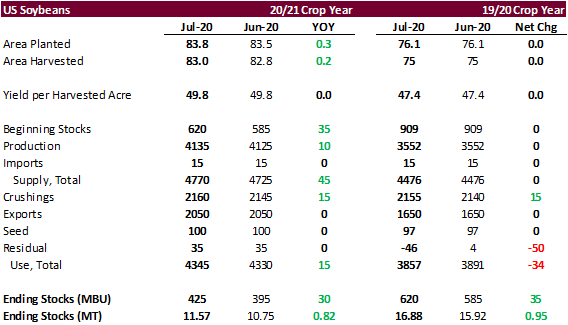 USDA reported all-wheat production at 1.824 billion, below expectations but near our estimate. Some analysts may have forgotten to factor in the area changes or missed the HRW and SRW yields by a good amount. The US new-crop wheat carryout was increase 17 million bushels to 942 million bushels. The only significant year on year change in US by class wheat carryout was in HRW, from 521 million bushels to 423 million bushels. On the world side, EU was lowered 1.5 million tons and Russia by 0.50 million.

We found it puzzling that the US soybean and corn export projections for 2019-20 were left unchanged given the recent purchases of US agriculture goods, including the large corn sale and China comments from the CASDE report regarding fulfilling the Phase 1 US/China trade deal.
Surprisingly KC wheat is lower and Chicago higher. Sell off in corn is warranted while soybeans remain on the defensive.
USDA NASS and OCE executive summaries
https://www.nass.usda.gov/Newsroom/Executive_Briefings/index.php
https://www.usda.gov/oce/commodity/wasde/Secretary_Briefing/index.htm
Price outlook:
September corn is seen in a $3.20 and $3.65 range over the short term. December lows could reach $3.10.
August soybeans are seen in a $8.60-$9.10 range, over the medium term (MT).
August soybean meal is seen in a $275 to $310 range over the short term. (ST)
August soybean oil range is seen in a 27.00 to 28.50 range over the short term
Chicago September is seen in a $5.15-$5.55 range, over the short term.
KC September; $4.35-$4.75 range over the medium term.
MN September $5.05-$5.30 range.
Terry Reilly
Senior Commodity Analyst – Grain and Oilseeds
Futures International │190 S LaSalle St., Suite 410│Chicago, IL 60603
W: 312.604.1366
AIM: fi_treilly
ICE IM: treilly1
Skype: fi.treilly

Trading of futures, options, swaps and other derivatives is risky and is not suitable for all persons. All of these investment products are leveraged, and you can lose more than your initial deposit. Each investment product is offered only to and from jurisdictions where solicitation and sale are lawful, and in accordance with applicable laws and regulations in such jurisdiction. The information provided here should not be relied upon as a substitute for independent research before making your investment decisions. Futures International, LLC is merely providing this information for your general information and the information does not take into account any particular individual's investment objectives, financial situation, or needs. All investors should obtain advice based on their unique situation before making any investment decision. The contents of this communication and any attachments are for informational purposes only and under no circumstances should they be construed as an offer to buy or sell, or a solicitation to buy or sell any future, option, swap or other derivative. The sources for the information and any opinions in this communication are believed to be reliable, but Futures International, LLC does not warrant or guarantee the accuracy of such information or opinions. Futures International, LLC and its principals and employees may take positions different from any positions described in this communication. Past results are not necessarily indicative of future results.