PDF Attached
Attached
are our world stocks, use and STU % graphs.
Yo-yo
session in grains today while soybeans stayed lower on weakness in meal and improving SA weather. SBO rallied. Egypt seeks vegetable oils on Thursday. Australian wheat quality concerns lifted spot KC and Chicago to new contract highs. There are no major US
weather risks during the balance of this month but it will remain dry across the southern Great Plains.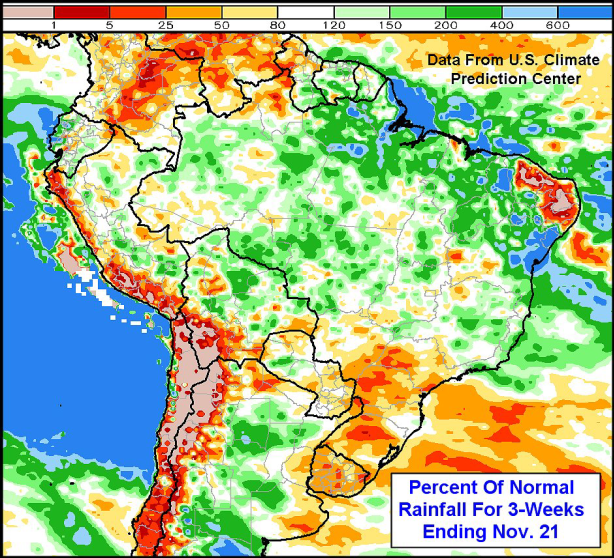 Source:
US CPC, World Weather Inc
World
Weather Inc.
MOST
IMPORTANT WEATHER AROUND THE WORLD
Eastern
Australia winter crop conditions will be in decline again for a while this week as additional rain falls through Thursday followed by periodic showers during the weekend and next week.


Too
much rain too often will threaten the quality of unharvested wheat, barley and canola in New South Wales and could threaten some crops in Victoria and a few of the remaining unharvested crops in Queensland
The
moisture will be very good for summer crops especially those in Queensland without irrigation
Improved
livestock grazing conditions will result as well because of rain
Sugarcane
improvements are expected along the Queensland coast

Argentina's
weather today is advertised a little wetter this weekend than advertised Monday

Two
rain events this week one Wednesday and the other this weekend will help maintain a good outlook for grain, oilseeds and other crops
Recent
warm temperatures have accelerated drying, but these two rain events should provide adequate relief to carry crops for a while
Next
week looks drier biased
Temperatures
will be seasonable after today

Central
and northern Argentina temperatures recently were in the 80s and 90s Fahrenheit




High
temperatures Monday reached over 100 in Santiago del Estero and areas to the northwest while solidly in the 90s in most of central and northern Argentina

An
extreme high of 108 occurred in west-central Santiago del Estero

Brazil's
weather is still advertised to be well mixed over the next two weeks

However,
month to date rainfall in southern Brazil has continued lighter than usual




As
rain intensity continues lighter than usual over the next few weeks the potential for drying topsoil will rise


All
that it will take for a firmer ground is a single missed or lighter than expected rain event and/or warmer temperatures
The
southern part of Brazil should continue to be closely monitored even through soil moisture and crop conditions are very good

Wheat
harvesting will advance well in the south
Late
soybean and corn planting are advancing well
Citrus,
sugarcane and coffee are rated well with little change likely for a while

Colombia
and Venezuela rainfall has been lighter than usual this month

The
change has helped to curb flooding and improve coffee, corn, citrus, sugarcane, rice and a host of other crops
Precipitation
will be periodic, but not excessive over the next two weeks

Southern
India remains plenty wet and some field are too wet

Rainfall
is expected to become most concentrated on the lower east coast as time moves along, but the entire southern one-third of the nation needs drier weather to expedite summer crop maturation and improved harvest progress
Tropical
disturbance expected to move along the lower east coast Thursday through Sunday will produce heavy to excessive rainfall resulting in coastal flooding

Commerce
could be briefly affected
Property
damage should be limited to a few rare occurrences and mostly along the lower coast

Central
and northern India will experience dry weather during much of the next ten days favoring winter crop planting, establishment and early growth
Northern
parts of the Malay Peninsula will receive excessive rainfall during the coming week with some areas getting 10.00 to 20.00 inches of rain by this time next week


Only
a small amount of agriculture is produced in the impacted region, but rice and sugarcane will be negatively impacted

A
tropical cyclone may evolve in the Bay of Bengal next week at this time that will need to be closely monitored for possible impact on Bangladesh, far eastern India and/or Myanmar
South
Africa has been and will continue to experience sporadic daily showers and thunderstorms that will support summer crop planting across much of the nation over time.


Many
areas still have need for significant rain today, but soil moisture should slowly improve over the next two weeks
Planting
and early crop emergence and establishment should advance well as soil conditions improve

China's
weather should be relatively tranquil over the next ten days as precipitation becomes more limited and light

Snowfall
in the northeast from the latest storm will end today with a few lingering bouts of snow into Wednesday

Europe
weather is expected to gradually become more active as time moves along resulting in greater soil moisture

Winter
crops are mostly planted and the majority are established well enough to benefit from the moisture
Dormancy
and semi-dormancy has already settled into winter crops in the central and east

North
Africa will get some welcome rainfall over the next ten days improving topsoil moisture for winter wheat and barley planting
Turkey
and Greece rainfall is expected to increase during the next ten days

Some
western Turkey and Greece areas have been quite dry this month

West-central
Africa rainfall should occur most often near the coast allowing interior coffee, cotton, rice, cocoa and sugarcane to mature favorably

Cameroon
and coastal areas from Nigeria to Ivory Coast will receive rain periodically

Russia,
Ukraine, the Baltic States and Belarus (the western CIS) will experience more frequent rain over the next ten days resulting in a moisture boost which will be welcome in the spring

The
precipitation will occur as snow and rain
Some
snow melt is expected in areas near the Ukraine border

U.S.
crop weather Monday was generally dry biased and temperatures were cooler than usual in the Midwest and warmer than usual in the northwestern and west-central Plains as well as the southwestern states
U.S.
weather outlook will be a little tranquil for a while

Limited
precipitation potential remains for hard red winter wheat production areas

Any
precipitation that falls will not likely impact the driest areas leaving them quite dry

The
Texas Panhandle into eastern Colorado have been driest in recent weeks

Limited
precipitation will impact the northwestern U.S. Plains and neighboring areas of Canada's central Prairies

There
is some potential for more frequent snow events to impact Montana and Wyoming as time moves along into early December

Much
of California, the southwestern desert region, southern Rocky Mountains and southern Great Basin will be dry biased during the next ten days
U.S.
Pacific Northwest will experience the greatest precipitation in the Cascade Mountains and areas west to the coast of Washington and Oregon as well as in the northern mountains of Idaho and western Montana

Most
interior valleys are unlikely to get much precipitation

U.S.
Delta the lower and eastern parts of the Midwest and Tennessee River Basin will receive rain most frequently and stay wettest over the next ten days
U.S.
southeastern states will see a mix of rain and sunshine that may result in net drying for parts of the region

Ontario
and Quebec, Canada will receive some periodic precipitation possibly slowing the late harvest


The
moisture will be good for winter crops, although temperatures are trending cooler and wheat will soon turn semi-dormant

Much
of southeastern Asia will see alternating periods of rain and sunshine

This
will impact Vietnam, Thailand, Cambodia, Laos, the Philippines, Indonesia and Malaysia
Some
net drying is expected in Sumatra, Indonesia, but soil moisture is abundant there today and a little drying might be welcome

Central
America rainfall will be erratic over the next two weeks with the greatest rain expected in Caribbean and Gulf of Mexico coastal areas
Today's
Southern Oscillational Index was +8.21 and it was expected to move erratically over the coming week
New
Zealand rainfall is expected to be below normal over the next week to ten days except along the west coast of South Island where rainfall will be greater than usual

Temperatures
will be seasonable
Tuesday,
Nov. 23:
EU
weekly grain, oilseed import and export data
Brazil's
Conab releases sugar and cane production data (tentative)
Council
of Palm Oil Producing Countries online webinar
U.S.
poultry slaughter, 3pm