PDF Attached
USD
was up 48 points today but that did not deter commodity long buyers from buying wheat, which supported soybeans and corn. Today we saw soybean oil share buying. US crop progress showed a slightly less than expected pace on corn and soybean harvest progress
but note US winter wheat crop conditions dropped 2 points, something to consider for tonight's trade.

US
conditions/progress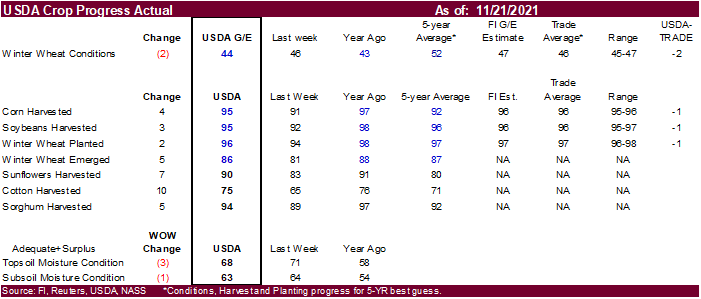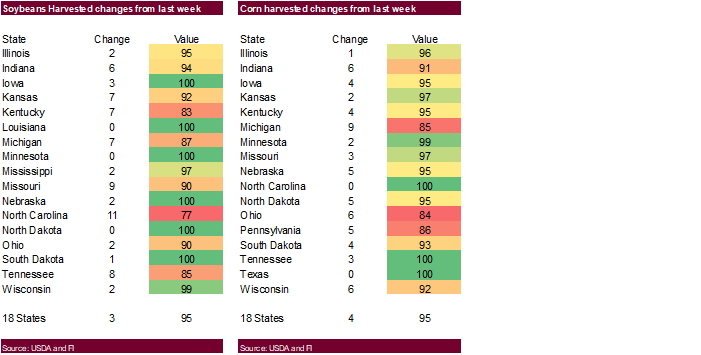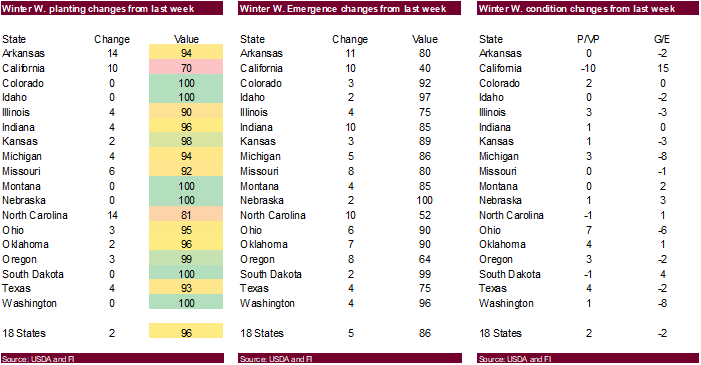 4-day
Australia rainfall forecast – wet bias east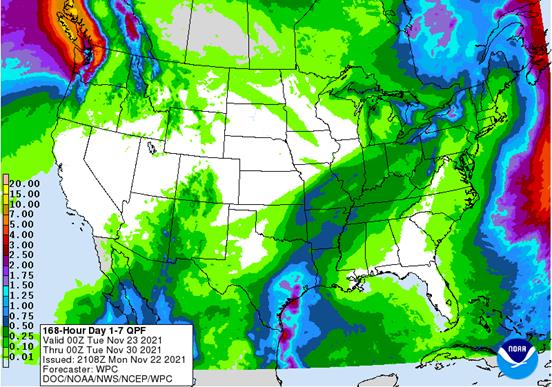 World
Weather Inc.
MOST
IMPORTANT WEATHER AROUND THE WORLD
Brazil
and Argentina weather is expected to be mostly well mixed over the next ten days; however, a close watch on the distribution of rain is warranted in Argentina due to warm temperatures and many days of drying between each rain event

Any
rain event missed in Argentina could lead to moisture stress for some crops in the nation
The
same can be said in parts of southern Brazil, but today's outlook – like that of Sunday – still insists that timely rain will fall to benefit all crops in the nation

Brazil's
coffee, citrus and sugarcane crops are rated favorably with little change likely during the next two weeks
Brazil's
bottom line will remain very good for most crop areas in the nation, but net drying in portions of the interior south and far south will be closely monitored. No area will become critically during the next two weeks, but pockets of firming soil should be anticipated.

Argentina's
bottom line remains a little tenuous depending on how well rain is distributed late Wednesday into Thursday and again early next week. World Weather, Inc. anticipates areas of net drying that may eventually lead to crop stress, but such conditions are unlikely
in the next two weeks.
Australia's
rain frequency will remain high this week after weekend rain

Rain
will return Tuesday and continue into Thursday with widespread coverage from Victoria to Queensland


South
Australia will also be impacted with rain periodically as well
Moisture
totals this workweek in each of these areas will vary from 0.75 to 2.00 inches with local totals of 3.00 to more than 4.00 inches

Northern
Victoria, southeastern crop areas of New South Wales and a few areas in northeastern New South Wales and eastern Queensland will be wettest

Some
drying is expected late this week into early next week, but more rain may evolve after that
The
rain frequency will be too great for some crops in the region and longer delays in crop maturation and harvesting will occur. The longer harvest delays persist the higher the potential will be for crop quality declines
Temperatures
will be cooler biased in southern Australia because of frequent cloudiness and rain

Australia
topsoil moisture decreased for a little while last week because of a short term bout of drier weather

Rain
developed in New South Wales, northern Victoria and South Australia during the weekend disrupting the drying trend

Moderate
rain to heavy fell in northeastern New South Wales and in one location in central New South Wales where 1.00 to 2.75 inches of rain resulted


One
location in northeastern New South Wales reported 3.39 inches of moisture

Flooding
occurred along the upper New South Wales coast where more than 7.00 inches was reported

Temperatures
turned briefly hotter in Queensland and far northwestern New South Wales where 90s to 106 degrees Fahrenheit resulted

Highest
temperatures elsewhere were not nearly as warm with readings in the 60s and 70s near the south coast and in the 80s and lower 90s elsewhere

India
rain continued to fall a little too often in the south with rainfall varying greatly from 0.15 to 2.00 inches during the weekend

A
few areas along the lower east coast reported 2.5 to 5.52 inches
Another
location near the Karnataka/Andhra Pradesh/Tamil Nadu border reported 3.22 inches of rain
One
more area of rain fell from Gujarat into southeastern Rajasthan where 1.00 to 3.50 inches of moisture resulted in Rajasthan while 0.08 inch to 1.46 inches occurred in Gujarat
All
other areas were dry
Temperatures
were seasonable

India
rain will fall frequently in the south half of the nation through Thursday of this week

Resulting
amounts will range from 0.25 to 0.75 inch in some Andhra Pradesh, Telangana and northern Karnataka locations with more than 2.00 inches near the coast from Maharashtra to Kerala as well as in Tamil Nadu and a few southern coastal Andhra Pradesh locations

A
weak tropical low pressure center will approach the lower east coast of India late this week and into the weekend

A
tropical cyclone may evolve, and the storm will need to be closely monitored for landfall

Some
local flooding may result

Northern
India will be dry through the next ten days as will be most of the far eastern states during late week and weekend

Most
of the precipitation in the far Eastern States will dissipate late this weekend with next week dry

Temperatures
will be near to above normal except in the far south where they may be a little cooler than usual

U.S.
weekend precipitation was greatest Sunday

Rain
fell most significantly along the lower east coast of Florida where 1.00 to 5.03 inches resulted
Showers
also occurred in the lower and eastern Midwest and areas south through the Tennessee River Basin and Delta with rainfall to 0.25 inch to 0.87 inch common

Local
totals to 1.24 inches were noted in northern Mississippi

Rain
also fell and in the Pacific Northwest from the northern Rocky Mountain region across Washington; including parts of Idaho's Snake River Valley and Washington's Yakima Valley with most crop areas there getting less than 0.20 inch of moisture
Mostly
dry conditions prevailed elsewhere
Temperatures
were seasonable in much of the nation, but not in the central or southern Plains the southwestern desert region or in the southeastern states where readings were a little warmer than usual

U.S.
temperatures in this coming week will be cooler than usual in the southeastern states and across the lower and eastern parts of the Midwest while the western states are warmer than usual

Next
week's temperatures will be much warmer than usual from the heart of the Midwest through the Great Plains to most of the western states

U.S.
precipitation over the next ten days will be minimal in most of the Great Plains, the western Corn Belt, California, the southwestern states and in portions of the southeastern U.S.


Rain
is expected from central and southern Texas through the Delta and Tennessee River Basin to the lower and eastern Midwest occurring mostly in three waves

Moisture
totals will range from 0.25 to 0.75 inch with a few totals over 1.00 inch except in the Texas Blacklands and coastal areas where 2.00 to 4.00 inches may result

Rain
is also expected from the Cascade Mountains to coastal Washington and Oregon as well as in the northern Mountains of Idaho and Montana

Not
much precipitation is expected elsewhere

Unirrigated
U.S. hard red winter wheat areas from the Texas Panhandle into Colorado still need rain as do crop areas of Oregon and Montana

West
Texas cotton areas will be mostly dry through the next ten days supporting good harvest weather
U.S.
Delta late season harvesting will advance slowly because of periodic rain
U.S.
southeastern states will see better harvest weather than the Delta
Greater
precipitation is still needed from the northwestern U.S. Plains into central Canada's Prairies
A
snowstorm in northeastern China today will linger into Tuesday

Total
snowfall of 4 to 8 inches and a few amounts over 10 inches will result with Heilongjiang and southeastern Jilin most impacted
Another
weather system will impact northeastern China Sunday through Wednesday of next week, Nov. 28-Dec. 1 producing 0.30 to 0.80 inch of moisture and locally more

Southeastern
China will receive some lingering rain today and Monday with amounts of 0.40 to 1.50 inches and then dry biased conditions may dominate the following week to ten days

The
lightest and most infrequent precipitation is expected in the Yangtze River Basin and east-central crop areas of China during the next ten days
Temperatures
will be near to above normal except in the far south where readings will be a little cooler biased

China
weekend weather was wet in the southern provinces where a few areas in southern Hunan, central Guangxi, northern Guangdong, southern Jiangxi and southern Zhejiang reported 1.00 to 3.93 inches


Dry
conditions prevailed elsewhere
Temperatures
were near to above normal

Europe
weekend precipitation was limited with light rainfall noted in the northeast and far southwest, but most of the continent was dry or mostly dry

Temperatures
were seasonable with a slight cooler bias

Europe
precipitation this week will occur as rain and snow from southern France and Spain across Italy to portions of the Baltic Plains