PDF Attached
Sharply lower trade in the agriculture markets from the spike in global COVID-19 cases and EU lockdowns. This caused a higher USD and triggered a "risk-off" event with widespread commodity/equity selling.
Weather and Crop Progress
NOT MANY CHANGES OVERNIGHT
Russia's Southern Region and Ukraine will receive rain from Friday through the first part of next week

Resulting rainfall will improve winter crop establishment, although it is rather late in the season

An ice storm impacted the southwestern U.S. Plains Tuesday and similar conditions were expected briefly again today mostly in the Texas Panhandle and immediate surrounding areas.
Snow totals in the U.S. southwestern Plains this week were lighter than advertised earlier in the week

Accumulations readings 15 inches at Texline, Texas (near the New Mexico border in the far northwest corner of the Texas Panhandle) while varying from 3 to 7 inches in the Oklahoma Panhandle

2-6 inches of snow fell in eastern Colorado and northwest and west-central Kansas earlier in the week
Snow in other Texas Panhandle and West Texas locations did not accumulate for very long due to warm soil conditions

Some west-central U.S. Plains wheat areas did not receive quite as much moisture as hoped for this week, but big improvements did occur from southern Kansas through Oklahoma to north-central Texas and the Texas Panhandle

Southeastern Colorado and west-central into far southwestern Kansas will need more moisture

Additional moisture of significance will fall from south-central Kansas into northern Texas through Thursday morning with some lighter precipitation west ward to the Texas Panhandle and immediate neighboring areas further bolstering soil moisture for improved winter wheat development

Winter crop ratings in the southern Plains were terrible in USDA's crop progress report this week, but improvement is expected following this week's precipitation
Temperatures will trend warmer than usual in the first half of November (if not most of the month) and that will translate into better crop establishment after recent rainfall

Hurricane Zeta will bring a band of heavy rain to the area from southeastern Louisiana through the northwest half of Alabama to Tennessee and the southern Appalachian Mountain region later today and Thursday

Rain totals of 2.00 to 6.00 inches will result in some flooding
More potential damage is possible for some unharvested cotton in the region
Zeta will come ashore as a weakening hurricane with strong wind speeds in southeastern Louisiana, southeastern Mississippi and southwestern Alabama

Some property damage is expected

Sugarcane that has not been harvested in far southeastern Louisiana may be damaged by the storm
Some of the moisture from Hurricane Zeta will merge with the mid-latitude storm system in the southern Plains as it moves to the Delta tonight and Thursday resulting in significant rain of 2.00 to 4.00 inches in some northern locations

Lower U.S. Midwest, northern Delta and Tennessee River Basin will receive significant rain and experience local flooding into Thursday with much improved weather Friday into next week
U.S. weather in the central and southwestern Plains, lower Midwest, Delta and southeastern states will improve late this week through next week as drier and warmer weather evolves
U.S. temperatures in the Plains and western states will rise above average next week after this week's bitter cold

Snow will melt from most areas during the week
Mild to cool temperatures will occur in the eastern U.S. this weekend into early next week
Most of the extreme cold in the Plains either has abated or will abate in the next couple of days
Another shot of cool air will push into the north-central and northwestern U.S. during the second weekend of the two week outlook

Interior portions of the U.S. Pacific Northwest will receive a limited amount of moisture during the coming week, although mountainous areas and coastal areas will see some periodic rain and snow
California and the southwestern United States will remain dry for much of the coming ten days
Central Argentina will receive a few more showers today after developing Wednesday, but drier weather will evolve late this week and last through early next week

Northwestern Buenos Aires, northeastern La Pampa and far southern Cordoba reported up to 0.56 inch of rain Tuesday and early today.
Next rain opportunity will be during mid-week with light amounts resulting followed by a little more dry weather
The drier biased weather will be fantastic for aggressive spring and summer crop planting after recent rainfall and associated moisture boost
Rain was great for long term wheat and early season corn and sunseed development

Brazil's rainfall outlook for the next ten days has not changed much from that of Tuesday

Rain will fall in most of the nation at one time or another, but amounts will be least frequent and least significant in the interior south; including southwestern Sao Paulo, Parana and Santa Catarina

None of the drier areas will be a concern for now since planting will advance aggressively off of the lighter rain that falls in those areas
Portions of central and northern Minas Gerais, Espirito Santo and immediate neighboring areas will be a little too wet in time

Summer crop planting and early development should advance well

Eastern Australia rainfall recently has raised some concern over winter wheat, barley and canola quality

Drier weather is needed to protect crops until harvesting is complete
The moisture was good for cotton, sorghum and other summer crops especially in unirrigated areas

Planting will advance more aggressively after this week's rain

Winter wheat, barley and canola welcomed the rain in the south, but drier weather will soon be needed in the north to protect grain quality

Eastern Australia will get a mix of rain and sunshine over the next two weeks; rain frequency is not likely to be so great as to cause a serious change in crop quality, but the situation will be closely monitored

La Nina conditions could present greater rainfall a little later this spring and early summer raising concern over crop conditions

Western Australia will continue to get very little rain for the next ten days, although totally dry weather is not expected
South Africa received some rain in 15% of the summer crop region Tuesday

Greater rain is needed throughout the nation to support better spring and summer crop planting and emergence conditions
An erratic rainfall pattern is expected through the end of this week while temperatures are warm to hot
Some greater rain will evolve during the weekend and next week that may be more beneficial in raising topsoil moisture for better planting, emergence and establishment of corn, soybeans, cotton, peanuts, sorghum, sunseed and other crops

India weather will be favorable for late season crop development and widespread harvesting over the next ten days

Winter crop planting, emergence and establishment will advance well too

Much of China was dry Tuesday and more of the same will occur for a while in the coming week to ten days

A few showers will occur periodically, but fieldwork will advance around them and the moisture will be good for winter crop planting, emergence and establishment

Typhoon Molave moved into central Vietnam overnight as a Category 1 hurricane equivalent storm near Da Nang

Some heavy rain has occurred with amounts through 0001 GMT today varying up to 4.00 inches, but greater amounts have occurred since that time
Remnants of the storm were already moving into Thailand today where significant rain is expected as well

Some damage to the port cities of Da Nang and Hue may have occurred
This month has been unusually stormy for the central Vietnam coast and damage to the ports of Da Nang and Hue has been significant

Another tropical cyclone will form east of the Philippines this week and pass across central parts of the nation Saturday

Additional heavy rain is likely and more flooding as well as possible wind damage

This storm is expected to be weak relative to Molave which brought damage to the northern Visayan Islands earlier this week

Waves of rain will continue to impact parts of Southeast Asia that are not being impacted by tropical cyclones over the next ten days to two weeks; most crop conditions will remain favorable
Brief periods of precipitation will move across the European continent over the coming week resulting in a favorable mix of moisture and sunshine for winter crops

Fieldwork will advance around the precipitation
This weekend and next week should trend drier
Temperatures will be near to above average

Western CIS crop weather this week will bring erratic precipitation and warmer than usual temperatures

Winter crops are turning dormant in the west and north which is normal

Kazakhstan is unlikely to get meaningful moisture in the next ten days, although some sporadic showers may evolve late this week or during the weekend
Ontario and Quebec, Canada harvest delays will slowly improve later this week and into next week because of less precipitation

The region needs to dry out

Canada's Prairies will experience some rain, freezing rain and snow early this week and then several days of drying are expected
Southern Oscillation Index fell during the weekend down to +5.06 and the index may continue to drifting lower over the next couple of days; the index has fallen from a peak of +12.58 on October 13.
Mexico precipitation will be scattered over far southern crop areas during the coming week

Net drying is expected for many other summer crop areas supporting crop maturation and harvest progress

Central America will be wetter than usual over the next ten days to two weeks keeping late season crop maturation and harvest progress slow, but the moisture is improving long term water supply.

Some flooding is possible
<![if !supportLists]>· <![endif]>West-central Africa will experience erratic rain through the next ten days favoring coffee, cocoa, sugarcane, rice and other crops
Daily rainfall is expected to be decreasing as time moves along which is normal for this time of year
Cotton areas will benefit from drier weather
<![if !supportLists]>· <![endif]>East-central Africa rain will be erratic and light over the next couple of weeks, but most of Uganda and southwestern Kenya will be impacted while Tanzania and northwestern Ethiopia rainfall is erratic and light
Some heavy rain may fall in Uganda early this week
<![if !supportLists]>· <![endif]>New Zealand rainfall will be near to above average in western areas of South Island over the coming week while below average elsewhere
Temperatures will be seasonable
Source: World Weather Inc.
USDA weekly crop net-export sales for corn, soybeans, wheat, cotton, pork, beef, 8:30am
Port of Rouen data on French grain exports
Vietnam's General Statistics Office releases commodity trade data for October
International Grains Council monthly report
EARNINGS: ADM
HOLIDAY: Indonesia, Malaysia
Friday, Oct. 30:
ICE Futures Europe weekly commitments of traders report, 1:30pm (6:30pm London)
CFTC commitments of traders weekly report on positions for various U.S. futures and options, 3:30pm
FranceAgriMer weekly update on crop conditions
U.S. agricultural prices paid, received, 3pm
HOLIDAY: Indonesia
Source: Bloomberg and FI
Macros
Equity Blowout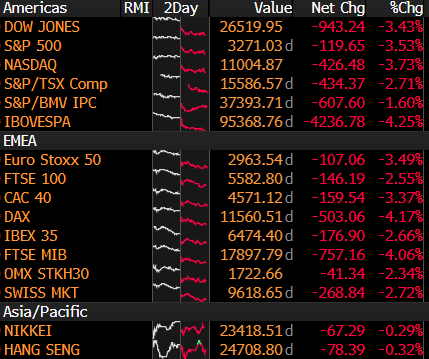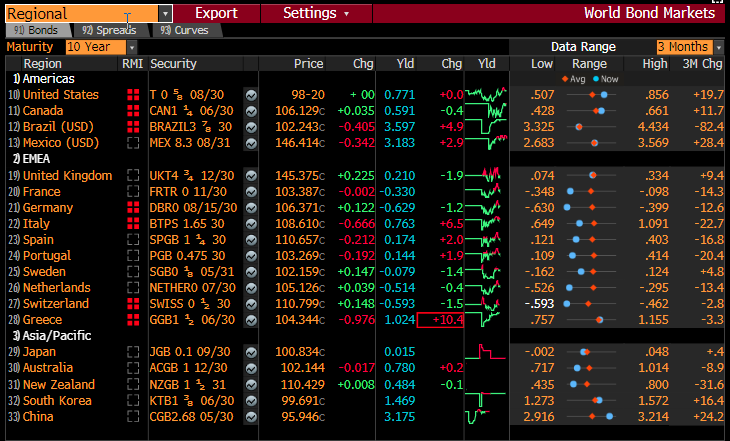 Source: Bloomberg and FI
Corn.
Corn futures closed down 3.43% to a two-week low on macro risk off selling. This was following a 14-month high yesterday. The risk off session is associated with record number of COVID-19 cases reported over the past week across the US and other parts of the globe, and position squaring ahead of the US elections early next week.
While South Korea has been a good buyer this week of corn, likely from South America, traders are waiting for China to buy additional US corn. As we noted yesterday, China has already booked more than 10 million tons of corn from the US and another 5 million tons from other countries. If they end up importing more than 15 million tons during the 2020-21 campaign, they will likely book additional US corn.
Funds were net sellers of 53,000 corn contracts on the session.
Major importers could soon shop for US soybeans due to rising prices in Brazil and Ukraine.
APK-Inform noted Ukrainian corn prices are up $18-$25 a ton over less than a week ago on strong demand to $236-$275 a ton by Oct. 28. Late yesterday Brazilian agricultural think tank reported that domestic corn prices hit a fresh record, rising above the previous 2007 record, by hitting 81.48 reais ($14.49) per sack, up 28 percent so far in October alone.
Brazil October corn exports could end up at 4.95 million tons (down from 5.5 million tons projected last week), according to Anec, while October soybean exports could reach 2.38 million tons (up from 2.32 previous week).

South Africa's CEC sees 2.746 million HA of maize in the 2020-21 crop year, up 5% from last year. They see 1.686 million HA sown to white maize and 1.060 million HA to yellow maize.
CEC forecasts production for 2019-20 maize production 15.420 million tons, (8.746 MT white and 6.674MT yellow)
The US EPA is considering changes to gas pump labeling for E15 ethanol blend as the biofuel industry believes the current labels are discouraging use of the fuel.
The weekly US EIA report showed ethanol production up 28,000 barrels per day to 941,000 barrels, much higher than the Bloomberg trade average calling for a 12,000-barrel increase. Ethanol stocks were down 120,000 barrels to 19.601 million barrels. Traders were looking for stocks to be up 56,000 barrels. Early September to date ethanol production is running 6.3 percent below the same period a year ago, and many are questioning if corn for ethanol use will reach USDA's 2020-21 target of 5.050 billion bushels. We are optimistic that the US ethanol industry could see a rebound in energy consumption by early 2021. Many more people will be traveling by cars during the holidays in the United States. And if covid-19 concerns ease, many more people will be returning to work, by car. We currently have corn for ethanol use at 5.075 billion bushels, 25 more than USDA, while some other people have it 100 below USDA. Note the US may not grind as much sorghum during 2020-21. Although sorghum use for ethanol is very low for ethanol production, 1.5 percent to be specific for 2019-20, it was still about 75 million bushels. So, using USDA's 40 million-bushel FSI estimate for 2020-21, we figure 20-35 million bushels of corn will have to be made up for less sorghum used for ethanol production. It's too early to tell, but if we had a bias, we would move our number lower if production fails to increase back to 95 percent of last year's first half corn crop year grind of 2.683 billion bushels.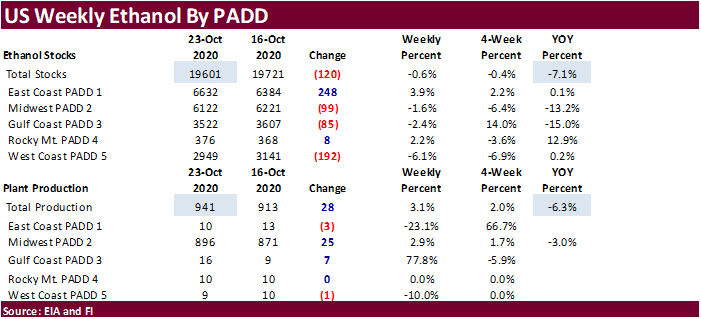 Corn Export Developments
Revised 2021 Crop Budgets Lead to Higher 2021 Return Projections
Schnitkey, G., K. Swanson, N. Paulson, C. Zulauf and J. Coppess. "Revised 2021 Crop Budgets Lead to Higher 2021 Return Projections." farmdoc daily (10):189, Department of Agricultural and Consumer Economics, University of Illinois at Urbana-Champaign, October 27, 2020.
https://farmdocdaily.illinois.edu/2020/10/revised-2021-crop-budgets-lead-to-higher-2021-return-projections.html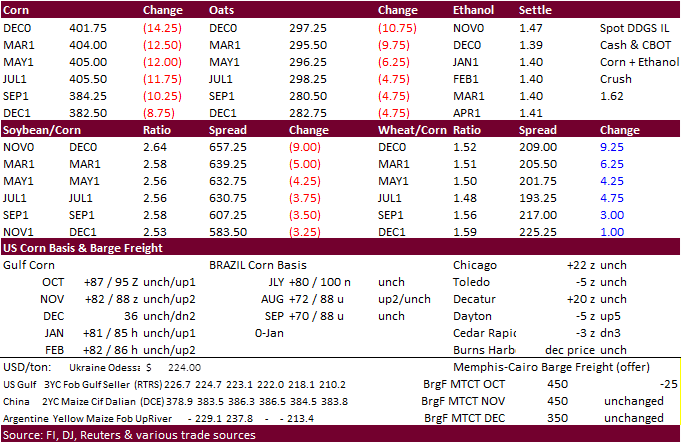 Updated 10/23/20
December corn is seen in a $4.00-$4.40 range
China could easily change the global balance sheet if they boost corn imports above 15 million tons in 2021.