Please
note I will be out of the office on Wednesday, October 28.
Grain
demand erosion fears from a second global covid outbreak wave setting in. Brazil corn prices hit a all time high and Anec downward revises Brazil's October corn export projection. China corn buying may end up above 15 million tons in 2020-21.


Weather
and Crop Progress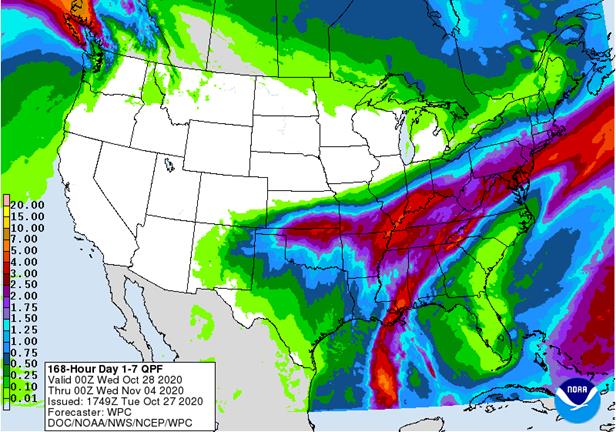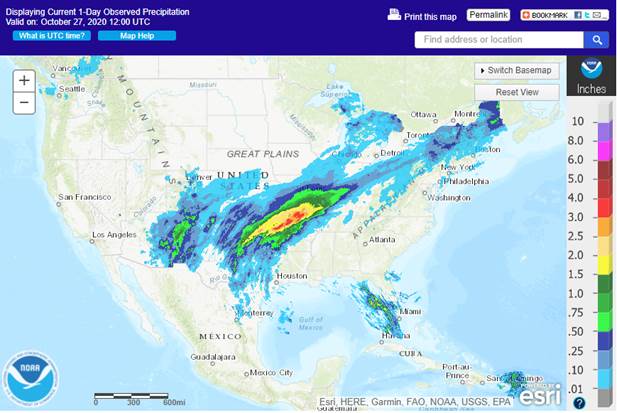 MOST
IMPORTANT WEATHER OF THE DAY
Russia's
Southern Region and Ukraine will receive rain from Friday through the first part of next week

Resulting
rainfall will improve winter crop establishment, although it is rather late in the season

An
ice storm will impact the southwestern U.S. Plains today resulting in serious livestock stress, travel delays and power outages from western Texas through south-central Kansas

Significant
moisture will fall from western Texas and north-central Texas through Oklahoma to south-central Kansas into Thursday morning seriously bolstering soil moisture for improved winter wheat development

Winter
crop ratings in the southern Plains were terrible in USDA's crop progress report, but improvement is expected following this week's precipitation
Temperatures
will trend warmer than usual in the first half of November (if not most of the month) and that will translate into better crop establishment after recent rainfall
Local
flooding is possible with moisture totals of 2.00 to 4.00 inches and locally more expected in the described region

Tropical
Storm Zeta will bring a band of heavy rain to the area from southeastern Louisiana through the northwest half of Alabama to Tennessee and the southern Appalachian Mountain region late Wednesday and Thursday

Rain
totals of 2.00 to 6.00 inches will result in some flooding
More
potential damage is possible for some unharvested cotton in the region
Zeta
will come ashore as a weakening hurricane with strong wind speeds in southeastern Louisiana, southeastern Mississippi and southwestern Alabama

Some
property damage is expected

Sugarcane
that has not been harvested in far southeastern Louisiana may be damaged by the storm

Lower
U.S. Midwest, northern Delta and Tennessee River Basin will receive significant rain and experience local flooding Wednesday and Thursday with much improved weather Friday into next week
U.S.
weather in the central and southwestern Plains, lower Midwest, Delta and southeastern states will improve late this week through next week as drier weather evolves
U.S.
temperatures in the Plains and western states will rise above average next week after this week's bitter cold

Snow
will melt from most areas during the week
Cool
temperatures will occur in the eastern U.S. this weekend into early next week
Most
of the extreme cold in the northern Plains is abating today and that in the central Plains will abate in the second half of this week

U.S.
Pacific Northwest will be drier this week after receiving some rain and mountain snow during the weekend

Another
chance for rain and snow may evolve next week

California
and the southwestern United States will remain dry for much of the coming ten days

Tropical
Storm Zeta produced heavy rain over the Yucatan Peninsula overnight resulting in some flooding and wind damage

The
storm will move over the Gulf of Mexico and early Wednesday helping the system become a hurricane once again

Central
Argentina will receive follow up showers today and Wednesday before dry weather occurs late this week and lasts through the first half of next week


Next
rain opportunity will be Nov. 4-6 with a few showers in the far southwest Nov. 3
The
drier biased weather will be fantastic for aggressive spring and summer crop planting after recent rainfall and associated moisture boost
Rain
was great for long term wheat and early season corn and sunseed development

Brazil's
rainfall outlook for the next ten days has not changed much from that of Monday

Rain
will fall in most of the nation at one time or another, but rainfall will be least frequent and least significant in the interior south; including southwestern Sao Paulo, Parana and Santa Catarina


None
of the drier areas will be a concern for now since planting will advance aggressively off of the lighter rain that falls in those areas
Portions
of central and northern Minas Gerais, Espirito Santo and immediate neighboring areas will be a little too wet in time

Summer
crop planting and early development should advance well

Eastern
Australia rainfall recently has raised some concern over winter wheat, barley and canola quality

Drier
weather is needed to protect crops until harvesting is complete
The
moisture was good for cotton, sorghum and other summer crops especially in unirrigated areas

Planting
will advance more aggressively after this week's rain

Winter
wheat, barley and canola welcomed the rain in the south, but drier weather will soon be needed in the north to protect grain quality

Eastern
Australia will get a mix of rain and sunshine over the next two weeks; rain frequency is not likely to be so great as to cause a serious change in crop quality, but the situation will be closely monitored

La
Nina conditions could present greater rainfall a little later this spring and early summer raising concern over crop conditions

Western
Australia will continue to get very little rain for the next ten days, although totally dry weather is not expected
South
Africa received some rain in 25% of the summer crop region Monday

Greater
rain is needed throughout the nation to support better spring and summer crop planting and emergence conditions
An
erratic rainfall pattern is expected through the end of this week while temperatures are warm to hot
Some
greater rain will evolve during the weekend and next week that may be more beneficial in raising topsoil moisture for better planting, emergence and establishment of corn, soybeans, cotton, peanuts, sorghum, sunseed and other crops

India
weather will be favorable for late season crop development and widespread harvesting over the next ten days

Winter
crop planting, emergence and establishment will advance well too

Much
of China was dry Monday and more of the same will occur for a while in the coming week to ten days

A
few showers will occur periodically, but fieldwork will advance around them and the moisture will be good for winter crop planting, emergence and establishment

Typhoon
Molave was located 332 miles east southeast of Da Nang, Vietnam at 0900 GMT today moving westerly.


Molave
has reached its peak intensity with wind speeds to 126 mph near its center




Weakening
is expected as the storm approaches Vietnam
Landfall
will be near Da Nang, Vietnam once again and more torrential flooding is possible along with some damaging wind as the storm reaches the coast

Crops
and property will be damaged and the port of Da Nang and Hue, Vietnam will likely be shut down once again as the storm comes ashore

More
damage to the port is expected
This
month has been unusually stormy for the central Vietnam coast and damage to the ports of Da Nang and Hue has been significant

Another
tropical cyclone will form east of the Philippines this week and pass across central parts of the nation Friday


Additional
heavy rain is likely and more flooding as well as possible wind damage

This
storm is expected to be weak relative to Molave which brought damage to the northern Visayan Islands earlier this week

Waves
of rain will continue impact parts of Southeast Asia that not being impacted by tropical cyclones over the next ten days to two weeks; most crop conditions will remain favorable
Brief
periods of precipitation will move across the European continent over the coming week resulting in a favorable mix of moisture and sunshine for winter crops

Fieldwork
will advance around the precipitation
This
weekend and next week should trend drier
Temperatures
will be near to above average

Western
CIS crop weather this week will bring erratic precipitation and warmer than usual temperatures

Winter
crops are turning dormant in the west and north which is normal

Kazakhstan
is unlikely to get meaningful moisture in the next ten days, although some sporadic showers may evolve late this week or during the weekend
Ontario
and Quebec, Canada harvest delays will slowly improve later this week and into next week because of less precipitation


The
region needs to dry out

Canada's
Prairies will experience some rain, freezing rain and snow early this week and then several days of drying are expected

Southern
Oscillation Index fell during the weekend down to +5.83 and the index may continue to drift a little lower before leveling off this week
Mexico
precipitation will be scattered over far southern crop areas during the coming week

Net
drying is expected for many other summer crop areas supporting crop maturation and harvest progress

Central
America will be wetter than usual over the next ten days to two weeks keeping late season crop maturation and harvest progress slow, but the moisture is improving long term water supply.


Some
flooding is possible
<![if !supportLists]>·
<![endif]>West-central Africa will experience erratic rain through the next ten days favoring coffee, cocoa, sugarcane, rice and other crops
Daily
rainfall is expected to be decreasing as time moves along which is normal for this time of year
Cotton
areas will benefit from drier weather
<![if !supportLists]>·
<![endif]>East-central Africa rain will be erratic and light over the next couple of weeks, but most of Uganda and southwestern Kenya will be impacted while Tanzania and northwestern Ethiopia rainfall is erratic and light
Some
heavy rain may fall in Uganda early this week
<![if !supportLists]>·
<![endif]>New Zealand rainfall will be near to above average in North Island and western areas of South Island over the coming week

Temperatures
will be seasonable with a slight cooler bias in the south
Source:
World Weather Inc.
Virtual
Palm Oil Conference, day 1
EARNINGS:
WH Group
Wednesday,
Oct. 28:
EIA
U.S. weekly ethanol inventories, production, 10:30am
Virtual
Palm Oil Conference, day 2
HOLIDAY:
Indonesia
Thursday,
Oct. 29:
USDA
weekly crop net-export sales for corn, soybeans, wheat, cotton, pork, beef, 8:30am
Port
of Rouen data on French grain exports
Vietnam's
General Statistics Office releases commodity trade data for October
International
Grains Council monthly report
EARNINGS:
ADM
HOLIDAY:
Indonesia, Malaysia
Friday,
Oct. 30:
ICE
Futures Europe weekly commitments of traders report, 1:30pm (6:30pm London)
CFTC
commitments of traders weekly report on positions for various U.S. futures and options, 3:30pm
FranceAgriMer
weekly update on crop conditions
U.S.
agricultural prices paid, received, 3pm
HOLIDAY:
Indonesia
Source:
Bloomberg and FI
Macros
US
Durable Goods Orders Sep P: 1.9% (est 0.5%; prevR 0.4%; prev 0.5%)
US
Durable Goods Orders Ex-Transportation Sep P: 0.8% (est 0.4%; prevR 1.0%; prev 0.6%)
US
Cap Goods Orders Nondef Ex-Air Sep P: 1.0% (est 0.5%; prevR 2.1%; prev 1.9%)
US
Cap Goods Ship Nondef Ex-Air Sep P: 0.3% (est 0.4%; prev 1.5%)
Corn.

Corn
futures hit a fresh 14-month high earlier on higher wheat futures, corn/soy spreading, and a large increase in South Korean buying, but fell to close 1.75 to 2.25 cents lower on light profit taking and US harvesting pressure.

Cofco
sees China corn imports possibly doubling to 17 million tons during the 2020-21 crop year from a decline in production (6-8 million tons less than last year) and increase in feed demand. 2019-20 corn imports were 7.6 million tons. China booked nearly 10.6
million tons of corn from the US, and that does not include the unknown category (nearly 3.7 million tons outstanding sales). Cofco estimates for a 60-million-ton corn deficit in 2020-21, but that will be partially offset by an increase in other feedgrains
such as sorghum, barley, and feed wheat.
Traders
are waiting to see if Ukraine and Brazil will run out of corn by the end of 2020, which should shift good business to the US. Brazilian supplies are getting tight, although they have a good amount of corn left to export over the next couple of months.

Brazilian
agricultural think tank reported late on Tuesday that domestic corn prices hit a fresh record, rising above the previous 2007 record, by hitting 81.48 reais ($14.49) per sack, up 28 percent so far in October alone.

Brazil
October corn exports could end up at 4.95 million tons (down from 5.5 million tone projected last week), according to Anec, while October soybean exports could reach 2.38 million tons (up from 2.32 previous week).


Ukraine
grain exports were 15 million tons do far this season, down 16.4 percent from same period year ago. 1.54 million tons of corn was sold compared with 3.59 million tons last year. Wheat exports fell to 10.1 million tons from 10.9 million. Wheat exports will
be capped at 17.5 million tons this season. 57% of the quota has been used. APK-Inform lowered its Ukraine 2020 corn harvest to 33.8 million tons from 34.8 million tons. The pegged the corn yield at 6.6 tons per hectare compared with 7.2 tons in 2019.

Note
Ukraine harvested 84 percent of their 2020 grain crops, according to the Ministry of Economic Development. That includes 14.5 million tons of corn from an area of 3.07 million hectares (56%), 11.6 million tons of sunflower from 5.9 million hectares (92%),
2.2 million tons of soybeans from 1.08 million hectares (80%), 240,000 tons of millet from 147,700 hectares (98%) and- 99,000 tons of buckwheat from 76,500 hectares (97%) were harvested. (Reuters via Ukraine General Newswire).

The
Philippines see 2020 corn production at 8 million tons, up 4 percent from 7.7 million tons in 2019. 8 million tons is about 8 months of consumption.


Germany
ASF: 3 new cases; 94 cases since September 10
The
US EPA is considering changes to gas pump labeling for E15 ethanol blend as the biofuel industry believes the current labels are discouraging use of the fuel.

A
Bloomberg poll looks for weekly US ethanol production to be up 12,000 at 925,000 barrels (900-942 range) from the previous week and stocks up to 56,000 barrels to 19.777 million.

Corn
Export Developments
Taiwan's
MFIG bought 65,000 tons of US corn at $2.4738 / bushel over the May for Jan/Feb shipment.


Iran's
SLAL seeks 200,000 tons of corn and 200,000 tons of barley on October 28 for Nov-Jan shipment.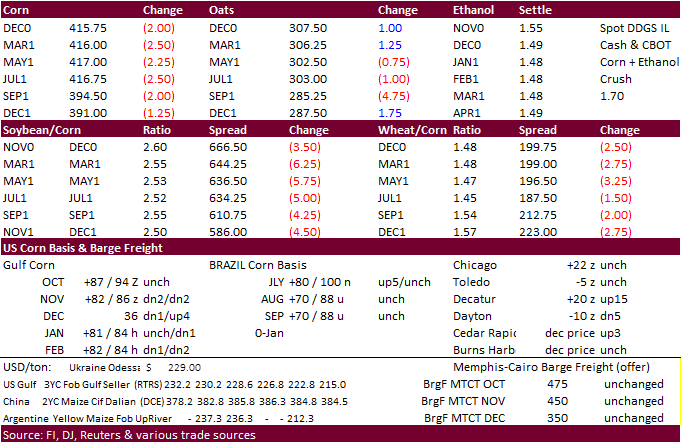 Updated
10/23/20
December
corn is seen in a $4.00-$4.40 range
China
could easily change the global balance sheet if they boost corn imports above 15 million tons in 2021.