Resenting with basis and prices

PDF Attached
Corn
futures traded near their respected 14-month high overnight but lower wheat weighed on prices. Losses were limited after it was announced by the CBOT that there were 1600 November 420 calls exercised on Friday. Soybeans traded two-sided but remained at more
than a 4-year high. US wheat futures traded lower on improving weather across Russia and US Great Plains.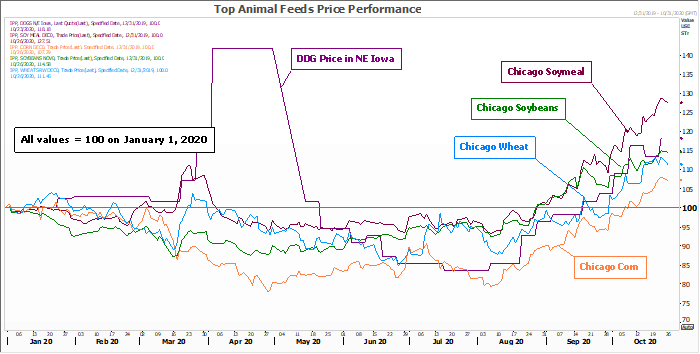 Weather
and Crop Progress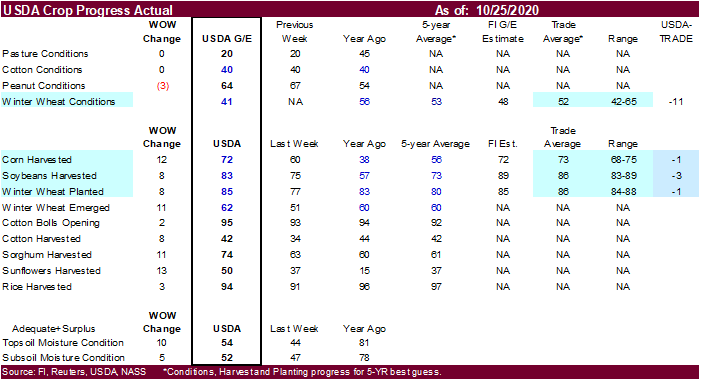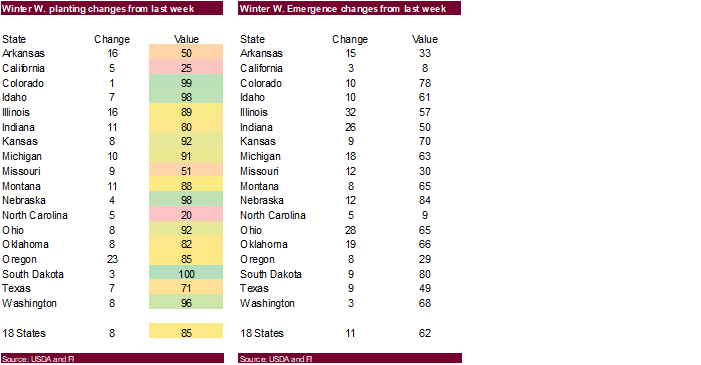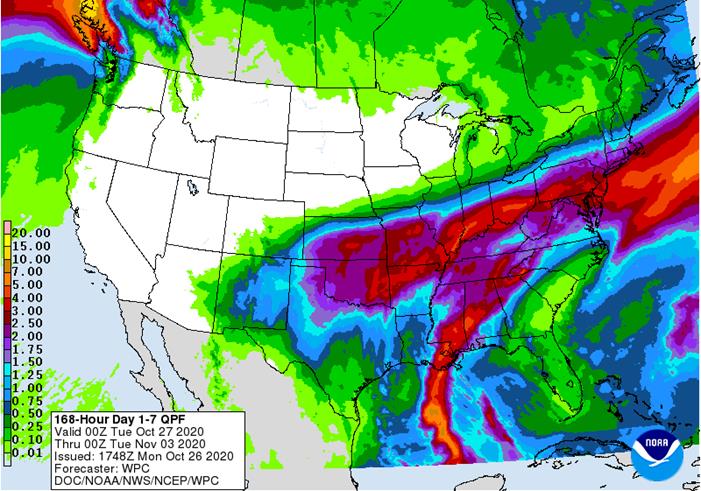 MORNING
WEATHER MODEL COMMENTS
NORTH
AMERICA
Significant
precipitation will be falling across hard red winter wheat production areas through Thursday

Moisture
totals of 2.00 to 4.00 inches and locally more (possibly getting to 6.00 inches) will occur from the Texas Rolling Plains into central Kansas with interior western and central Oklahoma wettest along with north-central Texas
Moisture
totals of 0.50 to 1.50 inches will occur in west Texas while the Texas Panhandle gets 1.00 to 2.25 inches
Snowfall
of 1 to 3 inches Nebraska to northeastern Colorado, 3 to 8 inches western Kansas to southeastern Colorado with local totals of 8 to 12 inches in southeastern Colorado (near the mountains)
Snowfall
of 4 to 10 inches and local amounts to 13 in the Texas Panhandle and immediate neighboring areas with greatest amounts near the New Mexico border
West
Texas snowfall of 2 to 6 inches and locally more in the far northwest
Tropical
Storm Zeta will become a hurricane today and clip the northeast corner of Yucatan Peninsula and then move on to southeastern Louisiana (weakening to tropical storm status as it nears the coast) Wednesday afternoon

Landfall
Wednesday afternoon
The
storm will turn through Alabama Thursday and to Virginia Thursday night and Friday

Heavy
rain will fall with 2.00 to 4.00 inches and local totals to 6.00 inches possible
Storm
will move fast through the region
Georgia
and northeastern Florida to eastern Carolinas will not get much threatening rain, although a few showers possible


U.S.
Weather will trend drier and warmer this weekend through next week
Bitter
cold conditions will occur early to mid-week this week in the Plains
SOUTH
AMERICA
Rain
fell in most of Argentina during the weekend

Santiago
del Estero and northern Cordoba were missed while restricted rainfall occurred in northwestern Santa Fe
Rainfall
of 1.00 to 2.50 inches with local totals to 3.00 inches were noted elsewhere
The
moisture was a big boost to summer crop development and future planting and supportive of winter wheat development, as well

Argentina
will see less rain in the coming week to ten days with a few showers in central areas Tuesday and Wednesday and then dry until Nov. 4 and 5 when rain will impact some southern and eastern crop areas

Excellent
drying conditions will occur to support all kinds of fieldwork and crop development
Winter
wheat growth should advance aggressively
Overall,
Argentina will see a tremendous change in crop conditions, but there is still need for more rain from northern Cordoba to Santiago del Estero and in northwestern Santa Fe as well as in a few La Pampa locations. Weather conditions will be favorably mixed for
the next two weeks, despite the ongoing need for greater rain in the drier areas noted above.

BLACK
SEA REGION
Rain
is advertised for Friday through Monday of next week in Russia's Southern Region

Amounts
of 0.20 to 0.75 inch with a few totals over 1.00 inch will be possible

Areas
near the Kazakhstan border and near the lower Volga River will see the least rain and may have ongoing dryness issues
Areas
near the Ukraine and Krasnodar border will be wettest

Eastern
Ukraine will also get a little rain from this event
Otherwise,
the ten-day forecast does not bring much change to the region
Improvement
is expected to Russia's Southern Region. The moisture will help induce improved crop and field conditions, although it comes rather late in the autumn season. Winter crops will still need more moisture and there will continue to be need for a close watch
on snow cover and bitter cold periods this winter because some of the winter crops may not be well established.

CHINA
No
general theme changes were noted over the weekend

A
favorable mix of sunshine and showers will occur over the next two weeks allowing fieldwork of all kinds to advance

Winter
wheat and rapeseed establishment should advance favorably along with the harvest of summer crops
INDIA
No
general theme changes were noted during the weekend

Rain
will be limited to far southern and extreme eastern parts of the nation over the next couple of weeks favoring fieldwork of all kinds
AUSTRALIA
No
big changes were noted during the weekend for the coming two weeks

Rain
fell in eastern parts of the nation during the weekend benefiting spring planting in dryland areas and boosting soil moisture for late reproductive winter crops

Scattered
showers in eastern parts of the nation during the next two week should not harm the majority of winter crops, but the region will need to be closely monitored for too much rain that might harm grain and oilseed quality during the maturation and harvest season
Western
Australia will remain mostly dry for an extended period of time
Spring
and summer planting will advance well in eastern Australia while winter crops in the south continue to fill and mature. Harvesting in northern areas will advance around scattered shower s and thunderstorms with the need for drier weather greatest in northern
New South Wales wheat, barley and canola areas.
Source:
World Weather Inc.
USDA
weekly corn, soybean, wheat export inspections, 11am
U.S.
crop conditions, harvesting progress for soybeans, corn, cotton, 4pm
EU
weekly grain, oilseed import and export data
Monthly
MARS bulletin on crop conditions in Europe
Malaysian
Oct. 1-25 palm oil export data
Ivory
Coast cocoa arrivals
HOLIDAY:
Hong Kong, New Zealand
Tuesday,
Oct. 27:
Virtual
Palm Oil Conference, day 1
EARNINGS:
WH Group
Wednesday,
Oct. 28:
EIA
U.S. weekly ethanol inventories, production, 10:30am
Virtual
Palm Oil Conference, day 2
HOLIDAY:
Indonesia
Thursday,
Oct. 29:
USDA
weekly crop net-export sales for corn, soybeans, wheat, cotton, pork, beef, 8:30am
Port
of Rouen data on French grain exports
Vietnam's
General Statistics Office releases commodity trade data for October
International
Grains Council monthly report
EARNINGS:
ADM
HOLIDAY:
Indonesia, Malaysia
Friday,
Oct. 30:
ICE
Futures Europe weekly commitments of traders report, 1:30pm (6:30pm London)
CFTC
commitments of traders weekly report on positions for various U.S. futures and options, 3:30pm
FranceAgriMer
weekly update on crop conditions
U.S.
agricultural prices paid, received, 3pm
HOLIDAY:
Indonesia
Source:
Bloomberg and FI
USDA
Export inspections
Note
there were no estimates provided by Reuters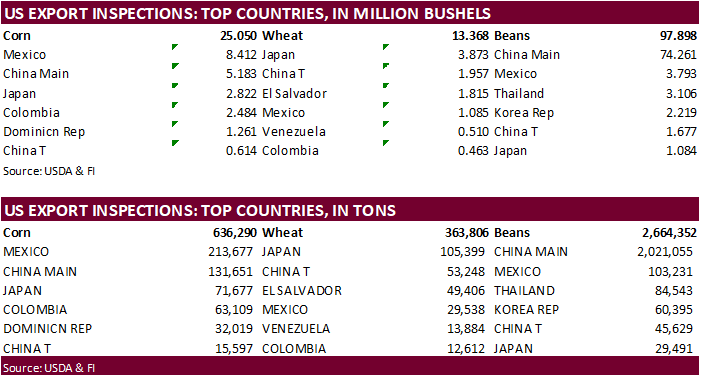 GRAINS
INSPECTED AND/OR WEIGHED FOR EXPORT

REPORTED IN WEEK ENDING OCT 22, 2020

— METRIC TONS —
————————————————————————-

CURRENT PREVIOUS
———–
WEEK ENDING ———- MARKET YEAR MARKET YEAR

GRAIN 10/22/2020 10/15/2020 10/24/2019 TO DATE TO DATE
BARLEY
798 0 49 9,867 8,674
CORN
636,290 911,648 391,231 6,093,191 3,478,787
FLAXSEED
0 0 0 389 172
MIXED
0 0 0 0 0
OATS
0 0 0 996 798
RYE
0 0 0 0 0
SORGHUM
65,007 74,655 58,320 533,835 308,482
SOYBEANS
2,664,352 2,317,798 1,578,604 14,338,789 8,072,375
SUNFLOWER
0 0 0 0 0
WHEAT
363,806 241,283 543,166 11,042,799 10,622,214
Total
3,730,253 3,545,384 2,571,370 32,019,866 22,491,502
CROP
MARKETING YEARS BEGIN JUNE 1 FOR WHEAT, RYE, OATS, BARLEY AND
FLAXSEED;
SEPTEMBER 1 FOR CORN, SORGHUM, SOYBEANS AND SUNFLOWER SEEDS.
INCLUDES
WATERWAY SHIPMENTS TO CANADA.
Macros
US
New Home Sales Sep: 0.959M (est 1.025M; prevR 0.994M; prev 1.011M)
US
New Home Sales (M/M) Sep: -3.5% (est 1.4%; prevR 3.0%; prev 4.8%)
Corn.

December
corn futures traded near its respected 14-month but ended 1.50 cents lower as wheat weighed on prices. Corn was up the previous five trading session, so some of the bearish undertone was technical. Export inspections were just over 900,000 tons, but half
the volume posted for soybeans.
Losses
were limited after CBOT announced that there were 1600 November 420 calls exercised on Friday.

US
corn harvesting progress was reported at 72 percent, one point below expectations, up from 60 previous week, and compares to 38 percent year ago and 56 percent average.

USDA
US corn export inspections as of October 22, 2020 were 636,290 tons, below 911,648 tons previous week and compares to 391,231 tons year ago. Major countries included Mexico for 213,677 tons, China Main for 131,651 tons, and Japan for 71,677 tons.

Toledo,
OH corn was up 10 cents to 5 under and Davenport, IA was up 4 to 6 under.




China
imported 846,498 tons of US corn from the US in September, highest monthly import figure since 2008. Ukraine corn imports were 200,382 tons, up 63 percent from August. China 2020 corn imports are expected to be the highest in 15 years.

Ukraine
corn export prices were up $20/ton over the last week to $233-$237/ton fob, according to APK-Inform.

Ukrainian
grain traders union UGA sees Ukraine's 2020 corn harvest falling to 30 million tons from 35.9 million tons in 2019 because of poor weather.
APK-Inform
agriculture consultancy said earlier on Monday a possible sharp decline in the 2020 corn harvest combined with rising global prices had raised Ukrainian corn export prices by $20 per ton over the past week.

Ukraine's
Economic Minister left their 2020-21 corn production unchanged at 33 million tons, and exports were projected at 26 million tons. 36 million tons were produced last year.

Corn
Export Developments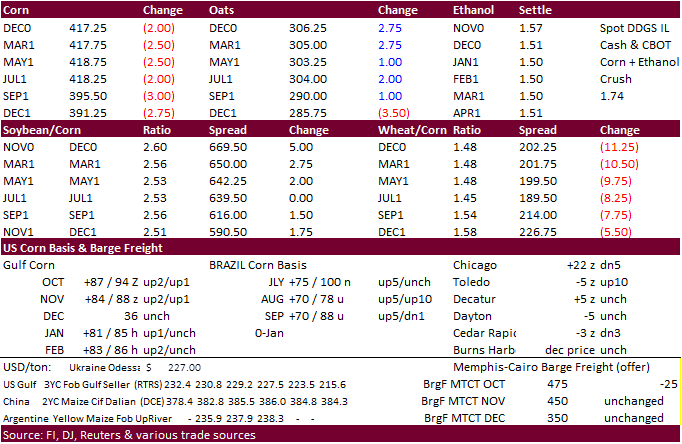 Updated
10/23/20
December
corn is seen in a $4.00-$4.40 range
China
could easily change the global balance sheet if they boost corn imports above 15 million tons in 2021.