PDF Attached
We
moved to a new office!
Futures
International
One
Lincoln Center
18
W 140 Butterfield Rd. Suite 1450
Oakbrook
Terrace, Il. 60181
Grains
and oilseeds ended the week on a high note. Corn
and soybeans were up five consecutive days.

Weather
and Crop Progress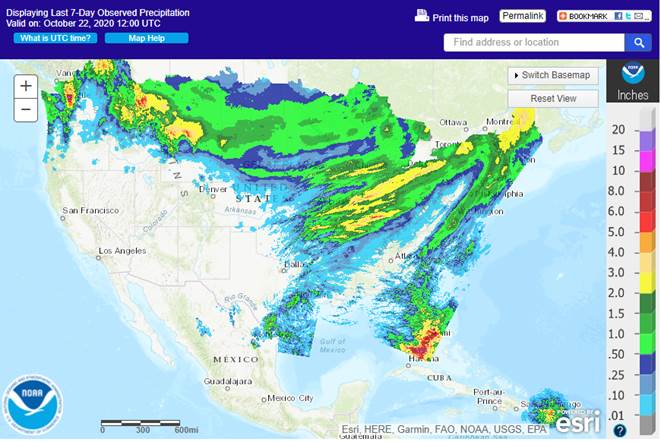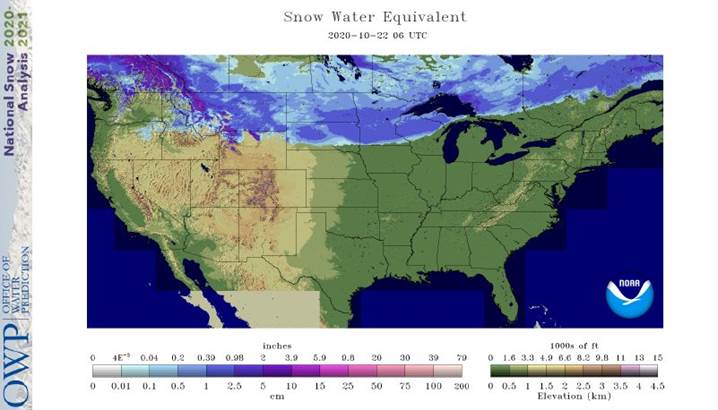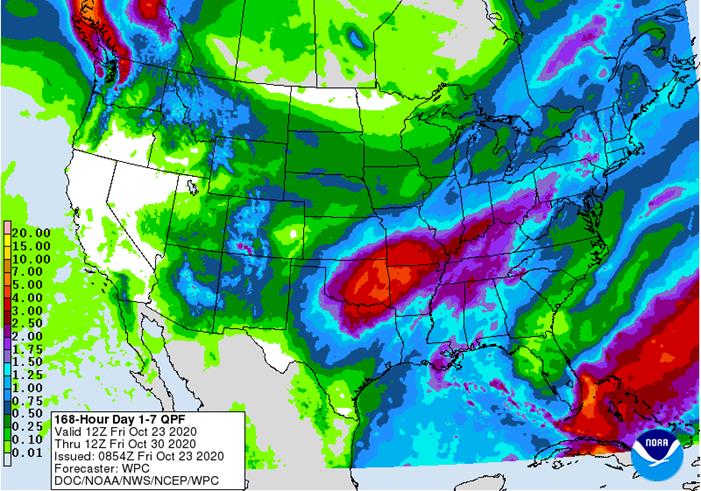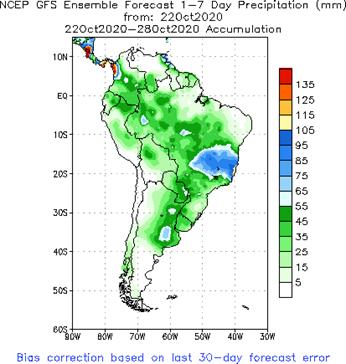 EARLY
MORNING WEATHER UPDATE
CHANGES
OVERNIGHT
European
forecast model greatly increased precipitation in U.S. hard red winter wheat areas for next week

The
increase was overdone and unlikely to verify

European
forecast model increased precipitation in Russia's Southern Region Oct. 30-Nov 2

This
increase was overdone
The
first week of the outlook remains mostly dry

European
model run is a little wetter in Brazil through Monday, but rain in Parana, Sao Paulo and neighboring areas is still advertised to be limited thereafter
U.S.
hard red winter wheat areas will receive some needed precipitation during the late weekend through early part of next week easing dryness, but follow up moisture will still be needed
MOST
IMPORTANT WEATHER TO CONSIDER FOR WEEKEND
Dryness
will continue for much of the next week in Russia's Southern Region

Some
showers are possible infrequently, but the amount of relief will be restricted
Remember
that a part of this region did get some relief from dryness earlier this week




Temperatures
will remain warmer than usual over the next week to ten days maintaining a favorable environment for winter crop establishment for those areas with topsoil moisture
There
is potential for rain in the Oct. 30-Nov. 3 period, but it will be light

Ukraine
precipitation will be limited through the next ten days, but recent moisture has been helpful for winter crop establishment except in the far east where there is still a pressing need for significant moisture
Kazakhstan
is unlikely to get meaningful moisture in the next ten days, although some sporadic showers may evolve after the end of next week
Argentina
has received beneficial rain this week and more will occur this weekend

Rainfall
Saturday and Sunday will range from 0.50 to 2.00 inches with local totals to 3.00 to 4.00 inches favoring the south and east
Follow
up showers will produce 0.15 to 0.70 inch of moisture Tuesday and Wednesday




Mostly
dry thereafter until Nov. 5 when showers develop in the far south and possibly shift to east-central areas Nov. 6-7 (confidence is low on this event)

Argentina
rain Thursday was not very great with amounts to 0.25 inch; however, some rain overnight in northeastern Santa Fe, southern Corrientes and southern Chaco varied from 0.35 to 0.68 inch with one location in southern Corrientes reporting an unconfirmed 3.06 inches
through dawn
Brazil
will see rain in most of the nation during the coming ten days

Interior
southern areas will receive the lightest amounts and may experience the most aggressive planting, although will have need for more rain in November
Center
west into Minas Gerais and southern Bahia will receive frequent rainfall especially next week and into the first week of November possibly slowing fieldwork at times

Rain
will be heaviest and most frequent from Goias into Minas Gerais where some farming activity could be slowed

Brazil
rainfall Thursday was erratic with northeastern Minas Gerais, central Goias, northwestern Mato Grosso, eastern Santa Catarina and southern Rio Grande do Sul reporting the most significant amounts

Moisture
totals were rarely more than 0.60 inch through dawn today with as much as 1.00 inch in central Goias

U.S.
hard red winter wheat areas will receive snow, freezing rain, sleet and rain at various times from Sunday into Tuesday

Moisture
totals will be light in western Kansas, southeastern Colorado, northwestern Texas Panhandle and more significant in other areas

The
lighter precipitation areas will receive up to 0.20 inch of moisture
Southwestern
Nebraska to northeastern Colorado will receive up to 0.35 inch of moisture
Southeastern
Texas Panhandle and western Oklahoma will receive 0.20 to 0.60 inch of moisture
Central
Oklahoma to central and eastern wheat areas of Kansas will receive 0.25 to 0.75 inch of moisture with a few amounts over 1.00 inch

Greatest
rain will be in north-central Texas to southeastern wheat areas in Oklahoma where 1.00 to 3.00 inches of rain may fall

Snowfall
will range from 3 to 6 inches and local totals to 8 inches from southwestern Nebraska to northeastern Colorado and 1 to 3 inches with local amounts of 4-5 inches elsewhere in the wheat region

Some
snow will fall as far south western Texas and southwestern Oklahoma

U.S.
northern Plains and upper Midwest snow event Thursday produced 4 to 10 inches of snow with local totals to 12 inches from northern and central South Dakota and southern North Dakota into central and interior northern Minnesota
U.S.
Livestock stress will be ongoing this weekend in the northern Plains and will develop in the central Plains as temperatures plummet and snow begins to fly
Extreme
cold temperatures will occur in the Great Plains this weekend and early next week with lows in the negative and positive single digits into western Nebraska, northeastern Colorado and far northwestern Kansas
U.S.
harvest weather will deteriorate over the coming week due to waves of rain and some snow
Harvest
delays are expected in the Dakotas, Minnesota and Wisconsin through most of next week and possibly into the first days of November because of the region's deep snowpack and expected wet field conditions that will follow the snow melt
North
America warming is expected is the second half of next week through the first week in November and precipitation should be more limited favoring better harvest progress in areas that are not too wet

Some
drying is needed before fieldwork can resume in the central Midwest as well as the northwestern Corn Belt

U.S.
Delta and southeastern states will experience waves of rain over the coming week the greatest of which will occur during the workweek next week

Delays
in harvest progress will result
Drier
weather will occur in the following week
Some
heavy rain might evolve if tropical moisture streams north to merge with a mid-latitude storm system as advertised in some models today

U.S.
Pacific Northwest will receive rain and snow this weekend bringing a moisture boost to some crop areas while boosting mountain snowpack
California
and the southwestern United States will remain dry for much of the coming ten days

Ontario
and Quebec, Canada harvest delays will continue for one more week because of frequent precipitation

The
region needs to dry out

Canada's
Prairies will experience a notable rain, freezing rain and snow event early next week, but most of this year's harvest is done
Eastern
Australia will be closely monitored for too much rain over the next few weeks, but for now most of the wheat, barley and canola is still rated favorably and rain expected will benefit the planting and emergence of dryland summer crops
Western
Australia is not likely to see much more than a few spotty showers in the far south over the next ten days
South
Australia, Victoria and southern New South Wales winter crop conditions remain very good with little change likely
Hurricane
Epsilon has passed to the east of Bermuda and should turn to the northeast away from North America this weekend posing no land impact
Typhoon
Saudel was located in the central South China Sea today and will move westerly through Saturday while slowly weakening


Landfall
is expected in central Vietnam north of Hue late Sunday or early Monday

Heavy
rain will bring on some additional flooding to water-logged areas of central Vietnam

Follow
up rainfall in Vietnam from a tropical wave early next week and another tropical cyclone during mid-week will result in total rainfall of 6.00 to 20.00 inches of rain by the latter part of next week along nearly all of the central Vietnam Coast

Damage
to infrastructure, personal property and agriculture will continue with each of the three systems noted above

A
new tropical cyclone will form east of the Philippines this weekend and move across the heart of the nation Sunday and Monday before moving to Vietnam Tuesday and Wednesday
A
third tropical cyclone may evolve east of the Philippines late next week and into the following weekend that will threaten the nation; the first storm to impact the nation this week was Tropical Storm Saudel
South
Africa will experience showers erratically over the central and eastern parts of the nation during the coming week with some potential for greater rain in the following week

Generalized
rain is needed to support spring and summer planting

La
Nina should help ensure a good rainy season this summer

India's
monsoon will start withdrawing a little faster over the next several days ending rain and harvest delays in the west-central crop areas


Rain
will fall frequently in far southern India and in the extreme east for much of the coming week to ten days

Europe
will experience increasing precipitation in the west over this coming week while eastern areas are relatively dry biased and a little warmer than usual

Winter
crops are establishing well in much of the continent, despite less than ideal early season planting conditions

China
weather will be almost ideal for winter wheat and rapeseed planting and summer crop harvesting during the next ten days

Soil
moisture will be good for quick winter crop germination and plant emergence

Disturbed
tropical weather in the Caribbean Sea and southeastern Gulf of Mexico the remainder of this week will be closely monitored for possible tropical cyclone development over the next week


Two
systems may come out of the region with one moving over western Cuba and then moving to the Bahamas and then farther out to sea in the Atlantic next week


A
second storm system may evolve and move across the Yucatan Peninsula and then into the central Gulf of Mexico where it might merge with a mid-latitude storm over the lower Mississippi River Basin next week

Southern
Oscillation Index fell during the weekend down to +8.18 and the index may begin to rise this weekend
Southeast
Asia rainfall over the next two weeks will be erratic, but all areas will be impacted multiple times supporting most crop needs; some flood potentials will gradually rise in localized areas
Mexico
precipitation will be scattered over far southern crop areas during the coming week

Net
drying is expected for many other summer crop areas supporting crop maturation and harvest progress

Central
America will be wetter than usual over the next ten days to two weeks keeping late season crop maturation and harvest progress slow, but the moisture is improving long term water supply.


Some
flooding is possible
<![if !supportLists]>·
<![endif]>West-central Africa will experience erratic rain through the next ten days favoring coffee, cocoa, sugarcane, rice and other crops
Daily
rainfall is expected to be decreasing as time moves along which is normal for this time of year
Cotton
areas will benefit from drier weather
<![if !supportLists]>·
<![endif]>East-central Africa rain will be erratic and light over the next couple of weeks, but most of Uganda and southwestern Kenya will be impacted while Tanzania and Ethiopia rainfall is erratic and light
Some
heavy rain may fall in Uganda
<![if !supportLists]>·
<![endif]>New Zealand rainfall will be increasing across North Island and western areas of South Island over the coming week

Temperatures
will be seasonable with a slight cooler bias in the south
Source:
World Weather Inc.
China
customs publishes trade data on imports of corn, wheat, sugar and cotton
ICE
Futures Europe weekly commitments of traders report, 1:30pm (6:30pm London)
CFTC
commitments of traders weekly report on positions for various U.S. futures and options, 3:30pm
FranceAgriMer
weekly update on crop conditions
Unica
data on Brazil's cane crush, sugar production (tentative)
U.S.
cattle on feed, poultry slaughter, 3pm
HOLIDAY:
Thailand
Sunday,
Oct. 25:
China
customs publishes country-wise soybean and pork import data
Monday,
Oct. 26:
USDA
weekly corn, soybean, wheat export inspections, 11am
U.S.
crop conditions, harvesting progress for soybeans, corn, cotton, 4pm
EU
weekly grain, oilseed import and export data
Monthly
MARS bulletin on crop conditions in Europe
Malaysian
Oct. 1-25 palm oil export data
Ivory
Coast cocoa arrivals
HOLIDAY:
Hong Kong, New Zealand
Tuesday,
Oct. 27:
Virtual
Palm Oil Conference, day 1
EARNINGS:
WH Group
Wednesday,
Oct. 28:
EIA
U.S. weekly ethanol inventories, production, 10:30am
Virtual
Palm Oil Conference, day 2
HOLIDAY:
Indonesia
Thursday,
Oct. 29:
USDA
weekly crop net-export sales for corn, soybeans, wheat, cotton, pork, beef, 8:30am
Port
of Rouen data on French grain exports
Vietnam's
General Statistics Office releases commodity trade data for October
International
Grains Council monthly report
EARNINGS:
ADM
HOLIDAY:
Indonesia, Malaysia
Friday,
Oct. 30:
ICE
Futures Europe weekly commitments of traders report, 1:30pm (6:30pm London)
CFTC
commitments of traders weekly report on positions for various U.S. futures and options, 3:30pm
FranceAgriMer
weekly update on crop conditions
U.S.
agricultural prices paid, received, 3pm
HOLIDAY:
Indonesia
Source:
Bloomberg and FI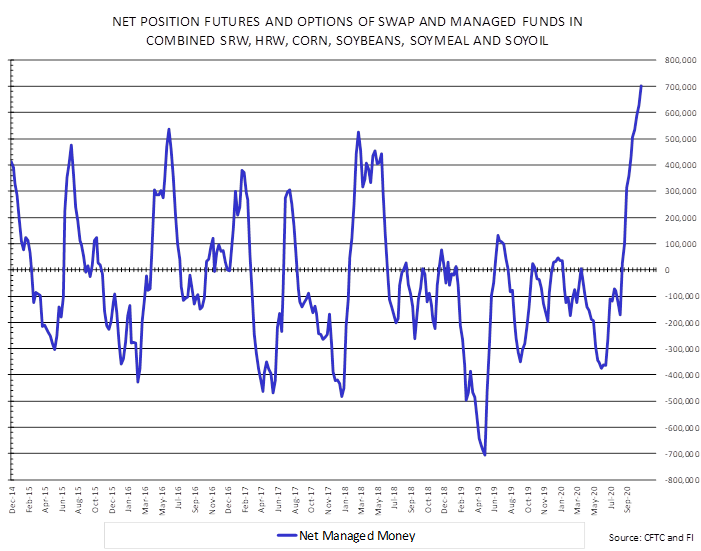 SUPPLEMENTAL
Non-Comm Indexes Comm

Net Chg Net Chg Net Chg
Corn
240,281 64,948 330,383 4,791 -509,863 -78,208
Soybeans
189,163 1,535 199,492 -1,813 -380,294 -6,238
Soyoil
66,521 695 114,420 17 -196,837 2,070
CBOT
wheat 23,860 7,435 127,962 -2,117 -131,799 -5,144
KCBT
wheat 16,563 4,200 65,859 822 -83,334 -6,137
=================================================================================
FUTURES
+ OPTS Managed Swaps Producer

Net Chg Net Chg Net Chg
Corn
218,825 47,956 173,633 6,944 -469,159 -80,191
Soybeans
231,892 5,447 122,303 -3,408 -373,040 -7,461
Soymeal
81,624 4,555 86,614 2,700 -216,733 -10,109
Soyoil
82,034 -154 97,291 3,276 -214,368 -1,099
CBOT
wheat 49,728 11,138 73,154 -6,462 -112,499 -184
KCBT
wheat 38,146 5,950 45,977 270 -83,138 -6,521
MGEX
wheat 4,492 6,266 2,291 47 -12,422 -9,005

———- ———- ———- ———- ———- ———-
Total
wheat 92,366 23,354 121,422 -6,145 -208,059 -15,710
Live
cattle 34,941 -21,096 73,330 -2,124 -117,732 17,050
Feeder
cattle -8,531 -4,696 6,286 1,168 262 2,986
Lean
hogs 42,058 4,905 52,430 1,092 -97,034 -2,009

Other NonReport Open

Net Chg Net Chg Interest Chg
Corn
137,501 16,821 -60,800 8,469 2,150,651 146,249
Soybeans
27,205 -1,095 -8,359 6,517 1,326,365 8,562
Soymeal
22,345 309 26,151 2,545 522,739 4,604
Soyoil
19,149 760 15,896 -2,782 526,968 -2,692
CBOT
wheat 9,640 -4,317 -20,025 -175 592,895 56,386
KCBT
wheat -1,897 -815 911 1,116 279,840 14,610
MGEX
wheat 3,176 653 2,464 2,040 74,258 7,179

———- ———- ———- ———- ———- ———-
Total
wheat 10,919 -4,479 -16,650 2,981 946,993 78,175
Live
cattle 19,851 3,407 -10,389 2,763 316,579 1,228
Feeder
cattle 1,647 -1,169 337 1,711 51,454 3,710
Lean
hogs 14,392 -2,688 -11,847 -1,299 270,736 -20,520
Source:
Reuters, CFTC and Reuters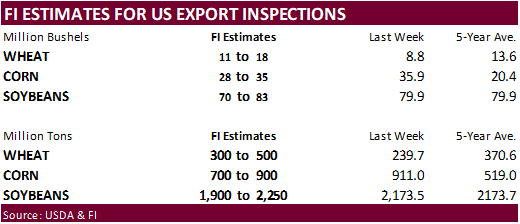 Macros
US
Markit Manufacturing PMI Oct P: 53.3 (est 53.5; prev 53.2)
–
Services PMI Oct P: 56.0 (est 54.6; prev 54.6)
–
Composite PMI Oct P: 55.0 (prev 54.3)
Corn.

Corn
futures traded at a fresh 14-month high bias the nearby contract and December closed 3.0 cents higher at $4.1925/bu. Looks like the December/March corn contracts may soon trade inverse. As it should. We see much of the US corn export demand during the late
December through April period.
Chatter
overnight was a Reuters story talking about China imports of grains may surge as the government may increase corn import quotas. Set at 7.2 million tons, it could rise to at least 15 million tons, in our opinion, after China booked 12 million tons of US corn
and 5 million tons from Ukraine and other countries.

China
corn imports were 6.7 million tons during the first 9 months of 2020. That's the highest in 15 years. September corn imports were 1.08 million tons.

China
corn futures rose to a 14-month high.
USD
was 18 lower as of 1:26 pm CT, and crude was $0.73 lower.
US
corn basis was up 5 cents at Seneca, IL to option, Cedar Rapids up 3 to option, and Blair, NE up 5 to 11 under.

French
corn harvesting progress was running at 77 percent as of October 19, up from 64 percent previous week and compares to 42 percent year ago. AGPM, a French growing group, warned of disappointing French corn crop, at 13.6 million tons, below the AgMin estimate
of 13.8 million tons.
Ukraine
harvested 83 percent of their grain crop, or 48.8 million tons from 12.7 million hectares.

Germany
ASF: 5 new cases; 91 cases since September 10
South
Africa Reuters poll: New crop corn area 2.64 million hectares (2020-21), up 8.3 percent, or 2.4 million hectares. White was estimated at 1.6 million for 2020-21. The poll also called for 2019-20 South African corn production to end up near 15.353 million
tons, down from 15.422 million tons projected in September.
USDA
Cattle on Feed report showed a huge year over year increase in placements and fed placements. September 1 on feed was slightly above expectations. That's supportive corn.

RFA
letter to recommend reciprocal tariffs on ethanol imports from Brazil
https://ethanolrfa.org/wp-content/uploads/2020/10/RFA-Letter-to-President-Re-Brazil-Ethanol-Trade-10-22-20.pdf


Corn
Export Developments
Iran
passed on 200,000 tons of barley and 200,000 tons of corn due to high prices.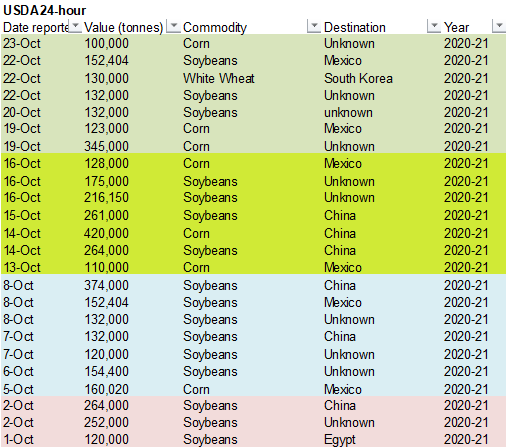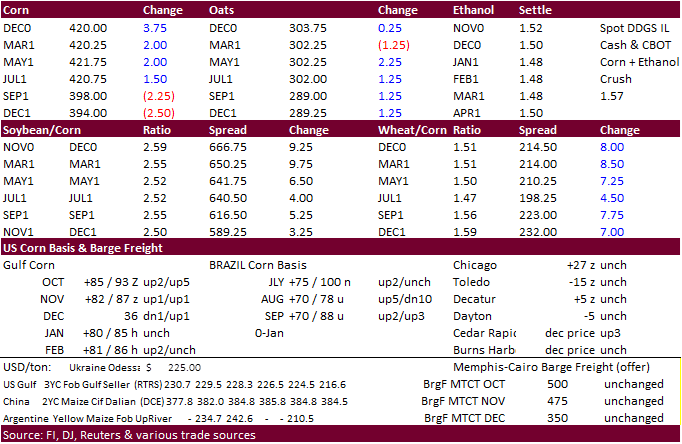 Updated
10/23/20
December
corn is seen in a $4.00-$4.40 range
China
could easily change the global balance sheet if they boost corn imports above 15 million tons in 2021.