PDF Attached
Weather
and Crop Progress
Rain
will increase in Brazil but there is now talk too much frequent rain could delay soybean plantings for some areas. Brazil rainfall will slowly increase over the next two weeks in center west and center south crop areas improving soybean planting and establishment
conditions. Argentina will see additional rainfall Friday through Sunday of another 0.50 to 2.00 inches. Northern US Great Plains saw snow over the past day, delaying fieldwork activity. Eastern Ukraine and Kazakhstan will see limited rainfall for a while.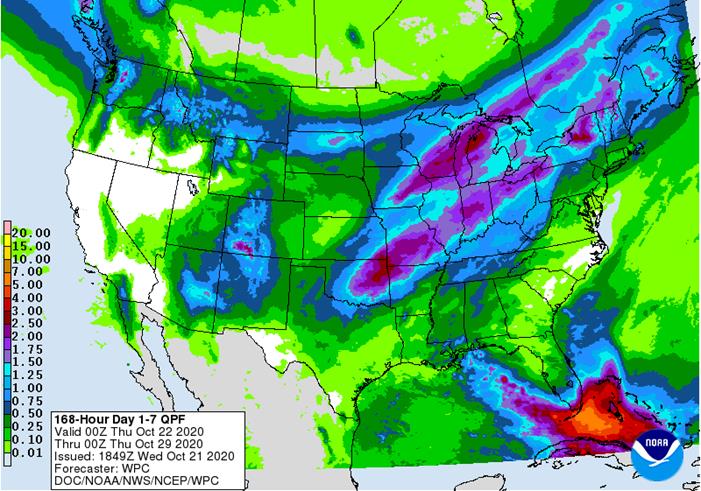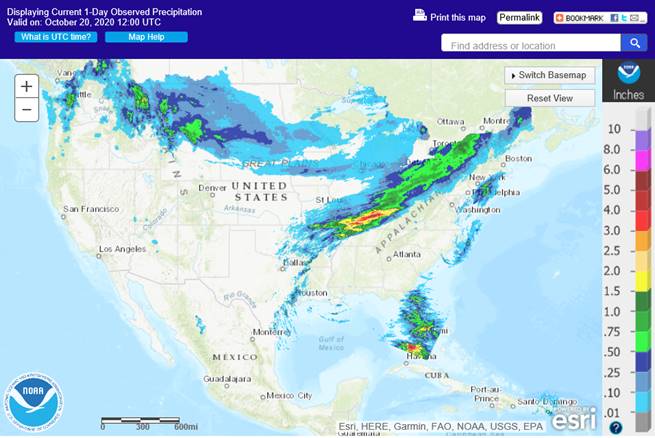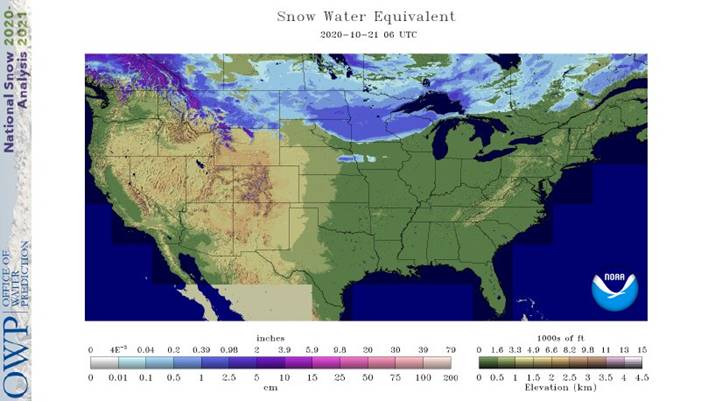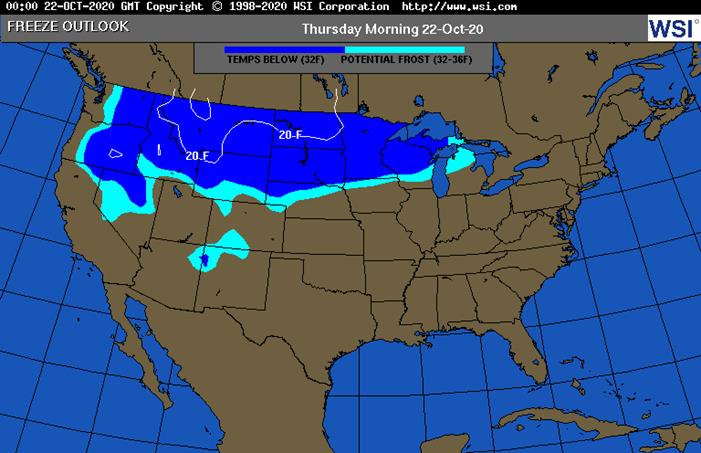 TODAY'S
MOST IMPORTANT WEATHER
Heavy
snow fell Tuesday from extreme eastern South Dakota through central and southern Minnesota where 4 to 10 inches resulted in travel delays and livestock stress

Some
of the snow shifted into Wisconsin and impacted western and northern parts of that state as well

A
new snowstorm of significance will occur today and Thursday from northern South Dakota and southern North Dakota to central and interior northern Minnesota as well as areas east northeast to the northern Great Lakes region

Accumulations
of 3 to 9 inches will be common with local totals of 10 to 14 inches; northern South Dakota and parts of central Minnesota will see the greatest amounts

Additional
travel delays and livestock stress will result
Late
season corn, sugarbeet and other harvest progress will be delayed

Bitter
cold air is still expected in the northern U.S. Plains and a part of Canada's Prairies over the next several days


Extreme
lows in the negative and positive single digits will occur from Montana, northern Wyoming and the far western parts of the Dakotas northward into the heart of the Canadian Prairies

The
cold and snow that precedes it will stress livestock

Snow
will fall into the central Plains late Saturday into Monday with accumulations of 1 to 3 inches common from Nebraska to eastern Colorado with local totals of 4 to 5 inches probably favoring northeastern Colorado and far southwestern Nebraska, although confidence
is low
U.S.
hard red winter wheat areas will receive some needed moisture from the waves of snow, rain and freezing rain that will impact the central and southwestern Plains briefly from Thursday into Tuesday of next week

Most
of the precipitation will occur in the north and eastern parts of the region where moisture totals will vary from 0.10 to 0.50 inch and a few amounts as great as 0.70 inch
However,
moisture totals in the high Plains region will be less than 0.20 inch except in southwestern Nebraska, northeastern Colorado and possibly far northwestern Kansas where 0.20 to 0.35 inch "may" result
All
of the moisture will be welcome, but there will be need for more to ensure the best winter crop establishment when temperatures warm again

Montana
wheat planting and emergence is incomplete, and temperatures will be cold enough for a long enough period of time to raise concern about that planting getting completed

Warming
is expected late next week through the following weekend

U.S.
Midwest harvest delays will occur through early next week due to waves of rain and some snow

Drier
weather is expected in the following week to improve harvest progress, although a period of drying will be required after some significant moisture impacts the region

Snowmelt
will keep the upper Midwest wet for a longer period of time extending the harvest delays

West
Texas cotton and other summer crop harvesting will be delayed by precipitation during the late weekend through the first half of next week

Drier
and warmer weather will return late next week through the first week in November supporting better harvest conditions


U.S.
Delta and southeastern states weather will be disrupted by periods of rain over the next two weeks

Some
of the advertised rain may be overdone and future model forecasts will bring some better field working conditions, but progress will still advance slowly.


U.S.
Pacific Northwest precipitation will be limited to an event expected Friday into Saturday with drier biased conditions occurring in the following ten days
U.S.
far west will continue drier than usual through much of the next couple of weeks, especially south of the Columbia River Basin
Hurricane
Epsilon is a huge storm, but will pass to the east of Bermuda later this week and should then turn away from North America posing no land impact
Tropical
Storm Saudel was located west of the Philippines this morning and was becoming better organized after moving across Luzon Island Tuesday

Rainfall
over the island was not more than 4.00 inches
Saudel
will move west northwesterly today and Thursday and then turn to the west and slightly south of west the remainder of this week and into the weekend

Landfall
is expected in central Vietnam during the late weekend

Heavy
rain will bring on some additional flooding to water-logged areas of central Vietnam

Russia's
Southern Region will continue quite dry along with eastern Ukraine and western Kazakhstan despite a few showers during the next two weeks

Greater
moisture is needed to bring on improved crop establishment before winter dormancy occurs to wheat, rye and barley

Eastern
Australia will soon experience periods of rain that will improve dryland cotton and sorghum planting conditions, but may raise some concern over winter wheat, barley and canola quality

Most
of the greatest rain will be in the Great Dividing range and in southeastern Queensland

Western
Australia is not likely to see much more than a few showers in the far south
South
Australia, Victoria and southern New South Wales winter crop conditions remain very good with little change likely
Argentina's
recent rainfall and that expected through the weekend will ensure much improved planting conditions for corn, sunseed and eventually soybeans

Drier
weather expected for a week and possibly ten days following the rain event setting the stage for aggressive spring planting and quick germination
Improved
early planted crop establishment is expected, as well
Follow
up rain will be needed in early November to prevent dryness from returning again

Brazil's
rainfall outlook over the next ten days continues to promote planting improvements for most of the nation

Seed
germination and plant emergence should occur readily
A
close watch on southern Brazil weather is warranted since that region will not get as much rain as other areas in the nation

South
Africa will experience showers erratically over the central and eastern parts of the nation during the coming week with some potential for greater rain in the following week

Generalized
rain is needed to support spring and summer planting

La
Nina should help ensure a good rainy season this summer

India's
monsoon will start withdrawing a little faster over the next several days ending rain and harvest delays in Gujarat, northern Maharashtra, southern Rajasthan and western Madhya Pradesh over the next couple of days

Rain
will fall frequently in far southern India and in the extreme east for much of the coming week to ten days

Europe
will experience increasing precipitation in the west over this coming week while eastern areas are relatively dry biased and a little warmer than usual

Winter
crops are establishing well in much of the continent, despite less than ideal early season planting conditions

China
weather will be almost ideal for winter wheat and rapeseed planting and summer crop harvesting during the next ten days

Soil
moisture will be good for quick winter crop germination and plant emergence

Disturbed
tropical weather in the Caribbean Sea and southeastern Gulf of Mexico the remainder of this week will be closely monitored but there is no sign or tropical cyclone development for the next few days

Southern
Oscillation Index fell during the weekend down to +8.23 and the index will level off over the next few days after a recent fall of significance.

Southeastern
Canada and the U.S. Great Lakes region will continue to experience frequent precipitation over the coming week causing additional delay to farming activity

Recent
precipitation frequency has been too high for much fieldwork and this trend will linger for a while longer.


Southeast
Asia rainfall over the next two weeks will be erratic, but all areas will be impacted multiple times supporting most crop needs; some flood potentials will gradually rise in localized areas
Mexico
precipitation will be scattered over far southern crop areas during the coming week

Net
drying is expected for many other summer crop areas supporting crop maturation and harvest progress

Central
America will be wetter than usual over the next ten days to two weeks keeping late season crop maturation and harvest progress slow, but the moisture is improving long term water supply.


Some
flooding is possible
<![if !supportLists]>·
<![endif]>West-central Africa will experience erratic rain through the next ten days favoring coffee, cocoa, sugarcane, rice and other crops
Daily
rainfall is expected to be decreasing as time moves along which is normal for this time of year
Cotton
areas will benefit from drier weather
<![if !supportLists]>·
<![endif]>East-central Africa rain will be erratic and light over the next couple of weeks, but most of Uganda and southwestern Kenya will be impacted while Tanzania and Ethiopia rainfall is erratic and light
Some
heavy rain may fall in Uganda
<![if !supportLists]>·
<![endif]>New Zealand rainfall will be increasing across North Island and western areas of South Island over the coming week

Temperatures
will be seasonable with a slight cooler bias in the south
Source:
World Weather Inc.
EIA
U.S. weekly ethanol inventories, production, 10:30am
Thursday,
Oct. 22:
USDA
weekly crop net-export sales for corn, soybeans, wheat, cotton, pork, beef, 8:30am
Port
of Rouen data on French grain exports
USDA
red meat production, 3pm
U.S.
cold storage data – pork, beef, poultry
Friday,
Oct. 23:
China
customs publishes trade data on imports of corn, wheat, sugar and cotton
ICE
Futures Europe weekly commitments of traders report, 1:30pm (6:30pm London)
CFTC
commitments of traders weekly report on positions for various U.S. futures and options, 3:30pm
FranceAgriMer
weekly update on crop conditions
Unica
data on Brazil's cane crush, sugar production (tentative)
U.S.
cattle on feed, poultry slaughter, 3pm
HOLIDAY:
Thailand
Canadian
Retail Sales (M/M) Aug: 0.4% (est 1.1%; prev 0.6%)
Canadian
Retail Sales Ex Auto (M/M) Aug: 0.5% (est 0.9%; prev -0.4%)
Canadian
CPI NSA (M/M) Sep: -0.1% (est -0.1%; prev -0.1%)
Canadian
CPI (Y/Y) Sep: 0.5% (est 0.5%; prev 0.1%)
Canadian
CPI Core – Median (Y/Y) Sep: 1.9% (est 1.9%; prev 1.9%)
Canadian
CPI Core – Common (Y/Y) Sep: 1.5% (est 1.5%; prev 1.5%)
Canadian
CPI Core – Trim (Y/Y) Sep: 1.8% (est 1.7%; prev 1.7%)
Canadian
New Housing Price Index Sep: 1.2% (est 0.5%; prev 0.5%)
US
DoE Crude Oil Inventories (W/W) 16-Oct: -1002K (est -1375K; prev -3818K)
–
Distillate Inventories (W/W): -3832K (est -2000K; prev -7245K)
–
Cushing OK Crude Inventories (W/W): 975K (prev 2906K)
–
Gasoline Inventories (W/W): 1895K (est -1500K; prev -1626K)
–
Refinery Utilization (W/W): -2.20% (est 0.80%; prev -2.00%)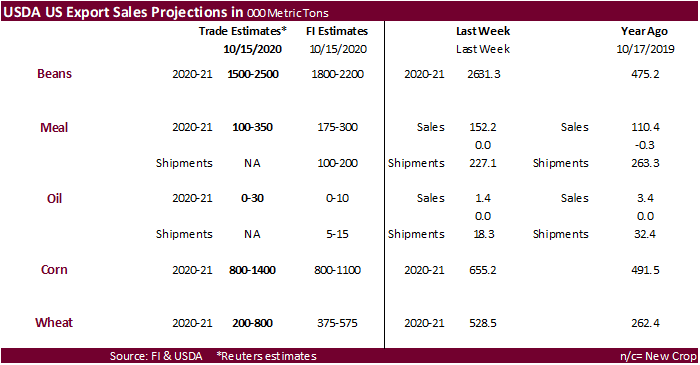 Corn.

Corn
futures hit an Aug 2019 high, ending 5.0 higher in the December (bull spreading), on a lower USD and strong global cash prices. Brazil's local corn price is at multi month highs and tight supplies could shift demand to the US during the Nov-May period. Funds
bought an estimated net 18,000 corn contracts.
Poor
US corn for ethanol demand likely kept back month corn prices limited to the upside.

Wear
hearing the corn is coming in dry across the Great Plains and WCB. There was one report WCB moisture content was 10-12 percent. Over the in the ECB, we heard corn 17 moisture percent central IN and 20-22 percent northern Indiana. But the beans came in a
little dry.
South
American offers for corn are starting to dry up after South Korea is having one of their busiest months since April. AgriCensus noted Brazil October corn exports could reach 5.5 million tons and Cepea domestic Brazil corn price were up for the 15th
straight day.
USD
was 46 lower as of 2:00 pm CT, and crude was $1.57 lower.
China
expects pork supplies during the Lunar New year holiday will be 30 percent higher from the previous year, resulting in lower prices. Pork prices have fallen for seven consecutive weeks as more pigs are slaughtered, dropping to 50.56 yuan ($7.59) per kg. China's
head of the development and planning division of the ministry noted pig producers have built 12,500 new large-scale pig farms in the first three quarters of the year and restarted more than 13,000 empty farms. China's agriculture ministry had set a goal last
year of restoring the herd to 80% of normal levels by the end of 2020. 40% of China's pigs were lost in 2019. September 30 pig stocks were 370 million, or 84% of the level in 2017 while breeding sows reached 38.22 million, or 86% of 2017 levels. (Reuters)


USDA's
Broiler Report showed weekly eggs set in the US down 2 percent from last year and chicks placed down 1 percent. Cumulative placements from the week ending January 4, 2020 through October 17, 2020 for the United States were 7.79 billion. Cumulative placements
were down 1 percent from the same period a year earlier.
Weekly
US ethanol production fell 24,000 to 913,000 barrels from the previous week, which was unexpected as a Bloomberg poll called for a 7,000 increase. Ethanol stocks declined 287,000 barrels to 19.721 million. Traders were looking for stocks to increase 224,000
barrels. Early September to date ethanol production is running 6.4 percent below the same period a year earlier. Ethanol stocks are down 8.3 percent
from this time last year. US gasoline stocks of 227 million barrels are up 1.9 million from the previous week. Ethanol percent blended to conventional gasoline was 92.5%, up from 93.4% previous week.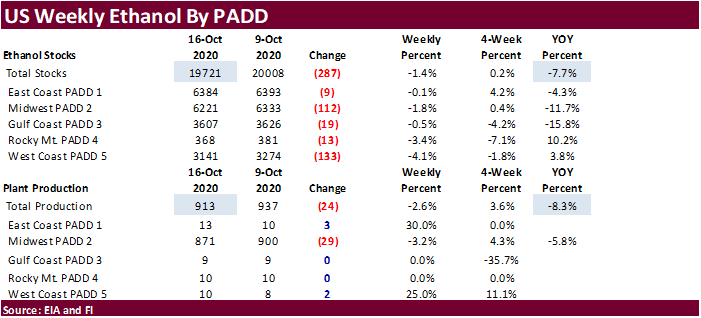 Corn
Export Developments
Iran
opened a new tender for 200,000 tons of barley, set to close October 21.
Domestic
Brazil cash corn, Campinas, Sao Paulo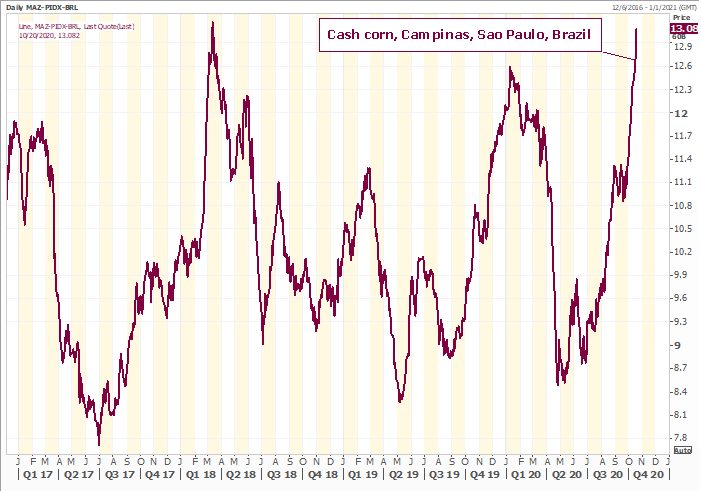 Source:
Reuters and FI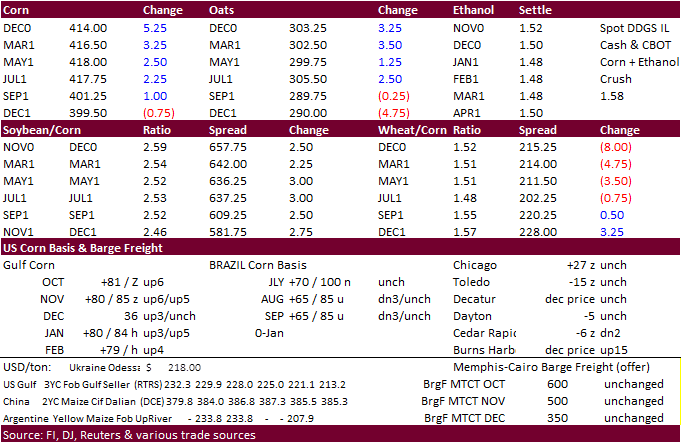 Updated
10/15/20
December
corn is seen in a $3.90-$4.20 range
China
could easily change the global balance sheet if they boost corn imports above 15 million tons in 2021.

Soybeans
Anec
sees Brazil October soybean exports plunging to 2.32 million tons and corn exports at 5.5 million tons.

South
Korea's MFG and KFA bought an unknown volume of soybean meal, origin unknown.




MFG
bought two consignments

$461.70
a ton c&f for shipment between Feb. 1 and Feb. 28
$440.99
a ton c&f for shipment between March 12 and April 12

KFA
bought two consignments

$466.99
a ton with unknown shipment period
$438.97
a ton with unknown shipment period

Syria
seeks 50,000 tons of soybean meal and 50,000 tons of corn on October 26 for delivery within four months of contract.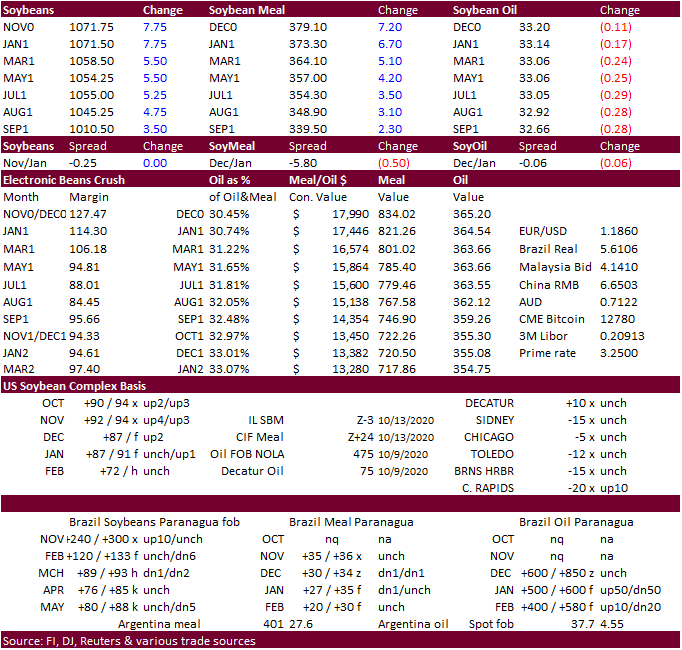 Updated
10/20/20
November
soybeans are seen in a $10.45-$10.90 range
December
soybean meal is seen in a $350-$3.90 range
December
soybean oil is seen in a 32.70-34.00 range
US
wheat
futures started higher on global weather concerns and firm global cash prices, but ended mixed in Chicago (bear spreading), KC lower, and Minneapolis higher. Earlier we thought
futures
prices had the potential to trade lower today as Japan received no offers for wheat and both Jordan and Thailand passed on wheat, a sign global prices are temporally too high.

Funds
sold an estimated net 1,000 SRW wheat contracts.
Tunisia
seeks 50,000 tons of wheat and 50,000 tons of barley on October 22 for late November through December 15 shipment.

Taiwan
seeks 88,635 tons of US wheat on October 23 for Dec/Jan shipment.
Japan
received no offers for 80,000 tons of feed wheat and 100,000 tons of feed barley for arrival by February 25.

Jordan
passed on 120,000 tons of wheat.
Thailand
passed on 192,000 tons of feed wheat and 120,000 tons of feed barley, optional origin, for between Dec 2020 and March 2021 shipment.

Results
awaited: Algeria seeks 50,000 tons of milling wheat on October 21, valid until October 22 for November and/or December shipment, depending on origin.

Japan
seeks 80,526 tons of food wheat later this week including 29,217 tons from the US and 51,309 tons from Canada.

Sudan
seeks 1 million tons of wheat through US assistance.
Turkey
seeks 175,000 tons of wheat on October 22 for shipment between November 9 and November 24.

China
plans to buy 500,000 tons of cotton for state reserves.
<![if !supportLists]>·
<![endif]>Results awaited: Mauritius seeks 5,500 tons of white rice on October 20 for Dec 15-Mar 15, 2021 delivery.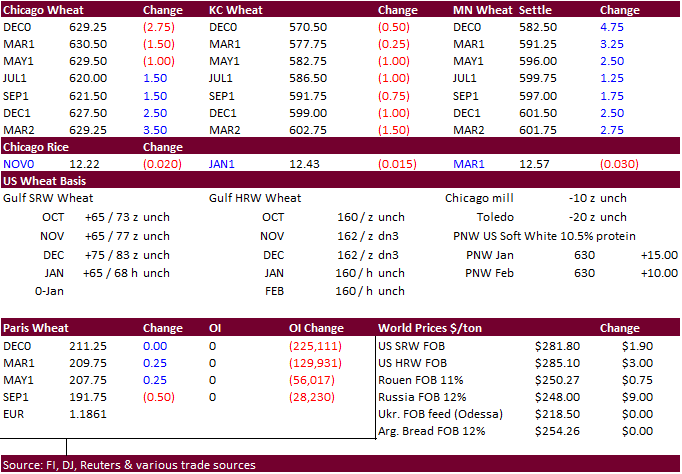 Updated
10/20/20
December Chicago wheat is seen in a $6.10-6.60 range
December KC wheat is seen in a $5.50-$6.10 range
December MN wheat is seen in a $5.55-$6.20 range
Terry Reilly
Senior Commodity Analyst – Grain and Oilseeds
Futures International
One Lincoln Center
18 W 140 Butterfield Rd.
Suite 1450
Oakbrook Terrace, Il. 60181
W: 312.604.1366
ICE IM:
treilly1
Skype: fi.treilly

Trading of futures, options, swaps and other derivatives is risky and is not suitable for all persons. All of these investment products are leveraged, and you can lose more than your initial deposit. Each investment product is offered
only to and from jurisdictions where solicitation and sale are lawful, and in accordance with applicable laws and regulations in such jurisdiction. The information provided here should not be relied upon as a substitute for independent research before making
your investment decisions. Futures International, LLC is merely providing this information for your general information and the information does not take into account any particular individual's investment objectives, financial situation, or needs. All investors
should obtain advice based on their unique situation before making any investment decision. The contents of this communication and any attachments are for informational purposes only and under no circumstances should they be construed as an offer to buy or
sell, or a solicitation to buy or sell any future, option, swap or other derivative. The sources for the information and any opinions in this communication are believed to be reliable, but Futures International, LLC does not warrant or guarantee the accuracy
of such information or opinions. Futures International, LLC and its principals and employees may take positions different from any positions described in this communication. Past results are not necessarily indicative of future results.