PDF Attached
USDA
released their October S&D report
Reaction:
Bullish bias soybeans, neutral corn, and slightly bearish Chicago wheat but friendly for KC type wheat.

USDA
NASS and OCE executive summaries
https://www.nass.usda.gov/Newsroom/Executive_Briefings/index.php

https://www.usda.gov/oce/commodity/wasde/Secretary_Briefing/index.htm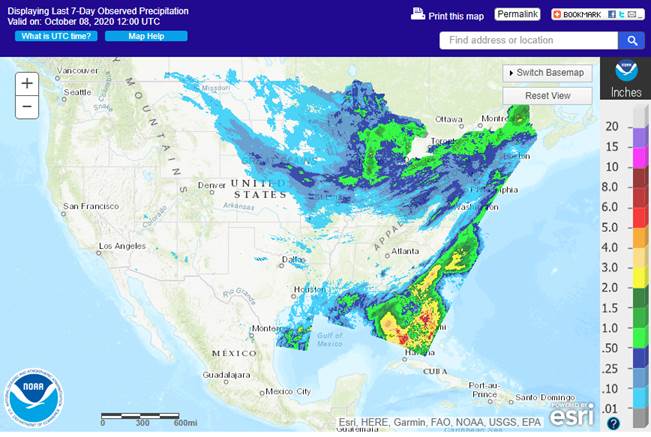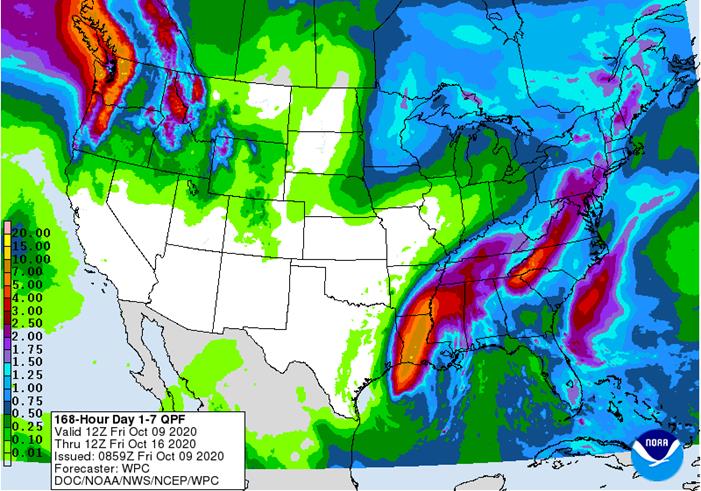 MORNING
WEATHER MODEL COMMENTS
NORTH
AMERICA
No
significant changes were noted to the outlook overnight

Hurricane
Delta will come ashore into Louisiana as expected with the remnants of the system moving through the heart of the lower Mississippi River Valley and then from Tennessee to the middle Atlantic Coast states over the weekend and into Monday
A
mid-latitude frontal system will move across the central and eastern states Sunday into Tuesday generating a little rain in the northern Midwest
Cooling
will follow the early week frontal system with a couple of reinforcing shots of cool air expected in the following week bringing a few sporadic showers with each occurrence

Most
of hard red winter wheat country will remain dry or nearly dry
Northwestern
U.S. Plains are not likely to see much moisture
Some
rain will fall in the Pacific Northwest, but will favor the mountains and not the valleys
The
00z GFS model run was too wet in the central and southern Plains. The drier 06z and especially the European model runs are preferred.

SOUTH
AMERICA
No
theme changes were noted overnight
GFS
model outlook has not changed greatly for center west into center south Brazil for next week and the following weekend with rain expected in many areas
Restricted
rainfall occurs in Mato Grosso do Sul, western Parana and western Sao Paulo through October 19
Rain
this weekend will occur mostly from eastern Santa Catarina to Rio de Janeiro and southeastern Minas Gerais
Far
southern Brazil is still advertised to see a good mix of rain and sunshine during the next ten days to two weeks favoring crops and fieldwork
No
changes were noted in Argentina for the first 8-9 days of the outlook with southern Buenos Aires most of the nation's significant rain – most of which occurs Saturday into Sunday of this week
Argentina
rainfall was still advertised to increase Oct. 18-21, but the 06z GFS was much too wet suggesting a widespread general soaking of rain

However,
some increase in rainfall is expected during this period of time, but it is too far out in time to get specific and have high confidence
The
generalities of the South America outlook have not changed much today relative to the previous model run or the overall outlook suggested Tuesday. Argentina is not likely to see much rain until October 18 except in Buenos Aires where some rain will fall this
weekend. The potential for at least some dryness relief is improving for the Oct. 18-21 period, but confidence in its significance is still low. In Brazil, a period of beneficial moisture will impact center west and center south crop areas next week and the
following weekend; although portions of Mato Grosso do Sul and western and northern Parana as well as western Sao Paulo may not get much rain and will need more soon.

EUROPE/BLACK
SEA REGION
Some
additional rain fell in western Ukraine overnight with amounts to 1.14 inches, but this moisture did not reach into eastern areas
No
significant theme changes occurred overnight, although World Weather, Inc. still believes there is some "potential" for one of the many weather disturbances in Europe to spin out into some of the drier areas of eastern Ukraine, Russia's Southern Region and
neighboring areas during the coming week to ten days

If
this occurs it would not be a general soaking and certainly would not be signaling the start of a rainier weather pattern
A
trough of low pressure in Europe that has been drifting east recently will eventually retrograde back to the west ending this "potential" for rainfall in the drier areas of the western CIS and once the retrograding is complete Russia's Southern Region, eastern
Ukraine and Kazakhstan crop areas will be right back into the dry and warm bias for a while longer
CHINA
No
general theme changes noted overnight

Northeastern
China will not be completely dry, but less frequent and less significant rain is expected and that will translate into much better grain and oilseed maturation and harvest progress over the next two weeks
A
good mix of weather is also expected in the Yellow River Basin and North China Plain where wheat planting, germination and emergence will occur while summer crops continue to mature and be harvested with little weather disruption.

Periodic
rain near and south of the Yangtze River will slow farming activity occasionally and maintain some concern over crop conditions, but the environment in general is expected to improve slowly
PLEASE
NOTE THAT CHINA WEATHER OBSERVATIONS HAVE NOT BEEN AVAILABLE FOR THE PAST TWO DAYS
INDIA
No
general theme changes were noted overnight

Concern
will be rising over frequent rainfall in central India during the week next week and into the following weekend

Delays
in harvest progress and concern over some crop quality will likely increase

Weather
this weekend is expected to remain mostly good as it has been in the past week
AUSTRALIA
No
big changes were noted overnight in the coming ten days to two weeks

Western
Australia is still not advertised to receive much significant rain

Only
a few showers near the southern and lower western coasts are expected
There
is some "potential" for short term bout of rain in the southwest of the state October 20-22, but confidence is low today

Rain
will fall often enough in Victoria, South Australia and southern New South Wales to maintain a very good crop outlook

Rain
was increased in southeastern Queensland and northeastern New South Wales after October 18 to Oct. 21 on the 06z GFS model run

Some
of this increase would be welcome, but it might also be a little overdone

Some
increase in rainfall is possible during this period of time, but further adjustments in the outlook are expected during the weekend.
The
advertised potential rain events in southwestern Australia and Queensland during the second week of the forecast today has been showing up in the model data a little more routinely recently, but the systems advertised are not quite right and additional adjustments
will occur during the weekend and we will be watching these areas closely for Sunday's weather update.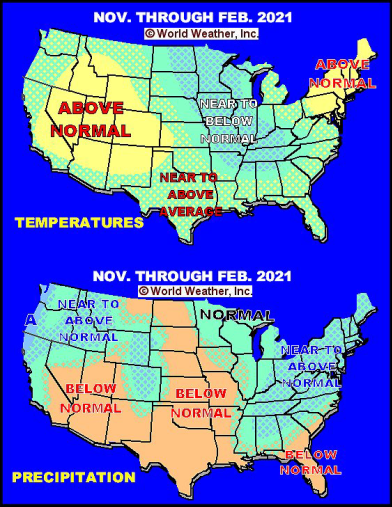 Source:
World Weather Inc.
FRIDAY,
Oct. 9:
USDA's
WASDE report with world supply/demand crops update, stockpiles noon
ICE
Futures Europe weekly commitments of traders report, 1:30pm (6:30pm London)
CFTC
commitments of traders weekly report on positions for various U.S. futures and options, 3:30pm
China's
CNGOIC to publish monthly soy and corn reports
China
agriculture ministry (CASDE) to release its monthly data on supply and demand
FranceAgriMer
weekly update on crop conditions
Brazil
Unica cane crush, sugar production (tentative)
HOLIDAY:
Korea
Monday,
Oct. 12:
U.S.
crop conditions, harvesting progress for soybeans, corn, cotton, 4pm
EU
weekly grain, oilseed import and export data
Ivory
Coast cocoa arrivals
Malaysian
Palm Oil Board releases Sept. end- stocks, output, exports
SGS
releases Malaysia Oct. 1-10 palm oil export data
Cherkizovo
trading update
Vietnam
Customs data on coffee, rice and rubber exports in September
HOLIDAY:
Argentina, Brazil, Canada, Chile
Tuesday,
Oct. 13:
USDA
weekly corn, soybean, wheat export inspections, 11am
China
trade data on soybeans and meat imports
New
Zealand Food Prices
France's
agriculture ministry crop estimates
U.K.'s
AHDB Grain Market Outlook Conference
U.S.
winter wheat planted, 4pm
HOLIDAY:
Thailand
Wednesday,
Oct. 14:
Leman
China Swine Conference, Chongqing, day 1
FranceAgriMer
monthly crops report
Global
Food Forum, Australia, day 1
Malaysia
3Q cocoa grinding figures
Thursday,
Oct. 15:
Malaysia
Oct. 1-15 palm oil export data
Port
of Rouen data on French grain exports
EIA
U.S. weekly ethanol inventories, production, 10:30am
Global
Food Forum, Australia, day 2
Leman
China Swine Conference, Chongqing, day 2
European
Cocoa Association grindings
Friday,
Oct. 16:
USDA
weekly crop net-export sales for corn, soybeans, wheat, cotton, pork, beef, 8:30am
ICE
Futures Europe weekly commitments of traders report, 1:30pm (6:30pm London)
CFTC
commitments of traders weekly report on positions for various U.S. futures and options, 3:30pm
FranceAgriMer
weekly update on crop conditions
Asia
3Q cocoa grinds
Cocoa
Association of Asia's webinar on Asian cocoa demand
Leman
China Swine Conference, Chongqing, day 3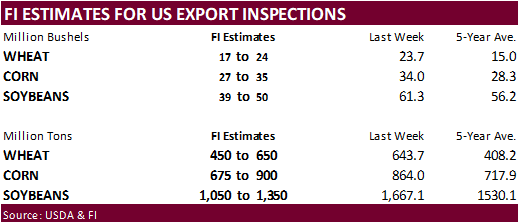 FSA
US Acreage
U.S.
corn and soybean plantings
Prevented planting
(thousands of acres)
Crop
Oct 2020 Sept 2020 Oct 2019
Corn
6,177 6,078 11,420
Soybeans
1,476 1,451 4,459
Wheat
1,270 1,268 2,215
Rice
494 493 752
Barley
32 31 33
Sorghum
298 296 172
Cotton-Upland
402 400 494
U.S.
corn and soybean plantings
Plantings
(thousands of acres)
Crop
Oct 2020 Sept 2020 Oct 2019
Corn
88,212 87,560 86,974
Soybeans
81,854 81,455 74,956
Wheat
46,100 45,947 46,705
Rice
2,986 2,982 2,504
Barley
2,524 2,467 2,623
Sorghum
5,304 5,237 4,822
Cotton-Upland
11,667 11,630 13,223
Traders
missed the long positions for all 5 commodities in this weeks CFTC COT report.






Macros
WH
Kudlow: Pres. Trump Has Cleared Relatively Broad-Based Deal
US
Gulf Shuts In 1.69M Bpd Or 91.55% Oil Production – BSEE
–
Shuts In 1,684.9 Mmcf/D Or 62.17% Gas Production
Canadian
Net Change In Employment Sep: 378.2K (exp 150.0K; prev 245.8K)
–
Unemployment Rate Sep: 9.0% (exp 9.8%; prev 10.2%)
–
Participation Rate Sep: 65.0% (exp 64.7%; prev 64.6%)
–
Full Time Employment Change Sep: 324.0 (prev 205.8)
–
Part Time Employment Change Sep: 44.2 (prev 40.0)
Corn.

A
higher than expected US corn carryout projection by USDA triggered soybean/corn spreading, but corn prices still rallied on sharply higher soybeans, and fund buying in wheat. December corn hit its highest level since late January. We raised our December
trading range (see below).
Funds
bought an estimated net 40,000 corn contracts, 15,000 less than what they bought on September 30 (Grain Stocks Day).

USDA
reported the USDA corn yield at 178.4 bushels per acre, down 0.1 from the previous month. The trade was looking for 177.7. The harvested area was lowered 946,000 acres to 82.527 million, resulting in a 178-million-bushel reduction in production to 14.722
billion bushels. Production for US corn and soybeans came in below trade expectations.

USDA
lowered the US corn carryout by 336 million bushels, in part to adjusting for September 1 stocks, to 2.167 billion bushels, yet 54 million bushels above trade expectations.

With
a lower 2020-21 carry in stocks and reduction in production, USDA lowered feed use by 50 million bushels and corn for ethanol use by another 50 million.

US
corn exports were left unchanged at 2,325 million bushels, above 1,778 million in 2019-20. Note record US corn exports were 2,437.5 million in 2017-18 followed by 2,437.4 million in 2007-08 (100 difference). In 2017-18 combined Ukraine and Russia corn production
fell 6 million tons from the previous year. This year combined corn production for those two countries are expected to increase to 51.5 million tons from 50.2 million tons in 2019-20. For Brazil, USDA estimates 2020-21 corn exports will reach 39 million
tons, up from 34 million tons in 2019-20. The import demand increase for 2020-21 is most notable for the EU (24MMT) and SE Asia.

USDA
Export Sales Commitments As Of Early October:
2020-21
= 25.848 million tons – a record
2017-18
= 12.095 million tons
2007-20
= 23.785 million tons
Global
corn production was lowered 3.6 million tons to 1.159 million, 4 percent above last year. Stocks were taken down 6.3 million tons. With the US stocks lowered 8.5 million tons, this was partially offset by ending stocks by major importing countries.

Ukraine
corn production was taken down 2 million tons to 36.5 million tons by USDA. Russian corn was unchanged at 15 million tons.

There
were no major changes to China's corn balance sheet for 2020-21, other than a smaller carry in.

CASDE:
China raised their 2020-21 corn import projection by 2 million tons to 7 million. We think it could end up to more than 9 million tons. CNGOIC sees a 25 million ton shortage in China's corn supply.

China
discovered ASF in piglets in Chongqing, first outbreak since July 25.
Germany
ASF: 53 cases since September 10
Corn
Export Developments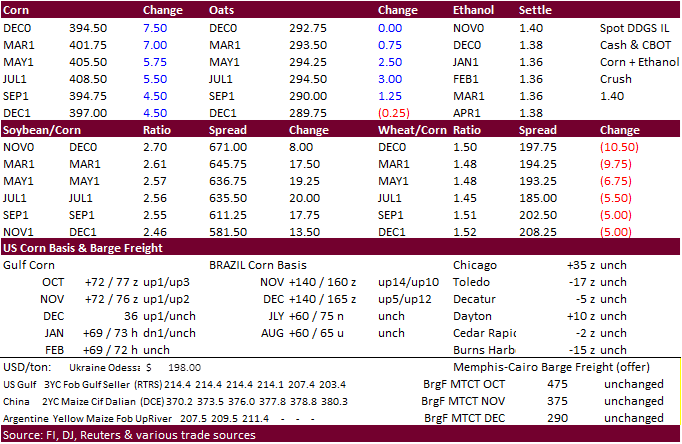 Updated
10/9/20
December
corn is seen in a $3.75-$4.10 range
China
could easily change the global balance sheet if they boost corn imports above 15 million tons in 2021.