PDF Attached
Wild
trade in US agriculture markets with wheat leading corn and soybeans lower. USDA reported additional 24-hour sales this morning.
USDA
export sales were good for corn and soybeans. Conab surprised the trade by reporting a large soybean production and much smaller than expected corn output.


US
CPC: La Nina weather may intensify OND to a moderate or strong event, and peak between November and January, then weaken after April. South America weather during La Nina events includes less than usual rainfall in eastern Argentina, Uruguay, southern Paraguay
and Rio Grande do Sul during the late spring and summer months. US Great Plains tends to see drier than normal conditions.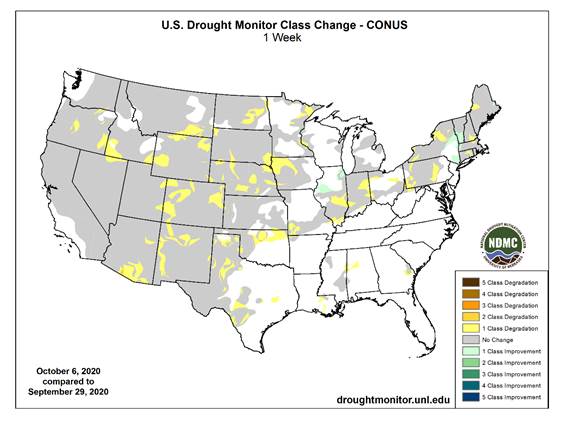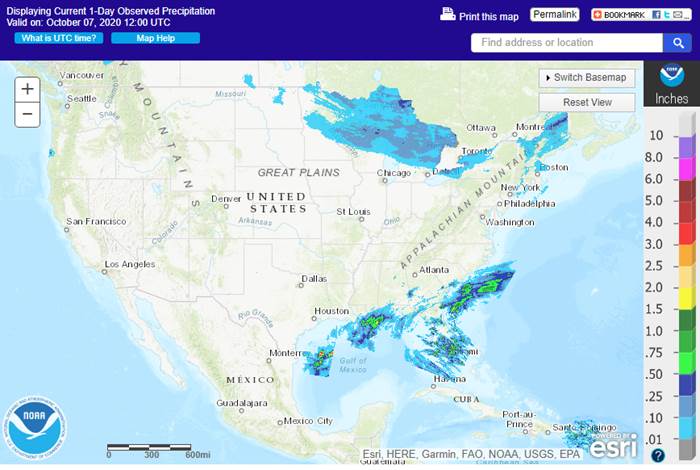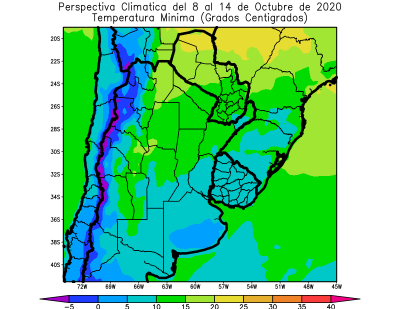 FEW
CHANGES OF SIGNIFICANCE OVERNIGHT
Hurricane
Delta will have a big impact on the lower U.S. Mississippi River Basin Friday and Saturday

Torrential
rainfall is expected from Louisiana through western Tennessee and eastern Arkansas to areas south of the Ohio River from late tonight into Monday resulting in some flooding and crop damage

Sugarcane
in Louisiana will be damaged by high wind speeds with the western crop most seriously impacted
Cotton
damage is also possible with heavy rain occurring from Louisiana to western Tennessee that might string out some cotton

Losses
will be greatest where boll rot has evolved
Cotton
quality declines are expected
Quite
a bit of harvesting has occurred recently which should reduce losses
Hurricane
Delta will also be faster in diminishing which may help to reduce the threat of serious wind damage, but heavy rain is still expected

Unharvested
rice, sorghum and soybeans will also be negatively impacted, but not as severely as that of cotton or sugarcane

Harvest
delays for all crops in the Delta are expected, but drier weather will be back next week


Center
west and center south Brazil will experience some periodic showers and thunderstorms during the next couple of weeks with the precipitation being a little sporadic and light through the weekend and again October 19-23

Resulting
rainfall will vary greatly from one location to another and from one day to the next with mid-week next week wettest
Minas
Gerais will be wettest along with neighboring areas of Espirito Santo and Rio de Janeiro
Portions
of Mato Grosso do Sul, western Sao Paulo and northwestern Parana will be driest




Moisture
totals may not be enough to counter evaporation raising some concern for crop in that area

Some
soybean planting is expected to occur
Coffee
in Minas Gerais, Espirito Santo and Rio de Janeiro will benefit greatly from next week's rainfall
Excessive
heat in center west, and center south Brazil will be eased as rainfall increases

Tropical
Storm Chan-Hom will threaten Japan Friday into the weekend with some heavy rain and potential flooding; the storm will become a weak typhoon today and will weaken to a tropical storm after impacting parts of Kyushu and Shikoku Friday and Saturday

Landfall
is not expected, but the storm will be close enough to the main islands to induce some heavy rain and windy conditions
Minor
damage is expected to structures, but most crops are not likely to be seriously impacted

Tropical
disturbance moving through mainland areas of Southeast Asia today will generate additional rain today


This
disturbance may reach the Bay of Bengal Friday into weekend and will contribute to greater rain in India Sunday through Friday of next week

Disturbed
tropical weather in the Philippines will generate greater rainfall today and Friday with two tropical cyclones coming from the disturbance

First
tropical cyclone will evolve west of the Philippines tonight and Friday and it will move to central and southern Vietnam next week possibly bringing heavy rain and windy conditions to some coffee production areas
A
second tropical cyclone of weaker intensity will move to Guangdong, China after evolving northeast of Luzon Island; landfall may occur in China early to mid-week next week

Northeastern
China will experience drier weather over the next couple of weeks and colder temperatures

BIGGEST
WEATHER ISSUES OF THE DAY
Russia's
Southern Region remains too dry with and no significant relief for at least ten days; there is some indication of possible rainfall after October 20.

Kazakhstan
remains too dry and no relief is expected for two weeks
U.S.
west-central and southwestern hard red winter wheat areas in the Plains will be hot and dry this week and may cool down briefly this weekend only to heat back up again next week

Rainfall
continues minimal for the region through at least October 20

Northwestern
U.S. Plains remain quite dry and winter crops are not establishing well; there is a chance for "some" showers briefly this weekend, but they will be light
No
change in Argentina dryness is expected for the next eight or nine days from central and northern Cordoba and parts of central Santa Fe to northwestern parts of the nation maintaining worry over winter and spring crops

Some
rain may evolve in parts of the dry region after October 17

Rain
is expected in southern Buenos Aires, Argentina briefly this weekend with rainfall of 0.20 to 0.75 inch resulting
Western
Australia is still too dry, although some showers will occur in the far south part of the state today


No
significant relief to dryness will occur through October 17
Showers
may return to a few southern areas Oct. 18-22, but confidence is low

Queensland,
Australia still needs significant rain for summer crop planting; "some" rain is possible October 18-21, but mostly in the southeast where some cotton, sorghum and sugarcane areas might benefit
Central
India will trend wetter again next week after this week's rain is greatest in the south and far eastern states

Too
much rain is expected in central India as a tropical cyclone moves into the region and has trouble ending rainfall


Local
flooding and delays to harvesting will result
Worry
over summer crop quality will be rising

South
Africa weather is slowly improving with rain in the south and east with periods of rain continuing over the next couple of weeks
Southeastern
Canada and the U.S. Great Lakes region will experience a better mix of weather over the next week to ten days after frequent precipitation
U.S.
harvest weather in the Midwest and Great Plains will be good through Saturday

Rain
is expected in the northern Plains and upper Midwest late this weekend into early next week
Some
rain from Hurricane Delta may reach into the lower eastern Midwest this weekend causing delays to fieldwork briefly Sunday and Monday, but drying will evolve shortly thereafter

U.S
Midwest and Great Plains weather next week will be mostly good with only a brief period in which rain is expected to occur in association with frontal systems
U.S.
southeastern states harvest will advance well for a few more days, but some rain is expected this weekend into early next week that may slow fieldwork for a little while
U.S.
temperatures will trend warmer this week until the late weekend and early week frontal system arrives in the Plains and eventually moves through the Midwest during mid-week next week

Highs
in the Midwest will rise to the 70s and lower 80s through the weekend with gradual cooling expected next week and into the following weekend as a series of cool fronts move through the region
High
temperatures in the Plains will be in the upper 70s and 80s during much of this week with 90s in some southern locations

Cooling
will occur late this weekend and especially next week with a more seasonable range of temperatures expected over time

Cooling
is expected in the Pacific Northwest late this week and during the weekend after several more very warm days through Friday
No
threatening cold nighttime temperatures are expected in any part of the U.S. through the next ten days

Central
and western Ukraine and portions of southeastern Europe will receive waves of rain through most of next week

Sufficient
rain will fall to relieve some of the driest areas from dryness
Rainfall
of 0.50 to 2.50 inches and locally more by the end of next week
Temperatures
will be warmer than usual in much of the forecast period

Eastern
Ukraine, like Russia's Southern Region and Kazakhstan, will get little to no rain for the next ten days
Europe
will continue to experience waves of rain over the next two weeks, but the intensity in western areas will be much less than that of this past weekend


Spain
and Portugal will be driest in this first ten days of the outlook with some areas in the Iberian Peninsula getting rain after Oct. 18.
Temperatures
in western Europe will be near normal while those in the east are warmer than usual

South
America temperatures will be very warm to hot in center west and center south Brazil this week and then cooler next week

Argentina
temperatures will be seasonable during both weeks

Southeast
Asia rainfall over the next ten days will be erratic, but most areas will be impacted multiple times in the next two weeks supporting most crop needs
Mexico
precipitation will be most significant in the far south of the nation over the coming week to ten days
Central
America will be wetter biased over the next ten days to two weeks further easing long term dryness and possibly delaying early season crop maturation.

<![if !supportLists]>·
<![endif]>West-central Africa will experience waves of rain through the next ten days favoring coffee, cocoa, sugarcane, rice and other crops
<![if !supportLists]>·
<![endif]>East-central Africa rain will be erratic and light over the next couple of weeks, but most of Uganda, southwestern Kenya and portions of Ethiopia will be impacted while Tanzania is mostly dry
<![if !supportLists]>·
<![endif]>Philippines rain will be widespread over the next ten days to two weeks maintaining a favorable outlook for crops
<![if !supportLists]>·
<![endif]>New Zealand temperatures will be near to below average over the next seven days while precipitation is lighter than usual except along the lower west coast of South Island where rain will fall abundantly
Southern
Oscillation Index was +10.49 today and it will stay significantly positive through the coming week
Source:
World Weather Inc.
THURSDAY,
Oct. 8:
USDA
weekly crop net-export sales for corn, soybeans, wheat, cotton, pork, beef, 8:30am
UN
FAO World Food Price Index
India
SEA-Globoil webinar with Dorab Mistry, Thomas Mielke and James Fry
Brazil's
Conab releases first report on 2020-21 planted area, output and yield of soy and corn
Port
of Rouen data on French grain exports
EARNINGS:
Suedzucker, Agrana
HOLIDAY:
China
FRIDAY,
Oct. 9:
USDA's
WASDE report with world supply/demand crops update, stockpiles noon
ICE
Futures Europe weekly commitments of traders report, 1:30pm (6:30pm London)
CFTC
commitments of traders weekly report on positions for various U.S. futures and options, 3:30pm
China's
CNGOIC to publish monthly soy and corn reports
China
agriculture ministry (CASDE) to release its monthly data on supply and demand
FranceAgriMer
weekly update on crop conditions
Brazil
Unica cane crush, sugar production (tentative)
HOLIDAY:
Korea



USDA
export sales were
very good for soybeans, substandard for meal and oil, good for corn and good for wheat. China took 1.538MMT of soybeans, but that included 449,000 switched from unknown destinations. Mexico and Egypt were good buyers of soybeans. Corn export sales of 1.226MMT
included Japan and Mexico as the largest buyers.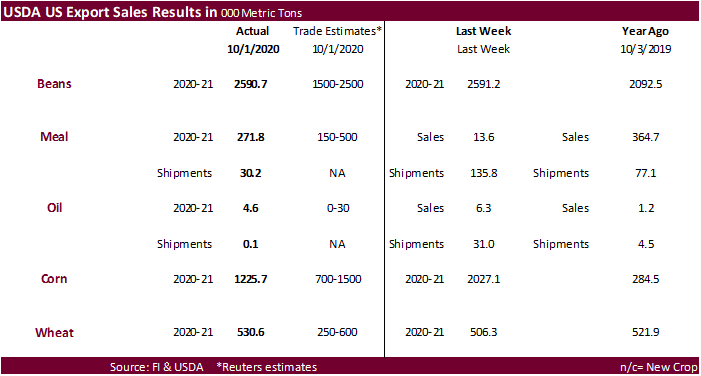 Macros
US
initial Jobless Claims: 840K (est 820K, prev 837K)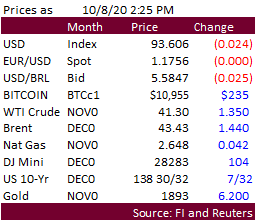 Corn.

Corn
Export Developments
South
Korea's KFA bought 131,000 tons of corn at $242.79/ton c&f from South America for Dec/Jan shipment.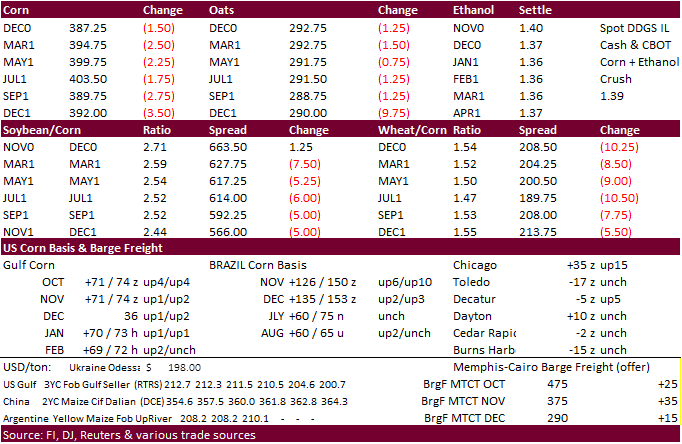 Updated
9/30/20
December
corn is seen in a $3.60-$4.00 range. 2020-21 to average $3.75 for corn and $2.85 for oats.