PDF Attached
USDA
reported additional 24-hour sales this morning. USDA Attaché issued a bullish China corn S&D.

Weather
and Crop Progress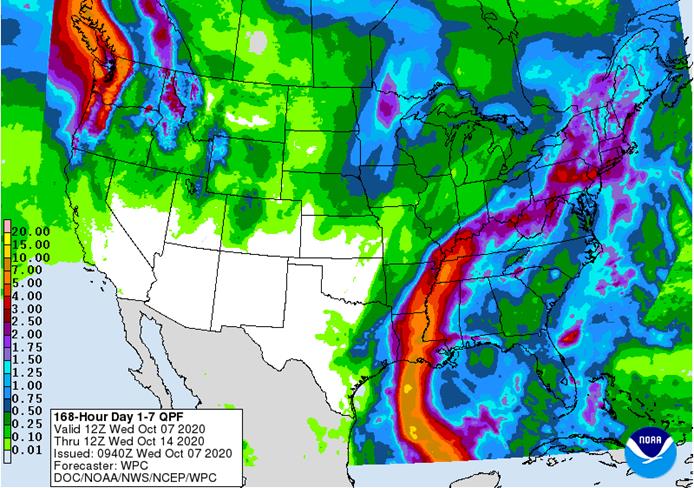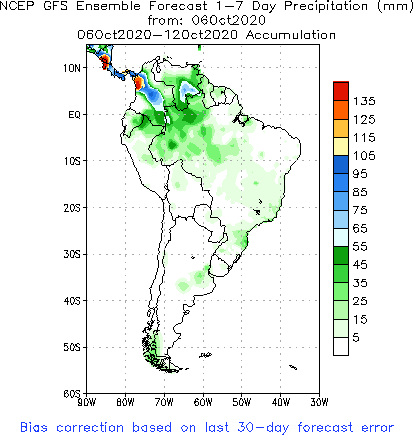 NORTH
AMERICA
GFS
model removed much of the rain previously advertised from hard red winter wheat country during the next ten days, although a few showers remained

Some
of the reduction was needed

European
model has greater rain in northern and eastern portions of hard red winter wheat areas, as well as eastern Colorado leaving the southwest half of the region mostly dry

European
model is a little too wet in Colorado, Nebraska and northwestern Kansas

European
model has greater rain for the western and central Midwest next week while the GFS has limited rainfall in the region

The
lighter and more limited rainfall outlook is correct, although the region may not be completely dry

GFS
model rain was increased in the lower and eastern Midwest mostly from the Ohio River Valley because of Hurricane Delta
European
model run was wetter over a larger part of the central and eastern Midwest from the hurricane and a mid-latitude frontal system that follows
Overall,
the bottom line today is rain in hard red winter wheat is expected to be restricted during the next ten days to two weeks as was the official World Weather earlier this week. The models have been periodically overdoing rainfall in the region and today's
GFS model run is preferred, although additional changes are probable. The European model is too wet for the Midwest over the next ten days, but World Weather, Inc. agrees with bringing moisture from
Hurricane Delta farther north into the lower Midwest than advertised Tuesday.
SOUTH
AMERICA
GFS
model outlook has not changed greatly for center west into center south Brazil for next week with rain expected in many areas
Restricted
rainfall occurs in Mato Grosso do Sul, western Parana and western Sao Paulo,
although a little more rain falls in these areas than advertised Tuesday morning
Rain
in Brazil's center south and center west crop areas is restricted from Friday of next week through October 21, although a few sporadic showers are expected – net drying is expected
Far
southern Brazil is still advertised to see a good mix of rain and sunshine during the next ten days to two weeks favoring crops and fieldwork
No
changes were noted in Argentina for the first ten days of the outlook with Buenos Aires and eastern La Pampa getting most of the nation's significant rain – most of which occurs Saturday into Sunday of this week
Argentina
rainfall was advertised to increase Oct. 18-21, but the latest model run reduced rain in San Luis, La Pampa and western Cordoba relative to the 00z model run


Some
of this reduction was needed
The
generalities of the South America outlook have not changed much today relative to the previous model run or the overall outlook suggested Tuesday. Argentina is not likely to see much rain for ten days except in Buenos Aires and eastern La Pampa where some
rain will fall this weekend to maintain a good outlook for crops in that region. In Brazil, a period of beneficial moisture will impact center west and center south crop areas next week; although portions of Mato Grosso do Sul and western and northern Parana
as well as western Sao Paulo may not get much rain and will need more soon.



EUROPE/BLACK
SEA REGION
Some
rain fell in western Ukraine overnight with amounts to 0.75 and local totals to 1.34 inches, but this moisture did not reach into eastern areas
No
significant theme changes occurred overnight

Rain
will fall in most of Europe over the coming week to ten days to two weeks

Areas
from the Adriatic Sea region to southeastern Germany, western and southern Poland and parts of western Europe will be wettest

Eastern
Ukraine will continue to receive little to no
Kazakhstan.
The middle and lower Volga River Basin and Russia's Southern Region will continue very dry
CHINA
No
general theme changes noted overnight

Northeastern
China may not get rain every day, but its frequency will still be high enough along with seasonably milder temperatures to slow the region's needed drying and further delaying some of the region's summer crop maturation and harvest progress
A
good mix of rain and sunshine in the Yellow River Basin and North China Plain will be perfect for wheat planting, germination and emergence while allowing some of the region's summer crops to mature and be harvested
Frequent
rain near and south of the Yangtze River will slow farming activity and maintain some concern over crop conditions
China
still needs drier weather in most areas in the nation to promote summer crop maturation and harvesting and to support early season wheat and other winter crop planting. The northeastern Provinces are still much too wet, although the region has seen a little
less frequent and less significant rainfall recently.
INDIA
No
general theme changes were noted overnight

A
better mix of rain and sunshine will occur in northeastern China during the next two weeks allowing for better harvest progress
The
best weather will continue in the Yellow River Basin and North China Plain where a favorable mix of rain and sunshine is expected to support winter crop planting and summer crop harvest progress
AUSTRALIA
No
big changes were noted overnight in the coming ten days

Western
Austr4alia is still not advertised to receive much significant rain

Only
a few showers near the southern and lower western coasts are expected

Rain
will fall often enough in Victoria, South Australia and southern New South Wales to maintain a very good crop outlook

Rain
was increased in southeastern Queensland and northeastern New South Wales after October 18 and through Oct. 21

Some
of this increase was needed, but it might also be a little overdone
Limited
rainfall in Western Australia continues to raise worry over potential wheat, barley and canola yields in unirrigated areas away from the coasts where reproduction might occur without sufficient moisture to support the best yields. There is still time for improved
rain, although none is expected for the next two weeks. Rain in southeastern Queensland and northeastern New South Wales should translate into favorable sorghum and cotton planting conditions, but the event is still more than ten days away which warrants
a little caution since changes can still occur over time.
Source:
World Weather Inc.
WEDNESDAY,
Oct. 7:
EIA
U.S. weekly ethanol inventories, production, 10:30am
HOLIDAY:
China
THURSDAY,
Oct. 8:
USDA
weekly crop net-export sales for corn, soybeans, wheat, cotton, pork, beef, 8:30am
UN
FAO World Food Price Index
India
SEA-Globoil webinar with Dorab Mistry, Thomas Mielke and James Fry
Brazil's
Conab releases first report on 2020-21 planted area, output and yield of soy and corn
Port
of Rouen data on French grain exports
EARNINGS:
Suedzucker, Agrana
HOLIDAY:
China
FRIDAY,
Oct. 9:
USDA's
WASDE report with world supply/demand crops update, stockpiles noon
ICE
Futures Europe weekly commitments of traders report, 1:30pm (6:30pm London)
CFTC
commitments of traders weekly report on positions for various U.S. futures and options, 3:30pm
China's
CNGOIC to publish monthly soy and corn reports
China
agriculture ministry (CASDE) to release its monthly data on supply and demand
FranceAgriMer
weekly update on crop conditions
Brazil
Unica cane crush, sugar production (tentative)
HOLIDAY:
Korea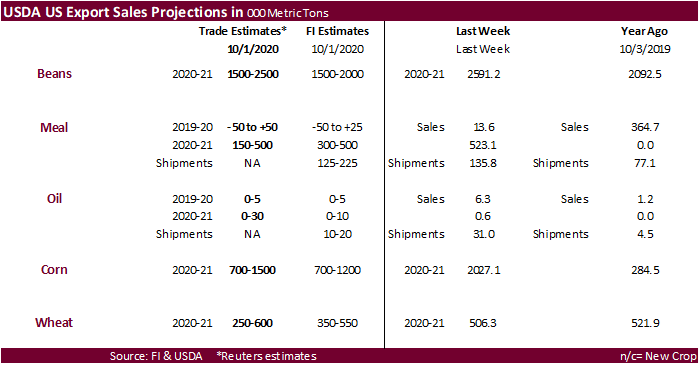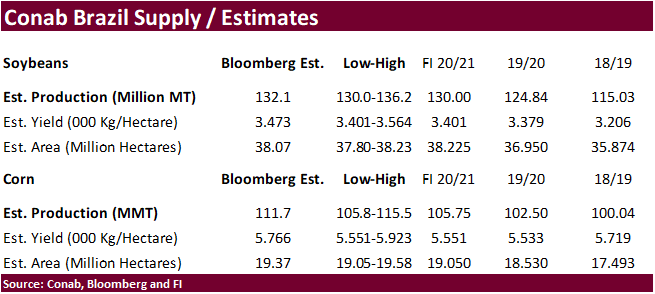 Macros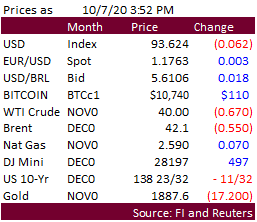 US
DoE Crude Oil Inventories (W/W) 02-Oct: 501K (est -1200K; prev -1980K)
–
Distillate Inventories (W/W): -962K (est -1100K; prev -3184K)
–
Cushing Inventories (W/W): 470K (prev 1785K)
–
Gasoline Inventories (W/W): -1435K (est -500K; prev 683K)
–
Refinery Utilization (W/W): 1.30% (est 0.10%; prev 1.00%)
Corn.

Million
previous season.
https://apps.fas.usda.gov/newgainapi/api/Report/DownloadReportByFileName?fileName=Grain%20and%20Feed%20Update_Beijing_China%20-%20Peoples%20Republic%20of_09-27-2019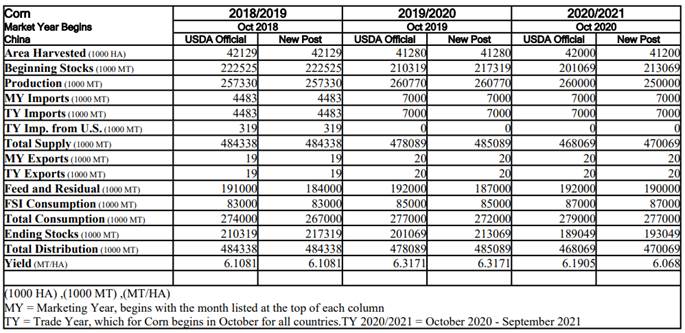 Brazil
domestic corn prices reached record highs for some locations, according to Sao Paulo university price index.

Weekly
US ethanol production increased 42,000 barrels to 923,000, highest weekly rate since early September. Stocks decreased 19,000 barrels to 19.672 million. A Bloomberg poll looked for ethanol production to be up 14,000 and stocks down 42,000 barrels. Production
is still well down from a year ago. September through October 2 ethanol production is averaging 7.4 percent the same period a year ago. Gasoline stocks fell 1.4 million barrels to 226.7 million. The ethanol blend rate fell to 90% from 90.4% previous week,
lowest blend since Aug 14. Implied corn use would be 5.05 billion bushels if weekly production increases slightly and averages about 925 million for the rest of the crop year.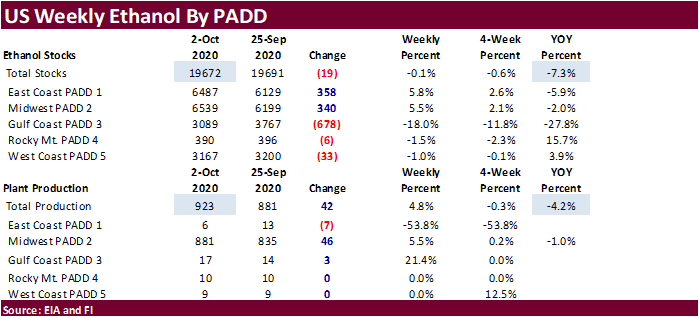 Corn
Export Developments
SK's
NOFI bought 59,000 tons of soybean meal at $451.49/ton c&f for Dec shipment and 206,000 tons of corn, expected to be from South America, at $239.80/ton c&f for LH No/FH Dec shipment.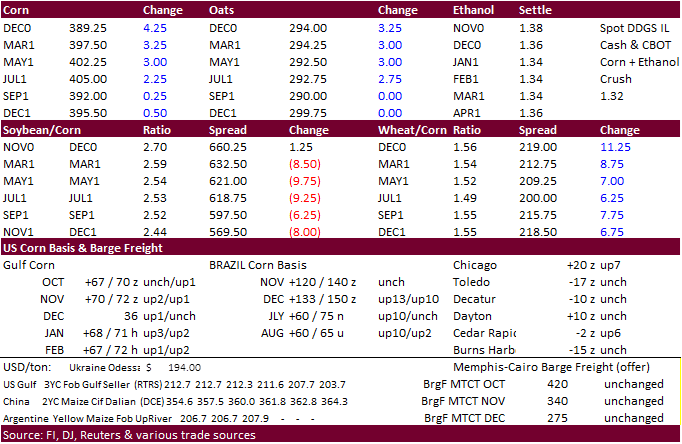 Updated
9/30/20
December
corn is seen in a $3.60-$4.00 range. 2020-21 to average $3.75 for corn and $2.85 for oats.