PDF Attached
Very
impressive move in the US agriculture markets today. Ags were up sharply with some contracts establishing multi-year highs. Soybean open interest is at a record! Malaysian palm oil appreciated over 3.5 percent, up 97 MRY to 2818, in part to a report that
palm oil prices will be higher amid lower production from La Nina effects.
USDA
announced sales of 154,400 tons of soybeans to unknown for 2020-21 delivery.



US
soybeans hit a record high basis November today. With prices much higher than a year ago, they are still well off from what we saw in drought year 2012.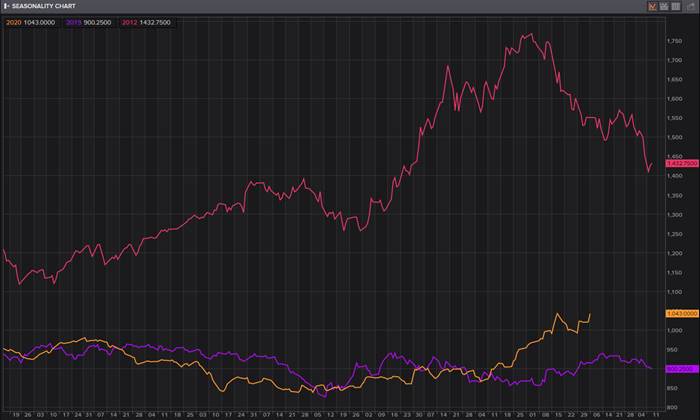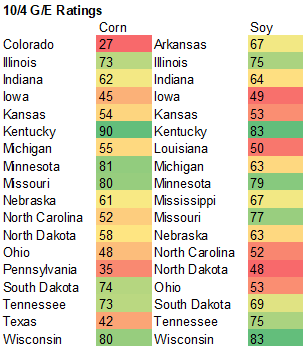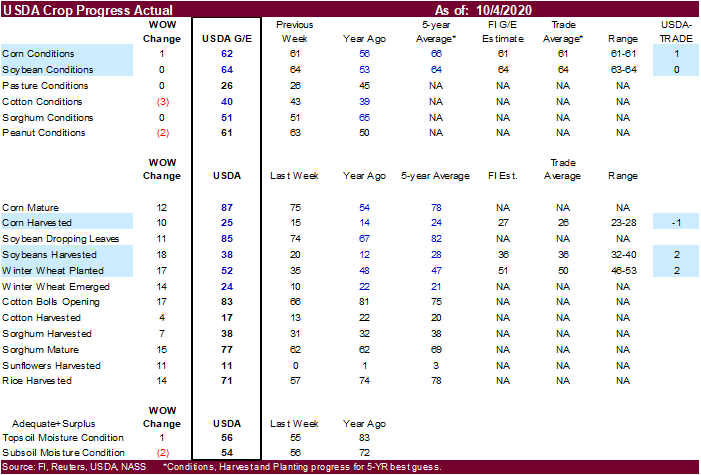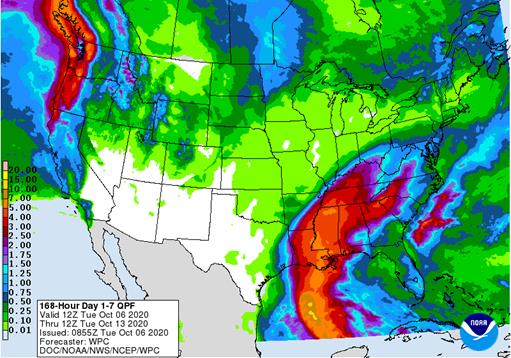 FEW
CHANGES OF SIGNIFICANCE OVERNIGHT
Hurricane
Delta will have a greater impact on the lower U.S. Mississippi River Basin than previously expected.

Torrential
rainfall is expected from Louisiana to Tennessee from Thursday into Saturday resulting in some flooding, but more importantly causing some crop damage

Sugarcane
in Louisiana will be damaged by high wind speeds unless some aggressive harvesting can occur in the next few days
Cotton
damage is also possible with new crop losses possible because of high wind speeds and heavy rain either blowing or stringing cotton out of open bolls

Losses
will be greatest where boll rot has evolved
Cotton
quality declines are expected

Harvest
delays for all crops in the Delta are expected
Rain
from the storm will move through Kentucky and Tennessee before curving toward the middle Atlantic coastal states later in the weekend and Monday

Tropical
Storm Gamma dissipated over the Yucatan Peninsula overnight, but the storm's remnants will continue to generate frequent rain and some flooding
Center
west and center south Brazil are advertised drier again at the end of next week and into the following weekend and if that verified it will be a great opportunity for aggressive fieldwork after showers scatter frequently Sunday through mid-week next week
Tropical
Storm Chan-Hom will threaten Japan Friday into the weekend with some heavy rain and potential flooding; the storm may become a weak typhoon as it approaches Japan
Tropical
disturbance near lower Vietnam coast will generate frequent rain through Wednesday as it moves inland through the Central Highlands coffee areas

This
disturbance may reach the Bay of Bengal during the weekend and will contribute to greater rain in India next week

Disturbed
tropical weather in the Philippines will generate greater rainfall over the next several days and a tropical cyclone "may" evolve near the country and move toward Vietnam early next week
BIGGEST
WEATHER ISSUES OF THE DAY
Russia's
Southern Region remains too dry with and no significant relief for at least ten days and probably two weeks
Kazakhstan
remains too dry and no relief is expected for two weeks
U.S.
west-central and southwestern hard red winter wheat areas in the Plains will be hot and dry this week and may cool down this weekend into next week
Northwestern
U.S. Plains remain quite dry and winter crops are not establishing well; there is a chance for "some" showers briefly this weekend, but they will be light
No
change in Argentina dryness is expected from central and northern Cordoba and parts of central Santa Fe to northwestern parts of the nation maintaining worry over winter and spring crops
Brazil
heat and dryness will last through Friday and then some relief is expected during the weekend and especially early to mid-week next week in center west and center south crop areas

Drying
may return to center west and center south crop areas at the end of next week and into the following weekend

Western
Australia is still too dry, although some showers will occur in the far south part of the state late Wednesday into Thursday
Queensland,
Australia still needs significant rain for summer crop planting; some rain is possible late next week and more likely in the following weekend
China
will experience a bitter mix of rain and sunshine this week and next week; including the water logged northeast
Central
India will trend wetter again next week after this week's rain is greatest in the south and far eastern states
South
Africa weather is slowly improving with rain in the south and east
Southeastern
Canada and the U.S. Great Lakes region will experience a better mix of weather over the next week to ten days after frequent precipitation
U.S.
harvest weather in the Midwest and Great Plains will be good through Saturday

Rain
is expected in the northern Plains and upper Midwest late this weekend into early next week
Some
rain from Hurricane Delta may reach into the lower eastern Midwest this weekend causing delays to fieldwork

U.S
Midwest and Great Plains weather next week will be mostly good with only a brief period in which rain is expected to occur in association with frontal systems
U.S.
southeastern states harvest will advance well through mid-week, but late week and weekend weather will deteriorate with rain and scattered thunderstorms expected

U.S.
Delta faces torrential rain, flooding and strong wind speeds late Thursday through Saturday as Hurricane Delta impacts the region

Rain
totals of 3.00 to 8.00 inches will impact Louisiana, southeastern Arkansas and much of Mississippi with 2.00 to 5.00 inches and locally more in Kentucky and Tennessee
Local
rain totals over 10.00 inches will occur in Louisiana
Wind
speeds will be well over hurricane force in southeastern Louisiana Friday as Hurricane Delta arrives

Wind
speeds of 30 to 50 mph will occur into southwestern Mississippi and northeastern Louisiana while speeds of 20 to 40 mph occur northward into central Mississippi

Drier
weather will occur Sunday into early next week and then a frontal system is expected later next week that may generate additional rain

U.S.
temperatures will trend warmer this week until the late weekend frontal system arrives in the Plains and eventually moves through the Midwest next week

Highs
in the Midwest will rise to the 70s and lower 80s through the weekend with gradual cooling expected next week as a series of cool fronts move through the region
High
temperatures in the Plains will be in the upper 70s and 80s during much of this week with 90s in some southern locations

Cooling
will occur late this weekend and especially next week with a more seasonable range of temperatures expected over time

Cooling
is expected in the Pacific Northwest late this week and during the weekend after several more very warm days through Friday
No
threatening cold nighttime temperatures are expected in any part of the U.S. through the next ten days

Central
and western Ukraine and portions of southeastern Europe will receive waves of rain later this week through most of next week

Sufficient
rain will fall to relieve some of the driest areas from dryness
Rainfall
of 0.75 to 2.50 inches and local totals over 4.00 inches may occur by the end of next week
Temperatures
will be warmer than usual in much of the forecast period

Eastern
Ukraine, like Russia's Southern Region and Kazakhstan, will get little to no rain for the next ten days and possibly two weeks
Europe
will continue to experience waves of rain over the next two weeks, but the intensity in western areas will be much less than that of this past weekend


Spain
and Portugal will be driest in this first ten days of the outlook with some areas in the Iberian Peninsula getting rain after Oct. 18.
Temperatures
in western Europe will be near normal while those in the east are warmer than usual

Western
Australia and parts of Queensland will remain too dry

Rain
will fall from eastern South Australia through Victoria and western and southern portions of New South Wales over the next few days and the drier for a while
Temperatures
will be seasonable

India
will experience frequent rain in the east and south over the next week with central areas trending wetter again next week as well

Some
crop maturation and harvest disruption is expected
Northern
India will continue to be mostly dry favoring summer crop maturation and harvest progress and some winter crop planting

Brazil
weather will be dry biased in center west and center south crop areas through Saturday

Scattered
showers develop Sunday and continue daily through the middle part of next week

Daily
rainfall will vary from 0.20 to 0.75 inch with a few 1.00 to 2.00-inch totals

The
greatest rain is expected in Minas Gerais, southern Espirito Santo, Rio de Janeiro and areas south into northeastern Parana
A
few locations in Mato Grosso could also receive a few daily rain totals over 1.00 inch

Improved
soil moisture should support at least some improved topsoil moisture for better soybean and corn planting

Some
improved coffee flowering and pollinating conditions will also occur
Citrus
will flower additionally
Sugarcane
development will become more aggressive as topsoil moisture improves

Some
drier weather is now advertised to return to center west and center south Brazil for the end of next week and into the following weekend

Argentina
rainfall is expected to be limited over the coming week to ten days with rain most likely in Buenos Aires infrequently, but often enough to maintain favorable soil and crop conditions

Crop
moisture stress will continue in the driest areas of Cordoba, Santa Fe, Santiago del Estero, western Chaco and areas northwest to Salta

South
America temperatures will be very warm to hot in center west and center south Brazil this week and then cooler next week

Argentina
temperatures will be seasonable during both weeks

Southeast
Asia rainfall over the next ten days will be erratic, but most areas will be impacted multiple times in the next two weeks supporting most crop needs
Mexico
precipitation will be most significant in the far south of the nation over the coming week to ten days
Central
America will be wetter biased over the next ten days to two weeks further easing long term dryness and possibly delaying early season crop maturation.

South
Africa will experience erratic rainfall over the next couple of weeks

The
precipitation will begin to improve topsoil moisture for spring planting and winter crop reproduction, but greater rain will still be needed
<![if !supportLists]>·
<![endif]>West-central Africa will experience waves of rain through the next ten days favoring coffee, cocoa, sugarcane, rice and other crops
<![if !supportLists]>·
<![endif]>East-central Africa rain will be erratic and light over the next couple of weeks, but most of Uganda, southwestern Kenya and portions of Ethiopia will be impacted while Tanzania is mostly dry
<![if !supportLists]>·
<![endif]>Philippines rain will be widespread over the next ten days to two weeks maintaining a favorable outlook for crops
<![if !supportLists]>·
<![endif]>New Zealand temperatures will be near to below average over the next seven days while precipitation is lighter than usual with the greatest amounts likely along the lower west coast of South Island
Southern
Oscillation Index was +9.92 today and it will stay significantly positive through the coming week
TUESDAY,
Oct. 6:
Purdue
Agriculture Sentiment
New
Zealand global dairy trade auction
HOLIDAY:
China
WEDNESDAY,
Oct. 7:
EIA
U.S. weekly ethanol inventories, production, 10:30am
HOLIDAY:
China
THURSDAY,
Oct. 8:
USDA
weekly crop net-export sales for corn, soybeans, wheat, cotton, pork, beef, 8:30am
UN
FAO World Food Price Index
India
SEA-Globoil webinar with Dorab Mistry, Thomas Mielke and James Fry
Brazil's
Conab releases first report on 2020-21 planted area, output and yield of soy and corn
Port
of Rouen data on French grain exports
EARNINGS:
Suedzucker, Agrana
HOLIDAY:
China
FRIDAY,
Oct. 9:
USDA's
WASDE report with world supply/demand crops update, stockpiles noon
ICE
Futures Europe weekly commitments of traders report, 1:30pm (6:30pm London)
CFTC
commitments of traders weekly report on positions for various U.S. futures and options, 3:30pm
China's
CNGOIC to publish monthly soy and corn reports
China
agriculture ministry (CASDE) to release its monthly data on supply and demand
FranceAgriMer
weekly update on crop conditions
Brazil
Unica cane crush, sugar production (tentative)
HOLIDAY:
Korea



Macros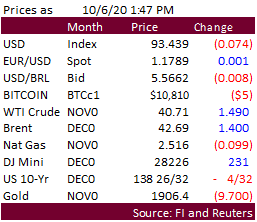 Corn.

Macro
trade today supported overall US agriculture futures. WTI was very strong for the second day in a row. The short term energy outlook calls for WTI prices to increase in 2021.
https://www.eia.gov/outlooks/steo/?src=email

CBOT
corn traded sharply higher on strength in soybeans and concerns SA plantings (soybeans) are running behind normal for this time of year. December corn was up 5.50 cents and March up 5.00 cents.

Nearby
corn hit its highest level since January 2020.
Funds
bought an estimated net 25,000 contracts.
Midday
weather outlook showed the GFS model making a slight westward shift to Hurricane Delta and the storm moves from south-central Louisiana early Saturday into northern Mississippi by Saturday night with a larger part of the northern Delta to western and central
Kentucky seeing heavy rain.
USD
was 5 lower as of 1: 30 pm CT.
Germany
ASF: 49 cases since September 10
RFA:
U.S. ethanol exports in August increased 35% to 100.7 million gallons, largest volume since March. Canada remained the largest customer. India slowed imports and Brazil returned to pick up a small amount. US DDGS exports in August fell 6 percent to 1.02
million tons.
US
corn exports during August were 4.539 million tons vs, 2.793MMT year earlier. Mexico and China were the largest takers.

Corn
Export Developments
Syria
seeks 50,000 tons of soybean meal and 50,000 tons of corn on October 26 for delivery within four months of contract.

DJ
U.S. August Grain Exports-Oct 6
In
kilograms (top) and in bushels (bottom), except flour in cwt and malt
in
pounds. /1 denotes includes commercial and donated. Source: U.S. Department



of
Commerce.
——-
In Kilograms ——-
Aug
20 Jul 20 Jun 20 Aug 19
Barley
788,000 6,180,000 2,047,000 3,755,000
Corn
/1 4,539,144,000 4,343,711,000 5,035,249,000 2,825,045,000
Sorghum
525,291,000 361,560,000 576,822,000 312,340,000
Oats
3,054,087 3,309,254 1,926,717 1,437,887
Rye
507,707 1,543,800 885,579 1,220,900
Wheat
/1 2,576,550,118 2,367,853,459 2,283,170,928 2,571,064,128
wheat
flour /1 24,621,402 22,946,849 23,776,786 25,214,831
Malt
28,205,171 22,830,290 18,055,175 29,265,120
——-
In Bushels, CWT or Pounds ——-
Aug
20 Jul 20 Jun 20 Aug 19
Barley
36,192 283,842 94,017 172,464
Corn
/1 178,696,372 171,002,593 198,226,963 111,215,968
Sorghum
20,679,581 14,233,842 22,708,246 12,296,156
Oats
210,408 227,987 132,739 99,061
Rye
19,987 60,776 34,863 48,064
Wheat
/1 94,671,039 87,002,828 83,891,310 94,469,465
wheat
flour /1 542,809 505,891 524,188 555,892
Malt
62,181,769 50,332,182 39,804,854 64,518,557
1/Includes
commercial and donated.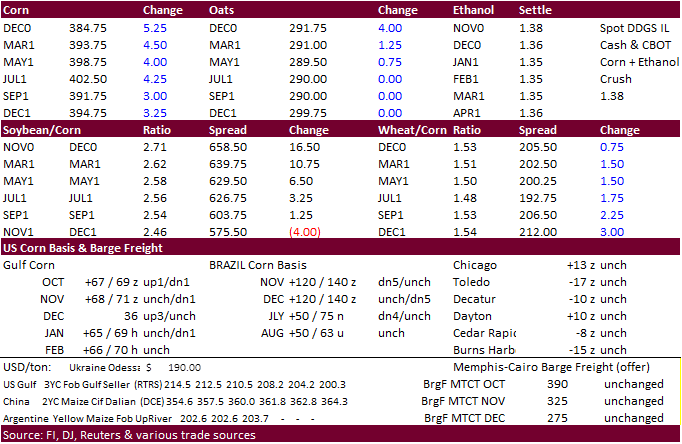 Updated
9/30/20
December
corn is seen in a $3.60-$4.00 range. 2020-21 to average $3.75 for corn and $2.85 for oats.