PDF Attached
USDA
reported 160,020 tons of corn to Mexico. Traders were are, and still mulling over the data due out this week. Wildcard is what will USDA report for soybean and corn production at the end of this week, which could trump the recent rally post stocks report.
With China on holiday, news is steady. SA weather turned slightly unfavorable and more rain is needed for Argentina.

Category

Analyst
average

Analyst
range

USDA
last week

USDA
this week




Corn
harvested

26

23-28

15

25




Corn
condition*

61

61-61

61

62




Soybeans
harvested

36

32-40

20

38




Soybean
condition*

64

63-64

64

64




Winter
wheat planted

50

46-53

35

52




*Percent
good/excellent



(Reporting
by Julie Ingwersen in Chicago
Editing by Matthew Lewis and Richard Pullin)
Russia's
Southern Region remains too dry and no relief is likely for two weeks
Kazakhstan
remains too dry and no relief is expected for two weeks
U.S.
hard red winter wheat areas will be hot and dry this week and may cool down this weekend into next week, but western areas are unlikely to get much rain
Northwestern
U.S. Plains remain quite dry and winter crops are not establishing well
No
change in Argentina dryness is expected from central and northern Cordoba and parts of central Santa Fe to northwestern parts of the nation maintaining worry over winter and spring crops
Brazil
heat and dryness will last through Friday and then some relief is expected during the weekend and especially next week in center west and center south crop areas
Western
Australia is still too dry, although some showers will occur in the far south part of the state late Wednesday into Thursday
Queensland,
Australia still needs significant rain for summer crop planting
Tropical
Storm Gamma will move into the northwestern coast of Yucatan Peninsula during mid-week and will likely dissipate there

Heavy
rain is expected to cause some flooding, but not much crop of world interest comes from the region

Tropical
Storm Delta formed between Jamaica and the Cayman Islands this morning and will move across western Cuba late Tuesday or early Wednesday, become a hurricane in the central Gulf of Mexico later this week and then move inland through southeastern Louisiana Friday

The
system was expected to become a Category Two hurricane by the time it approaches the Louisiana coast
The
storm will move through Alabama and Mississippi and impact parts of Tennessee, Virginia and North Carolina during the weekend

China
will experience less rain this week; including the water logged northeast
Central
India will trend wetter again next week after this week's grain is greatest in the south and far eastern states
South
Africa weather is slowly improving with rain in the south and east
Southeastern
Canada and the U.S. Great Lakes region will continue wetter biased for several more days and then get a brief break from rain
WEATHER
TO WATCH IN MORE DETAIL
U.S.
harvest weather will remain good for the coming week in the Midwest and Great Plains

Southeastern
states harvesting will advance well through mid-week, but could deteriorate with the onset of tropical moisture during the end of this week and the weekend
Lower
and eastern portions of the Delta, Alabama and the remainder of Mississippi as well as eastern Louisiana will be impacted by Tropical Storm Delta eventually

The
storm will damage some additional cotton in Alabama and parts of Mississippi and could negatively impact eastern sugarcane in Louisiana

Flooding
will be widespread from southeastern Louisiana into northern Alabama and southern Tennessee

Frontal
system will bring rain to the Pacific Northwest this weekend and across the Great Plains Sunday into early next week and in the heart of the Midwest during early to mid-week next week.


Rain
totals in the eastern Midwest will range from 0.25 to 0.75 inch with a few totals to 1.00 inch
Rain
totals in hard red winter wheat areas will be 0.20 to 0.75 inch in the east while many areas in the high Plains region will be dry.
Moisture
totals in the eastern Dakotas, Minnesota and the western Corn Belt will range from 0.30 to 0.80 inch with a few totals of 1.00 to 2.00 inches; wettest in the upper Midwest
Rainfall
in the Pacific Northwest will be less than 0.50 inch in key crop areas while much greater precipitation occurs in western Washington State and in the northern Rocky Mountain region

Second
frontal system will pass through the northern Plains and Midwest mid- to late-week next week


Moisture
totals will vary from 0.10 to 0.60 inch in the Great Lakes region and eastern Midwest while limited rain occurs in the Great Plains and Delta
Temperatures
will turn much colder behind the event

U.S.
temperatures will trend warmer this week until the weekend frontal system arrives

Highs
in the Midwest will rise to the 70s and lower 80s Tuesday into Wednesday

Slight
cooling will occur during the latter part of the week with greater cooling early next week after unusually warm conditions occur briefly during the weekend

High
temperatures in the Plains will be in the 70s and 80s during much of this week with a few 60s briefly Monday, Wednesday and Thursday

Extremes
over 90 will occur daily in the southern half of the Plains during much of this week

Cooling
is expected in the Pacific Northwest late this week after very warm conditions occur early to mid-week

No
threatening cold nighttime temperatures are expected

Russia's
Southern Region is still advertised to be mostly dry for the next ten days, but some showers will be possible October 15-22; confidence is very low


Most
of the region was dry during the weekend and very little precipitation was expected in the next week to ten days

Ukraine
and portions of southeastern Europe will receive waves of rain later this week through most of next week

Sufficient
rain will fall to relieve some of the driest areas from dryness
Rainfall
of 0.75 to 2.50 inches and local totals over 4.00 inches may occur by the end of next week
Temperatures
will be warmer than usual in much of the forecast period
Europe
will continue to experience waves of rain over the next two weeks, but the intensity in western areas will be much less than that of this past weekend


Spain,
Portugal, Bulgaria and southeastern Romania will be driest with some areas in the Iberian Peninsula staying dry
Temperatures
in western Europe will be near normal while those in the east are warmer than usual

Europe
weekend rainfall was moderate to heavy in the U.K., western and southern France and northern Italy where rain totals varied from 1.00 to 3.00 inches and locally more

More
than 5.00 inches of rain fell in northeastern Italy
Much
of eastern Europe was dry
Temperatures
were mild to cool in the west and warm east

Western
CIS weather during the weekend was largely dry with frost and freezes scattering across western and central Russia and northern Kazakhstan

The
freezes were non-threatening

Australia
is not expecting any surprises relative to Friday's or Sunday's forecast through the coming week

Dry
weather is expected in much of Western Australia and in the majority of interior Queensland and some locations in northeastern New South Wales

Some
showers will occur in southwestern parts of Western Australia briefly late Wednesday and Thursday

Rain
will fall from eastern South Australia through Victoria and western and southern portions of New South Wales where moisture totals will vary from 0.75 to 1.50 inches and a few totals over 3.00 inches
Temperatures
will be seasonable

Australia's
weekend precipitation was minimal in key crop areas and temperatures were warm




Highest
weekend afternoon temperatures were in the 80s and a few lower 90s Fahrenheit in Queensland, New South Wales and South Australia while cooler with highs in the 60s and 70s in Western Australia
Some
frost may have occurred in southwestern most Western Australia as low temperatures slipped into the 30s and lower 40s Fahrenheit, but no permanent crop damage resulted

China's
Yangtze River Basin reported excessive rainfall during the Friday through Sunday morning period with 3.25 to more than 9.00 inches from eastern Sichuan through Hubei to Jiangsu

11.14
inches of rain occurred in eastern Hubei
Dry
weather occurred in the Yellow River Basin and North China Plain as well as the southeastern coastal areas
Showers
occurred in the Northeast Provinces, but rainfall was not more than 0.25 inch through dawn Friday
Temperatures
were very warm to hot in the southeastern provinces while frost and freezes occurred in most of central and western Inner Mongolia

China
weather will improve this week with more limited rainfall in the Northeastern Provinces, Yellow River Basin, North China Plain, east-central provinces and southeastern crop areas

Totally
dry weather is not expected, but rain amounts will be light and infrequent enough to allowing summer crops to mature and for some harvesting and planting to take place
Next
week's weather will trend wetter in the south of China and in some east-central and northeastern areas, but not in the Yellow River Basin or North China Plain
Temperatures
will be seasonable this week with a slight warmer bias in the northeast and slight cooler bias in the southeast

India
rain during the weekend was greatest in eastern parts of the nation and along the central west coast and temperatures were warm to hot in the northwest and more seasonable elsewhere
India
will experience frequent rain in the east and south over the next week with central areas trending wetter again next week as well

Some
crop maturation and harvest disruption is expected
Northern
India will continue to be mostly dry favoring summer crop maturation and harvest progress and some winter crop planting

Brazil
rainfall during the weekend occurred from eastern Parana through Rio Grande do Sul into northeastern Santa Fe Argentina with rainfall varying from 0.25 to 1.25 inches; some data from South America was missing during the weekend

Argentina
temperatures were mild to warm and Brazil continued hot in many areas except the far south

Extreme
highs in center west and center south Brazil ranged from 100 to 108 degrees Fahrenheit with an extreme of 110 in Paraguay

Brazil
weather will be dry biased in center west and center south crop areas through Saturday

Scattered
showers develop Sunday and continue daily through most of next week

Daily
rainfall will vary from 0.20 to 0.75 inch with a few 1.00 to 2.00-inch totals

The
greatest rain is expected in Minas Gerais, southern Espirito Santo, Rio de Janeiro and areas south into northeastern Parana
A
few locations in Mato Grosso could also receive a few daily rain totals over 1.00 inch

Improved
soil moisture should support at least some improved topsoil moisture for better soybean and corn planting

Some
improved coffee flowering and pollinating conditions will also occur
Citrus
will flower additionally
Sugarcane
development will become more aggressive as topsoil moisture improves

Argentina
rainfall is expected to be limited over the coming week to ten days with rain most likely in Buenos Aires early and late this week and again early next week

Crop
moisture stress will continue in the driest areas of Cordoba, Santa Fe, Santiago del Estero, western Chaco and areas northwest to Salta

South
America temperatures will be very warm to hot in center west and center south Brazil this week and then cooler next week

Argentina
temperatures will be seasonable during both weeks

Southeast
Asia rainfall during the weekend and that which is expected over the next ten days has been and will be erratic, but all areas will be impacted multiple times in the next two weeks supporting most crop needs
Ontario
and Quebec, Canada reported additional rain during the weekend maintaining wet field conditions

Drying
is needed to promote summer crop maturation and harvest progress and to support wheat planting and establishment

Southeastern
Canada will experience additional rain early this week and then may experience a full week of net drying; temperatures will be seasonable
Mexico
precipitation will be most significant in the far south of the nation over the coming week to ten days
Central
America will be wetter biased over the next ten days to two weeks further easing long term dryness and possibly delaying early season crop maturation.

South
Africa weekend weather brought showers to the south and east parts of the nation while dry weather occurred in many other areas

Temperatures
were seasonable

Additional
rain will impact southern and western South Africa over the coming week

The
precipitation will begin to improve topsoil moisture for spring planting and winter crop reproduction, but greater rain will still be needed
<![if !supportLists]>·
<![endif]>West-central Africa will experience waves of rain through the next ten days favoring coffee, cocoa, sugarcane, rice and other crops
<![if !supportLists]>·
<![endif]>East-central Africa rain will be erratic and light over the next couple of weeks, but most of Uganda, southwestern Kenya and portions of Ethiopia will be impacted while Tanzania is mostly dry
<![if !supportLists]>·
<![endif]>Philippines rain will be widespread over the next ten days to two weeks maintaining a favorable outlook for crops
<![if !supportLists]>·
<![endif]>New Zealand temperatures will be near to below average over the next seven days while precipitation is lighter than usual with the greatest amounts likely along the lower west coast of South Island
Southern
Oscillation Index was +9.90 today and it will stay significantly positive through the coming week
Source:
World Weather Inc.
MONDAY,
Oct. 5:
USDA
weekly corn, soybean, wheat export inspections, 11am
U.S.
crop conditions, harvesting progress for soybeans, corn, cotton, 4pm
EU
weekly grain, oilseed import and export data
U.K.
wheat and barley production estimates
Ivory
Coast cocoa arrivals
Malaysia
Oct. 1-5 palm oil export data
ANZ
Commodity Price
HOLIDAY:
China, some states of Australia
TUESDAY,
Oct. 6:
Purdue
Agriculture Sentiment
New
Zealand global dairy trade auction
HOLIDAY:
China
WEDNESDAY,
Oct. 7:
EIA
U.S. weekly ethanol inventories, production, 10:30am
HOLIDAY:
China
THURSDAY,
Oct. 8:
USDA
weekly crop net-export sales for corn, soybeans, wheat, cotton, pork, beef, 8:30am
UN
FAO World Food Price Index
India
SEA-Globoil webinar with Dorab Mistry, Thomas Mielke and James Fry
Brazil's
Conab releases first report on 2020-21 planted area, output and yield of soy and corn
Port
of Rouen data on French grain exports
EARNINGS:
Suedzucker, Agrana
HOLIDAY:
China
FRIDAY,
Oct. 9:
USDA's
WASDE report with world supply/demand crops update, stockpiles noon
ICE
Futures Europe weekly commitments of traders report, 1:30pm (6:30pm London)
CFTC
commitments of traders weekly report on positions for various U.S. futures and options, 3:30pm
China's
CNGOIC to publish monthly soy and corn reports
China
agriculture ministry (CASDE) to release its monthly data on supply and demand
FranceAgriMer
weekly update on crop conditions
Brazil
Unica cane crush, sugar production (tentative)
HOLIDAY:
Korea
USDA
inspections estimates via Reuters
USDA
inspections versus Reuters trade range

Wheat
643,671 versus 400000-650000 range
Corn
863,995 versus 650000-1100000 range
Soybeans
1,667,068 versus 1050000-1550000 range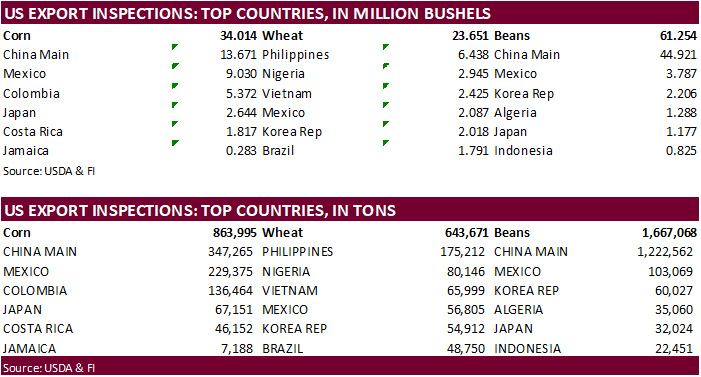 GRAINS
INSPECTED AND/OR WEIGHED FOR EXPORT

REPORTED IN WEEK ENDING OCT 01, 2020

— METRIC TONS —
————————————————————————-

CURRENT PREVIOUS
———–
WEEK ENDING ———- MARKET YEAR MARKET YEAR

GRAIN 10/01/2020 09/24/2020 10/03/2019 TO DATE TO DATE
BARLEY
1,397 0 2,994 7,124 8,625
CORN
863,995 826,995 473,409 3,667,612 2,025,672
FLAXSEED
0 0 0 389 72
MIXED
0 0 0 0 0
OATS
0 0 0 996 798
RYE
0 0 0 0 0
SORGHUM
157,647 58,243 88,293 461,755 189,351
SOYBEANS
1,667,068 1,296,568 1,052,267 6,600,720 4,206,806
SUNFLOWER
0 0 0 0 0
WHEAT
643,671 586,916 479,335 9,887,993 9,000,900