PDF Attached
USDA
reported 264,000 tons of soybeans to China and 252,000 tons of soybeans to unknown. Volatile trade. Soybeans ended lower, meal higher and soybean oil sharply lower. Corn was lower and wheat higher basis Chicago. President Trump and the first lady tested
positive for coronavirus.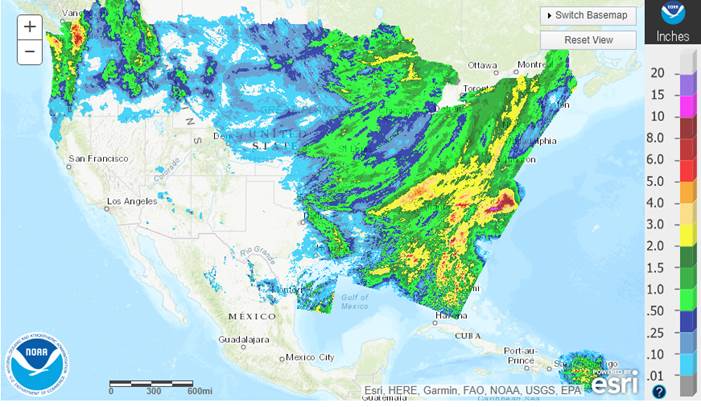 5-day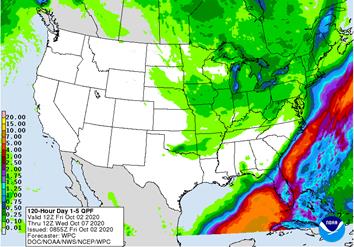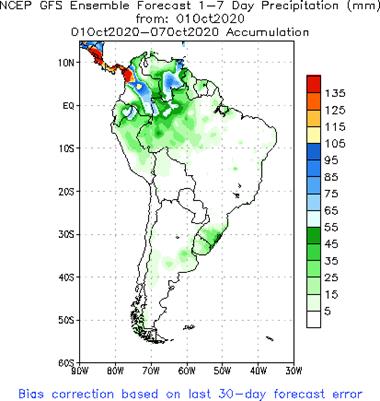 Russia's
Southern Region and Kazakhstan will continue quite dry through the middle part of this month and temperatures will be warmer than usual
U.S.
hard red winter wheat areas will be mostly dry through the first half of October as well, although a few showers will be possible close to mid-month
Western
Europe will continue to see waves of rain that will raise the potential for more flooding in France, parts of the United Kingdom, northern Spain and eventually in northern Italy.

Argentina
rainfall will continue erratic and mostly too light in the driest areas to seriously increase soil moisture for improved summer crop planting or winter crop development from central and northern Cordoba and central Santa Fe to western Chaco, Santiago del Estero
or Salta
Northeast
China will receive additional rain this weekend delaying fieldwork once again; the region has been too wet for weeks, although some improvement has occurred recently to induce a little harvesting
Northeastern
China weather will improve next week with better drying conditions supporting slowly increasing fieldwork
China's
Yellow River Basin and North China Plain will experience nearly ideal field working conditions during the next two weeks with only a brief period of light rain expected
Southern
China has been too wet recently and frequent rain through the weekend will perpetuate the situation, but drying is expected late next week and into the following weekend to begin inducing some much-needed improvement
Western
Australia will continue drying down, despite some sporadic light showers from time to time

The
state needs significant rain to bolster soil moisture ahead of winter crop reproduction

Queensland,
Australia is not likely to get much rain until the second week of this month, but rain at that time might start to improve sugarcane conditions and prepare dryland cotton and sorghum fields for planting
South
Australia, Victoria and New South Wales Crops in Australia will remain in very good shape with yield potential for winter crops staying high
Brazil's
center south and center west crop areas will begin to experience showers and thunderstorms after October 10 and the moisture will be extremely important for early soybean and corn planting, germination and emergence
Brazil
temperatures will continue hot through the next week with some cooling expected with the anticipated increased in rainfall during the period of October 10-16
Central
India has experienced beneficial drying this week favoring better summer crop maturation and early harvest conditions, but rain will return late next week and it may fester for a full week and perhaps longer

Rain
in central India will disrupt summer crop maturation and harvest progress raising some quality concerns for some crops as well as delaying fieldwork

Tropical
depression development near the Yucatan Peninsula today will be closely monitored; the storm will produce heavy rain across the peninsula this weekend and then will be closely monitored for movement next week

The
system is most likely to turn toward the east coast of mainland Mexico, but there is still time for change in its movement therefore warranting a close watch

Tropical
wave moving into the southeastern Caribbean Sea this weekend will be closely monitored for development next week

The
system could threaten the Yucatan Peninsula, Cuba or Florida in a week to ten days from now

Hurricane
Marie in the eastern Pacific Ocean poses no threat to land
Central
America rainfall is expected to be frequent and heavy over the next two weeks thanks to La Nina

Long
term water supply improvements are expected for Honduras, Nicaragua and Panama

U.S.
weather over the coming ten days will be good for harvesting in the Delta, southeastern states and most of the Great Plains

Relatively
good conditions will also occur in the western Corn Belt with a few showers briefly this weekend and greater rainfall Oct. 12
Frequent
showers and drizzle in Great Lakes region into early next week will hinder field progress
Midwest
temperatures will be colder than usual into early next week and then trend warmer
West
Texas will be dry for the next ten days; some rain is possible near mid-month, but confidence is quite low and the impact is not expected to be very great on cotton or other unharvested crops in the region
U.S.
Pacific Northwest rainfall in the next couple of weeks will be greatest in the mountains, but a few showers may bring some needed moisture to the valleys

La
Nina will favor wetter conditions in these areas during the late autumn and winter

Southwestern
U.S. and most of the Rocky Mountain region will be dry biased along with the high Plains region through the next ten days and probably for upwards to two weeks in some areas
Warming
is expected in the eastern U.S. for a while next week and into the following weekend inducing faster drying rates and better harvest conditions for the Great Lakes region and lower eastern Midwest

<![if !supportLists]>·
<![endif]>Indonesia and Malaysia will receive some periodic rain over the next two weeks maintaining a mostly good environment for most crops

<![if !supportLists]>·
<![endif]>Mexico weather will be drier biased over the coming week, but eastern and southern crop areas may trend wetter in the second week of October
<![if !supportLists]>·
<![endif]>West-central Africa will experience waves of rain through the next ten days favoring coffee, cocoa, sugarcane, rice and other crops
<![if !supportLists]>·
<![endif]>East-central Africa rain will be erratic and light over the next couple of weeks, but most of Uganda, southwestern Kenya and portions of Ethiopia will be impacted while Tanzania is mostly dry
<![if !supportLists]>·
<![endif]>Philippines rain will be widespread over the next ten days to two weeks maintaining a favorable outlook for crops
<![if !supportLists]>·
<![endif]>Canada's Prairies will experience infrequent showers and see warmer than usual temperatures during the next ten days
<![if !supportLists]>o
<![endif]>Showers are most likely in the eastern Prairies most often
<![if !supportLists]>·
<![endif]>Ontario and Quebec, Canada rainfall will occur frequently over the next week while temperatures are mild to cool resulting in delayed summer crop maturation and harvesting
<![if !supportLists]>o
<![endif]>Drier weather will evolve late next week to improve harvest potentials in the following weekend and on into mid-month.
<![if !supportLists]>·
<![endif]>New Zealand temperatures will be near to below average over the next seven days while precipitation diminishes and becomes mostly confined to the lower west coast of South Island
Southern
Oscillation Index was +9.92 today and it will stay significantly positive through the coming week
Source:
World Weather Inc.
MONDAY,
Oct. 5:
USDA
weekly corn, soybean, wheat export inspections, 11am
U.S.
crop conditions, harvesting progress for soybeans, corn, cotton, 4pm
EU
weekly grain, oilseed import and export data
U.K.
wheat and barley production estimates
Ivory
Coast cocoa arrivals
Malaysia
Oct. 1-5 palm oil export data
ANZ
Commodity Price
HOLIDAY:
China, some states of Australia
TUESDAY,
Oct. 6:
Purdue
Agriculture Sentiment
New
Zealand global dairy trade auction
HOLIDAY:
China
WEDNESDAY,
Oct. 7:
EIA
U.S. weekly ethanol inventories, production, 10:30am
HOLIDAY:
China
THURSDAY,
Oct. 8:
USDA
weekly crop net-export sales for corn, soybeans, wheat, cotton, pork, beef, 8:30am
UN
FAO World Food Price Index
India
SEA-Globoil webinar with Dorab Mistry, Thomas Mielke and James Fry
Brazil's
Conab releases first report on 2020-21 planted area, output and yield of soy and corn
Port
of Rouen data on French grain exports
EARNINGS:
Suedzucker, Agrana
HOLIDAY:
China
FRIDAY,
Oct. 9:
USDA's
WASDE report with world supply/demand crops update, stockpiles noon
ICE
Futures Europe weekly commitments of traders report, 1:30pm (6:30pm London)
CFTC
commitments of traders weekly report on positions for various U.S. futures and options, 3:30pm
China's
CNGOIC to publish monthly soy and corn reports
China
agriculture ministry (CASDE) to release its monthly data on supply and demand
FranceAgriMer
weekly update on crop conditions
Brazil
Unica cane crush, sugar production (tentative)
HOLIDAY:
Korea
HIS
Markit October update (lower production)
U.S.
2020 corn yield 177.8 versus 179.0 August
Corn
production 14.812 versus 15.036 billion August
U.S.
2020 soybean yield 51.9 versus 52.5 August
Soybean
production 4.294 versus 4.355 billion August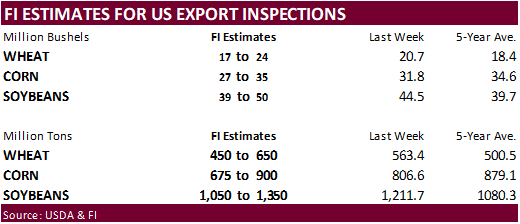 Traditional
funds and Managed Money were much more long for corn and soybeans, and more long for wheat, meal and oil. Selling last week from harvesting pressure and positioning ahead of the September 1 stocks was not as large as the trade expected. With fund positions
well more long than expected for corn and soybeans, prices are a little more vulnerable for movement to the downside if funds decide to liquidate positions. We see this as a bearish indicator.





FUTURES
+ OPTS Managed Swaps Producer

Net Chg Net Chg Net Chg
Corn
106,820 10,908 177,381 -1,832 -307,243 -7,935
Soybeans
229,043 17,901 127,487 5,276 -351,874 -13,383
Soymeal
72,999 7,752 78,425 1,243 -195,229 -4,134
Soyoil
94,098 -7,604 89,780 73 -220,871 11,514
CBOT
wheat 12,424 -2,119 93,373 3,690 -100,222 596
KCBT
wheat 18,025 -438 42,785 -1,220 -58,714 5,880
MGEX
wheat -4,830 -2,532 2,801 488 524 1,799

———- ———- ———- ———- ———- ———-
Total
wheat 25,619 -5,089 138,959 2,958 -158,412 8,275
Live
cattle 62,924 4,925 79,198 -701 -144,287 -2,818
Feeder
cattle 875 165 4,547 -133 -4,188 -787
Lean
hogs 40,807 -2,773 48,597 135 -95,827 3,778
Source:
Reuters, CFTC, and FI

Macros
US
Aide: Tsy Sec Mnuchin Tests Negative For Covid-19
Trump
And The First Lady Have Tested Positive For Coronavirus
House
Democrats Pass $2.2T Stimulus Republicans Reject
US
Change In Nonfarm Payrolls Sep: 661K (est 850K; prevR 1489K; prev 1371K)
US
Unemployment Rate Sep: 7.9% (est 8.2%; prev 8.4%)
US
Average Hourly Earnings (M/M) Sep: 0.1% (est 0.2%; prevR 0.3%; prev 0.4%)
US
Average Hourly Earnings (Y/Y) Sep: 4.7% (est 4.8%; prevR 4.6%; prev 4.7%)
US
Univ. Of Michigan Sentiment Sep F: 80.4 (est 79.0; prev 78.9)
–
Current Conditions Sep F: 87.8 (prev 87.5)
–
Expectations Sep F: 75.6 (prev 73.3)
–
1 Year Inflation Expectations Sep F: 2.6% (prev 2.7%)
–
5-10 Year Inflation Expectations Sep F: 2.7% (prev 2.6%)
US
Factory Orders Aug: 0.7% (est 0.9%; prev R 6.5%)
–
Factory Orders Ex-Transportation Aug: 0.7% (est 1.1%; prev R 2.4%)
–
Durable Goods Orders Aug F: 0.5% (est 0.4%; prev 0.4%)
–
Durable Goods Orders Ex-Transportation Aug F: 0.6% (est 0.4%; prev 0.4%)
–
Cap Goods Orders Non-Defense Ex-Air Aug F: 1.9% (est 1.7%; prev 1.8%)
–
Cap Goods Ship Non-Defense Ex-Air Aug F: 1.5% (prev 1.5%)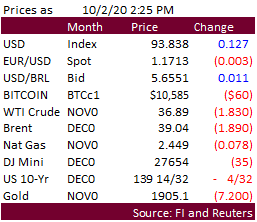 Corn
Export Developments
Syria
seeks 50,000 tons of soybean meal and 50,000 tons of corn on October 26 for delivery within four months of contract.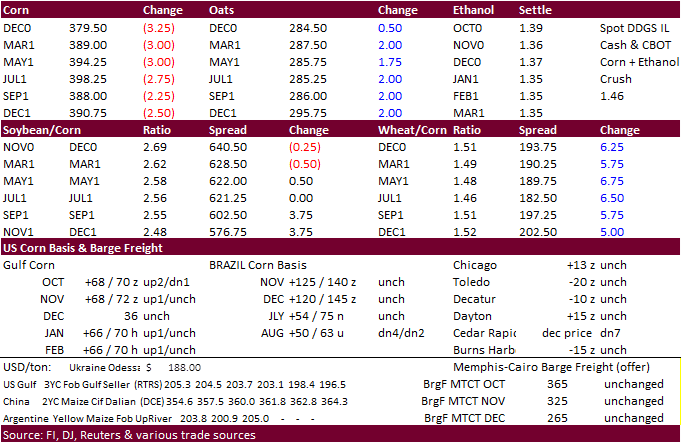 Updated
9/30/20
December
corn is seen in a $3.60-$4.00 range. 2020-21 to average $3.75 for corn and $2.85 for oats.