PDF Attached
Most
agriculture markets drifted lower on harvesting pressure and positioning ahead of the USDA September 30 reports. Bear spreading was a feature.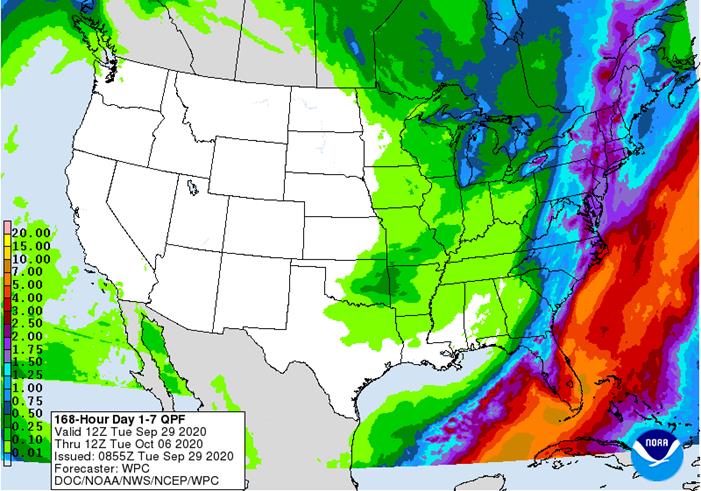 MOST
IMPORTANT WEATHER TO WATCH
U.S.
hard red winter wheat areas will be dry for the next ten days to two weeks and excessive heat and dryness has already depleted soil moisture
Montana
and South Dakota wheat areas need greater moisture too
Russia's
Southern Region remains too dry for winter crop planting, although some brief showers will occur near the Ukrainian border over the coming week
Kazakhstan
wheat areas are still critically dry in unirrigated areas and rain is unlikely for the next two weeks
Northeastern
China continues to receive rain too frequently and summer crop maturation and harvesting remain slow, despite some weekend drying
South
Africa winter crop areas need rain as do future spring planting areas
Brazil's
center west and center south crop areas will be drier than usual into the middle of October further delaying the planting of early soybeans and some corn
Brazil
coffee areas will experience little to no rain of significance for the next ten days

Brazil
temperatures will remain very warm to hot over the next ten days
Northwestern
and west-central Argentina will remain too dry over the next ten days
Flooding
rain may impact a part of far southern Mexico and Central America in the next ten days to two weeks
A
tropical cyclone may form in the Caribbean Sea later this week and could threaten Mexico's Yucatan Peninsula
Northeastern
China's weather will become wetter biased again Wednesday through the weekend and drier next week
Ukraine
has received some rain and more will fall over the coming week to improve winter crop planting and establishment conditions
Northeastern
China has seen some net drying recently and fieldwork may be advancing at a "snail's pace" with more rain coming
Net
drying will occur the remainder of this week in the U.S. Delta and southeastern states benefiting areas that have been too wet in recent weeks
UNITED
STATES
Dryness
will continue in the U.S. Plains for at least ten days and probably longer
Rain
in the Midwest will be most frequent and significant in the Great Lakes region where field working delays will be most frequent
Improving
conditions are likely in the U.S. Delta and southeastern states
Temperatures
are still expected to be cold in the heart of the Midwest into next week while the western U.S. is quite warm
BRAZIL
Worry
over dryness in center west and center south will continue with little to no rain for the next ten days
Some
showers may develop thereafter, but with restricted rainfall resulting for some areas into mid-month
Temperature
will continue hot in many areas
ARGENTINA
Rain
is still not well distributed over the next two weeks, but there will be some precipitation
Central
and northern Cordoba, parts of Santa Fe, Santiago del Estero and other northwestern Argentina crop areas are unlikely to see much rain of significance for at least ten days
Temperatures
will be seasonable to slightly cooler biased
INDIA
Rain
will be greatest in the west-central, south and far eastern parts of the nation
Net
drying in the north and central crop areas
MAINLAND
SOUTHEAST ASIA
Nearly
to above average rainfall is expected with northern Thailand to Myanmar and Bangladesh wetter than usual
CHINA
Showers
returned to the northeast Monday where some new disruption to net drying and farming activity resulted
Rain
also occurred Monday in the middle Yangtze River Basin
Northeast
China will be dry today, but frequent showers Wednesday into next Monday will restrict harvest progress in a part of the region
Northeast
China trends drier next week
Best
harvesting and planting weather is expected in the Yellow River Basin and North China Plain over next ten days with a mix of rain and sunshine
Southern
China will continue wet with frequent rain near and south of the Yangtze River over the next ten days
EUROPE
Additional
waves of rain are expected in France and immediate neighboring areas in western Europe over the coming week
Excessive
wind and heavy rain will impact France, northwestern Spain and northern Portugal late Thursday and Friday
Some
property damage may result
Additional
high wind speeds and rain may impact the U.K. and northern France late in the weekend and early next week
Rain
will also fall frequently in western Ukraine, southern Poland and northern Romania during the coming week
A
favorable mix of showers and sunshine will occur elsewhere over the next two weeks

Temperatures
will be mild to cool in the west and warm east
WESTERN
CIS
Temperatures
will be warmer than usual in the coming week to ten days
Waves
of rain will be greatest in central and western Ukraine where some local flooding might eventually develop (mostly in the west)
Showers
in far western Russia, the Baltic States and Belarus will be a low impact on farming activity
Limited
rainfall is expected in the Middle and lower Volga River Basin, Russia's Southern Region and Kazakhstan over the next ten days
Good
harvest weather In New Lands
AUSTRALIA
Brief
periods of rain will impact Victoria, South Australia and New South Wales during the next ten days to two weeks maintaining good field moisture
Western
Australia will get some brief showers in southern crop areas Thursday into Friday; more rain would benefit the state's crops
INDONESIA/MALAYSIA
Periodic
rain is expected over the next two weeks maintaining a mostly good environment for most crops
MEXICO/CENTRAL
AMERICA
Rain
will continue greatest from far southern Mexico into Central America
A
possible tropical cyclone in the northwestern Caribbean may impact the Yucatan Peninsula this weekend
WEST-CENTRAL
AFRICA
Waves
of rain will continue through the next ten days favoring coffee, cocoa, sugarcane, rice and other crops
EAST-CENTRAL
AFRICA
Rain
will be erratic and light over the next couple of weeks
PHILIPPINES
Rain
will impact most of the nation over the next ten days to two weeks maintaining a favorable outlook for crops
CANADA
PRAIRIES
Showers
will occur most often in the eastern half of the Prairies and in the Peace River Region leaving most other areas dry during the next week to ten days
Temperatures
will be near to above average in the west and near to below average in the east
ONTARIO/QUEBEC
Rain
will fall frequently over the next week to ten days while temperatures are mild to cool resulting in delayed summer crop maturation and harvesting
TYPHOON
KUJIRA
Was
located over open water well east of Japan and posing no threat to land
TROPICAL
DEPRESSION 18E WEST OF MEXICO
The
storm will move away from North America and poses no threat to land
NEW
ZEALAND
Conditions
will trend cooler this week while precipitation diminishes and becomes mostly confined to the west coast of South Island
Southern
Oscillation Index was +10.10 today and it will stay significantly positive throughout this week
Source:
World Weather Inc.
EIA
U.S. weekly ethanol inventories, production, 10:30am
USDA
quarterly corn, soybean, wheat, sorghum, barley and oat stocks
U.S.
wheat production for Sept.
Roundtable
on Sustainable Palm Oil virtual discussion on seasonal haze
Malaysia
Sept. 1-30 palm oil export data
U.S
agricultural prices paid, received for Aug., 3pm
Poland
to release grains output data
HOLIDAY:
Korea
THURSDAY,
Oct. 1:
USDA
weekly crop net-export sales for corn, soybeans, wheat, cotton, pork, beef, 8:30am
Port
of Rouen data on French grain exports
USDA
soybean crush, DDGS output, corn for ethanol, 3pm
Australia
commodity index for Sept.
Webinar
on the effects of climate change on coffee production in Southeast Asia
Honduras,
Costa Rica coffee exports monthly stats
International
Cotton Advisory Committee releases monthly world outlook
HOLIDAY:
China, Hong Kong, Korea
FRIDAY,
Oct. 2:
ICE
Futures Europe weekly commitments of traders report, 1:30pm (6:30pm London)
CFTC
commitments of traders weekly report on positions for various U.S. futures and options, 3:30pm
FranceAgriMer
weekly update on crop conditions
HOLIDAY:
China, Hong Kong, India, Korea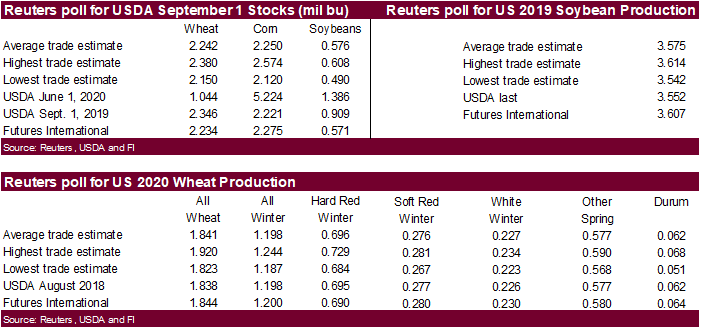 Note
Reuters polled for 2019 corn production. We think it will be unchanged. Reuters average was 13.607 billion bu versus 13.617 USDA, so others also not looking for change (range 13.427-13.750 billion for those looking for a change).

Average
estimates for 2019-20 ending stocks for September 1 don't deviate much from USDA
USDA
Aug 2019-20 corn carry 2.253 (ave. est. 3 bushels below USDA)
USDA
Aug 2019-20 soy carry 0.575 (ave. est. 1 bushel above USDA)
Macros
US
Conference Board Consumer Confidence Sep: 101.8 (est 90.0; prev 84.8)
–
Present Situation Sep: 98.5 (prev 84.2)
–
Expectations Sep: 104.0 (prev 85.2)
US
Wholesale Inventories (M/M) Aug P: 0.5% (est -0.1%; prevR -0.1%; prev -0.3%)
US
Advance Goods Trade Balance Aug: -$82.9B (est -$81.8B; prevR -$80.1B)
US
Retail Inventories (M/M) Aug: 0.8% (est 1.1%; prev 1.2%)
Canadian
Industrial Product Price (M/M) Aug: 0.3% (est 0.1%; prev 0.7%)
Canadian
Raw Materials Price Index (M/M) Aug: 3.2% (prev 3.0%)
China
warned La Nina may bring colder winter and frost in the corn region.
We
picked up that Thunder Bay port authority (Canada) reported grain volume increased 27 percent this year, and precited 10 million tons for 2020, largest since 1997.

South
Africa's Crop Estimates Committee (CEC) estimated corn production at 15.422 million tons (6.620 yellow and 8.802 million tons white) in 2019-20, slightly lower than previous month, 37% higher compared with 11.275 million tons 2018-19. August was pegged at
15.537 million tons. A Reuters survey was at 15.271 million tons for the Sep estimate.

Germany
ASF: 36 cases since September 10
The
CME plans to launch pork futures on November 9. "Pork Cutout futures and options will be financially-settled to the CME Pork Cutout Index, which is a five-business day weighted average of prices reported by the US Department of Agriculture (USDA) and published
in its "National Daily Pork Report Fob Plant – Negotiated Sales – Afternoon" report daily."
https://www.cmegroup.com/media-room/press-releases/2020/9/29/cme_group_to_launchporkcutoutfuturesandoptionsonnovember9.html

A
Bloomberg poll looks for weekly US ethanol production to be up 6,000 at 912,000 barrels (890-931 range) from the previous week and stocks to increase 139,000 barrels to 20.136 million.

Today
in Energy: U.S. fuel ethanol production capacity increased by 3% in 2019
https://www.eia.gov/todayinenergy/detail.php?id=45316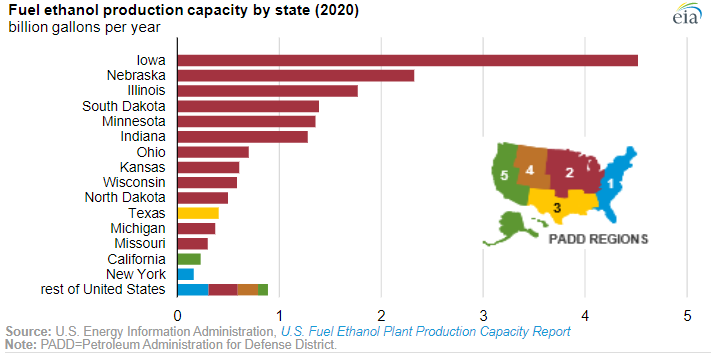 Corn
Export Developments
Iran
seeks 200,000 tons of corn feed and 200,000 tons of soybean meal on Sep 30 for OND shipment. The corn will be out of the Black or EU or South America.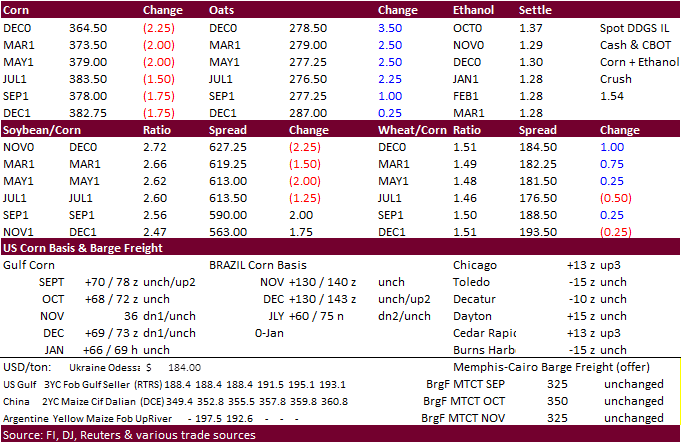 Updated
9/9/20
December
is seen in a $3.40-$3.85 range. 2020-21 to average $3.75 for corn and $2.85 for oats.