PDF Attached
No
Flash sales today by USDA. Despite excellent export sales, corn and soybeans traded lower trade in another risk off session. Wheat found support
from short covering.

MOST
IMPORTANT WEATHER TO WATCH
Central
and western Ukraine will receive some much-needed rain in the coming week to ten days with 1.00 to 2.00 inches of rain resulting over the first week of the outlook

Eastern
Ukraine will also get a few showers Sunday into Wednesday with rainfall of 0.20 to 0.70 inch resulting
Greater
rain will be needed in eastern Ukraine while western areas will see improved rapeseed, wheat, barley and rye planting and establishment, although some delay to fieldwork will be possible

High
pressure ridge aloft over the heart of Brazil will minimize rain potentials in much of center west through center south crop areas for at least the next ten days and perhaps for two weeks

Northwestern
Mato Grosso will be the only area that will see some periodic showers
Planting
moisture will be scarce outside of northwestern Mato Grosso preventing much early soybean or corn planting and conditions will be very poor for germination and emergence

Southern
Brazil wheat, corn and rice areas will receive periodic rainfall maintaining good conditions for planting, emergence and establishment of spring crops and supporting a very good wheat yield outlook
Southern
and eastern Argentina will get some very important rain today into the weekend improving topsoil moisture in many areas from La Pampa and southern Cordoba to Buenos Aires and in portions of both Santa Fe and Entre Rios

Follow
up rainfall is not likely to be very frequent or significant leading to net drying conditions, but it may be a good opportunity for early season fieldwork and wheat development
Temperatures
will be mild to warm

Dryness
will continue in northern Cordoba, central and northwestern Santa Fe, Santiago de Estero and portions of western Chaco, Argentina during the next ten days to two weeks; some rain in northern cotton areas in the nation will allow some planting to begin
Beneficial
rainfall is coming to France, the United Kingdom, Germany and many other areas in central and western Europe over the coming week easing long term dryness in northwest

Spain
and Portugal will be left mostly dry

Eastern
Bulgaria, Greece and southeastern Romania may not get much rain for a while
Northeastern
China continues to fight moisture surpluses that are keeping summer crop maturation and harvest progress very slow

The
situation will improve "very slowly" during the next two weeks and absolute dryness is needed
The
wet bias has been present in the region since mid-August
Some
fields in Jilin, eastern Liaoning and Heilongjiang may still have standing water from three tropical cyclones that impacted the region in recent weeks
Showers
are still expected periodically during the next ten days and that combined with mild temperatures will keep drying rates low and fieldwork progressing poorly

China's
Yellow River Basin and North China Plain are experiencing nearly ideal conditions for wheat planting and summer crop maturation and early harvesting
Western
Australia drying remains a concern with northern crops reproducing in a declining soil moisture environment

Southern
crop areas in the state still have favorable soil moisture, but the region is drying and will need rain in October to support reproduction of wheat, barley and canola

Some
rain is expected in October to help ease the drying bias

Southeastern
Australia wheat, barley and canola prospects are looking extremely good with soil moisture in abundance and expected to prevail in New South Wales, Victoria and South Australia

Periodic
rainfall is expected to continue in these areas over the next two weeks

Queensland,
Australia has a large need for rain to support cotton and sorghum planting that will soon be starting; dryland areas need the moisture most significantly


La
Nina should provide the necessary moisture boost a little later this spring

India's
monsoon has not withdrawn normally from central parts of the nation, but it should begin withdrawing over the next few days with next week trending drier

The
nation's rainy season has been very successful with the nation having 107% of the normal rainfall for the June 1-September 23 period
Drying
is needed in central areas to protect summer crop conditions and to promote crop maturation

South
Africa still needs significant rain to support winter crops especially in the east

Rain
is also needed to improve topsoil moisture for early corn planting that begins in early October and for all other summer crops that are planted from late October into December

U.S.
hard red winter wheat areas are drying down rapidly and significant rain is needed soon to bolster soil moisture for improved wheat planting, emergence and establishment

The
outlook is for poor rainfall and warmer than usual conditions during the next ten days and perhaps longer

U.S.
Midwest crop maturation and harvest conditions will be good through the weekend, but rain and cooling next week in the Great Lakes region southward into Ohio and parts of Indiana may slow that process

Rain
will first impact most of the lower and eastern Midwest early next week as the initial cool air arrives
Showers
during the middle to latter part of next week will occur with cool temperatures and will maintain a slow advancement in crop maturation and harvest progress especially in the Great Lakes region and eastern lower Midwest
Another
frontal system in the second weekend of the two-week outlook may induce some additional showers in the Great Lakes region and lower eastern Midwest
Drying
will occur in the eastern Midwest after Oct. 3
Western
Corn Belt will experience good harvest weather through much of the next ten days, although there will be a few brief periods of showers in a part of the region
Frost
and freezes may occur to help defoliate some soybeans in a part of the Midwest next week and into the following weekend
Winter
wheat planting will advance favorably along with some summer crop harvesting

Some
wheat areas need rain

The
bottom line to the Midwest weather will be slow field work and crop maturation rates next week in the Great Lakes region and lower eastern Midwest where there will be a rising need for dry and warm conditions. The western Corn Belt will experience the best
harvest weather.

U.S.
Delta will receive additional rain from the remnants of Tropical Depression Beta early today maintaining concern over cotton quality and delaying the harvest all crops in the region

Dry
weather will occur Friday through Sunday
Rain
Monday will be followed by mostly dry conditions the remainder of next week and into the following weekend

Improved
summer crop maturation and harvest conditions are likely during the middle and latter part of next week and into the following weekend

U.S.
southeastern states will experience some periodic showers and thunderstorms into Monday slowing crop maturation and harvest progress at times, but some progress is likely

Better
drying conditions will evolve next week and last through the first week of October with only a few showers expected

West
Texas cotton, corn, sorghum and peanut conditions are mostly good for crop maturation and early season harvesting and this will last for at least the next ten days
U.S.
northwestern Plains need a boost in precipitation to induce better winter crop establishment and planting conditions
U.S.
hard red winter wheat production areas will remain and dry warm over the next ten days reducing soil moisture, but supporting some fieldwork

Net
drying may eventually delay unirrigated wheat germination, emergence and establishment

U.S.
far western states still need a generalized rain to ease long term dryness, but none is expected for a while
Canada's
Prairies will experience a favorable weather pattern for fieldwork, despite some showers periodically

Weekend
rainfall will be greatest and cause the most disruption to fieldwork
Temperatures
will be near to above average

Ontario
and Quebec, Canada may get rain a little more frequently than desired beginning next week and lasting at least a week and possibly for ten days resulting in some crop maturation and harvest delays
Xinjiang,
China weather will continue favorable for cotton and other crop maturation and early harvest progress except possibly in the northeast where showers are expected this weekend into next week

The
precipitation will not be heavy, but enough to slow field work for brief periods of time

Minor
changes in cotton fiber quality are expected

Cooling
during the weekend and next week will bring an increasing risk of frost and freezes to at least northern portions of the region, but cloud cover may keep the temperature up for a while

Freezes
would be not harm crops at this point in their development

West-central
Africa will continue to experience periodic showers and thunderstorms over the next couple of weeks

Cotton
areas will need to dry out soon to protect fiber quality and promote maturation
Most
coffee, cocoa, rice and sugarcane crops receiving rain will likely benefit from the moisture


East
central Africa rainfall has been and will continue to be erratic and mostly beneficial over the next ten days
Mainland
areas of Southeast Asia will experience periodic showers and thunderstorms over the next couple of weeks


Late
season moisture boosting is extremely important since water supply has not been fully restored from last year's low levels

Philippines
rainfall will continue periodically benefiting most crops.
Improving
rainfall in Indonesia and Malaysia is expected over the next two weeks with some heavy rain possible in random locations
New
Zealand rainfall will be above average during the next week to ten days and temperatures a little cooler than usual
Mexico
precipitation is expected to be confined to the far south over the next week while all other areas experience net drying
Frequent
rain will continue in Central America maintaining good crop conditions
Southern
Oscillation Index was +9.57 today and it will stay significantly positive into next week
Source:
World Weather Inc.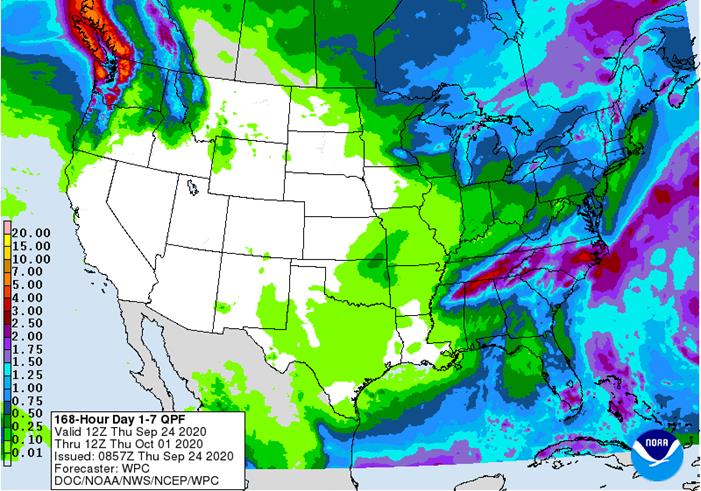 ICE
Futures Europe weekly commitments of traders report, 1:30pm (6:30pm London)
CFTC
commitments of traders weekly report on positions for various U.S. futures and options, 3:30pm
China
customs publishes country-wise soybean and pork import data
S&P
Platts Sugar and Ethanol Conference, Sao Paulo
FranceAgriMer
weekly update on crop conditions
Malaysia
palm oil export data for Sept. 1-25
U.S.
cattle on feed, 3pm
<![if !supportLists]>·
<![endif]>Robust soybean sales of 3.195 million tons, above trade expectations, pull crop-year commitments to 1.306 billion bushels, 61.4 percent of USDA's export projection and 193 percent above this time
last year. China booked 1.879MMT, with 198k switched from unknown.
<![if !supportLists]>·
<![endif]>Soybean meal and oil sales were within expectations, but shipments could have been better.

<![if !supportLists]>·
<![endif]>USDA corn exports sales topped expectations at 2.139 million tons. 566,400 tons were for China and 371,500 tons for unknown.

<![if !supportLists]>·
<![endif]>All wheat export sales were 351,200 tons, withing expectations.


Macros
US
New Home Sales Aug: 1011K (est 890K; prev R 965K)
–
New Home Sales (M/M) Aug: 4..8% (est -1.2%; prev R 14.7%)
–
Median Sale Price (USD) Aug: 312.8K, -4.3% From Aug 2019 (327K)
US
Initial Jobless Claims Sep 19: 870K (est 840K; prevR 866K; prev 860K)

US Continuing Claims Sep 12: 12580K (est 12300K; prevR 12747K; prev 12628K)
Canada
Aug. Factory Sales Down 2.0% – StatsCan Flash Estimate
Canadian
Non-Farm Payrolls Rose 739.7K In July To 15.1M

Canadian Average Earnings Rose 8.7% From Year Earlier In July
Corn.

China
will auction off 20,000 tons of pork from reserves on Sep 25, taking the amount to 590,000 if all of it sold.

Reuters
poll for South Africa's Sep 29th crop year 2020 corn crop: 15.271MMT (8.877 white & 6.493 yellow) vs. 15.537 by CEC in August and compares to 11.275MMT in 2019.

Brazil's
center-south region ethanol sales reached 1.33 billion liters in the first half of September, same as a year earlier. Meanwhile, Unica reported early September exports of ethanol increased 187%.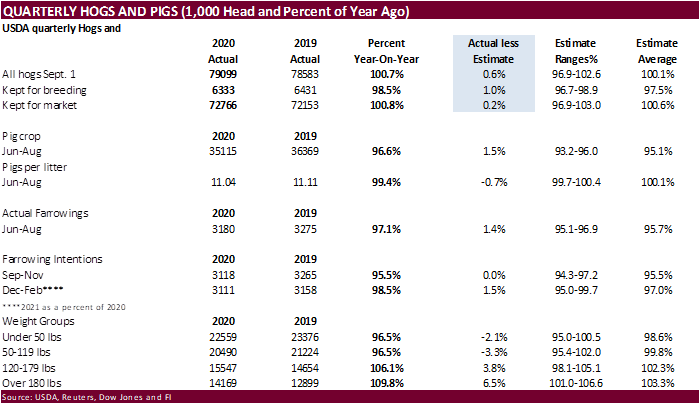 https://downloads.usda.library.cornell.edu/usda-esmis/files/rj430453j/gt54mb17j/1j92gz287/hgpg0920.pdf

Corn
Export Developments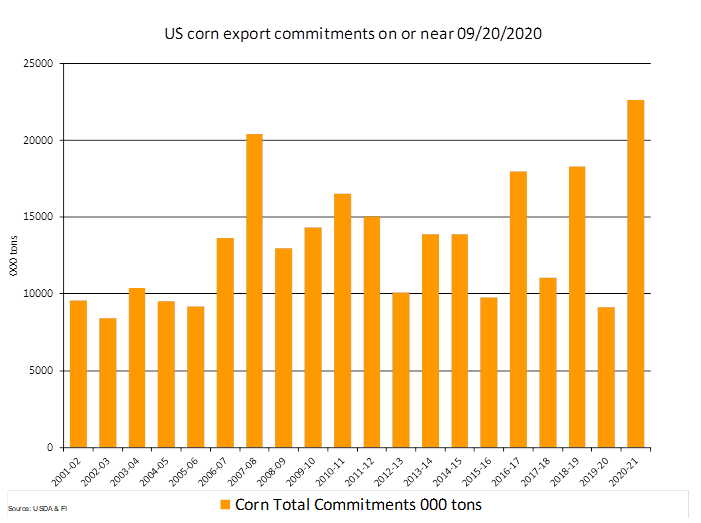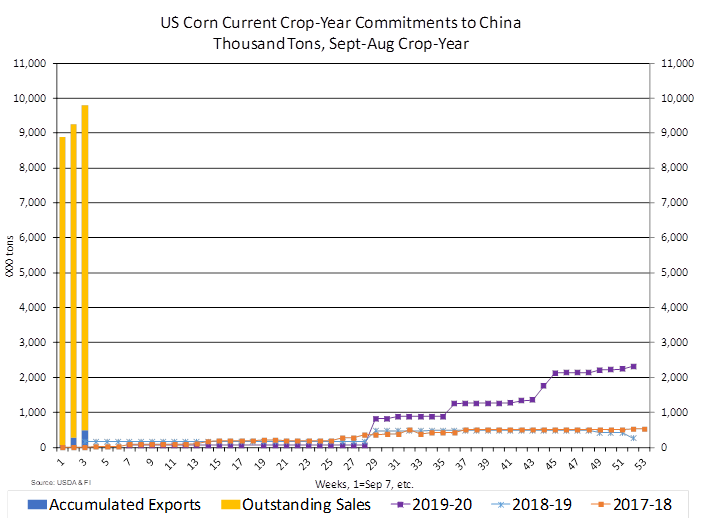 Updated
9/9/20
December
is seen in a $3.40-$3.85 range. 2020-21 to average $3.75 for corn and $2.85 for oats.