PDF Attached
USDA reported additional soybean flash sales this morning.
US weather outlook mainly unchanged. Global vegetable oil prices were sharply lower and CBOT meal found strength from oil share selling, in part to the slowdown in Argentina crush and BA Grains Exchange calling for a lower Argentine 2021 soybean crop.
MORNING WEATHER MODEL COMMENTS
NORTH AMERICA
Not much change of significance was noted overnight

Remnants of Tropical Depression Beta will move from eastern Texas through the heart of the Delta into Friday where rainfall will range from 1.50 to 4.00 inches and locally more
A small disturbance will also move across the Great Lakes region today and Thursday
Eastern Midwest will get some showers this weekend along with the southeastern states
Good crop maturation, harvest and planting weather will occur in the Great Plains and western and central Corn Belt over the coming week

Most of the Plains and western Corn Belt will continue dry into the second week of the outlook

Showery and cool weather will occur next week in the Great Lakes region and far eastern Midwest
Temperatures will be warmer than usual in most of the north and western U.S. over the next week
Cooling is expected next week in the eastern half of the nation
The bottom line does not contain any big changes relative to Tuesday's outlook. The biggest change after the remnants of Tropical Depression Beta abates from the Delta and southeastern states will be good harvest weather until next week when colder air moves through the eastern U.S. and brings on unsettled conditions in the Great Lakes region and eastern Midwest. Most of the Great Plains and western U.S. will stay quite dry and warm.
SOUTH AMERICA
No significant changes were noted in Argentina
Brazil's center west and center south crop areas have less rain advertised over the next few days and the balance of the coming two weeks is drier than usual
Far southern Brazil and southern and eastern Argentina will get significant rainfall late this week and into the weekend

La Pampa, Buenos Aires, southern Cordoba, southern and eastern Santa Fe, Entre Rios and Corrientes will get rain along with Uruguay, Rio Grande do Sul and neighboring areas
Market concerns over dryness in Brazil delaying the onset of early season soybean planting have already begun and rightly so. Seasonal rains will come at the end of October and early November and then become significant, but for the next few weeks pre-monsoonal showers and thunderstorms will be more restricted than usual limiting early soybean and corn planting while southern Brazil and parts of Argentina trend briefly wetter.
EUROPE/BLACK SEA REGION
No significant changes were noted overnight

Rain will fall in most of western and central Europe over the coming week to ten days
Far southeastern Europe will not receive much rain
Eastern Ukraine will get some rain next week, but more will be needed
Kazakhstan. The middle and lower Volga River Basin and Russia's Southern Region will continue very dry
RUSSIA NEW LANDS
Not significant changes were noted overnight, although the western New Lands were drier after the evening model last night increased rainfall in the latter part of the second week
Favorable drying conditions will occur in many of the eastern New Lands harvest areas
CHINA
No general theme changes noted overnight

Northeastern China may not get rain every day, but its frequency will still be high enough along with seasonably milder temperatures to slow the region's needed drying and further delaying some of the region's summer crop maturation and harvest progress
A good mix of rain and sunshine in the Yellow River Basin and North China Plain will be perfect for wheat planting, germination and emergence while allowing some of the region's summer crops to mature and be harvested
Frequent rain near and south of the Yangtze River will slow farming activity and maintain some concern over crop conditions
China still needs drier weather in most areas in the nation to promote summer crop maturation and harvesting and to support early season wheat and other winter crop planting. The northeastern Provinces are still much too wet, although the region has seen a little less frequent and less significant rainfall recently.
INDIA
No general theme changes were noted overnight

Scattered showers and thunderstorms will continue over most of the central, south and east for several more days, but monsoonal precipitation will slowly diminish from central areas this weekend next week
AUSTRALIA
No big changes were noted overnight in the coming ten days

Rain will fall in the southeastern corner of the nation through Friday maintaining wet field conditions
Southwestern Western Australia will get some weekend rain while other areas in the state remain dry
Another wave of rain will move through southeastern Australia early to mid-week next week

GFS model increased rain in Western Australia October 3-5

This change was likely overdone and may not verify, although if it did it would be boon for the state's winter crops which are drying down a little too much
Greater rain is still needed in Queensland and Western Australia to bolster soil moisture for crop use. Soil moisture will be plentiful from New South Wales to South Australia and Victoria through the next ten days. Crops in northern Western Australia may reproduce and fill with restricted soil moisture.
Source: World Weather Inc.
USDA weekly crop net-export sales for corn, soybeans, wheat, cotton, pork, beef, 8:30am
Port of Rouen data on French grain exports
Brazil's Unica to release cane crush and sugar output data during the week (tentative)
USDA data on hogs and pigs inventory, red meat production, poultry slaughter, 3pm
International Grains Council monthly report
FRIDAY, Sept. 25:
ICE Futures Europe weekly commitments of traders report, 1:30pm (6:30pm London)
CFTC commitments of traders weekly report on positions for various U.S. futures and options, 3:30pm
China customs publishes country-wise soybean and pork import data
S&P Platts Sugar and Ethanol Conference, Sao Paulo
FranceAgriMer weekly update on crop conditions
Malaysia palm oil export data for Sept. 1-25
U.S. cattle on feed, 3pm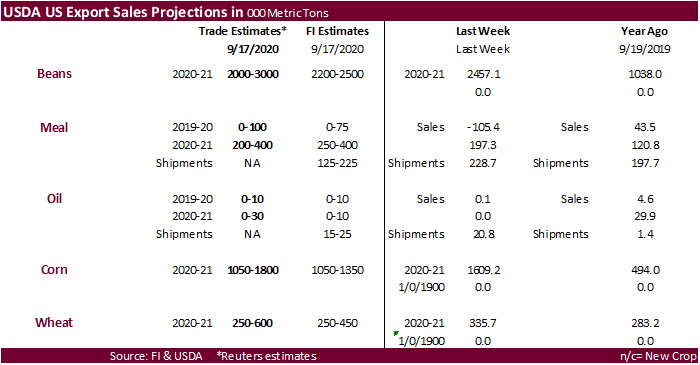 Macros
US Markit Manufacturing PMI Sep P: 53.5 (est 53.5; prev 53.1)
– Markit Services PMI Sep P: 54.6 (est 54.5; prev 55.0)
– Markit Composite PMI Sep P: 54.4 (prev 54.6)
US DoE Crude Oil Inventories (W/W) 18-Sep: -1639K (est -3270K; prev -4389K)
– Distillate Inventories (W/W): -3364K (est 1000K; prev 3461K)
– Cushing OK Crude Inventories (W/W): 4K (prev -74K)
– Gasoline Inventories (W/W): -4025K (est -921K; prev -381K)
– Refinery Utilization (W/W): -1.00% (est 0.60%; prev 4.00%)
Corn.
China's Minister of Agriculture and Rural Affairs said that recent typhoons could reduce corn production, but the since maturity of the crop at that time when typhoons arrived would have limited impact on output, and mainly increase the difficulty and cost of harvesting. Corn in northern China was showing "better than usual" growth. (Reuters)
Buenos Aires Grains Exchange estimated Argentina's 2020-21 corn crop at 47 million tons versus 50 million tons last year.
Ukraine exported 10.77 million tons of grain so far this year, down from 12.19 million tons year earlier, including 619,000 tons of corn (1.93MMT year earlier).
Germany confirmed another 9 cases of African Swine Fever in wild boar in the eastern German state of Brandenburg. German pig prices are hanging in there after taking an initial dive from the first reported case.
China plans to buy 7,700 tons of beef and mutton for state reserves on September 24.
China will auction off 20,000 tons of pork from reserves on Sep 25, taking the amount to 590,000 if all of it sold.
Reuters poll for South Africa's Sep 29th crop year 2020 corn crop: 15.271MMT (8.877 white & 6.493 yellow) vs. 15.537 by CEC in August and compares to 11.275MMT in 2019.
Weekly ethanol production fell 20,000 barrels to 906,000 barrels, well more than a Bloomberg trade guess (down 2k), lowest level since June 26 and 2.7 percent below this time last month. Stocks increased 199,000 barrels to 19.997 million, near a Bloomberg trade guess.

South Korea's MFG bought 69,000 tons of SA corn at $227.49/ton for Dec/Jan arrival.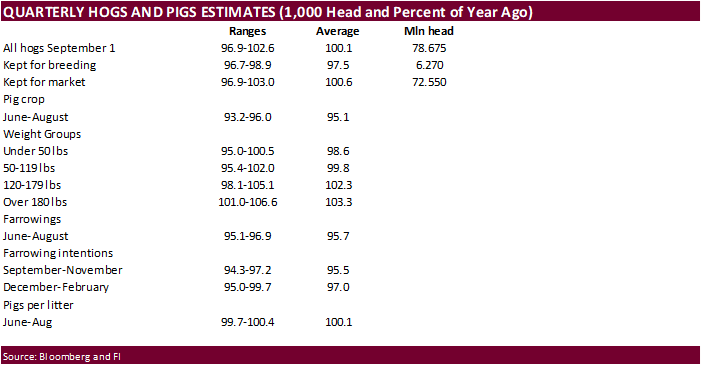 Updated 9/9/20
December is seen in a $3.40-$3.85 range. 2020-21 to average $3.75 for corn and $2.85 for oats.
November soybeans finished lower for a third straight session on harvest pressure and profit-taking. With the run-up in soybean prices over the last couple weeks, the beans are going from combine to market.
Soymeal touched the highest level since June 2018 on export demand and noted end-user coverage.
Weakness in CBOT soybean oil was the main feature in the soybean complex from the start as heavy volume pulled the contracts down nearly 100 points after the first 30 minutes of trading. Malaysian palm oil and China vegetable oil futures were sharply lower. Black Sea sunflower oil prices fell 3 percent yesterday. Argentina soybean oil yesterday was at $824/ton fob, down from $842 on Monday. We are picking up Brazil bought 70,000 tons of Argentina soybean oil.
Soybeans traded two-sided on favorable US harvesting weather, higher soybean meal and sharply lower soybean oil. Losses were limited in soybeans from a couple bullish developments. USDA announced additional sales under its 24-hour reporting system and during the trade the BA Grains Exchange published a low Argentina soybean production figure. We heard China bought 4-6 cargoes of Jan/Feb soybeans yesterday.
Meal was higher on follow through buying over slowing Argentina soybean crushing. Argentina producers have been reserve sellers, especially on days when CBOT futures trade lower. Back in the US, there were about 5 crushing plants that went offline during August, creating a shortage of soybean meal. Decatur, IL, soybean meal firmed $2.00 over the past couple of days and Gulf premiums were also higher. There is talk of meal business out of the Gulf. Some US processors were busy today selling the CBOT crush.
Under the 24-hour announcement system, private exporters reported to the U.S. Department of Agriculture the following activity:

Export sales of 132,000 metric tons of soybeans for delivery to China during the 2020/2021 marketing year
Export sales of 126,000 metric tons of soybeans for delivery to unknown destinations during the 2020/2021 marketing year.

Selected vegoils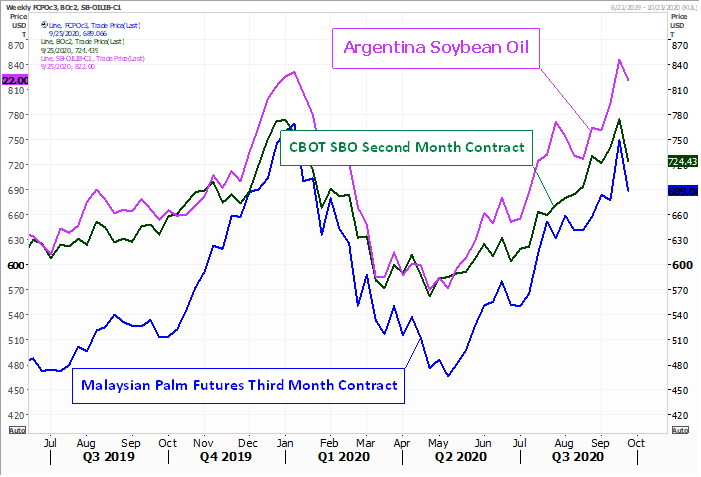 Source: Reuters and FI
December Oilshare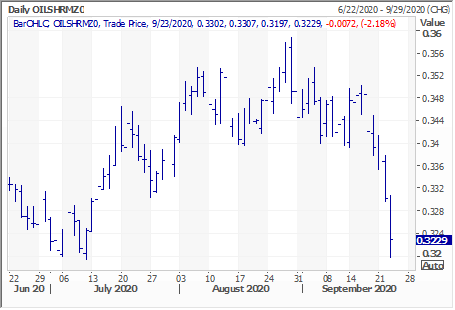 Source: Reuters and FI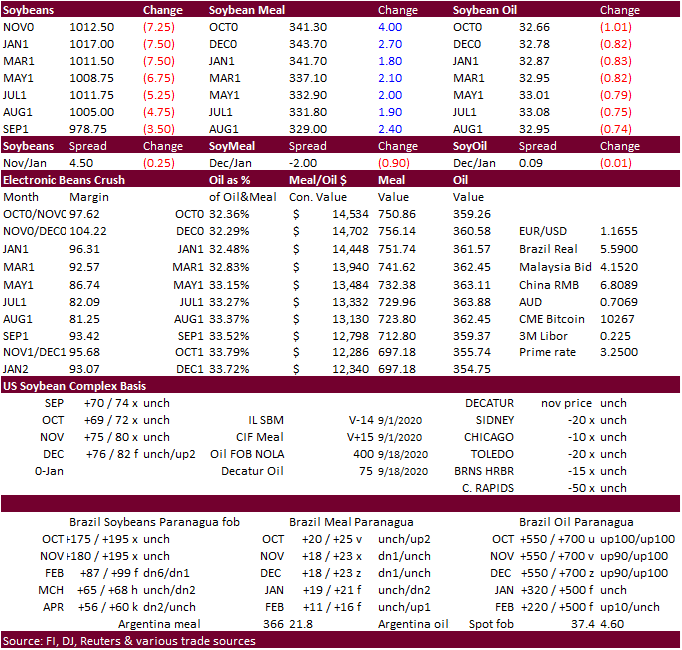 Updated 9/23/20
November soybeans are seen in a $9.75-$10.50 range. $9.60 average for 2020-21
December soybean meal is seen in a $310-$350 range. $305 average for 2020-21
December soybean oil is seen in a 32.50-35.50 range. 34.00 cents average for 2020-21
Funds sold an estimated net 8,000 Chicago wheat contracts.
Kansas and OK are in need of much needed precipitation. Chances for La Nina conditions during the OND period are nearing 80 percent.
Paris (Matif) December wheat was down 0.75 at 194.00 euros.
Buenos Aires Grains Exchange estimated Argentina's wheat crop at 17.5 million tons, down from 21 million tons estimated in May and compares to 18.8 million tons.
Algeria's OAIC bought about 117,000 tons of optional origin animal feed barley for shipment between Nov. 1-15 and Nov. 16-30.

57,000 tons at $221.25 a ton c&f
30,000 tons at $221.25 a ton c&f
30,000 tons at $220.50 a ton c&f
South Korea's MFG bought 65,000 tons of US feed wheat at $254.98/ton for Jan shipment.
Taiwan bought 91,300 tons of US wheat on Sep 23 for Nov/Dec shipment.
Lowest offer $280.00/ton – Pakistan seeks 300,000 tons of optional origin wheat for arrival in Pakistan by Jan. 31, 2021.
Postponed until Sep 28 – Jordan seeks 120,000 tons of wheat for shipment sometime during Dec or Jan.
Japan seeks 86,027 tons of food wheat later this week.

Japan also seeks 80,000 tons of feed wheat and 100,000 tons of barley for arrival by Feb on Sep 30.
Ethiopia seeks about 80,000 tons of milling wheat on Sept. 30.
Ethiopia seeks 400,000 tons of wheat by October 13.
(new 9/15) Ethiopia seeks about 200,000 tons of milling wheat on October 15.
Rice/Other
<![if !supportLists]>· <![endif]>Syria is in for 39,400 tons of white rice on September 30.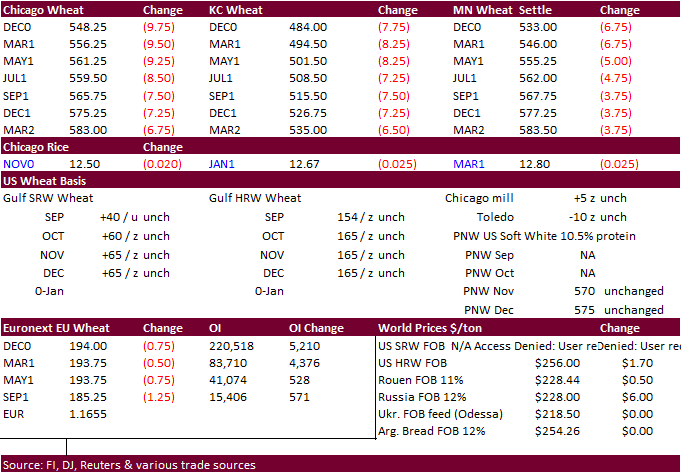 Updated 9/21/20
December Chicago is seen in a $5.40-$5.85 range. 2020-21 average $5.55
December KC $4.70-$5.10. 2020-21 average $5.05
December MN $5.20-$5.55. 2020-21 average $5.45
Terry Reilly
Senior Commodity Analyst – Grain and Oilseeds
Futures International │190 S LaSalle St., Suite 410│Chicago, IL 60603
W: 312.604.1366
AIM: fi_treilly
ICE IM: treilly1
Skype: fi.treilly

Trading of futures, options, swaps and other derivatives is risky and is not suitable for all persons. All of these investment products are leveraged, and you can lose more than your initial deposit. Each investment product is offered only to and from jurisdictions where solicitation and sale are lawful, and in accordance with applicable laws and regulations in such jurisdiction. The information provided here should not be relied upon as a substitute for independent research before making your investment decisions. Futures International, LLC is merely providing this information for your general information and the information does not take into account any particular individual's investment objectives, financial situation, or needs. All investors should obtain advice based on their unique situation before making any investment decision. The contents of this communication and any attachments are for informational purposes only and under no circumstances should they be construed as an offer to buy or sell, or a solicitation to buy or sell any future, option, swap or other derivative. The sources for the information and any opinions in this communication are believed to be reliable, but Futures International, LLC does not warrant or guarantee the accuracy of such information or opinions. Futures International, LLC and its principals and employees may take positions different from any positions described in this communication. Past results are not necessarily indicative of future results.