PDF Attached
USDA
reported additional corn and soybean flash sales this morning. See both sections for September totals.

The
CBOT soybean oil share was hammered today as slowing crush rates in Argentina supported CBOT soybean meal. Palm futures ended lower providing a negative sentiment to soybean oil. Soybeans traded higher in part to meal and rebound from yesterday's large drop
in prices. The increase in Black Sea cash wheat prices, widely ignored in Monday's trade, supported wheat. Corn traded two-sided. SK continues to buy corn from South America.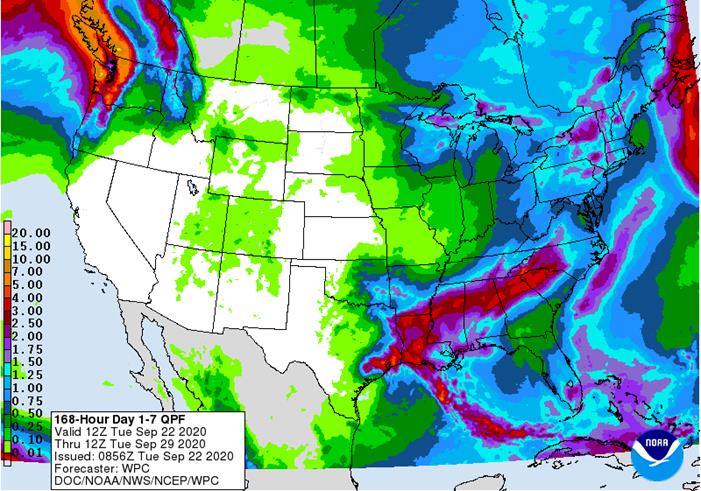 Some
greater rain was suggested for southern Argentina late this week and into the weekend

This
change comes from The European Model run mostly with greater coverage of rain and amounts from La Pampa into all of Buenos Aires instead of mostly northern areas as advertised Monday
Rainfall
of 1.00 to 3.00 inches has been advertised and locally more
GFS
model run also has good coverage in the region
Cordoba
rainfall is advertised to be significant in the south, but more limited in the north along with central Santa Fe and all of northwestern Argentina still gets sporadic rainfall of light intensity
The
recent changes will prove to be highly beneficial for Argentina winter crop conditions and help improve early corn and sunseed planting potentials from La Pampa and Buenos Aires into Entre Rios and Corrientes.


Eastern
Ukraine rain prospects are improving for mid-week next week with the European model now suggesting rainfall to 1.25 inches


Confidence
is still a little low, but all of the models are promoting this opportunity
All
of Ukraine is now advertised to get rain next week and if the forecast verifies it would be a boon for wheat, barley, rye and rapeseed planting and establishment

Tropical
Storm Paulette was reincarnated Monday and was located southwest of the European Continent and northwest of Africa while 295 miles southeast of the Azores

Paulette
is unlikely to impact land and will actually turn back to the west in a couple of days and likely lose its tropical characteristics again over time

Tropical
Storm Beta was located 10 miles east southeast of Victoria, Texas at 28.8 north, 96.8 west moving northwesterly at 3 mph and producing maximum sustained wind speeds of 40 mph

Beta
was expected to be nearly stationary along the central Texas coast today and then move east northeast along the Texas upper coast and then across southern Louisiana to central Mississippi
Rainfall
will be heavy along the central Texas coast today and early Wednesday with rainfall of 2.00 to 6.00 inches and local totals to 10.00 inches
Rainfall
along the path of the storm Wednesday through Friday will range from 2.00 to 6.00 inches as well with some greater amounts in southeastern Louisiana and southern most Mississippi
The
storm will be downgraded to tropical depression status later today

Hurricane
Teddy was racing toward Nova Scotia Canada and will reach that area Wednesday before moving to Newfoundland Thursday

The
storm will produce damaging wind, a significant storm surge and very heavy rain even though it will lose its tropical characteristics as it approaches southeastern Canada
OTHER
AREAS OF INTEREST
Central
and Western Europe is still expected to trend wetter later this week through the weekend with most areas west of Ukraine, Belarus, central Romania and Bulgaria getting rain

Southern
Spain and Southern Portugal will be drier biased
Additional
rain will fall in far northwestern Europe during the first half of next week while drier weather occurs farther to the east

Russia's
Northeastern New Lands will not be impacted by significant precipitation over the next ten days
<![if !supportLists]>·
<![endif]>The environment will be very good for spring and summer crop maturation and harvest progress
<![if !supportLists]>·
<![endif]>Showers will occur in the central New Lands and in a few of the Ural Mountains region where rainfall over by September 30 will vary from 0.30 to 1.00 inch and locally more
East-central
China received widespread rain Monday

Most
of this occurred south of the Yellow River and rainfall from southern Shaanxi to southern Henan and northern Hubei ranged from 1.00 to nearly 4.00 inches
Very
little rain fell in the Yellow River Basin, North China Plain or Northeast Provinces
Scattered
showers and thunderstorms occurred in other areas with locally heavy rain in northern Guangxi and southern Hunan

China
will experience alternating periods of rain and sunshine over the next two weeks

The
best mix of weather will be in the North China Plain and Yellow River Basin while rain continues to fall a little too often in the far northeast part of China
Northeastern
China will not be quite as wet as it has been, however
Abundant
to excessive rain will fall in the south from Sichuan and southern Hubei to Fujian, Guangdong, Guangxi and Yunnan

Inner
Mongolia and northern Heilongjiang, China may experience a little frost early next week with a more significant bout of cold expected later next week

First
frost and freezes normally occur in Northeast China during the last days of September and early October making this a seasonable event

Southeastern
Australia will receive periods of rain through Friday and into Saturday resulting in wet field conditions from southeastern South Australia and Victoria into southern New South Wales

Queensland
will receive some rain today and then will be dry for a while
Southern
parts of Western Australia will receive rain late this week into next week, but northern and eastern crop areas of the state may not get much moisture leading to some crop stress

Canada's
Prairies will experience infrequent precipitation and mild to warm temperatures through the next ten days resulting in relatively good harvest progress

The
moisture either has or will disrupt crop maturation and harvest progress briefly, but the moisture will be help improve topsoil conditions for use in the spring
Drier
weather will occur the remainder of this week favoring the resumption of aggressive fieldwork
Temperatures
will be warmer than usual most of this week and slightly cooler next week

Ontario
and Quebec, Canada are expecting relatively good crop maturation and harvest conditions for a while this week, but it will trend wetter this weekend into next week

Some
delay to fieldwork is expected

Brazil
rain Monday fell across Sao Paulo and northeastern Mato Grosso do Sul into southern Minas Gerais

Amounts
varied from 0.05 to 0.60 inch with a few totals to 1.00 inch
Mostly
dry weather occurred elsewhere

Brazil
weather over the next few days will bring showers across Mato Grosso and into Mato Grosso do Sul, Goias and Minas Gerais as well as Sao Paulo

Resulting
rainfall is expected to be erratic and light, however, resulting in only pockets of improved soil moisture great enough for early soybean planting
Some
rain will induce some coffee and citrus flowering, but most of the precipitation will be a little too light for a serious change in soil and crop conditions

Southern
Brazil rice, corn and wheat areas will get periodic rainfall through the next two weeks

Crop
and field conditions will either improve or continue good through the end of this month

South
Africa still needs significant rain for its winter wheat, barley and canola crops, especially those in eastern production areas

Not
much rain is expected over the coming week, although a few sporadic showers are anticipated
No
precipitation fell in South Africa during the weekend
Temperatures
were warm and will continue warmer than usual

Xinjiang,
China weather will continue favorable for cotton and other crop maturation and early harvest progress except possibly in the northeast where showers are expected this weekend into next week

The
precipitation will not be heavy, but enough to slow field work for brief periods of time

Minor
changes in cotton fiber quality are expected

Cooling
during the weekend and next week will bring an increasing rise of frost and freezes to at least northern portions of the region, but cloud cover may keep the temperature up

Freezes
would be not harm crops at this point in their development

India
weather will continue wettest in central, southern and far eastern parts of the nation this workweek while net drying occurs in the north

Monsoonal
precipitation will continue without much withdrawal through the workweek, but a more significant withdrawing trend is expected in the last week of September and early October improving crop maturation conditions in central parts of the nation

Remnants
of Tropical Storm Noul will into India from Southeast Asia this week and will bring some enhanced rainfall to parts of India


Once
this disturbance dissipates monsoonal rainfall will begin to withdraw once again

Next
week's weather will trend drier in central parts of the nation
Weather
conditions in most of India are still favorable, but drying will soon be needed in Gujarat as more rain falls this week


U.S.
weather over the next two weeks

Net
drying is expected over the coming ten days in most of the Great Plains and across portions of the Midwest

Some
rain will fall in northern and eastern parts of the Midwest, but each event will be brief and light enough to have a low impact on crop maturation and early season harvest progress

Rain
will fall in the Delta and southeastern states from mid- through late week this week ending during the weekend all of which will come from Tropical Storm Beta

Rainfall
will range from 2.00 to 6.00 inches from southeastern Texas through the lower Delta to central Mississippi with 0.50 to 2.50 inches in Tennessee, northern Georgia and the Carolinas; however, rainfall will be most significant in Louisiana and southern Mississippi
where some flooding is expected

A
few areas in southeastern Louisiana will receive 6.00 to 10.00 inches of rain resulting in some local flooding

Cotton
quality, late season rice and a few other crops will be negatively impacted by the heavy rain in the lower Delta
Crops
elsewhere are not likely to be significantly impacted by rain from the storm, although wet conditions will induce some harvest delays and could raise the potential for boll rot in the southeastern states

Some
rain will fall in the Pacific Northwest Wednesday through Friday, although mountainous areas will be wettest and the impact on soil moisture in crop areas will not be very great
Most
other areas in the western United States will be dry and warm through October 2




Rain
will impact the northern Midwest late Wednesday and Thursday, the eastern Midwest late this weekend and shift to the northeastern and middle Atlantic Coast states early next week

Amounts
in the eastern Midwest will vary from 0.20 to 0.75 inch with a few totals to 1.50 inches

Showers,
drizzle and cool temperatures will occur in the Great Lakes region and eastern Midwest most of next week

Dry
weather will occur from mid-week next week through the first week in October in the Delta and southeastern states
A
new frontal system will move across the central Plains October 2-4 and into the Midwest Oct 3-6 producing rainfall of 0.10 to 0.60 inch and local more

Confidence
in this event is low

Summer
crop maturation and harvest progress will be good in the Great Plains and western Corn Belt this week through the first half of next week
Good
harvest progress is also expected in the lower eastern Midwest through this workweek and again during next week's workweek
West
Texas will be dry through the next ten days
Temperatures
will be warmer than usual in the western and northern United States while near average in lower Midwest, Delta and southeastern states

Cooling
is expected in the eastern one-third of the nation next week

West-central
Africa will continue to experience periodic showers and thunderstorms over the next couple of weeks

Additional
improvement is expected to coffee, cocoa, rice and sugarcane production areas after rain fell significantly during the weekend
Cotton
areas will also continue to receive some rain for a while longer, but need to begin drying out
Most
crops receiving rain will likely benefit from the moisture

East
central Africa rainfall has been and will continue to be erratic and mostly beneficial over the next ten days
Mainland
areas of Southeast Asia will experience periodic showers and thunderstorms over the next couple of weeks


Late
season moisture boosting is extremely important since water supply has not been fully restored from last year's low levels
Weekend
rainfall was increased briefly by the passage of Tropical Storm Noul and its remnants

Philippines
rainfall will continue periodically benefiting most crops.
Improving
rainfall in Indonesia and Malaysia is expected over the next two weeks with some heavy rain possible in random locations
New
Zealand rainfall will be above average during the next week to ten days and temperatures a little cooler than usual
Southern
Oscillation Index was +9.12 today and it will stay significantly positive into next week
Source:
World Weather Inc.
U.S.
cold storage data – pork, beef, poultry, 3pm
HOLIDAY:
Japan
WEDNESDAY,
Sept. 23:
China
customs publishes data on imports of corn, wheat, sugar and cotton
EIA
U.S. weekly ethanol inventories, production, 10:30am
THURSDAY,
Sept. 24:
USDA
weekly crop net-export sales for corn, soybeans, wheat, cotton, pork, beef, 8:30am
Port
of Rouen data on French grain exports
Brazil's
Unica to release cane crush and sugar output data during the week (tentative)
USDA
data on hogs and pigs inventory, red meat production, poultry slaughter, 3pm
International
Grains Council monthly report
FRIDAY,
Sept. 25:
ICE
Futures Europe weekly commitments of traders report, 1:30pm (6:30pm London)
CFTC
commitments of traders weekly report on positions for various U.S. futures and options, 3:30pm
China
customs publishes country-wise soybean and pork import data
S&P
Platts Sugar and Ethanol Conference, Sao Paulo
FranceAgriMer
weekly update on crop conditions
Malaysia
palm oil export data for Sept. 1-25
U.S.
cattle on feed, 3pm
Macros
Philadelphia
Fed Non-Mfg Regional Business Activity Index Sep: 8.0 (prev 1.6)
Philadelphia
Fed Wage And Benefit Cost Index 13.1 In Sept Vs 14.6 In Aug
Firm-Level
Business Activity Index 20.4 In Sept Vs 17.9 In Aug
New
Orders Index 8.5 In Sept Vs 11.6 In Aug
Full-Time
Employment Index 5.1 In Sept Vs -3.0 In Aug
The
US White House dropped its plans to roll out a plan to aid oil refineries denied biofuel waivers. At least $300 million from potentially the USDA CCC program was to be granted to the refineries.

Harvesting
delays will occur to in the Delta and southeastern states due to remnants of Tropical Storm Beta, but the rest of the country will see mostly dry weather.

Soybean
and Corn Advisory: US corn yield unchanged at 176.0 bu/ac.

Brazilian
producers started corn plantings in RGDS, Minas Gerais and Parana. It's been slowed recently by cold weather. In Argentina corn plantings started bias eastern areas where rains occurred.

Note
the probability of La Nina during the OND period is nearly 80 percent.

CME
hog futures traded limit up.
China
plans to buy 7,700 tons of beef and mutton for state reserves on September 24.

China
will auction off 20,000 tons of pork from reserves on Sep 25, taking the amount to 590,000 if all of it sold.

Reuters
poll for South Africa's Sep 29th crop year 2020 corn crop: 15.271MMT (8.877 white & 6.493 yellow) vs. 15.537 by CEC in August and compares to 11.275MMT in 2019.

A
Bloomberg poll looks for weekly US ethanol production to be down 2,000 at 924,000 barrels (890-943 range) from the previous week and stocks to increase 218,000 barrels to 20.016 million.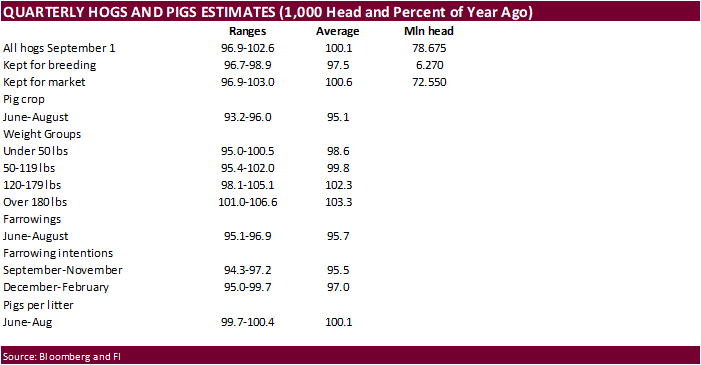 Under
the 24-hour announcement system, private exporters reported to the U.S. Department of Agriculture the following activity:

Export
sales of 140,000 metric tons of corn for delivery to China during the 2020/2021 marketing year
Export
sales of 320,000 metric tons of corn for delivery to unknown destinations during the 2020/2021 marketing year

South
Korea's KFA bought 60,000 tons of Brazilian corn at $229.00/ton for Oct 15-Nov 15 shipment
South
Korea's NOFI bought 202,000 tons of SA corn at between $228.45 & $228.90/ton for Jan/Feb arrival.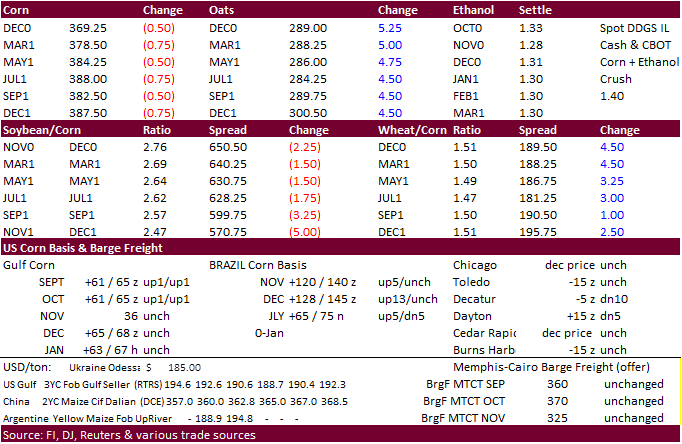 December
is seen in a $3.40-$3.85 range. 2020-21 to average $3.75 for corn and $2.85 for oats.