PDF Attached
Attached
are our revised crop-year price projections and US S&D's.
Another
big move to the upside for soybeans. Corn and wheat ended higher. USDA announced sales of soybean, meal and corn. China Dalian corn hit a fresh five-year high with January gaining 55 yuan (about 8.14 U.S. dollars) at 2,484 yuan per ton.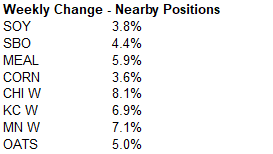 Weather
and Crop Progress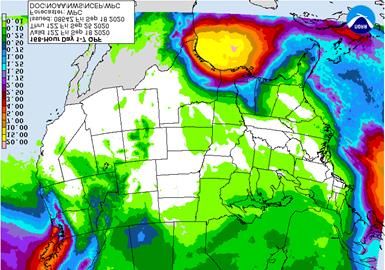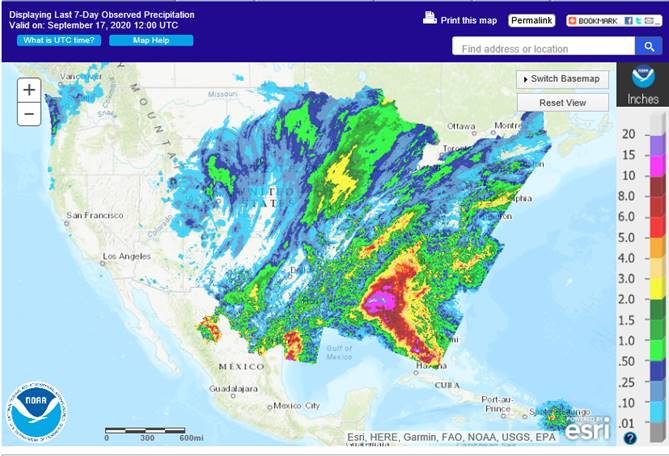 CHANGES
OVERNIGHT
Argentina's
drought stricken areas may have a good chance for rain in the latter part of next week and into the following weekend

No
rain is expected through Wednesday
The
precipitation advertised for next week should offer a well-timed bout of needed moisture to improve early corn and sunseed planting in parts of Cordoba and Santa Fe, but much more rain will still be needed

This
event is far enough out in time that some caution is advised over the potential for some changes in the outlook

Temperatures
will be near average over the coming week and a little colder than usual in the last days of September

Other
areas in eastern Argentina will also get rain late next week and into the following weekend maintaining good wheat conditions and supporting a favorable lift in topsoil moisture for future corn and sunseed planting
Tropical
Depression Twenty-Two formed in the Gulf of Alaska this morning and was expected to reach the west-central Gulf by Sunday before turning toward Texas

The
depression will likely become Tropical Storm Wilfred later today or Saturday and may become a hurricane Sunday
The
storm will likely threaten the Texas coast early next week
Heavy
rain and windy conditions will begin impacting the lower and middle Texas coast late Monday night and Tuesday

A
highly debated and speculative landfall forecast along the upper Texas coast is being suggested for Tuesday or Wednesday, but confidence is low
Remnants
of the storm may pass through the Delta and into the southeastern U.S. during the middle and latter parts of next week possible producing some significant rain

Flooding
is possible along the Texas coast and possibly in some areas in western Louisiana


Tropical
Storm Sally dissipated over the southeastern U.S. Thursday

Additional
heavy rain fell with amounts of 1.00 to 3.00 inches and locally more than 4.00 inches
Preliminary
estimates of crop damage have been low, but some loss is expected for cotton in the Florida Panhandle and possibly extreme southern Alabama

Other
crops likely survived the storm relatively well, although some cotton fiber quality declines were suspected and the threat of boll rot may be rising

Tropical
Storm Vicky dissipated Thursday over open water in the Atlantic
Hurricane
Teddy has reached a Category Four on the Saffir Simpson wind scale

The
storm was more than 900 miles away from Bermuda this morning
Teddy
may pass east of Bermuda early next week as a strong Category 2 storm and after that the storm may threaten Nova Scotia and Newfoundland, Canada with heavy rain and high wind speeds late next week.


A
tropical wave south southwest of the Cabo Verde Islands may become a tropical depression today or Saturday while moving west northwesterly over open water in the central tropical Atlantic Ocean


This
system is advertised to stay northeast of the Leeward Islands and may weaken after a few days of intensification

Tropical
Storm Noul has reached the coast of Vietnam this morning

The
center of the storm was 174 miles west of Da Nang at 0900 GMT today moving westerly at 31 mph and producing maximum sustained wind speeds of 46 mph
Landfall
was expected around 0800 GMT today north of Hue, Vietnam

Heavy
rain and flooding will accompany the storm inland

Crop
damage will be low because the area impacted is not a very important rice production area

Remnants
of the system will move through southern Laos today and across northern Thailand Saturday

Remnants
of Noul may reach the eastern Bay of Bengal later in the weekend and could bring rain to India next week
OTHER
WORLD WEATHER ISSUES
Dryness
continues to threaten winter crop planting and establishment in the drier areas of southeastern Europe, central and eastern Ukraine, western Kazakhstan and parts of Russia's Southern Region

No
relief from drought will occur in these areas for another ten days, but conditions may begin to improve in early October

France,
Spain and Portugal will receive rain this weekend and during much of next week resulting in some improved topsoil moisture

More
rain will be needed in these previously dry areas, but the precipitation will help to improve pre-planting and early planting moisture for autumn crops

The
U.K. and Germany will also get rain during the middle to latter part of next week

Parts
of Italy will also receive rain during mid- to late-week next week and some of this moisture may begin to push into eastern Europe during the second weekend of the two week outlook

Western
Australia will receive some rain during mid- to late-week next week, but amounts will be lightest in the interior crop areas where greater rainfall will still be needed

Net
drying in northern parts of Western Australia's wheat and barley production region may be cutting into yields as reproduction is under way

These
areas will get "some" rain during the second half of next week

Southern
and western crop areas will get just enough moisture to maintain a good production outlook

Australia's
crop areas from South Australia to Queensland, New South Wales and Victoria will get needed rain by Sunday and sufficient amounts will occur to support better winter crop conditions

Additional
rain will still be needed to restore soil moisture after prolonged drought in South Australia, Queensland and some western and northern New South Wales crop areas, but crops will certainly benefit from the moisture

South
Africa still needs significant rain for its winter wheat, barley and canola crops, especially those in eastern production areas

Not
much rain is expected over the coming week, although a few sporadic showers are anticipated

Center
West and southern parts of center south Brazil are advertised to receive scattered showers and thunderstorms Sunday into Wednesday Morning with some follow up rain late this month and into October 2

The
precipitation might eventually help lift topsoil moisture for "some" early season soybean planting, but much more rain will be needed
Coffee
and citrus flowering "may" occur in a few areas from Sao Paulo into southern Minas Gerais and Rio de Janeiro while sugarcane and early corn experience a moisture boost to improve crop development; however, most of the region will fail to get quite enough moisture
to make big changes in crop or soil conditions without follow up moisture

Southern
Brazil rice, corn and wheat areas will get periodic rainfall through the next two weeks

Crop
and field conditions will either improve or continue good through the end of this month

China
rain Thursday was greatest in the lower Yangtze River Basin where 2.75 to 8.79 inches resulted


Some
flooding occurred
Rain
also fell significantly in Guizhou and northern Yunnan where local totals of more than 5.00 and 8.00 inches resulted respectively
Northeastern
China rainfall diminished Thursday with rainfall of 0.05 to 0.40 inch in Heilongjiang and northern Jilin where up to 2.12 inches occurred in northeastern Inner Mongolia
Net
drying occurred in the southern coastal provinces

China
weather over the next two weeks

Rain
will continue to impact portions of Heilongjiang and Jilin periodically over the next week to ten days resulting in further delays to crop maturation and harvesting through the balance of this month; some crop quality declines are expected to continue especially
for soybean, rice and some groundnuts
A
good mix of rain and sunshine will impact the middle and lower Yellow River Basin and portions of the North China Plain over the next ten days resulting in relatively good summer crop maturation and harvest conditions while improving future wheat planting
potentials
Rain
will fall frequently near and south of the Yangtze River Basin as well as Yunnan and Guangxi during the next two weeks to maintain soggy field conditions
Much
of eastern China needs to dry down in support of summer crop maturation and harvesting as well as support for winter crop planting that occurs from late this month through October and into November

Xinjiang,
China weather will continue favorable for cotton and other crop maturation and early harvest progress

Alternating
periods of warm and cool weather will occur through the next week to 8 or 9 days with restricted rainfall expected
The
environment will support crop maturation, leaf defoliation and early harvesting
High
temperatures Thursday were in the 70s and 80s Fahrenheit and lows today in the upper 40s and 50s
Frost
and freezes may occur in northeastern Xinjiang After Sep. 27

India
weather over the next two weeks will continue wettest in central, southern and far eastern parts of the nation while net drying occurs in the north

Monsoonal
precipitation will continue without much withdrawal through early next week, but a more significant withdrawing trend is expected in the last week of September and early October improving crop maturation conditions in central parts of the nation

Remnants
of Tropical Storm Noul will move through Southeast Asia this weekend and could bring some enhanced rainfall to parts of India next week
Weather
conditions in most of India are still favorable, but drying is needed in Gujarat and that may not come for another week

U.S.
weather over the next ten days

Favorable
summer crop maturation and harvest weather is expected due to restricted rainfall and mild to warm temperatures for the next ten days including the Midwest Corn and Soybean Belt
Southeastern
U.S. rainfall will be winding down after today with a developing drier bias expected during the weekend and early to mid-week next week

The
change will result in better conditions for summer crops not seriously impacted by Tropical Cyclone Sally

Some
of the rain from Tropical Depression Twenty-Two may reach into the Delta during mid-week next week and into the southeastern states shortly thereafter, but confidence in this event is still low today
U.S.
hard red winter wheat areas will receive limited rainfall which may be good for summer crop maturation and harvest progress

Wheat
planting and emergence will continue, although there is need for greater rain to induce better emergence and establishment in the driest areas

The
bulk of additional planting will occur in October

West
Texas rainfall will be limited enough to support favorable crop maturation




There
is some potential for rain briefly late next week or in the following weekend




Northern
Plains will receive restricted rainfall and experience warm temperatures favoring a good crop maturation and harvest environment for the coming week and only brief rainfall is possible in the following week

U.S.
temperatures slipped to the frost and freeze level this morning in the upper Midwest and the cold will shift to the east this weekend impacting the northern Great Lakes region this weekend with lows in the 30s Fahrenheit and with a few colder readings near
the Canada border

Some
of this cold will also impact Ontario and Quebec, Canada

Overall
U.S. temperatures in the coming week will be warmer than usual from the central and northwestern Great Plains through most of the western states while near to below average farther to the east

The
coolest conditions relative to normal through the weekend will be in the eastern Midwest through the Atlantic Coast states
Temperatures
next week will be similar to those of this week, although a little warmer in the eastern Midwest and a little milder in the central Plains

Some
minor cooling is also expected in the Pacific Northwest and Rocky Mountain region

West-central
Africa will continue to experience periodic showers and thunderstorms over the next couple of weeks

Additional
improvement is expected to coffee, cocoa, rice and sugarcane production areas after rain fell significantly during the weekend
The
next wave of greatest rain will occur next week
Cotton
areas will also continue to receive some rain for a while longer
All
crops receiving rain will likely benefit from the moisture

East
central Africa rainfall has been and will continue to be erratic and mostly beneficial over the next ten days
Canada
Prairies will experience some weekend rain (mostly in Saskatchewan), but good harvest weather is expected prior to and after that period of time for a few days

Additional
rainfall is expected in the last week of this month
Harvesting
and crop maturation should advance relatively well during the period with only a few delays likely

Mainland
areas of Southeast Asia will experience periodic showers and thunderstorms over the next couple of weeks


Late
season moisture boosting is extremely important since water supply has not been fully restored from last year's low levels
Tropical
Storm Noul will bring significant rain to the region from central Vietnam into Thailand today and Saturday

Philippines
rainfall will continue periodically benefiting most crops.
Improving
rainfall in Indonesia and Malaysia is expected over the next two weeks with some heavy rain possible in random locations
Ontario
and Quebec rainfall will occur periodically over the next ten days alternating with periods of rain and sunshine

Net
drying is expected during much of this first week of the outlook
Temperatures
will be slightly cooler than usual through the weekend with some frost and freezes likely

New
Zealand rainfall will be above average on the west coast of South Island and below average elsewhere; temperatures will be near to below average
Southern
Oscillation Index was +9.72 today and it will stay significantly positive into next week
Source:
World Weather Inc.
It's
going to be cold over the next week for Argentina.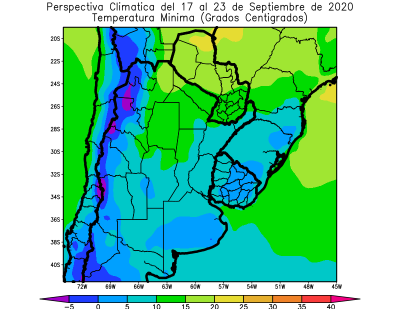 ICE
Futures Europe weekly commitments of traders report, 1:30pm (6:30pm London)
CFTC
commitments of traders weekly report on positions for various U.S. futures and options, 3:30pm
FranceAgriMer
weekly update on crop conditions
MONDAY,
Sept. 21:
USDA
weekly corn, soybean, wheat export inspections, 11am
U.S.
crop conditions, harvesting progress for soybeans, corn, cotton, 4pm
EU
weekly grain, oilseed import and export data
Ivory
Coast cocoa arrivals
Malaysia
Sept. 1-20 palm oil export data
HOLIDAY:
Japan
TUESDAY,
Sept. 22:
U.S.
cold storage data – pork, beef, poultry, 3pm
HOLIDAY:
Japan
WEDNESDAY,
Sept. 23:
China
customs publishes data on imports of corn, wheat, sugar and cotton
EIA
U.S. weekly ethanol inventories, production, 10:30am
THURSDAY,
Sept. 24:
USDA
weekly crop net-export sales for corn, soybeans, wheat, cotton, pork, beef, 8:30am
Port
of Rouen data on French grain exports
Brazil's
Unica to release cane crush and sugar output data during the week (tentative)
USDA
data on hogs and pigs inventory, red meat production, poultry slaughter, 3pm
International
Grains Council monthly report
FRIDAY,
Sept. 25:
ICE
Futures Europe weekly commitments of traders report, 1:30pm (6:30pm London)
CFTC
commitments of traders weekly report on positions for various U.S. futures and options, 3:30pm
China
customs publishes country-wise soybean and pork import data
S&P
Platts Sugar and Ethanol Conference, Sao Paulo
FranceAgriMer
weekly update on crop conditions
Malaysia
palm oil export data for Sept. 1-25
U.S.
cattle on feed, 3pm
IHS
Markit 2021 US acreage
Corn
93.7 vs. 2020 USDA 92.006
Soybeans
87.1 vs. 2020 USDA 83.825
All
wheat 45.4 vs. 2020 USDA 44.250
Winter
wheat 30.9 vs. 2020 USDA 44.250
From
trade sources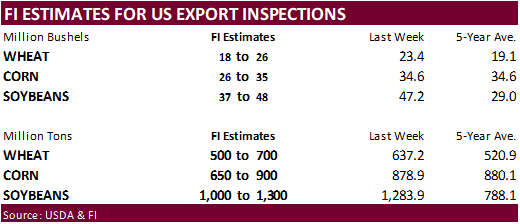 CFTC
Commitment of Traders