PDF Attached includes a few charts on world soybeans, USDA Broiler Hatchery and EIA ethanol
U.S.
FEDERAL RESERVE MAINTAINS KEY OVERNIGHT INTEREST RATE IN TARGET RANGE OF ZERO TO 0.25 PERCENT. FED EXPECTS TO MAINTAIN CURRENT FED FUNDS RATE UNTIL LABOR MARKET HAS REACHED LEVELS CONSISTENT WITH ASSESSMENTS OF MAXIMUM EMPLOYMENT, AND INFLATION HAS RISEN
TO 2% AND ON TRACK TO EXCEED THAT FOR SOME TIME
Higher
trade soybean complex and grains. US weather is favorable. The track of the hurricane shifted southeast. Malaysia was on holiday.

Hurricane
Sally was moving inland this morning and was expected to produce more flooding rain, strong wind speeds and damage to crops and property

Rain
totals have already ranged from 16 to more than 20 inches over the past two days from Fort Walton Beach, Florida to the Mobile Bay
Wind
speeds have reached 92 mph near the naval station southeast of Oyster Bay, Alabama and 81 mph at Pine Forest High School in the same region

Peak
speeds of 55 to 81 mph have common from Fort Walton, Beach, Florida to Mobile, Alabama
Tropical
storm force wind was occurring in southern Alabama as well

Coastal
flooding from both the storm surge and two days of rainfall has been significant across many of these same areas
At
0800 CDT, the center of the sally was located near 30.5 north, 87.6 west or 20 miles north northeast of Gulf Shores, Alabama with peak wind speeds near the center of the storm of 90 mph and movement north northeasterly at 3 mph

Hurricane
Sally will is still expected to slowly accelerate to the northeast over the next two days reaching southeastern North Carolina Saturday

In
the storm's wake will be 4.00 to 10.00 inches of additional rain from western parts of the Florida Panhandle through central and interior southeastern Alabama to northern Georgia and 3.00 to 6.00 inches in portions of the Carolinas


Flooding
is expected in many areas, but it will be most serious from central through southern Alabama and in the Florida Panhandle

Wind
speeds will continue to reach damaging levels this morning from western parts of the Florida Panhandle into south-central Alabama and then gradually lighten as the storm moves farther north this afternoon and tonight
Damage
to crops will be greatest in Alabama and Florida's Panhandle with cotton suffering the greatest losses

Hurricane
Paulette, Hurricane Teddy and Tropical Storm Vicky are over open water in the Atlantic Ocean and posing no threat to land

Teddy
will become a major hurricane later today and Thursday and will eventually impact Bermuda early next week as a weaker storm once again
Vicky
will likely dissipate by the weekend over open water in the central Atlantic Ocean
Paulette
will lose its tropical characteristics over the next few days, but remain a viable mid-latitude storm system over the north-central Atlantic


Tropical
wave west of Africa still has potential to develop into a tropical cyclone later this week and it will move toward the northern Leeward Islands over the coming week

This
system will need to be closely monitored for possible influence on North America and the Caribbean Islands next week, although there is plenty of time for the system's potential to change

Tropical
disturbance in the southwestern Gulf of Mexico will be wandering around off the coast of eastern Mexico the next few days and has some potential for becoming better organized over time

Most
likely this system will produce repetitive rainfall in eastern Mexico and in the southernmost tip of Texas for a while
The
system is showing signs of better organization and there will be support for development later this week

Tropical
Storm Noul has formed west of the Philippines in the South China Sea and has produced some beneficial rainfall in parts of the Philippines recently

The
storm has potential to become a weak typhoon as it moves west northwesterly across the South China Sea the next few days with landfall possible in central Vietnam Friday

Flooding
rainfall and strong wind speeds may impact central and northern parts of Vietnam from this storm
Central
Highlands crop areas will be impacted by the storm, but the most damaging properties of Noul will be to the north of the region

Tropical
Storm Karina remains well west of Mexico and posing no threat to land; the system will dissipate over open water this weekend
OTHER
WORLD WEATHER ISSUES
Argentina
rainfall will remain limited over the next ten days with very little potential for relief from drought conditions in the west
Dryness
in southeastern Europe will prevail for the next week to ten days supporting good summer crop maturation and harvest conditions, but threatening winter crop planting and emergence

Some
relief is possible late this month and better weather is expected in October
All
of eastern Europe, as well as Germany and including Ukraine will be included in this dry bias

France,
the U.K., Spain and Portugal will all get some welcome rainfall beginning this weekend and continuing through all of next week

Improved
soil moisture will occur for better winter crop planting and emergence conditions later this autumn will result
Some
slowing of summer crop maturation and harvesting is expected
Rain
will also reach into Italy and the Adriatic Sea region early to mid-week next week, but Germany is no longer advertised to get rain during this period

Dryness
remains a concern in central and eastern Ukraine, parts of Russia's Southern region and portions of Kazakhstan

Very
little rain will fall in these areas through the next ten days to two weeks

Northern
Russia will receive periods of rain and experience mild to cool temperatures at times over the next two weeks
Western
Australia rainfall will be limited to the far southwest over the next ten days to two weeks where crop conditions will stay good

Dryness
in other Western Australia crop areas will raise concern over reproductive conditions if greater rain does not fall soon

Northern
crops in Western Australia will be reproducing through the end of this month




Eastern
Australia will receive significant rain later this week

South
Australia will get rain today into Friday with 0.60 to 2.00 inches possible in some winter crop areas
New
South Wales, Queensland and Victoria will receive rain Thursday into Saturday with 0.50 to 2.00 inches from northern New South Wales into Queensland

Rainfall
of 0.60 to 1.75 inches will also occur in Victoria
Some
lingering rain may reach into eastern Queensland and northeastern New South Wales during early to mid-week next week
The
precipitation will be extremely helpful in raising soil moisture for winter and spring crops, although wheat and barley in Queensland may be a little too far advanced to fully benefit

Center
West and southern parts of center south Brazil are advertised to receive scattered showers and thunderstorms Sep. 20-23 with some follow up rain periodically into the end of this month

The
precipitation might eventually help lift topsoil moisture for some early season soybean planting, but much more rain will be needed
Coffee
and citrus flowering "may" occur in a few areas from Sao Paulo into southern Minas Gerais and Rio de Janeiro while sugarcane and early corn experience a moisture boost to improve crop development; however, most of the region will fail to get quite enough moisture
to make big changes in crop or soil conditions without follow up moisture

Southern
Brazil rice, corn and wheat areas will get periodic rainfall through the next two weeks

Crop
and field conditions will either improve or continue good through the end of this month

China
rainfall Tuesday was most significant from the northern parts of the North China Plain into interior eastern Inner Mongolia

Rain
totals varied from 1.00 to nearly 3.50 inches and maintained excessively wet conditions for some of the crops in this region
Rain
also fell in the Yangtze River Basin with amounts of 1.00 to 4.00 inches and local totals to 5.82 inches
Rainfall
elsewhere was more sporadic and light with needed dry conditions in much of the northeast provinces and some other areas

China
weather over the next two weeks

Rain
will return to Heilongjiang and Jilin today and it may occur frequently over the next week to ten days especially in Heilongjiang where summer crop maturation and harvest delays will occur through the balance of this month
Net
drying in the middle and lower Yellow River Basin and portions of the North China Plain should improve summer crop maturation and harvest conditions while improving future wheat planting potentials
Rain
will fall frequently in the Yangtze River Basin and southern coastal provinces as well as Yunnan and Guangxi during the next two weeks to maintain soggy field conditions
Much
of eastern China needs to dry down in support of summer crop maturation and harvesting as well as support for winter crop planting that occurs from late this month through October and into November

India
weather over the next two weeks will continue wettest in central, southern and far eastern parts of the nation while net drying occurs in the north

Monsoonal
precipitation will continue without much withdrawal through early next week, but a more significant withdrawing trend is expected in the last week of September and early October improving crop maturation conditions in central parts of the nation

Weather
conditions in most of India are still favorable, but drying is needed in Gujarat and that may not come for another week

U.S.
weather over the next ten days

Favorable
summer crop maturation and harvest weather is expected due to restricted rainfall and mild to warm temperatures for the next ten days including the Midwest Corn and Soybean Belt
Southeastern
U.S. rainfall will be excessive over the balance of this week due to Hurricane Sally, but after that some improved weather is expected; including net drying conditions
U.S.
hard red winter wheat areas will receive limited rainfall which may be good for summer crop maturation and harvest progress

Wheat
planting and emergence will continue, although there is need for greater rain to induce better emergence and establishment in the driest areas

The
bulk of additional planting will occur in October

West
Texas rainfall will be limited enough to support favorable crop maturation




Northern
Plains will receive restricted rainfall and experience warm temperatures favoring a good crop maturation and harvest environment

U.S.
temperatures will slip to the frost and freeze threshold in the upper Midwest and northern Great Lakes region late this week with lows in the 30s Fahrenheit and with a few colder readings near the Canada border

Some
extreme lows in the upper 20s will occur in northern Minnesota, but key crop areas in the Midwest will not experience temperatures nearly as cold
Overall
temperatures in the coming week will be warmer than usual from the central and northwestern Great Plains through most of the western states while near to below average farther to the east

The
coolest conditions relative to normal this week will be in the eastern Midwest through the northeastern states

Temperatures
next week will be similar to those of this week, although a little warmer in the eastern Midwest and a little milder in the central Plains

Some
cooling is also expected in the Pacific Northwest and Rocky Mountain region

West-central
Africa will continue to experience periodic showers and thunderstorms over the next couple of weeks

Additional
improvement is expected to coffee, cocoa, rice and sugarcane production areas after rain fell significantly during the weekend
The
next wave of greatest rain will occur next week
Cotton
areas will also continue to receive some rain for a while longer
All
crops receiving rain will likely benefit from the moisture

South
Africa weather will continue mostly dry over the next seven days with only a few showers in the far east and near the south coast expected
East
central Africa rainfall has been and will continue to be erratic and mostly beneficial over the next ten days
Canada
Prairies will experience some weekend rain, but good harvest weather is expected prior to and after that period of time for a few days

Additional
rainfall is expected in the last week of this month
Harvesting
and crop maturation should advance relatively well during the period with only a few delays likely

Xinjiang,
China weather will continue favorable for cotton and other crop maturation and early harvest progress

Alternating
periods of warm and cool weather will occur through the next ten days with restricted rainfall expected
The
environment will support crop maturation, leaf defoliation and early harvesting

Mainland
areas of Southeast Asia will experience periodic showers and thunderstorms over the next couple of weeks


Late
season moisture boosting is extremely important since water supply has not been fully restored from last year's low levels

Philippines
rainfall increased the past two days from Tropical Storm Noul, but more rain is still needed in the Visayan Islands
Improving
rainfall in Indonesia and Malaysia is expected over the next two weeks with some heavy rain possible in random locations
Ontario
and Quebec rainfall will occur periodically over the next ten days alternating with periods of rain and sunshine

Net
drying is expected over the coming week
Temperatures
will be seasonable to slightly cooler than usual

New
Zealand rainfall will be above average on the west coast of South Island and below average elsewhere; temperatures will be near to below average
Southern
Oscillation Index was +10.00 today and it will stay significantly positive this week
Source:
World Weather Inc.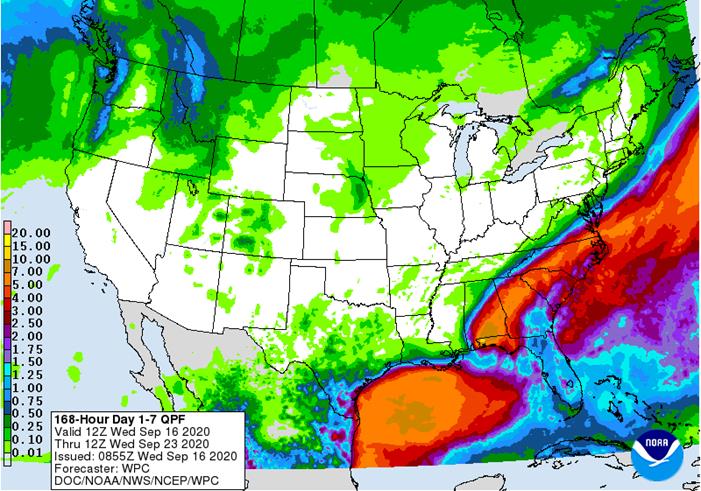 EIA
U.S. weekly ethanol inventories, production, 10:30am
FranceAgriMer
supply and demand estimates
Future
Food-Tech conference, Sept. 17-18
HOLIDAYS:
Malaysia, Mexico
THURSDAY,
Sept. 17:
USDA
weekly crop net-export sales for corn, soybeans, wheat, cotton, pork, beef, 8:30am
USDA
total milk production for August, 3pm
Port
of Rouen data on French grain exports
Biosev
SA 1Q 2021 earnings
FRIDAY,
Sept. 18:
ICE
Futures Europe weekly commitments of traders report, 1:30pm (6:30pm London)
CFTC
commitments of traders weekly report on positions for various U.S. futures and options, 3:30pm
FranceAgriMer
weekly update on crop conditions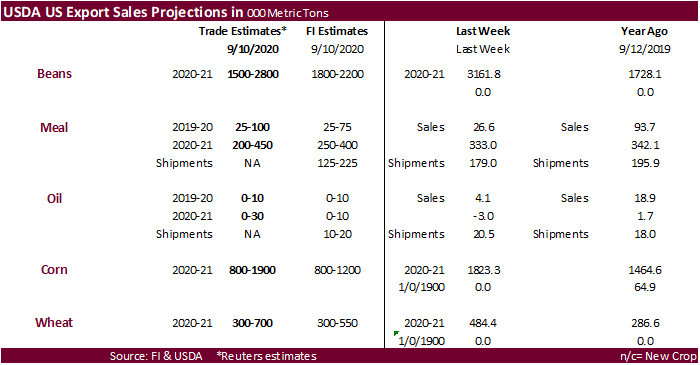 Farm
Futures survey of U.S. planting intentions for 2021 (1,044 producers surveyed)



<![if !supportLists]>·
<![endif]>Soybean plantings for 2021 were forecast at 87.9 million acres, up 4.9% 2020
<![if !supportLists]>·
<![endif]>Corn plantings seen at 91.8 million acres, down 0.3%
<![if !supportLists]>·
<![endif]>Winter wheat seedings seen at 31.3 million acres, up 2.3%
<![if !supportLists]>·
<![endif]>Spring wheat plantings (excluding durum) seen at 11.6 million acres, down 4.8%
Macros
US
Retail Sales (M/M) Aug 0.6% (est 1.0%; prevR 0.9%; prev 1.2%)
-US
Retail Sales Ex. Auto (M/M) Aug 0.7% (est 0.9%; prevR 1.3%; prev 1.9%)
-US
Retail Sales Ex. Auto & Gas (M/M) Aug 0.7% (est 0.9%; prevR 1.1%; prev 1.5%)
-US
Retail Sales Control Group (M/M) Aug -0.1% (est 0.5%; prevR 0.9%; prev 1.4%)
7:34:04
AM livesquawk Canada CPI (M/M) Aug -0.1% (est 0.1%; prev 0.0%)
-Canada
CPI (Y/Y) Aug 0.1% (est 0.4%; prev 0.1%)
7:34:06
AM livesquawk Canada CPI Median (Y/Y) 1.9% (est 1.9%; prev 1.9%)
-Canada
CPI Common (Y/Y) 1.5% (est 1.4%; prev 1.3%)
-Canada
CPI Trim (Y/Y) 1.7% (est 1.8%; prev 1.7%)
US
DoE Crude Oil Inventories (W/W) 11-Sep: -4389K (est 2047K; prev 2033K)
–
Distillate Inventories: 3461K (est -250K; prev -1675K)
–
Cushing OK Crude Inventories: -74K (prev 1838K)
–
Gasoline Inventories: -381K (est -600K; prev -2954K)
–
Refinery Utilization: 4.00% (est 1.50%; prev -4.90%)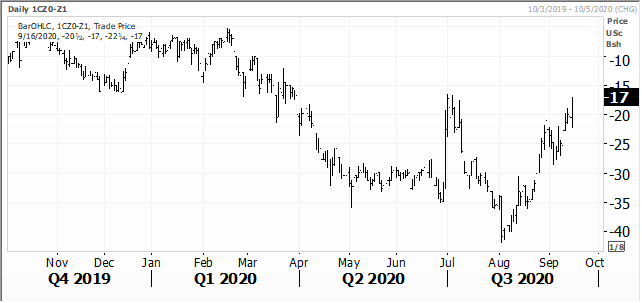 US
harvesting is advancing rapidly across parts of the Delta. Arkansas was cutting away last week and yields are coming in better than expected.

APK-Inform
lowered its estimate for Ukraine corn to 35.1MMT from 37.3 million tons previously. They lowered exports to 28.5 million tons from 29.4 million.

China's
recent storms across northeastern crop areas has created a lot of buzz recently. Reuters picked up that the China corn crop could drop 5-10 million tons as cited by an analyst from Cofco. China corn futures are near a 5-year high.

China
suspended imports from an OK Foods poultry plant in Fort Smith, Arkansas, because of coronavirus cases. This is the second suspension after blocking imports from a Tyson Foods Inc TSN.N plant in June.

Germany
confirmed they discovered 5 cases of ASF in wild boars in their eastern German state of Brandenburg. German pork exports to China more than doubled in first half 2020 to 233,300 tons.

The
USDA weekly Broiler Report showed eggs set in the US up 2 percent and chicks placed down slightly. Cumulative placements from the week ending January 4, 2020 through September 12, 2020 for the United States were 6.88 billion. Cumulative placements were down
1 percent from the same period a year earlier.
Trade
estimates missed the weekly US ethanol production and stocks update for the week ending 9/11. Production declined a large 15,000 barrels to 926,000 and stocks decreased 195,000 barrels to 19.798 million, down 1.084 million over the past two weeks. The sentiment
for corn is mixed now that ethanol stocks are lowest since Aug 7. A Bloomberg poll looked for weekly US ethanol production to be up 1,000 and stocks to increase 345,000 barrels. The 4-week average change for ethanol production is zero.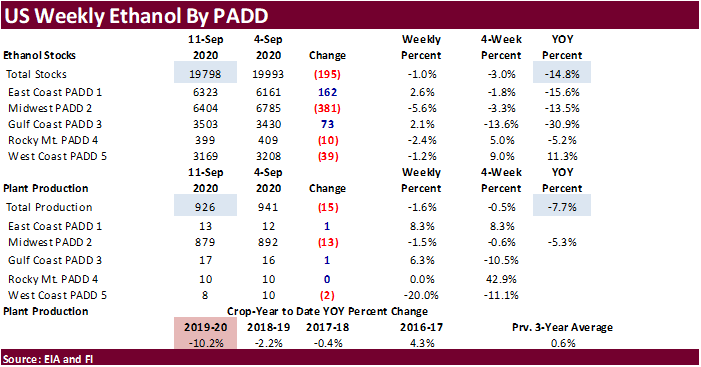 Taiwan
seeks bought 65,000 tons of corn from Brazil for Nov-Dec shipment at 189.63 cents over the March contract.

South
Korea's KOCOPIA rejected all offers for up to 60,000 tons of corn for arrival around Dec. 25.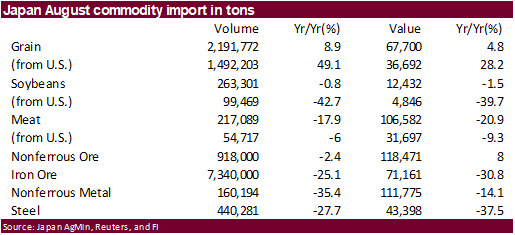 December
is seen in a $3.40-$3.85 range. 2020-21 to average $3.75 for corn and $2.85 for oats.