PDF Attached
Calls:
Soybeans up 1-3, corn up 1-2 and wheat steady.
US
crop conditions fell 2 points for soybeans and one point for corn. Trade was looking for unchanged for both. USDA reported additional corn and soybean sales this morning. Fundamental news was light.
Palm
oil was very strong on Monday, up 3 percent, on renewed fund buying. Saudi Arabia bought wheat, Jordan seeks wheat and Taiwan is in for corn. US temperatures will be drier and warmer this week, facilitating harvesting progress.


Weather
and Crop Progress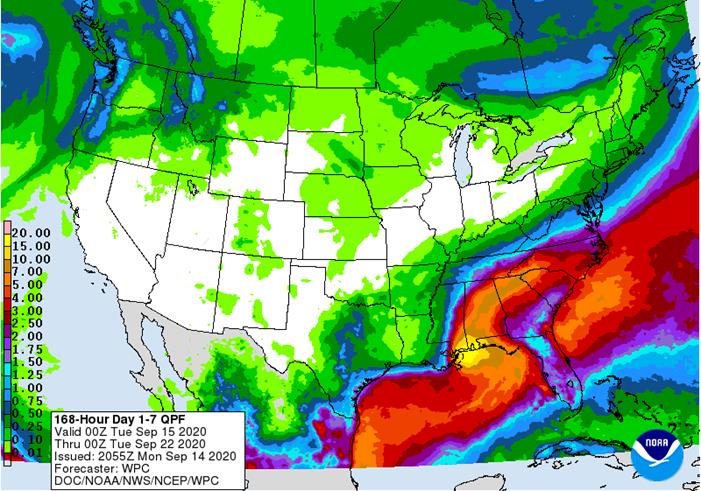 US
CORN – 60 PCT CONDITION GOOD/EXCELLENT VS 61 PCT WK AGO (55 PCT YR AGO) -USDA
US
CORN – 5 PCT HARVESTED (3 PCT YR) (5 PCT 5-YR AVG) -USDA
US
CORN – 89 PCT DENTED VS 79 PCT WK AGO (82 PCT 5-YR AVG) -USDA
US
CORN – 41 PCT MATURE VS 25 PCT WK AGO (32 PCT 5-YR AVG) -USDA
US
SOYBEAN – 63 PCT CONDITION GOOD/EXCELLENT VS 65 PCT WK AGO (54 PCT YR AGO) -USDA
US
SOYBEANS – 37 PCT DROPPING LEAVES VS 20 PCT WK AGO (31 PCT 5-YR AVG) -USDA
US
RICE – 72 PCT CONDITION GOOD/EXCELLENT VS 78 PCT WK AGO (69 PCT YR AGO) -USDA
US
RICE – 34 PCT HARVESTED VS 26 PCT WK AGO (47 PCT 5-YR AVG) -USDA
US
SPRING WHEAT – 92 PCT HARVESTED VS 82 PCT WK AGO (92 PCT 5-YR AVG) -USDA
US
WINTER WHEAT – 10 PCT PLANTED VS 5 PCT WK AGO (8 PCT 5-YR AVG) -USDA
US
COTTON – 45 PCT CONDITION GOOD/EXCELLENT VS 45 PCT WK AGO (41 PCT YR AGO) -USDA
US
COTTON – 6 PCT HARVESTED (8 PCT YR) (8 PCT 5-YR AVG) -USDA
US
COTTON – 47 PCT BOLLS OPENING VS 37 PCT WK AGO (45 PCT 5-YR AVG) -USDA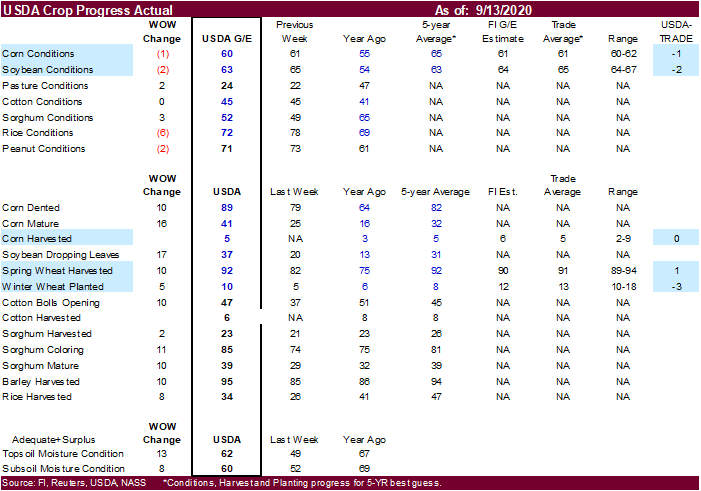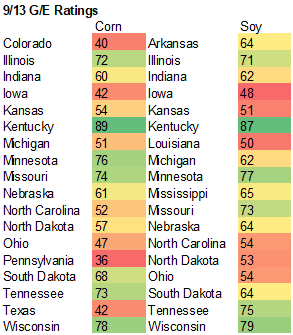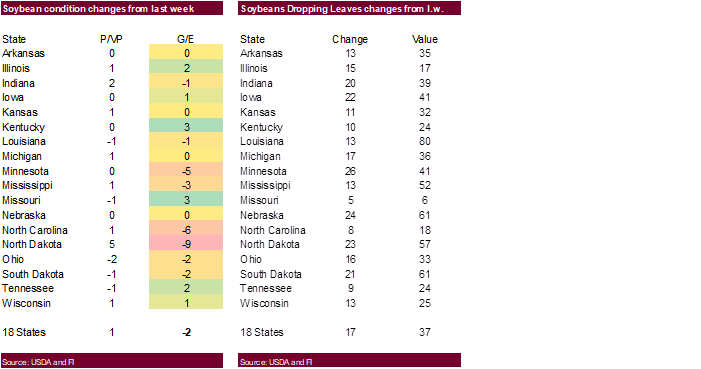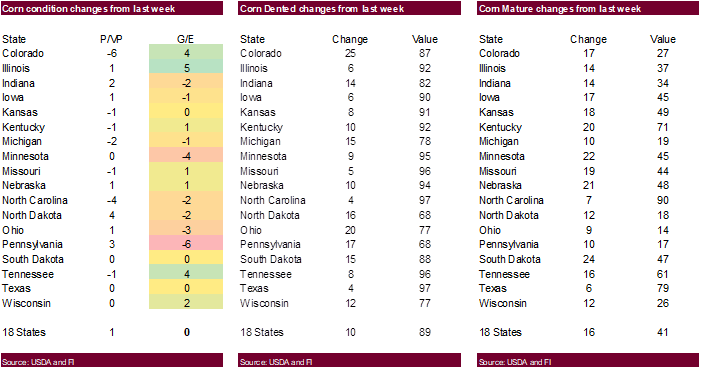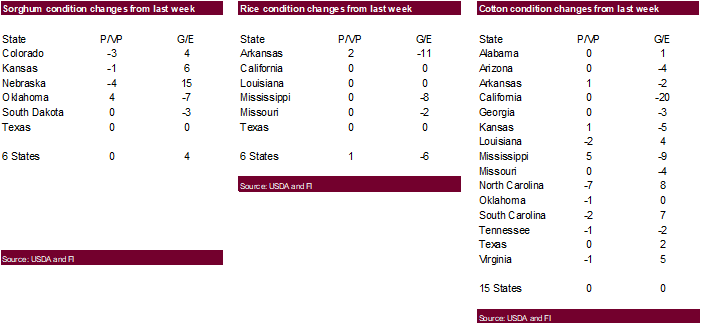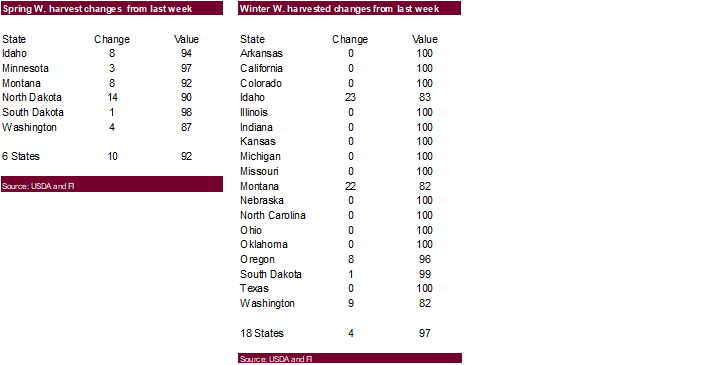 GFS
is advertising greater rain in Argentina during the September 22-25 period and that is not likely to verify
Rio
Grande do Sul, Brazil has a frost threat for late in the weekend and early next week, but this is not expected to verify
00z
GFS model run was too wet in southern Alberta and the 06z model run has corrected that error to some degree

06z
GFS model run is too wet for the U.S. Midwest Sep. 25-28
All
models are colder in western CIS for Sep. 21-25, but some of the cold was overdone especially in the GFS model runs
GFS
model run is too wet in Russia's eastern New Lands over the coming ten days
West-central
Africa received scattered showers and thunderstorms during the weekend and some of the rain reached coffee and cocoa production areas in Ivory Coast, portions of Ghana and in Benin as well as scattered locations farther to the east

Rainfall
of 0.35 to 3.00 inches occurred in Ivory Coast and 0.75 to 2.00 inches in Ghana while up to 1.00 inch occurred in Benin

The
moisture was good for coffee and cocoa development as well as rice, sugarcane and other crops
MARKET
MOVING WEATHER ISSUES
Eastern
Australia winter and spring crop areas will get rain this week
Western
Australia will continue to dry out
Western
Argentina dryness will prevail
U.S.
southeastern crops will be vulnerable to Tropical Storm Sally Tuesday into Friday with heavy rain and flooding mostly a threat to open boll cotton
Drought
will prevail from Ukraine to Kazakhstan and Russia's Southern Region
Drought
will continue in southeastern Europe
Brazil
may experience a boost in pre-monsoonal showers and thunderstorms in center west and center south crop areas Sep. 20-23, but it looks like drier weather will return later next week
Western
Europe will get some needed rain this weekend into next week
China's
greatest rains will diminish, but alternating periods of rain and sun will continue
TROPICAL
WEATHER
Tropical
Storm Sally in the eastern Gulf of Mexico will become a hurricane Monday while approaching the southeast Louisiana coast

At
0700 CDT today, the center of the storm was 115 miles east southeast of the mouth of the Mississippi River at 28.4 north, 87.4 west moving west northwesterly at 8 mph and producing maximum sustained wind speeds of 65 mph.

Landfall
is expected Tuesday between Morgan City, Louisiana and New Orleans as a weak Category 1 hurricane

Rainfall
of 5.00 to 15.00 inches and local totals to 20.00 inches will be possible in southeastern Mississippi and southwestern Alabama as well as in extreme southeastern Louisiana
Storm
surge of more than 10 feet above normal tides will be possible a part of the region between Morgan City, Louisiana and the western most tip of the Florida Panhandle
Remnants
of the storm will move through southern Mississippi, central Alabama (from southwest to northeast), northern Georgia and parts of the Carolinas where 3.00 to 9.00 inches will result in some flooding

Damage
to crops should be low with personal property damage expected from southeastern Louisiana into southern Mississippi and possibly coastal areas of southwestern Alabama

Cotton
bolls that are open will be vulnerable to the most significant damage

Hurricane
Paulette moved over Bermuda overnight and will move away from the island today

At
0800 EDT today, the center of the storm was 40 miles north of Bermuda at 32.9 north, 64.7 west moving north northwesterly at 12 mph and producing maximum sustained wind speeds of 95 mph.

Damage
over Bermuda has been extensive and more will occur for the next few hours and then improving conditions are expected
Paulette
will turn to the northeast Tuesday and race away from North America posing only a threat to shipping

Tropical
Depression Rene was expected to dissipate Tuesday over open water in the central Atlantic Ocean


At
0800 EDT today, the center of the storm was 1115 miles northeast of the Leeward Islands at 27.4 north, 48.3 west moving westerly at 3 mph and producing maximum sustained wind speeds of 30 mph.

Rene
will move southwesterly over the next couple of days resulting in gradual weakening with the storm dissipating by Wednesday morning


Tropical
Storm Teddy will intensify to hurricane status Tuesday and to a major hurricane Thursday and Friday

At
0500 EDT today, the center of the storm was 1405 miles east of the Lesser Antilles at 13.4 north, 40.4 west moving west northwesterly at 14 mph and producing maximum sustained wind speeds of 40 mph.

Teddy
is expected to remain over open water most of this week and during the weekend – it poses little threat to North America through the weekend; however, it will become a major hurricane


Tropical
disturbance in west-central Gulf of Mexico will bring rain and thunderstorms to southern Texas and northeastern Mexico this week, but it is not likely to organize into a more significant tropical weather system.

Tropical
Depression Twenty-one formed west northwest of the Cabo Verde Islands overnight

The
storm was 330 miles west northwest of the Cabo Verde Islands moving northerly at 6 mph and producing wind speeds to 35 mph
The
system will become a tropical storm briefly today and then begin weakening Tuesday with dissipation possible later this week
The
storm poses no threat to land

Tropical
wave coming off the Africa coast later this week will be closely monitored for development, but today's computer forecast models do not organize the system as it moves over the tropical eastern Atlantic Ocean later this week
Tropical
Storm Karina was located in the eastern Pacific Ocean well west of Mexico and was expected to continue moving away from land through the workweek with some weakening expected at the end of the week
No
tropical cyclones were noted in the Indian Ocean, western Pacific Ocean or central Pacific Ocean today

However,
a tropical disturbance is expected to evolve early this week near the Philippines and it may intensify after moving across the nation

The
system will move toward northern Vietnam late this week with landfall possible late Friday or Saturday as a tropical depression or tropical storm
MOST
SIGNIFICANT WEATHER OF THE COMING WEEK
Eastern
Australia will receive significant rain later this week

South
Australia will get rain Wednesday with 0.60 to 2.00 inches possible in some winter crop areas
New
South Wales, Queensland and Victoria will receive rain Thursday into Saturday with 0.50 to 2.00 inches from northern New South Wales into Queensland with a few totals over4.00 inches in central and southwestern crop areas of Queensland and a few northern New
South Wales locations

Rainfall
of 0.20 to 0.60 inch will occur in Victoria and southern New south Wales

The
precipitation will be extremely helpful in raising soil moisture for winter and spring crops, although wheat and barley in Queensland may be a little too far advanced to full benefit

Western
Australia gets very little rain outside of coastal areas for the next ten days

Some
rain is advertised for Sep. 24-25, although confidence in its significance is low

Argentina
rainfall will continue minimal outside of the far northeast fort the next eight days

Crop
moisture stress will continue in western parts of the nation while soil moisture in the east will be favorable
"some"
showers occur in the drier areas of the nation during mid-week next week, but confidence is low on the significance of that precipitation

Dry
weather will resume thereafter leaving a strong need for more rain

Center
West and southern parts of center south Brazil are advertised to receive scattered showers and thunderstorms Sep. 20-23 with drier weather resuming after that period

The
precipitation might eventually help lift topsoil moisture for some early season soybean planting, but much more rain will be needed
Coffee
and citrus flowering "may" occur in a few areas from Sao Paulo into southern Minas Gerais and Rio de Janeiro while sugarcane and early corn experience a moisture boost to improve crop development; however, most of the region will fail to get quite enough moisture
to make big changes in crop or soil conditions without follow up moisture

Southern
Brazil rice, corn and wheat areas will get periodic rainfall through the next two weeks

Crop
and field conditions will either improve or continue good through the end of this month

China
weather during the weekend included welcome drying in Heilongjiang, Jilin and in the heart of east-central China

The
drier bias was needed in many areas
Rain
fell abundantly from southern Sichuan through Guizhou, eastern Yunnan through Guangxi to Guangdong to Fujian where local flooding resulted

More
than 8.00 inches of rain fell in northeastern Guangxi while more than 6.00 inches occurred in western Guangdong and more than 5.00 inches in southeastern Guizhou

China
will experience a favorable mix of rain and sunshine in most grain, oilseed, cotton, rice and sugarcane areas during the next two weeks

Too
much rain may fall in some of southern China over the next two weeks

Local
flooding is possible

Heilongjiang,
Jilin and Liaoning will need drier biased weather soon to support summer crop maturation and harvest progress
The
mix of weather elsewhere will be good for ongoing summer crop development and helpful in ensuring good soil moisture for rapeseed and wheat planting later this autumn

India
rain during the weekend was concentrated on western, interior southern and far eastern parts of the nation

Net
drying occurred from the central through northern production areas

India
weather over the next two weeks will continue wettest in central, southern and far eastern parts of the nation while net drying occurs in the north

The
environment will good for most crops and fieldwork

Europe
was unusually dry again during the weekend with temperatures above average in the central and south

Highest
afternoon temperatures were in the 60s and 70s Fahrenheit north and in the 80s and lower to a few middle 90s south

Europe
rainfall will continue restricted through much of the coming week

Rain
is most likely in Spain and Portugal after Wednesday of this week with 0.50 to more than 2.25 inches resulting
No
more than sporadic showers will occur elsewhere

Europe
rainfall will increase next week in France, the U.K., Italy, and a few immediate neighboring areas


The
moisture will be welcome to future winter crop planting, but will slow summer crop maturation and early season harvest progress
Eastern
Europe and the western CIS precipitation is expected to be minimal for at least the next ten days

This
will lead to good summer crop harvest progress and some autumn planting of winter grains from Ukraine and the Balkan Countries to Poland and the Baltic States

Totally
dry weather is not expected, but very little disruption to fieldwork will occur




Winter
crop areas in central and eastern Ukraine, Russia's Southern Region, western Kazakhstan and portions of the Balkan Countries will continue too dry delaying planting, emergence and establishment in many of the driest areas

Western
Commonwealth of Independent States will experience periodic rain over the next two weeks with a few breaks in the precipitation


Most
of this will occur north of a line from Belarus through southwestern Russia to northern Kazakhstan
Net
drying will occur farther to the south
Temperatures
will trend colder next week with frost and freezes possible in a part of the region west of the Ural Mountains

U.S.
Weather over the next ten days will include net drying conditions in much of the western United States and in the high Plains region from Canada's south-central Prairies to western Texas

Rain
will fall from the central Plains through most of the Midwest Sep. 20-24

Amounts
of 0.20 to 0.80 inch with a few amounts of 1.00 to 2.00 inches

Rain
also occur from southern and eastern Texas through the Delta to Virginia, the Carolinas, Georgia and Florida

Excessive
rainfall will occur from extreme southeastern Louisiana, southern Mississippi and southwestern Alabama to eastern Tennessee and the western Carolinas Tuesday night through Thursday due to Tropical Storm Sally

Rain
totals of 3.00 to 8.00 inches will result during the middle part of this week with local totals near the coast varying from 5.00 to 15.00 inches and locally more

U.S.
temperatures will slip to the frost and freeze threshold in the upper Midwest and northern Great Lakes region late this week with lows in the 30s Fahrenheit and with a few colder readings near the Canada border

Overall
temperatures in the coming week will be warmer than usual from the central and northwestern Great Plains through most of the western states while near average farther to the east

Temperatures
next week will be similar to those of this week, although a little less warm in the Great Plains than this week

U.S.
weekend rain was greatest from central Missouri to Minnesota and Wisconsin




Amounts
through Sunday morning were greatest from Missouri to eastern Iowa and Wisconsin and central and western Illinois where 1.00 to 2.00 inches of rain resulted with local totals of 2.00 to 3.00 inches
Lighter
rain fell in other areas of Midwest ranged from 0.05 to 0.75 inch
Net
drying occurred from interior southern Illinois to central and southern Indiana




Scattered
showers occurred in the Delta and southeastern states where rainfall varied from trace amounts to 0.45 inch with a few totals over 1.00 inch

Rainfall
ranged from 0.50 to 1.63 inches except in southern Florida where totals ranged from 2.00 to more than 4.00 inches with local totals over 9.00 inches in the Florida Keys

Very
little rain fell in the central and western United States

Temperatures
were very warm in the west and in the southeastern states and near to below average in the Midwest

A
few freezes occurred this morning near the Canada border in Minnesota
South
America rainfall during the weekend was most limited to the region from northeastern Argentina into Rio Grande do Sul and northeastern Uruguay with rainfall of 0.30 to 1.30 inches and local totals to 1.50 inches


Temperatures
continued hot from Center West Brazil to far northeastern Argentina and Paraguay where highest temperatures were in the middle 90s to 106 degrees Fahrenheit
Temperatures
continued warm in the remainder of eastern Brazil while readings were more seasonable in Argentina

Frost
and freezes occurred in central and southern Argentina resulting in no crop damage

North
Africa was dry except in northeastern Algeria and northern and eastern Tunisia where scattered showers were noted


Most
of the rain was not great enough to seriously change soil moisture

West-central
Africa will continue to experience periodic showers and thunderstorms over the next couple of weeks

Additional
improvement is expected to coffee, cocoa, rice and sugarcane production areas




Cotton
areas will also continue to receive some rain for a while longer
All
crops receiving rain will likely benefit from the moisture

South
Africa weather during the weekend was minimal and temperatures were near to above average

Rain
that was advertised for this week in South Africa has been removed from the forecast this leaves a growing need for greater rain for winter wheat, barley and canola development
Rain
is also needed for spring planting next month

East
Central Africa rainfall has been and will continue to be erratic and mostly beneficial over the next ten days
Canada
Prairies will experience scattered showers over the next two weeks while temperatures are near to above average in the southwest and more seasonable northeast


Harvesting
and crop maturation should advance relatively well during the period with only a few delays likely

Xinjiang,
China weather during the weekend was mostly dry and mild to cool with temperatures coolest relative to normal in the northeast

Alternating
periods of warm and cool weather will occur through the next ten days with restricted rainfall expected
The
environment will support crop maturation, leaf defoliation and early harvesting

Mainland
areas of Southeast Asia will experience periodic showers and thunderstorms over the next couple of weeks


Late
season moisture boosting is extremely important since water supply has not been fully restored from last year's low levels

Philippines
rainfall will increase over the next few days as a tropical disturbance moves through the nation

Locally
heavy rain is expected and most of the moisture will be welcome for crops throughout the nation

Improving
rainfall in Indonesia and Malaysia is expected over the next two weeks with some heavy rain and possible flooding expected in parts of Kalimantan and Papua New Guinea
Ontario
and Quebec rainfall will occur periodically over the next ten days alternating with periods of rain and sunshine; Temperatures will be seasonable
New
Zealand rainfall will be near to above average during the coming week and temperatures will be a little cooler than usual
Southern
Oscillation Index was +9.09 today and it will stay positive this week
Source:
World Weather Inc.
USDA
weekly corn, soybean, wheat export inspections, 11am
U.S.
crop conditions report, 4pm
Vietnam
Customs data on exports of coffee, rice and rubber
Monthly
MARS bulletin on crop conditions in Europe
Heilongjiang
Soy Association holds a summit in Harbin
EU
weekly grain, oilseed import and export data
Ivory
Coast cocoa arrivals
International
Palm Oil Sustainability Conference, Sept 14-22
HOLIDAYS:
Costa Rica, Nicaragua, Venezuela
TUESDAY,
Sept. 15:
Australia's
Abares releases quarterly agricultural commodities report
Malaysia
palm oil export data for Sept. 1-15
France's
agriculture ministry to publish crop estimates
World
Agri-Tech Innovation Summit, Sept. 15-16
New
Zealand global dairy trade auction
HOLIDAYS:
El Salvador, Guatemala, Honduras, Nicaragua
WEDNESDAY,
Sept. 16:
EIA
U.S. weekly ethanol inventories, production, 10:30am
FranceAgriMer
supply and demand estimates
Future
Food-Tech conference, Sept. 17-18
HOLIDAYS:
Malaysia, Mexico
THURSDAY,
Sept. 17:
USDA
weekly crop net-export sales for corn, soybeans, wheat, cotton, pork, beef, 8:30am
USDA
total milk production for August, 3pm
Port
of Rouen data on French grain exports
Biosev
SA 1Q 2021 earnings
FRIDAY,
Sept. 18:
ICE
Futures Europe weekly commitments of traders report, 1:30pm (6:30pm London)
CFTC
commitments of traders weekly report on positions for various U.S. futures and options, 3:30pm
FranceAgriMer
weekly update on crop conditions
USDA
inspections versus Reuters trade range

Wheat
637,226 versus 450000-700000 range
Corn
878,907 versus 500000-900000 range
Soybeans
1,283,936 versus 800000-1500000 range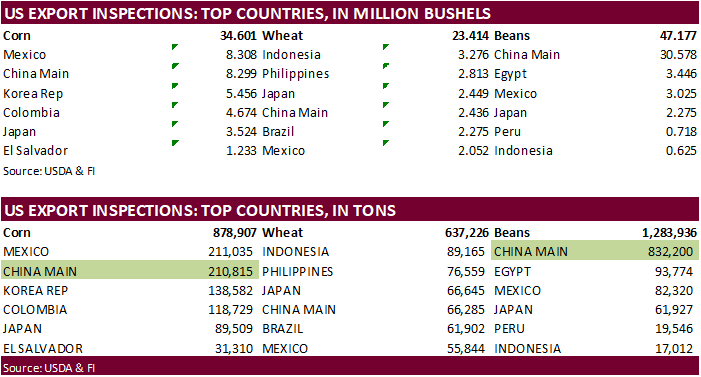 GRAINS
INSPECTED AND/OR WEIGHED FOR EXPORT
REPORTED
IN WEEK ENDING SEP 10, 2020
—
METRIC TONS —
————————————————————————-

CURRENT PREVIOUS
———–
WEEK ENDING ———- MARKET YEAR MARKET YEAR

GRAIN 09/10/2020 09/03/2020 09/12/2019 TO DATE TO DATE
BARLEY
0 1,996 49 5,727 3,036
CORN
878,907 887,889 423,129 1,150,827 895,139
FLAXSEED
0 72 0 389 48
MIXED
0 0 0 0 0
OATS
0 48 0 948 299
RYE
0 0 0 0 0
SORGHUM
72,465 144 45,857 72,561 79,399
SOYBEANS
1,283,936 1,396,077 668,496 1,849,421 1,241,963
SUNFLOWER
0 0 0 0 0
WHEAT
637,226 699,310 517,966 8,099,176 7,530,003
Total
2,872,534 2,985,536 1,655,497 11,179,049 9,749,887
CROP
MARKETING YEARS BEGIN JUNE 1 FOR WHEAT, RYE, OATS, BARLEY AND
FLAXSEED;
SEPTEMBER 1 FOR CORN, SORGHUM, SOYBEANS AND SUNFLOWER SEEDS.
INCLUDES
WATERWAY SHIPMENTS TO CANADA.
STATSCAN
CANADA 2020 STATISTIVAL PRODUCTION ESTIMATES BASED ON SATELLITE DATA