PDF Attached
includes
updated US S&D's
US
CORN – 58 PCT CONDITION GOOD/EXCELLENT VS 59 PCT WK AGO (60 PCT YR AGO) -USDA
US
SOYBEAN – 57 PCT CONDITION GOOD/EXCELLENT VS 57 PCT WK AGO (63 PCT YR AGO) -USDA
Trade
was at looking for unchanged for both corn and soybeans.
US
WINTER WHEAT – 12 PCT PLANTED VS 5 PCT WK AGO (8 PCT 5-YR AVG) -USDA (Trade was at 12)
US
CORN – 4 PCT HARVESTED (5 PCT YR) (5 PCT 5-YR AVG) -USDA (Trade was at 5)
We
booted our US corn and soybean production estimates based on October USDA yields versus trend, higher US harvested area, and steady to improved conditions from late August.

WASHINGTON,
September 13, 2021—Private exporters reported to the U.S. Department of Agriculture export sales of 132,000 metric tons of soybeans for delivery to unknown destinations during the 2021/2022 marketing year.
Many
ag future contracts rebounded well off session lows. Soybean meal and nearby soybean oil closed higher, which supported crush. Corn was on the defensive for much of the session. Wheat was mixed.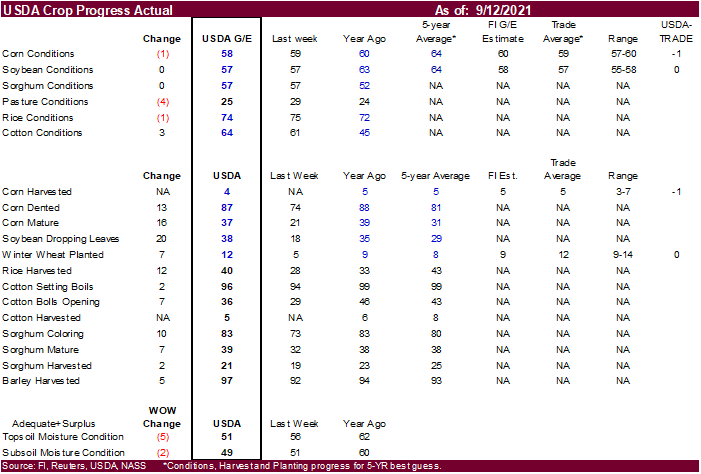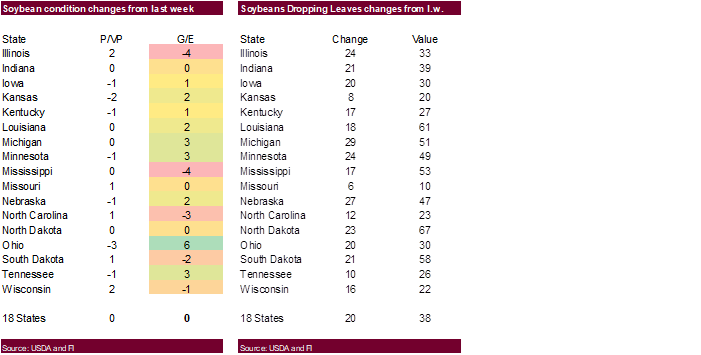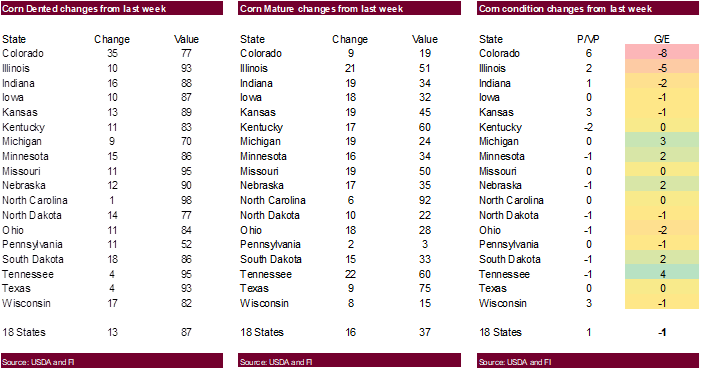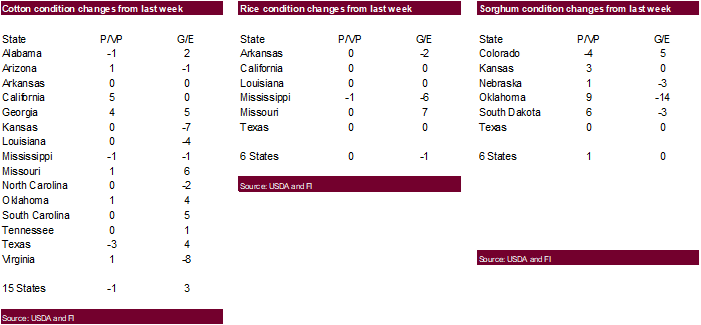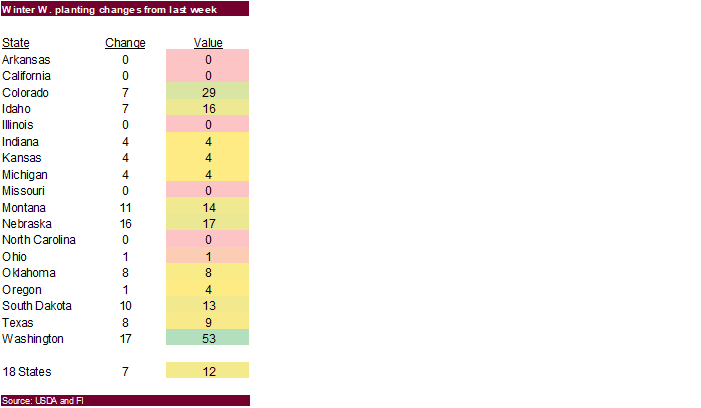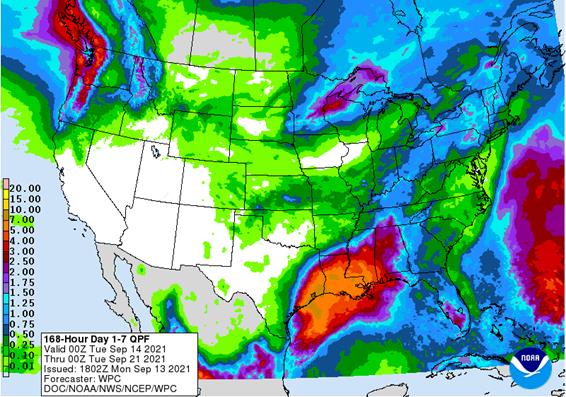 World
Weather Inc.
BIGGEST
WEATHER ANOMALIES THREATENING CROP AREAS
Shanghai
and the Hangzhou Ports will be shut down early this week because of typhoon Chanthu
Rain
is still needed in the Balkan Countries of southeastern Europe
Ukraine
the middle and lower Volga River Basin will get some needed rain this weekend into early next week and then dry again later next week…..this will leave a need for greater rain in winter crop areas
Kazakhstan
continues in need of moisture after long, dry, summer
Western
Argentina will continue in need of rain
Southern
Brazil will be wet early this week
Center
west and center south Brazil may begin to experience showers in the last ten days of this month, although resulting rainfall will be light leaving need for greater rain for spring planting
Canada's
central and southwestern Prairies and northwestern U.S. Plains as well as all of the western U.S. still need significant moisture, despite weekend showers in a part of these areas

Frost
and freezes will evolve late this week and again next week in Canada

Northern
winter crop areas in Australia (Queensland, far northern New South Wales and northern parts of Western Australia) need rain to support the best winter crop yields during reproduction that is under way

Production
will still be good, but it could be better with some needed rain

Late
season India rainfall will continue greater than usual in the northwest and central parts of the nation while the interior south stays dry biased

The
monsoon will begin to withdraw around Sep. 20.

Southeastern
and east-central China will dry down this week and then get some more rain again next week
MOST
IMPORTANT WEATHER OF THE DAY
Typhoon
Chanthu was 102 miles east southeast of Shanghai, China near 31.0 north, 123.3 east at 0900 GMT today.


The
storm was moving northerly at 19 mph and producing maximum sustained wind speeds of 86 mph


Tropical
storm force wind was occurring out 180 miles from the storm center while typhoon force wind (greater than 74mph) was occurring out 25 miles from the storm center

Typhoon
Chanthu be nearly stationary through Wednesday and then start moving to the east northeast Thursday and more rapidly in that same direction Friday and Saturday

The
typhoon will be downgraded to tropical storm status later today
The
storm will pass through southern most portions of South Korea as a tropical storm

Heavy
rain has already occurred in the lower Yangtze River Basin due to the typhoon with rainfall to nearly 6.00 inches through dawn (China time) today
Much
of the storm's greatest rainfall will stay out over water and impact some of the islands near to the Hangzhou Bay

The
storm will likely shut down much of the port activity for the next three days in the Hangzhou Bay area of China and then heavy rain and windy conditions will shift to southern South Korea and a part of western Japan during the middle to latter part of this
week

The
storm will be much weaker late this week and the impact on South Korea and Japan will be much less than that of China

Chanthu
may produce some additional rain in southeastern Jiangsu and northeastern Zhejiang, but the bulk of the storm's flooding rain should stay out to sea.


Chanthu
impacted eastern Taiwan with torrential rain, flooding and strong wind speeds during the weekend

Tropical
Storm Conson moved inland near Da Nang today (Sunday) and heavy rain fell in the area and west into southern Laos where 8.00 to 11.35 inches was common with 23.70 inches in Da Nang through dawn today


Flooding
was most serious in the Da Nang area

Tropical
Storm Nicholas will bring heavy rain to the middle and upper Texas coast and parts of Louisiana during the coming week

Rainfall
of 5.00 to 10.00 inches and local amounts to nearly 13.00 inches will be possible along the middle and upper Texas coast while 4.00 to 8.00 inches occurs in Louisiana and 1.00 to 5.00 inches in interior eastern Texas and in the U.S. Delta

Flooding
will occur, but the impact will be greatest in urban areas and not in key agricultural areas
Louisiana
flooding may impact a few rice and sugarcane areas, but long term impacts on the crop should be low

A
tropical depression or tropical storm may evolve east of the Bahamas during mid-week this week that could evolve additionally while moving toward the North Carolina coast

The
storm could impact North Carolina Thursday into Friday with some rain also occurring in Virginia

No
crop damaging rain, flooding or wind is expected

The
tropical system should turn out to sea later this week and during the weekend

Tropical
Storm Olaf dissipated west of southern Baja California, Mexico during the weekend after producing some strong wind and rain over the southern tip of the Peninsula during the early weekend.

Hurricane
Larry dissipated during the weekend after impacting Newfoundland, Canada
A
tropical disturbance off the southwest Mexico coast will move inland this week generating some significant rain in Oaxaca, Michoacán, Colima and Jalisco

Flooding
will be greatest in Michoacan and Oaxaca

Very
little crop damage will occur to citrus or coffee
Some
sugarcane and rice areas might get a little too much rain

The
storm may re-emerge over the eastern Pacific Ocean later this week before moving westerly away from the nation

A
notable trend change in ENSO conditions has been advertised in the latest NOAA CFSv2 forecast model for La Nina during the past several days

The
model has been turning more aggressive with the development of La Nina over the next couple of months
La
Nina is advertised to develop over the next few weeks with a moderately strong La Nina possible in October through January.


The
change is significant relative to that advertised earlier this month when the model was suggesting a weaker event

World
Weather, Inc. believes the model may be too aggressive with the development, but evolution toward La Nina is likely over the next few weeks.


A
notable rise in the Southern Oscillation Index began during the weekend and this may continue for a while this week as the transition to La Nina begins

Southern
Oscillation Index was at +7.61 and the index should move higher over the next weeks

U.S.
weather during the weekend was nearly ideal for summer crop maturation and harvest progress

Little
to no rain fell in the Midwest, Delta or southeastern states
Some
welcome rain fell Friday into the weekend in the Pacific Northwest and a part of the U.S. northern Great Basin

No
heavy rain resulted, but the coverage of rain was the greatest seen in months and provides a little hope that dryness will be eased later this season
Rain
totals in the Colombia River Basin was no more than 0.58 inch which was not enough for a serious change in soil moisture


Additional
rain is predicted in the Pacific Northwest during the weekend and into next week

U.S.
weather during the coming week will be well mixed with periods of rain and sunshine, but net drying is expected in the Great Plains, lower Midwest, interior southeastern states and a part of the northern most Delta

Totally
dry weather is not likely in these areas, but net drying will occur and that will be good for summer crop maturation and harvest progress for early season crops
Temperatures
will be well above average this week from the central and southern Rocky Mountain region through the central and northern Plains and Midwest to the middle and northern Atlantic Coast States

Quick
drying is expected in most of these warm areas

Cooling
is expected in the Pacific Northwest and far western Canada's Prairies

U.S.
weather next week will be warmer than usual in the Midwest, Delta and most Atlantic Coast States next week while cooling expands in the western states

A
couple of cool fronts will pass through the Midwest producing light amounts of rain, but sufficient drying time will occur to support crop maturation and some harvest progress

West
Texas rainfall will be minimal for a while favoring crop development

A
few showers may occur briefly during mid-week this week, but resulting rainfall should not be great enough to seriously change crop or field conditions
Temperatures
have been warm enough to induce better crop maturation conditions

Cooling
is expected for a while this week

U.S.
hard red winter wheat production areas will receive restricted rainfall during the next ten days supporting summer crop maturation and harvest progress

Good
wheat planting progress is expected as well
Rain
will soon be needed to support better winter wheat emergence and establishment conditions

U.S.
Pacific Northwest showers next week will help lift topsoil moisture in some areas, but a more generalized rain will still be needed
Rain
in the eastern Midwest will be a little more widespread next week, but the impact on crops should be relatively low, although some fieldwork delay is anticipated
Canada's
Prairies will continue to experience net drying this week favoring a faster than usual harvest pace across much of the region

Rain
is expected periodically in western and northern Alberta, northeastern Saskatchewan and in a few areas of Manitoba

No
heavy rain is expected and delays to farming activity should be brief

Weather
in Central America and the Greater Antilles this week will be frequent enough to maintain a relatively good environment for crops
Argentina
rainfall during the next ten days will be restricted in western parts of the nation maintaining concern about long term crop moisture in central and northern Cordoba, Santiago del Estero, western Santa Fe and parts of Chaco and western Formosa
Rain
will fall infrequent in far eastern Argentina through most of southern Brazil this week

Rain
will be greatest today through Wednesday from Rio Grande do Sul to southern Parana and southern Paraguay where 1.50 to more than 5.00 inches will result
Not
much other precipitation is expected over the coming week in center west, center south and northeastern Brazil


Dryness
is not unusual for this time of year in these areas, but pre-monsoonal showers and thunderstorms should evolve soon across portions of center west and center south Brazil late this month and during October

Initial
rainfall is expected to be lighter than usual because of developing La Nina conditions, but fieldwork should advance better than in 2020

Temperatures
in Brazil over the coming two weeks will be warmer than usual in center west and center south parts of the nation while a little closer to normal elsewhere
Argentina
temperatures during the coming week will be seasonable with a slight warmer bias this week and then a little cooler next week
South
America weekend precipitation was limited to interior southern Brazil with few areas away from the coast getting more than 0.25 inch of moisture

Temperatures
were seasonable with a slight warmer bias

Europe
and CIS precipitation during the weekend was erratic and mostly light while temperatures were seasonable resulting in a good environment for fieldwork in areas that did not receive rain
Europe
temperatures during the coming week will be warmer than usual especially in the southeast and east-central crop areas
Temperatures
will be cooler than usual in north-central parts of Russia during the coming week and a little cooler next week
Not
much precipitation will fall this week in Kazakhstan and the eastern CIS New Lands


Periodic
light precipitation will occur from the Ural Mountains westward, but the precipitation will be a little erratic leaving need for more rain in the middle and lower Volga River Basin and parts of Ukraine

Moisture
is needed in some of these winter wheat, rye and barley production areas to bolster soil moisture for planting, emergence and establishment

Week
two precipitation is advertised to be minimal in central and southwestern Russia, Ukraine and Belarus allowing autumn planting and establishment to advance favorably, although there will be some ongoing need for greater rain in the winter wheat production
areas

Europe
precipitation this week will occur from Portugal and Spain into France and Italy


A
few areas in the western Balkan Countries will also receive some welcome rain
Net
drying is expected elsewhere

North
Africa showers in the next two weeks will mostly be too light to counter evaporation
India
rainfall will continue lighter than usual in the interior southern parts of the nation for the next couple of weeks
India
rainfall will continue abundant and frequent in central through interior northern parts of the nation for the next ten days

Monsoonal
precipitation will begin to withdraw after Sep. 20 which is later than usual

The
moisture may raise some concern over the quality of open boll cotton, but rain frequency in the most mature crop areas should be low enough to minimize the impact

Rainfall
will be heavy at times in central and northwestern India; including Gujarat and parts of Madhya Pradesh as well as northeastern Maharashtra

Crop
conditions may deteriorate in some of these areas until drier weather evolves

Weekend
rainfall in India greatest in Punjab where heavy rain may have damaged early season cotton in the open boll stage