PDF Attached
USDA
released it September report update
WASDE
Briefing
https://www.usda.gov/sites/default/files/documents/september-2020-wasde-lockup-briefing.pdf
NASS
Briefing
https://www.nass.usda.gov/Newsroom/Executive_Briefings/2020/09-11-2020.pdf
Bullish
soybeans but not so much bullish corn, and bearish to neutral wheat. What sticks out to us, is that USDA lowered US 2020 production for soybeans and corn by 2.5% each, but they went different directions in adjusting 2020-21 demand for each of the commodities.
USDA attacked domestic US corn usage by shaving off 200 million bushels, but they did raise exports by 100 million, which helped explain the bull spreading in corn post report as US corn exports are expected to front loaded. On the flipside, they virtually
left soybean demand unchanged, which explains the soybean/corn spreading. Therefore, the report was more influential for soybeans than corn.

The
U.S. corn harvest was estimated at 14.900 billion bushels with a yield of 178.5 bushels per acre. Soybean production was 4.313 billion bushels with a yield of 51.9 bushels per acre. NASS lowered corn harvested acreage in Iowa by 550,000 acres. Soybean acres
were unchanged.
NASS
forecasts record-high yields in Georgia, Kentucky, Michigan, Minnesota, New York, South Carolina, South Dakota, Washington, and Wisconsin. Soybean yields were reported at a record high for Indiana, Kentucky, Minnesota, Missouri, Ohio, Pennsylvania, and Tennessee
will also be record high.
US
soybean, wheat and soybeans stocks did not deviate widely from expectations, but soybean stocks did drop in the right direction-tighter, which promoted futures buying after the report. US corn exports were up 100 (mil bu), ethanol down 100, feed down 100.
World corn production was down 8.6 MMT for 2020-21 and global stocks down 10.7MMT. There were no changes in China corn imports @ 7MMT, same as CASDE. World soybean stocks are down 1.8MMT. Brazil soybean production up 2MMT to 133MMT. Note USDA lowered their
estimates for Argentina exports for soybean oil and meal. USDA took 2020-21 world wheat production up 4.5MMT and stocks 2.6MMT, bearish in our opinion.

There
was little change in the US soybean meal balance sheet. US soybean oil supplies were lowered 215 million pounds. With no changes to US soybean oil demand, USDA lowered ending stocks accordingly, to 1.860 billion pounds from 2.075 billion previously, and
slightly above 1.845 billion pounds at the end of 2019-20. This is bullish, in our opinion, especially for those traders that benchmark 2.0 billion pounds as their indication for price direction. The reason for supply to be sharply lower for 2020-21 was
the downward revision to 2019-20 stocks after USDA boosted biodiesel by a needed 150 million pounds to 7.750 billion. Old crop exports were lowered 100 million pounds, but an upward revision of production by 135 million pounds (USDA took old crop crush higher
by 10 million bushels) partially offset the 450,000 million pounds increase in total domestic demand (food was up 300 million). See below and attached US and selected global FI snapshot.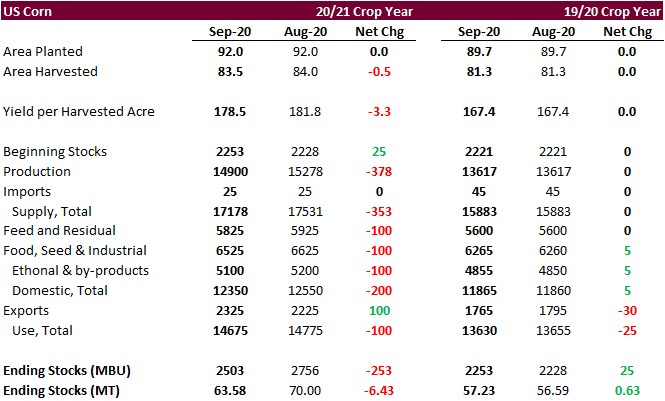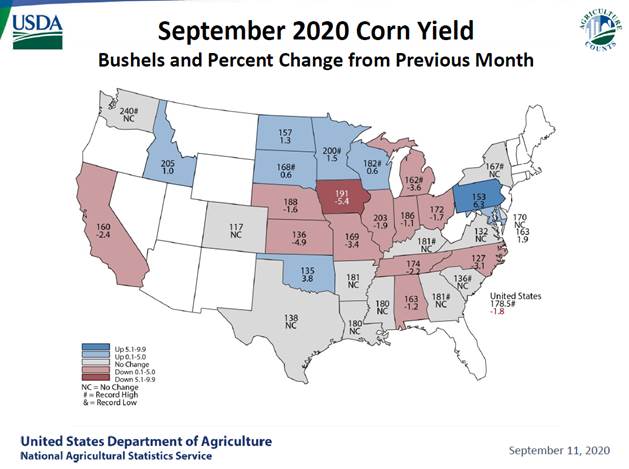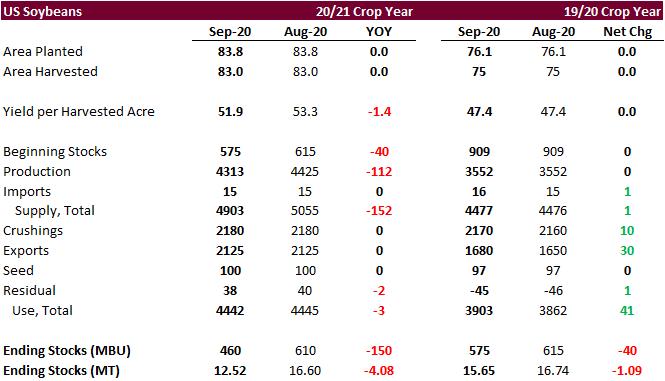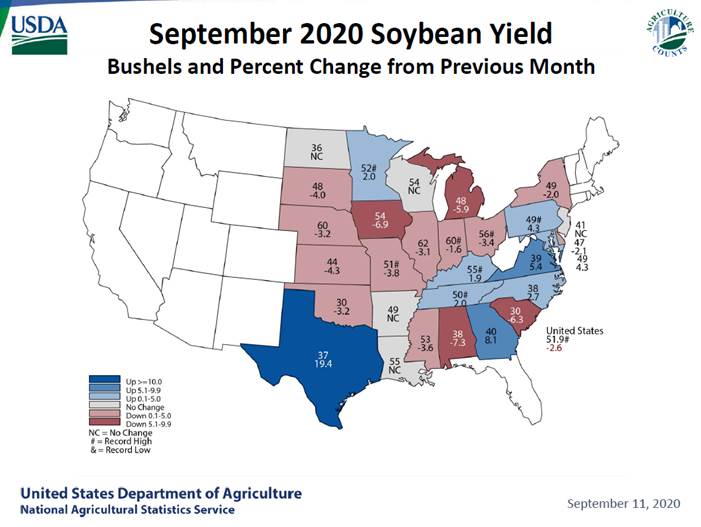 Weather
and Crop Progress

WEATHER
ISSUES FOR THE WEEKEND AND NEXT WEEK
Eastern
Australia rainfall will benefit many winter crop areas

Rain
is expected from South Australia into Queensland and New South Wales as well as Victoria during the second half of next week

The
moisture will be erratic, but still beneficial for any winter crop area impacted

Western
Australia will continue to dry out over the next ten days to two weeks raising concern over soil moisture in northern parts of the state where reproduction of wheat and barley is expected to begin soon if it has not already started

Southern
parts of Western Australia are much wetter than the north and winter crops will not be reproducing for a few more weeks


La
Nina's evolution improves confidence in potential rain for east-central and northeastern Australia this spring and summer which may lead to greater sorghum and cotton planting and much improved sugarcane production
South
Africa rainfall is expected to evolve significantly in some of its eastern wheat and barley production areas during mid-week next week which will lead to much improved soil moisture for crop development and production potential
Western
Europe is expecting some needed rain to develop during the middle to latter part of next week; this brings moisture to France, the U.K., Spain, Portugal and eventually to parts of Germany and Italy during the second week of the forecast


The
moisture will improve winter crop planting and emergence conditions later this autumn, but will slow some summer crop maturation and harvest progress in a few areas

Eastern
Europe and the western CIS will be left dry including much of the already dry region from the Balkan Countries through Ukraine to Russia's Southern Region, and western Kazakhstan

Significant
rain is needed in these areas to support winter crop planting, but the dry bias is great for summer crop maturation and harvest progress

Argentina's
drought will not change in western crop areas through the next two weeks

Argentina's
greatest rain will be in the northeastern parts of the nation during the coming week and that moisture will be good for cotton and early corn and sunseed planting

Argentina's
soil moisture is still favorable for eastern and some central winter crop development, but the far west is still much too dry for normal crop development
Brazil
rainfall over the coming week will be greatest in the far south where wheat development and early corn planting and emergence will occur favorably
Center
west and center south Brazil may experience some erratic showers beginning near September 20 and continuing into late month, but the precipitation should be quite limited in coverage and intensity initially and the environment may not be ideal for early season
soybean planting
India's
rainfall is still expected to be limited in the far north over the next ten days while it falls more abundantly and frequently in other areas of the nation; some local flooding may occur from Gujarat to Madhya Pradesh and southeast to northeastern Andhra Pradesh
and Telangana over the coming week to ten days, but no serious impact is expected on crops
Western
and southern Mexico and parts of Central America will receive heavy rainfall during the coming week resulting in at least some local flooding with areas from Durango and southern Sinaloa to Guerrero being one area of significant impact and another occurring
from Chiapas, Mexico to Honduras
West-central
Africa will see frequent rainfall over the next ten days, although there is some concern that this first week of the outlook will still generate only light amounts in Ivory Coast and Ghana

Recent
showers in these two countries have brought on some relief to dryness, but more rain is needed to support long term crop development; many areas are still considered drier than usual
The
longer-range outlook for Ivory Coast and Ghana is still wetter than usual for October and November

China
will continue to experience waves of rain and sunshine during the next week to ten days

No
area will be left too dry and many will have need for drier weather
Some
delay to summer crop maturation and harvest progress is expected to impact a part of northeastern China and in many areas from the Yangtze River Basin southward to the coast
The
best drying conditions will occur in the central Yellow River Basin

Xinjiang,
China weather is expected to be mostly good for this time of year with a limited rainfall pattern and mild to warm temperature regime supporting crop maturation and early harvest progress
Mainland
areas of Southeast Asia will experience increasing rain frequency and intensity during the next two weeks

Late
season moisture boosting is extremely important since water supply has not been fully restored from last year's low levels

Philippines
rainfall will increase over the next week to ten days bringing some welcome moisture to central and some southern areas that have been relatively dry recently
Improving
rainfall in Indonesia and Malaysia is expected over the next two weeks with some heavy rain and possible flooding expected in parts of Kalimantan and Papua New Guinea
Pakistan
rainfall will be limited over the next ten days which is normal for this time of year
Tropical
Storm Paulette will reach Bermuda late Sunday and Monday as a hurricane possibly inducing some property damage over the island

The
storm will turn to the northeast after passing near or over the island and that will take the system away from North America

Tropical
Storm Rene will remain over open water in the central Atlantic through next week and poses no threat to land
Tropical
disturbance near the southeastern coast of Florida will move across Florida early this weekend and will produce some heavy rain in the region

The
system then moves over the eastern Gulf of Mexico and there is a relatively good chance a tropical depression or tropical storm will evolve and it may bring heavy rain to northwestern Florida, southern Alabama and some neighboring areas – this system will
need to be closely monitored during the weekend and next week

Vigorous
tropical wave in the eastern Atlantic Ocean (far from land) will intensify and organize this weekend and will be moving toward the Leeward Islands next week

This
system has much potential to become a significant tropical storm or hurricane and will need to be closely monitored

Another
tropical wave coming off the west Africa coast this weekend could impact the Cabo Verde Islands as another tropical depression or tropical storm early next week
Canada's
Prairies will experience limited rainfall during the coming week and near to above average temperatures resulting in good field progress and mostly good late season crop development

Rain
will fall from central Alberta to central and interior southeastern Saskatchewan today into Sunday morning, but it will be a relatively narrow band of rain totals varying from 0.05 to 0.50 inch

Ontario
and Quebec rainfall will occur periodically over the next ten days alternating with periods of rain and sunshine; Temperatures will be seasonable
U.S.
temperatures in the next two weeks will trend warmer in the Great Plains and stay quite warm over the western states while seasonable readings occur in the east

U.S.
rainfall outlook will be mostly good for late season crops with a few exceptions

Rain
will fall frequently in the Delta through the weekend, but it may diminish early next week depending on what happens to the tropical disturbance expected in the eastern Gulf of Mexico next week
Showers
in the Great Plains and western Corn Belt and Saturday will be followed by a welcome break from recent cold and wet weather

Crop
and field conditions will improve

U.S.
hard red winter wheat area will experience good drying conditions for a while starting this weekend and lasting through much of next week
Additional
rain is expected in central, southern and eastern Texas next week, but some of that forecast will also be dependent upon the future of the tropical disturbance expected in the eastern Gulf of Mexico this weekend and early next week
Dry
weather from the interior Pacific Northwest through the northwestern Plains and southward will be good for summer crop maturation and harvest progress
Only
one significant frontal system bringing rain is expected to move across the Great Plains and Midwest during the September 19-26 period and if that verifies good crop maturation and harvest conditions will result
West
Texas weather will return to normal this weekend with dry conditions expected and temperatures rising through the 70s and into the 80s followed by lows mostly in the 50s.


New
Zealand rainfall will be near to above average during the coming week and temperatures will be a little cooler than usual
Southern
Oscillation Index was +8.75 today and it will stay positive the remainder of this week, although some weakening will continue over the next few days
Source:
World Weather Inc.
(Overnight)
China agriculture ministry's (CASDE) monthly report on supply and demand
USDA
weekly crop net-export sales for corn, soybeans, wheat, cotton, pork, beef, 8:30am
USDA's
monthly World Agricultural Supply and Demand (Wasde) report, noon
ICE
Futures Europe weekly commitments of traders report, 1:30pm (6:30pm London)
CFTC
commitments of traders weekly report on positions for various U.S. futures and options, 3:30pm
FranceAgriMer
weekly update on crop conditions
New
Zealand food prices
MONDAY,
Sept. 14:
USDA
weekly corn, soybean, wheat export inspections, 11am
U.S.
crop conditions report, 4pm
Vietnam
Customs data on exports of coffee, rice and rubber
Monthly
MARS bulletin on crop conditions in Europe
Heilongjiang
Soy Association holds a summit in Harbin
EU
weekly grain, oilseed import and export data
Ivory
Coast cocoa arrivals
International
Palm Oil Sustainability Conference, Sept 14-22
HOLIDAYS:
Costa Rica, Nicaragua, Venezuela
TUESDAY,
Sept. 15:
Australia's
Abares releases quarterly agricultural commodities report
Malaysia
palm oil export data for Sept. 1-15
France's
agriculture ministry to publish crop estimates
World
Agri-Tech Innovation Summit, Sept. 15-16
New
Zealand global dairy trade auction
HOLIDAYS:
El Salvador, Guatemala, Honduras, Nicaragua
WEDNESDAY,
Sept. 16:
EIA
U.S. weekly ethanol inventories, production, 10:30am
FranceAgriMer
supply and demand estimates
Future
Food-Tech conference, Sept. 17-18
HOLIDAYS:
Malaysia, Mexico
THURSDAY,
Sept. 17:
USDA
weekly crop net-export sales for corn, soybeans, wheat, cotton, pork, beef, 8:30am
USDA
total milk production for August, 3pm
Port
of Rouen data on French grain exports
Biosev
SA 1Q 2021 earnings
FRIDAY,
Sept. 18:
ICE
Futures Europe weekly commitments of traders report, 1:30pm (6:30pm London)
CFTC
commitments of traders weekly report on positions for various U.S. futures and options, 3:30pm
FranceAgriMer
weekly update on crop conditions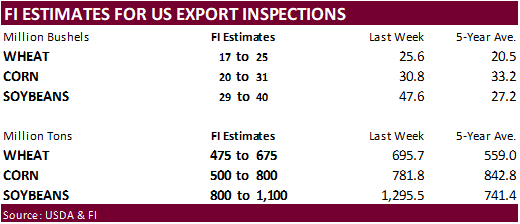 USDA
export sales.
New crop for corn and soybeans. Note soybean sales included a total of 2,538,200 MT in sales were carried over from the 2019/2020 marketing year, which ended August 31. Therefore,
soybean export sales were well below expectations. A total of 1,250,400 MT in corn sales were carried over from the 2019/2020 marketing year. Corn export sales were also ok to poor.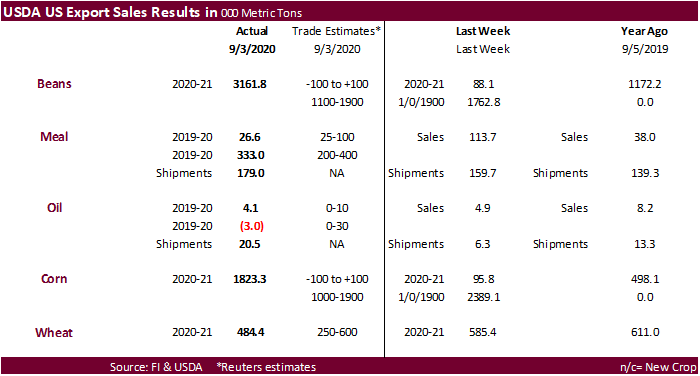 No
surprises in the traditional fund position estimates versus actual like what we saw last week in corn. Traders were again adding onto long futures and options managed money long positions in corn and soybeans, along with meal. We see no or little impact
on prices per the outcome of this report.



FUTURES + OPTS     Managed                 Swaps              Producer
                        Net        Chg        Net        Chg        Net        Chg
 Corn                33,494     14,835    177,702      3,816   -240,885    -20,037
 Soybeans           173,907     11,300    110,409     -7,983   -302,565      7,358
 Soymeal             32,119     16,249     77,338     -4,511   -154,624    -15,852
 Soyoil              85,299      3,743     91,639      1,295   -211,857     -5,847
 CBOT wheat          23,175     -9,294     94,529      5,152   -113,712         77
 KCBT wheat           8,923      5,764     46,280     -2,114    -61,160        798
 MGEX wheat          -4,921      5,131      2,239         82      1,307     -4,099
                 ---------- ---------- ---------- ---------- ---------- ----------
 Total wheat         27,177      1,601    143,048      3,120   -173,565     -3,224
FSA
USDA
https://www.fsa.usda.gov/news-room/efoia/electronic-reading-room/frequently-requested-information/crop-acreage-data/index

Sept
11 (Reuters) – Farmers participating in U.S. crop subsidy programs reported "prevented plantings" by Sept. 1 of 6.078 million acres of corn, 1.451 million acres of soybeans and 1.268 million acres of wheat and 10.072 million acres for all crops, the U.S. Department
of Agriculture said on Friday.
Producers
enrolled in subsidy programs as of Sept. 1 reported planted acreage, including failed acres, at 87.560 million acres of corn, 81.455 million acres of soybeans, 45.947 million acres of wheat and 241.718 million acres for all crops.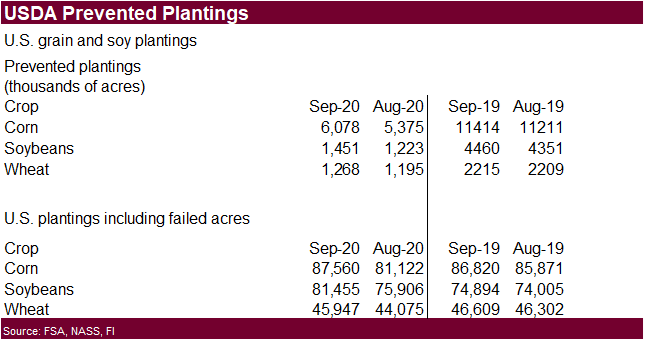 Macros
US
CPI (M/M) Aug: 0.4% (exp 0.3%; prev 0.6%)
–
CPI Ex Food And Energy (M/M) Aug: 0.4% (exp 0.2%; prev 0.6%)
–
CPI (Y/Y) Aug: 1.3% (exp 1.2%; prev 1.0%)
–
CPI Ex Food And Energy (Y/Y) Aug: 1.7% (exp 1.6%; prev 1.6%)
US
Real Average Hourly Earnings (Y/Y) Aug: 3.3% (prev 3.7%)
–
Real Average Weekly Earnings (Y/Y) Aug: 3.9% (R prev 4.2%)
Canadian
Capacity Utilisation Rate Q2: 70.3% (exp 70.7%; prev 79.8%)
US
Briefing 11/09/20: US Futures Rise Signalling Firm End To Unsteady Week; ECB Officials Highlight Risk From Strong Euro, Nuancing Message
–
Fed Seen Balking Again At Providing new Interest-Rate Guidance
–
Fed's Emergency Loan Programs Shrinking Amid Calmer Markets
–
US GOP Skinny Bill On Stimulus Aid Blocked By Senate Democrats
–
China Takes Unspecified Retaliatory Measures on US Diplomats
–
China And India Deescalate By 'Disengaging Troops' In Himalayas
–
FDA Setting Higher Bar for Emergency Covid Vaccine Clearance
–
ECB Officials Highlight Risk From Strong Euro, Nuancing Message
–
Eurozone Ministers To Open Talks On Successor To ECB's Mersch
–
Brexit Talks Fray, Growing Chances Of Chaotic UK-EU Trade Split