PDF Attached
Soybeans
were supported by higher soybean meal while other agriculture commodity markets fell on lack of bullish news.

September
7 (Monday) US holiday trading schedule in excel format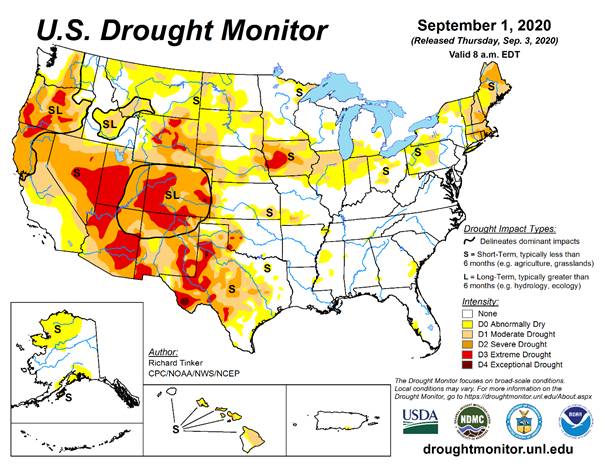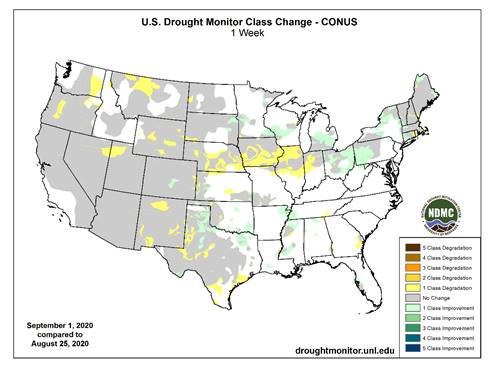 MOST
IMPORTANT WEATHER AROUND THE WORLD
Typhoon
Maysak moved across the Korean Peninsula Wednesday and early today producing damaging wind and flooding rain

Initial
reports from the region are as expected with widespread power outages, considerable property damage and a few deaths in southern South Korea
Flooding
has been the biggest issue in eastern North Korea with more than 9.00 inches falling over saturated soil in a short period of time

Rice
damage has likely occurred along with other impacts on crops in both North and South Korea

Remnants
of Maysak will bring on some flooding in northeastern China today and Friday with 2.00 to 7.00 inches of fresh rain falling over saturated soil in Jilin, Liaoning and eastern Inner Mongolia


Corn
and soybean crops are not expected to be seriously impacted, although the region is excessively wet and delays in crop maturation and harvesting are inevitable, especially with Typhoon Haishen headed into the same region for early next week

Typhoon
Haishen will become a super typhoon Friday and reach wind speeds of nearly 150 mph over open water south of the Ryukyu Islands of Japan Saturday

Haishen
was 646 miles east southeast of Okinawa, Japan at 20.9 north, 137.2 east moving northwesterly at 11 mph and producing maximum wind speeds to 109 mph
The
storm will pass to the west of Kyushu, Japan Sunday and reach southern South Korea Sunday into Monday.


The
storm may make landfall very near to the same point that Typhoon Maysak moved inland Wednesday and the path northward will be very similar impacting South and North Korea as well as northeastern China in a very similar manner

Two
storms back to back of this intensity impacting the same areas is very rare and will have a huge impact on all three countries

Both
tropical cyclones noted above will dissipate over northeastern China where 4.00 to 12.00 inches of total rain may occur by Tuesday of next week that will result in serious flooding and some new crop and property damage from Liaoning into eastern Inner Mongolia,
Jilin and Heilongjiang

Corn
and soybeans should be maturing with some harvesting of corn usually under way at this time of year

Too
much rain in recent weeks and that which is coming through early next week will further delay harvest progress and flooding could raise concern over the quality of soybeans, sugarbeets and any other crop produced in the region.


East-central
China has been and will continue to benefit from net drying conditions through much of next week
Southern
China will experience increasing rain and thunderstorm activity next week, but the precipitation will be greatest in southwestern China through the weekend
Xinjiang,
China will see a mix of weather during the next week that will support late season crop development, but some rain may raise a little concern over cotton fiber quality, but only in a few areas

Tropical
Storm Nana has moved into Belize and will produce heavy rain and flooding from there into Guatemala and southern Chiapas, Mexico

The
storm will also produce heavy rain in southern Veracruz and Oaxaca, Mexico over the next couple of days
Remnants
of the system will move into the eastern Pacific Ocean Friday
Flooding
rain will cause some landslides and may induce some crop and property damage in each of the areas noted above


Tropical
Depression Omar and was well east of the U.S. this morning and northeast of Bermuda moving east away from North America

The
storm will slowly diminish over the next two days and will pose no threat to land and be a minimal threat to shipping

Tropical
Wave coming off the Africa west-central coast today will possibly become the next tropical depression, but it will stay over open water in the Atlantic for much of the next week without threatening land
Cold
air is advertised in North America early through mid-week next week that may induce some frost and freezes

Frost
and a few some freezes will occur Monday in northern Saskatchewan and northwestern Manitoba – damage to crops is possible, but unlikely to be very serious
Frost
and light freezes Tuesday will occur in the northwestern U.S. Plains across southern and eastern parts of Saskatchewan to Manitoba, Canada

Crop
damage in the Prairies will be low except for a few corn, soybean and flax crops in Manitoba and eastern Saskatchewan where some negative impact is expected since crops are not mature
Late
season canola in eastern Canada will be less impacted
Crop
damage in the northwestern U.S. Plains should be quite low if not minimal

Frost
and light freezes Wednesday and Thursday of next week may occur from western and a few central Nebraska locations to Montana and the eastern Dakotas as well as parts of Minnesota

Most
of the lowest temperatures will be in the 30s which should limit crop damage if that is as cold as it gets; however, some upper 20s will be possible near the surface high pressure center over western Nebraska


Some
damage to immature corn and soybeans might occur in the far northwestern Corn Belt, but losses would be low and most of the impact would be on quality, but the event is nearly a week away which leaves plenty of potential for change and the situation will need
to be closely monitored

Some
soft frost will occur in southeastern Colorado and western Kansas with low temperatures in the middle and upper 30s in the Texas Panhandle during mid-week next week

Low
temperatures in west Texas will fall to the 40s after highs are in the 90s during the weekend

Some
cotton boll lock might occur, but the cold should not last long enough to be a serious threat.


Argentina's
rainfall this week did not occur in the driest wheat areas, but some improved topsoil moisture has occurred in east-central and northeastern parts of the nation


Rainfall
overnight reached over 2.00 inches near the city of Buenos Aires while rainfall of 0.05 to 0.70 inch occurred in the remaining northeast half of the province
Rainfall
elsewhere varied from 0.05 to 0.57 inch some of that occurring in Santa Fe and Entre Rios where two-day rain totals have provided a short-term bout of relief from dryness

Argentina
rain chances are improving for September 13-16, although confidence is low; the event might be generalized enough to offer greater relief from persistent dryness in parts of the west, but the event is too far out in time to have high confidence
Mexico
rainfall will be greatest in western and southeastern parts of the nation in the coming week


Some
flooding is possible, although the greatest risk of flooding will be from the remnants of Tropical Storm Nana as it moves from Belize to Chiapas, Mexico
Some
flooding rain will also fall indirectly from the tropical storm over southern Veracruz and in Oaxaca where rainfall of 4.00 to 6.00 inches and locally more than a10.00 inches may result

Dryness
remains in Queensland, Australia and that may harm winter crop reproduction in the next two weeks

Frost
and freeze damage already impacted the crop last week

Most
of Australia's rain will fall in southern most parts of the nation during the next ten days and the moisture will be good where it occurs, but drying in interior South Australia and northern parts of Western Australia is worrying some wheat and barley producers
India's
monsoon will begin to withdraw next week
Rain
in northern India over the next several days will raise more concern over open boll cotton quality, but the moisture will be good for future winter crop use
Heavy
rain Gujarat, India and Sindh, Pakistan ended earlier this week and the area is drying down favorably

The
drying trend will continue over the next week

Ivory
Coast and Ghana rainfall will slowly increase in the next two weeks, but near term rainfall will be sporadic and light
France
and parts of Germany are going to remain dry biased for the next ten days
Drought
will prevail in central and eastern Ukraine into Bulgaria and from eastern Ukraine into Russia's Southern Region and western Kazakhstan
South
Africa rainfall began to increase Wednesday and it will continue today and Friday


The
moisture will offer a little relief for the dry areas in western and central wheat and barley production areas; more rain will be needed

Brazil
weather will remain wettest from southeastern Parana into Rio Grande do Sul and Uruguay during the coming week; the moisture will be good for winter crops
Ontario
and Quebec will experience a good mix of rain and sunshine over the next two weeks; some drying will be needed thereafter to induce better crop maturation and harvest conditions
Central
America rainfall will be frequent and significant
Central
through northeastern Europe will be wettest this week with periods of rain continuing to maintain moisture abundance and a good environment for crop development, but drying is needed to mature crops
Southeast
Europe will be dry biased over the coming ten days to two weeks

Areas
from central and eastern Ukraine to central and eastern Bulgaria will see very little rainfall and temperatures will be warmer than usual

Faster
than usual crop maturation and harvest progress is expected this year as long as rainfall stays limited

Russia's
far eastern New Lands will continue to experience some brief periods of drizzle and light rain over the coming week to ten days


Most
of the precipitation will be very light, but there is some concern over unharvested small grain and sunseed quality
Dry
and warm weather is needed to induce the best maturation and harvest conditions

A
favorable mix of weather will occur over the next ten days in other western CIS locations, but net drying will continue in central and eastern Ukraine, Russia's Southern Region and western Kazakhstan

Temperatures
will be very warm to hot in this region as well

Indonesia
rainfall continues erratic

Central
and southern Sumatra has been steadily drying recently and needs significant rain

Some
showers and thunderstorms have been noted in the past day or two, but more rain is needed

Java
is also quite dry, but some of that dryness is seasonal
Rainfall
over the next ten days will continue erratic, but at least some rain will fall in each production area at one time or another
Rain
is needed most in parts of Sumatra and western Java

Philippines
weather has been trending a little drier recently and this trend may continue through the weekend and then greater rain may begin to evolve
Mainland
Southeast Asia is getting enough rain to support summer crops, but there is a growing concern over off season water supply since summer rainfall has not been as great as needed to restore those supplies

Wednesday's
rainfall was a bit too erratic and light resulting in net drying conditions

New
Zealand rainfall will be erratically distributed for a while and temperatures will be a little cooler biased
Southern
Oscillation Index was +10.72 today and it will continue positive with the recent rise slowly leveling off for a while
Source:
World Weather Inc.
Much
of the rain for the Upper Midwest will occur mid next week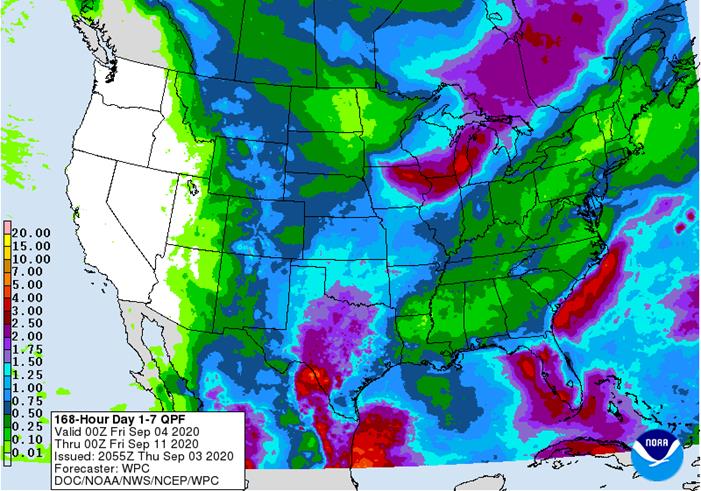 USDA
weekly crop net-export sales for corn, soybeans, wheat, cotton, pork, beef, 8:30am
FAO
World Food Price Index
Port
of Rouen data on French grain exports
New
Zealand commodity price
FRIDAY,
SEPT. 4:
ICE
Futures Europe weekly commitments of traders report, 1:30pm (6:30pm London)
CFTC
commitments of traders weekly report on positions for various U.S. futures and options, 3:30pm
CNGOIC's
monthly supply-demand report on Chinese feed grains and oilseeds
FranceAgriMer
weekly update on crop conditions
Statcan's
data on Canada wheat, barley, soy, canola and durum stocks
HOLIDAY:
Thailand
MONDAY,
Sept. 7:
China
trade data on soybean and meat imports