PDF Attached
Rumors
of China buying US soybeans sent prices higher. Corn followed while wheat traded low on lack of bullish news and less threatening weather forecast for the northern Great Plains and Canadian Prairies.

September
7 (Monday) US holiday trading schedule in excel format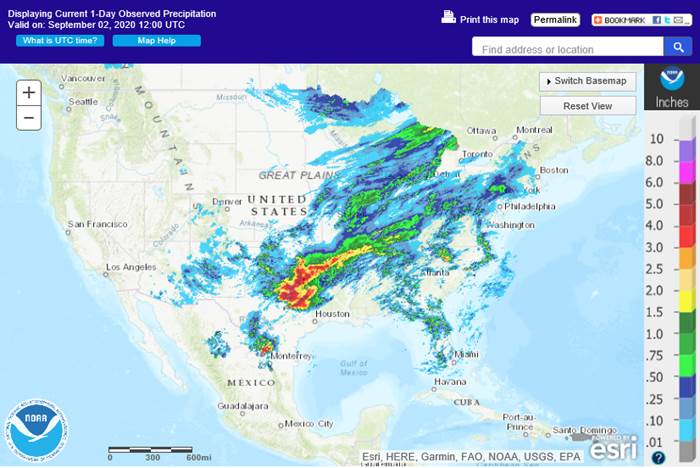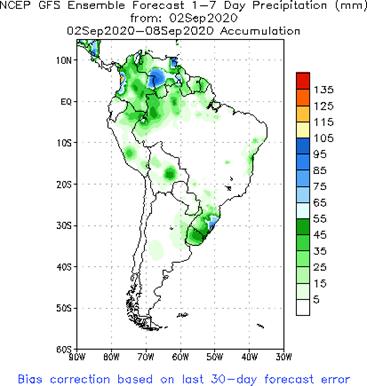 MORNING
WEATHER MODEL COMMENTS
NORTH
AMERICA
Cooling
advertised for next week was much less aggressive today relative to Tuesday's forecast model runs and the change seems to have been needed

Sunday
will bring some frost to Alberta and northwestern Saskatchewan Canada
Monday
will generate similar conditions in northeastern Saskatchewan and northern Manitoba with a few light freezes possible in the northernmost crop areas
Tuesday
will bring frost and freezes to the eastern Canada Prairies possible ending the growing season for some areas and possibly pushing some frosty conditions into the northwestern Plains
Wednesday
of next week will bring some frost potential to western Nebraska and immediate neighboring areas as well as a few areas in the eastern Dakotas into Minnesota. A few freezes cannot be ruled out for the eastern Dakotas, the northwest half of Minnesota and possibly
in a couple of western Nebraska locations, but most other temperatures will be above the damage threshold

Most
of today's models are quick in bringing back warmer air to North America late next week and into the following weekend
Rainfall
was increased from eastern Kansas through Missouri to the Michigan and southern Wisconsin early next week ahead of the mid-week cold

Some
of this increase was overdone

The
06z GFS model reduced rainfall in the central Plains for Tuesday and some reduction was needed
Rain
was also increased in western Tennessee and Kentucky for mid-week next week while some of the heavy rain suggested for northeastern Texas over the next several days was reduced


The
increase was overdone, but less rain in Texas was needed

Rain
was increased from eastern Iowa to Wisconsin during mid-week next week

The
increase was overdone

Rain
was increased in southern Alberta and central Montana Sep 12-14
Rain
from Mississippi, Alabama and Georgia to Pennsylvania and New England was shifted farther to the east Sep 12-14
Showers
were increased in the northern Plains and parts of Canada's Prairies Sep 15-16

The
increase was overdone

Rain
in the interior southeastern states was reduced Sep. 15-16
World
Weather, Inc. would not be surprised to see a second shot of cool air put back into the models for a little later next week. It seems that the cold episode ends too quickly given the environment in which it evolves from. The rainfall increase in the Midwest
early to mid-week next week may be a little overdone, although some increase in rainfall was needed relative to yesterday's forecasts. Too much moisture was returned to the northern Plains and Canada's Prairies during the second week of the outlook.

SOUTH
AMERICA
06z
GFS model run reduced rain from Cordoba and southern Santa Fe into La Pampa and Buenos Aires Sep 13-14; Rain was also reduced in Entre Rios Sep 15

This
change was badly needed as the previous model run was much too wet

Rain
was reduced in Minas Gerais, Espirito Santo and Rio de Janeiro for Sep 12-15

The
reduction was needed and the models may still be too wet for this area

Some
reduction in rainfall was suggested for far southern Brazil Sep. 15-16
Not
a lot of change was suggested during the first tend days of the outlook today relative to that of Tuesday for both Argentina and Brazil. Rain in the following five days was increased in southern Argentina and there is some potential for verification, but the
00z model run was much too wet and the 06z run was a little better. Brazil's wetter bias will remain along the coast and in far southern parts of the nation which should prove to be correct.

EUROPE
No
significant changes were noted during the coming ten days
RUSSIA
NEW LANDS
No
significant changes were noted during the coming ten days
Rain
still falls too frequently in the far eastern New Lands where some concern over spring wheat and sunseed conditions remains and where some harvest delay is likely
CHINA
Not
much change in the models today – it is all about the tropical cyclones in northeastern China

Northeastern
China will get excessive rain from Typhoon Maysak later today into Friday with flooding likely
Northeastern
China will also be impacted by Typhoon Haishen that will arrive late Sunday and continue into Tuesday bringing excessive rain and flooding once again


If
both storms impact northeastern China some crop damage will come to the region because of excessive moisture and flooding
Delays
in crop maturation and harvesting will also be a serious threat
Some
serious property damage and crop impact is possible

The
Korean Peninsula will be inundated by excessive rain, flooding and strong wind today and early Thursday and again late Saturday into Monday

South
Korea will be most impacted, but both North and South Korea will experience serious flooding and considerable crop and property damage
These
areas have been flooded frequently in recent weeks and damage to personal property and agriculture will be extensive especially in South Korea where excessive wind is also expected and notable storm surges will come to the south coast in both events (today
and Sunday)

Western
Japan will also be impacted by Typhoon Haishen with damaging wind, severe flooding and a notable storm surge resulting in serious property damage for Kyushu
East-central
and interior southeastern China will experience a favorable drying environment over the coming week to ten days

INDIA
No
changes overnight

Northern
India will be rainy through the weekend and then trend drier next week

Some
concern over cotton quality will remain in the north through the weekend and then conditions will improve

Gujarat,
western Rajasthan and central and southern Pakistan will be drying out in the coming week
Monsoonal
rains will begin drawing in the north next week while rain falls frequently in the south and east
AUSTRALIA
No
change

Rain
will continue mostly confined to the south coast and lower east coast

Some
increase in rainfall occurred in southwestern Western Australia late next week, but it was likely overdone

Queensland
drought will remain a threat to reproduction
Rain
is still needed in South Australia and northern Western Australia as well
Source:
World Weather Inc.
EIA
U.S. weekly ethanol inventories, production, 10:30am
UkrAgroConsult's
Black Sea Grain Conference in Kyiv (Sept. 2-3)
Russia's
Agriculture Ministry holds annual conference to discuss production and the industry
HOLIDAY:
Vietnam
THURSDAY,
SEPT. 3:
USDA
weekly crop net-export sales for corn, soybeans, wheat, cotton, pork, beef, 8:30am
FAO
World Food Price Index
Port
of Rouen data on French grain exports
New
Zealand commodity price
FRIDAY,
SEPT. 4:
ICE
Futures Europe weekly commitments of traders report, 1:30pm (6:30pm London)
CFTC
commitments of traders weekly report on positions for various U.S. futures and options, 3:30pm
CNGOIC's
monthly supply-demand report on Chinese feed grains and oilseeds
FranceAgriMer
weekly update on crop conditions
Statcan's
data on Canada wheat, barley, soy, canola and durum stocks
HOLIDAY:
Thailand