September
7 (Monday) US holiday trading schedule in excel format
Wheat
led the rally in all three major commodities. Soybean meal ended lower and soybean oil higher.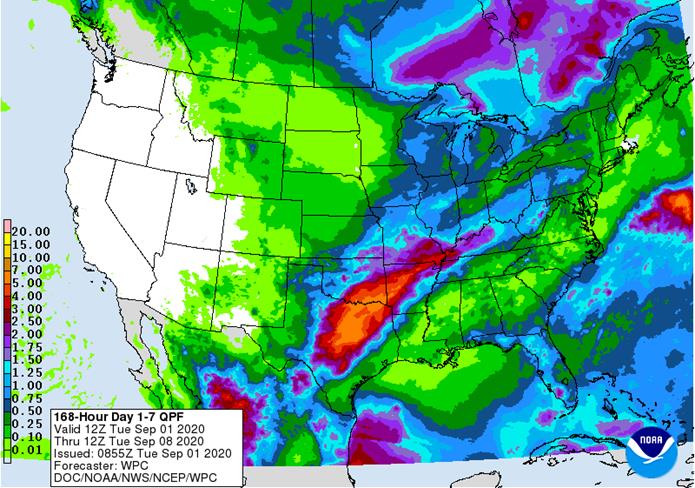 <![if !vml]>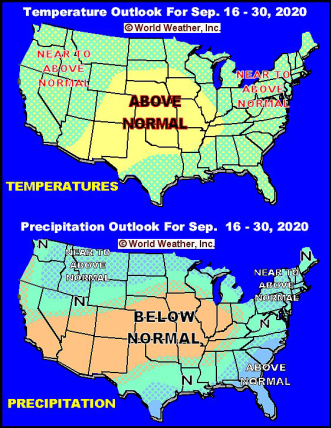 <![endif]>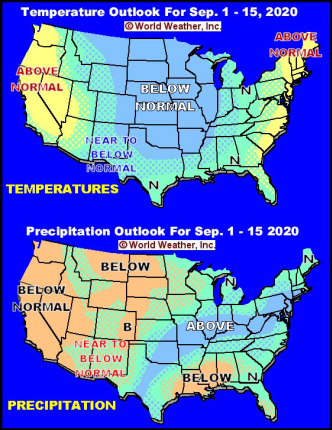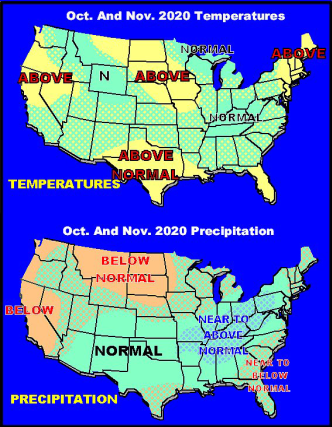 MOST
IMPORTANT WEATHER AROUND THE WORLD
Super
Typhoon Maysak will bring horrific rain and wind to South Korea Wednesday and heavy rain and flooding from North Korea into northeastern China; Wednesday into Friday will be stormiest

Tropical
Storm 11W has formed south of Japan and promises to become another very strong typhoon that may threaten western Japan late this weekend into early next week

The
remnants of this storm may also impact northeastern China

A
tropical depression may evolve this week in the Caribbean Sea and move toward Central America
Tropical
Depression Fifteen evolved off the lower east U.S. coast and was 100 miles southeast of Cape Hatteras early this morning moving east northeasterly overt the next couple of days taking the storm away from North America with very little intensification expected
Dryness
remains in portions of the western and central U.S. Corn Belt with only partial relief expected this week
Argentina's
rainfall this week will not occur in the driest wheat areas, but some improved topsoil moisture will occur in the northeastern corn and sunseed areas


Entre
Rios, Corrientes and parts of Santa Fe will be wettest over the next couple of days

Heavy
rain will diminish in northwestern Mexico over the next couple of days; Wet weather will continue in the west and south parts of the nation through the next ten days

Some
increased rainfall may occur in eastern Mexico late this week and into the weekend as the tropical wave from the Caribbean begins to influence the region

Dryness
remains in Queensland, Australia and that may harm winter crop reproduction in the next two weeks

India's
monsoon will begin to withdraw next week
Rain
in northern India over the next several days will raise more concern over open boll cotton quality, but the moisture will be good for future winter crop use
Heavy
rain Gujarat, India and Sindh, Pakistan has ended, and these areas will dry out over the next week
Ivory
Coast and Ghana rainfall will slowly increase in the next two weeks; some beneficial rain occurred in Ivory Coast coffee and cocoa areas during the weekend
France
and parts of Germany are going to remain dry biased for the next ten days
Drought
will prevail in central and eastern Ukraine into Bulgaria and from eastern Ukraine into Russia's Southern Region and western Kazakhstan
Frost
and freezes will evolve in parts of Canada's Prairies during the weekend with some frost in the northernmost U.S. Plains and uppermost Midwest near the Canada border early next week; confidence in the U.S. frost is rising with Sep. 6-8 to be coldest and a
few light freezes cannot be ruled out
South
Korea will be seriously damaged by Typhoon Maysak Wednesday with some damage in North Korea expected too
Australia's
rainfall during the next week will be mostly concentrated on the south and lower east and lower west coasts leaving interior crop areas in a drying trend
South
Africa rainfall may increase briefly this week to offer a little moisture for eastern wheat and barley production areas; more rain will be needed
Brazil
weather will remain wettest from southeastern Parana into Rio Grande do Sul and Uruguay during the coming week; the moisture will be good for winter crops
Ontario
and Quebec will experience a good mix of rain and sunshine over the next two weeks; some drying will be needed thereafter to induce better crop maturation and harvest conditions
Central
America rainfall will be frequent and significant
Central
through northeastern Europe will be wettest this week with periods of rain continuing to maintain moisture abundance and a good environment for crop development
Southeast
Europe will be dry biased over the coming ten days to two weeks

Areas
from central and eastern Ukraine to central and eastern Bulgaria will see very little rainfall and temperatures will be warmer than usual

Crop
stress will continue high in this region with a further decline in summer crop yields and quality


Faster
than usual crop maturation and harvest progress is expected this year as long as rainfall stays limited

Russia's
northeastern New Lands will continue to experience some brief periods of drizzle and light rain over the coming week to ten days


Most
of the precipitation will be very light, but there is some concern over unharvested small grain and sunseed quality
Dry
and warm weather is needed to induce the best maturation and harvest conditions

A
favorable mix of weather will occur over the next ten days in other western CIS locations, but net drying will continue in central and eastern Ukraine, Russia's Southern Region and western Kazakhstan

Temperatures
will be very warm to hot in this region as well

Tropical
Wave in eastern tropical Atlantic Ocean will likely move to the central Atlantic without a threat to land.

Interior
east-central China will experience net drying this week and weekend while showers and thunderstorms slowly return to the southern provinces where some locally heavy rain is possible
Xinjiang
China will continue to experience alternating periods of mild and warm weather with a few showers northeast


Warm
and dry weather is desirable to help speed cotton and other crops toward maturity after a slightly cooler than usual summer

Freezing
temperatures in southeastern eastern Australia this morning had no lasting impact on crops
Indonesia
rainfall continues erratic

Central
and southern Sumatra has been steadily drying recently and needs significant rain
Java
is also quite dry, but some of that dryness is seasonal
Rainfall
over the next ten days will continue erratic, but at least some rain will fall in each production area at one time or another
Rain
is needed most in parts of Sumatra and western Java

Southern
Oscillation Index was +9.74 today and it will continue positive with the recent rise slowly leveling off for a while
Source:
World Weather Inc.
TUESDAY,
SEPT. 1:
Australia
commodity index
U.S.
Purdue agriculture sentiment
USDA
soybean crush, 3pm
U.S.
corn for ethanol, DDGS production, 3pm
FO
Licht's virtual Sugar and Ethanol Conference, Sao Paulo (Sept. 1-3)
Cotton
outlook update by International Cotton Advisory Committee in Washington
New
Zealand global dairy trade auction
Honduras,
Costa Rica coffee exports
Malaysia
palm oil export data for August 1-31
WEDNESDAY,
SEPT. 2:
EIA
U.S. weekly ethanol inventories, production, 10:30am
UkrAgroConsult's
Black Sea Grain Conference in Kyiv (Sept. 2-3)
Russia's
Agriculture Ministry holds annual conference to discuss production and the industry
HOLIDAY:
Vietnam
THURSDAY,
SEPT. 3:
USDA
weekly crop net-export sales for corn, soybeans, wheat, cotton, pork, beef, 8:30am
FAO
World Food Price Index
Port
of Rouen data on French grain exports
New
Zealand commodity price
FRIDAY,
SEPT. 4:
ICE
Futures Europe weekly commitments of traders report, 1:30pm (6:30pm London)
CFTC
commitments of traders weekly report on positions for various U.S. futures and options, 3:30pm
CNGOIC's
monthly supply-demand report on Chinese feed grains and oilseeds
FranceAgriMer
weekly update on crop conditions
Statcan's
data on Canada wheat, barley, soy, canola and durum stocks
HOLIDAY:
Thailand
Source:
Bloomberg and FI
Brent
Crude Oil Seen Averaging $42.75/Barrel In 2020 (Versus $41.50 In July Poll) – RTRS Poll
US
Crude Oil Seen Averaging $38.82/Barrel In 2020 (Versus $37.51 In July Poll)
December
corn futures finished 0.25 cent higher at $3.58/bu. Earlier December
corn futures hit a one-week low from a less than expected drop in US crop ratings. The two-sided trade was in part to a lower USDA and higher wheat. Overbought conditions limited gains and the December failed to test its 200-day moving average as it did
yesterday, a bearish indicator for the short term, in our opinion. The December corn and November soybean spread sits at 2.67, highest since in more than a week. We think if the trade fails to extend short covering (managed money now about 47,000 net short),
and extend long positions in soybeans, the SX/CZ could widen back to 2.70-2.75 area sometime in September.

Funds
bought an estimate net 1,000 corn.
APK-Inform
estimated Ukraine's corn crop could fall 8 percent to 35.1 million tons. Exports are seen at 28.5MMT, down 3 percent from 2019-20.

Brazil
failed to renew their zero-tariff ethanol import quota that will be a blow to US ethanol exporters. It will revert to 20% starting today. Later in the day a Reuters story noted they are relooking into temporary quota for tariff-free ethanol imports.

Brazil
exported 6.48 million tons of corn during the month of August, up from 7.3 million tons a year ago.

Indonesia
plans to cull 4.4 million chickens by September 13 to support depressed egg prices.

A
Bloomberg poll looks for weekly US ethanol production to be unchanged at 931,000 barrels (918-945 range) from the previous week and stocks to increase 239,000 barrels to 20.648 million.
USDA
NASS reported the July corn for ethanol grind at 424 million bushels, well above a Bloomberg trade guess of 408 million bushels, higher than 379 million for June and 451 million during July 2019.


Corn
Export Developments
Under
the 24-hour reporting system, private exporters sold 596,000 tons of corn to China, identical to yesterday's announcement.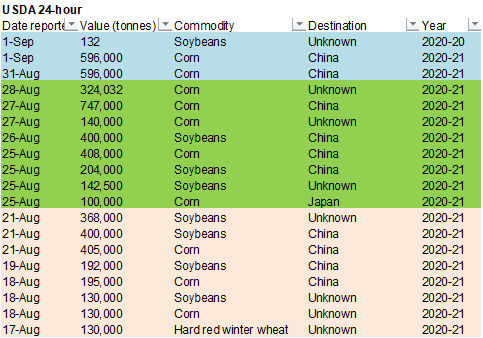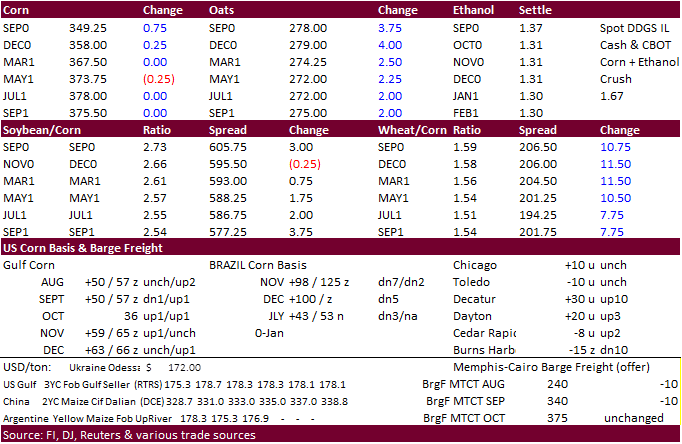 December
is seen in a $3.40-$3.85 range.
Brazil
exported 6.2 million tons of soybeans during the month of August, up from 5 million tons a year ago.

Brazil's
2020-21 soybean crop is seen unchanged by StoneX from their previous estimate at 132.6 million tons with a planted area of 38 million tons.

Anec
estimated 2020 Brazil soybean exports at 82 million tons and corn between 31 and 33 million tons.

Manitoba,
Canada, was only 7 percent harvested for canola compared to 47 percent for the 3-year average. Dry bean and canola desiccation or swathing is occurring in much of the Eastern, Central and Southwest regions, according to a weekly AgMin report.

Ukraine's
deputy minister projected sunflower production down 8.5 percent to 14 million tons from 15.3 million in 2019.
APK-Inform
reported earlier that Ukrainian sunflower oil export prices appreciated by $15-$25 per ton over the past week. Ukraine started harvesting sunflowers around mid-August.

An
increase in rain forecast for later this week for the WCB will be too late to boost crop conditions.

U.S.
Delta will receive additional rain this week keeping producers out of the fields while drier weather will occur in the Midwest and Delta late this week.

AmSpec
reported August palm exports fell 15.1 percent from the previous month to 1.476MMT from 1.740MMT. ITS reported a 13.1 percent decline to 1.491 million tons.

Indonesia's
2020 palm production was seen at 46.02 million tons, a sharp decline from 47.11MMT in 2019. Exports were projected to fall 18 percent from 2019, according to GAPKI.

After
a one-day holiday, Malaysian palm oil traded higher and was near a 7-monthg high.

USDA
Nass reported the July crush at 184.5 million bushels, 1.5 million above a Reuters trade guess and above 179.4 million above July 2019. End of July soybean oil stocks came in at 2.124 billion pounds, 7 million below an average trade guess, below 2.271 billion
from previous month and above 2.040 billion year earlier. The soybean oil yield was 11.50 pounds per bushel, up from 11.48 for June.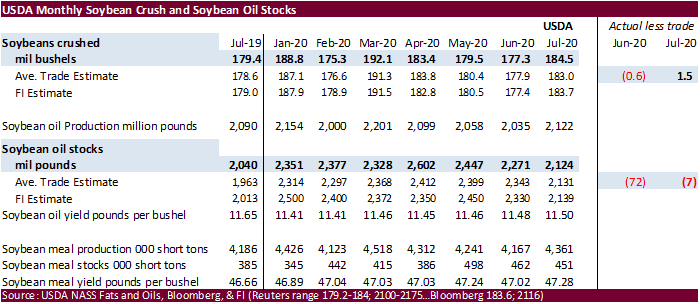 Oilseeds
Export Developments
Under
the 24-hour reporting system, private exporters sold 132,000 tons of soybeans to unknown.

Results
awaited: Algeria seeks 30,000 tons of soybean meal for shipment by September 25, optional origin.

Egypt's
GASC seeks local soybean and sunflower oil on September 3 for November 1-25 delivery.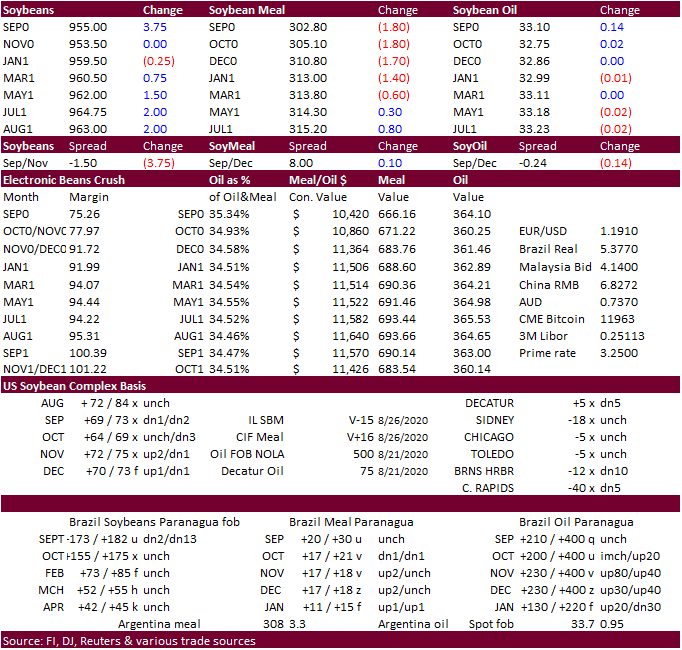 November
soybeans are seen in a $9.25-$10.00 range.
December
soybean meal is seen in a $290-$325 range.
December
soybean oil is seen in a 32.50-35.00 range.
South
Korea MFG passed
on
70,000 tons of feed wheat for late Dec and/or early Jan shipment. Lowest
offer was believed to be $249.80 a ton c&f.
Japan
seeks 106,937 tons of food wheat later this week for arrival by December 31.


Results
awaited: Syria
looks to sell and export 100,000 tons of feed barley with offers by Sep 1.




Algeria
seeks wheat on Sep 2 for October shipment.
Jordan
issued another import tender for 120,0,00 tons of wheat set to close Sep 2.




Syria
seeks 200,000 tons of soft wheat from EU/Russia on Sept. 9 and 200,000 tons of wheat from Russia on Sept. 14.
<![if !supportLists]>·
<![endif]>South Korea bought 60,556 tons of rice for Dec 31-Feb 28 delivery from Vietnam and India.

<![if !supportLists]>·
<![endif]>US rice traded higher on US crop concerns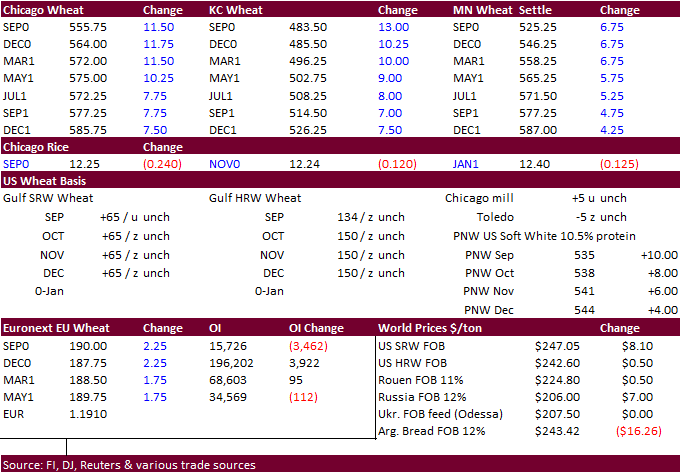 Updated
8/31/20
December
Chicago is seen in a $5.30-$5.75 range.
December
KC $4.50-$5.60.
December
MN $5.25-$5.70.
Terry Reilly
Senior Commodity Analyst – Grain and Oilseeds
Futures International │190 S LaSalle St., Suite 410│Chicago, IL 60603
W: 312.604.1366
AIM: fi_treilly
ICE IM:
treilly1
Skype: fi.treilly

Trading of futures, options, swaps and other derivatives is risky and is not suitable for all persons. All of these investment products are leveraged, and you can lose more than your initial deposit. Each investment product is offered
only to and from jurisdictions where solicitation and sale are lawful, and in accordance with applicable laws and regulations in such jurisdiction. The information provided here should not be relied upon as a substitute for independent research before making
your investment decisions. Futures International, LLC is merely providing this information for your general information and the information does not take into account any particular individual's investment objectives, financial situation, or needs. All investors
should obtain advice based on their unique situation before making any investment decision. The contents of this communication and any attachments are for informational purposes only and under no circumstances should they be construed as an offer to buy or
sell, or a solicitation to buy or sell any future, option, swap or other derivative. The sources for the information and any opinions in this communication are believed to be reliable, but Futures International, LLC does not warrant or guarantee the accuracy
of such information or opinions. Futures International, LLC and its principals and employees may take positions different from any positions described in this communication. Past results are not necessarily indicative of future results.