PDF Attached
US
export developments slowed late this week but heavy producer selling never slowed. Today was position day. USD was under major pressure.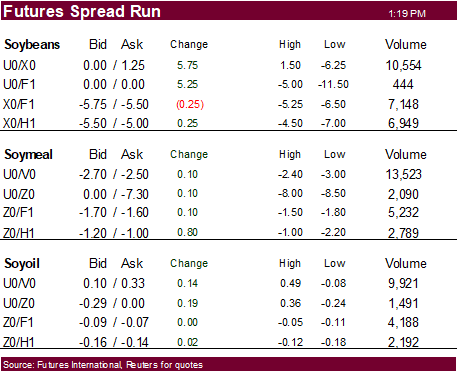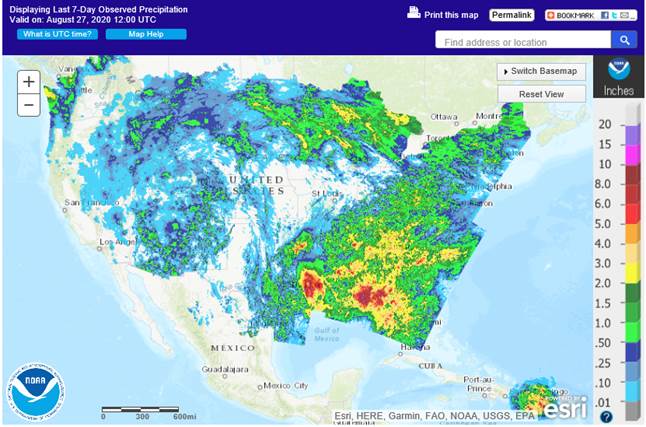 MARKET
WEATHER MENTALITY FOR CORN AND SOYBEANS:
A
poor rain distribution in the western Corn Belt will maintain downward pressure on soybean yield potentials. Showers in other parts of the Midwest may offer at least some temporary relief, but a general soaking is unlikely for a while. Cooler temperatures
will be extremely helpful in slowing the decline in crop conditions, but without significant rain the decline in yield will continue for the driest areas.

Southern
Canada's Prairies and the northwestern U.S. Plains will likely continue drier biased stressing some late season coarse grain and oilseed crops, but right now crop maturation is the priority and dry conditions are best for that. Ontario and Quebec corn and
soybeans are in good condition as they are in parts of the eastern Dakotas and western Minnesota.

Not
much change was noted for Europe during the weekend or for the coming ten days, but dryness will prevail in central and eastern Ukraine, the lower Danube River Basin and Russia's Southern Region. Improving weather will occur in Russia's New Lands protecting
some of the sunseed crop.
China
weather will trend drier in some east-central areas and that will be a welcome change. Typhoon Bavi brought significant rain to Northeast China Wednesday and Thursday. Northeastern China needs to dry down and should do so for a while, but another tropical
cyclone may impact the region late next week raising more concern over excessive moisture.

India's
excessive rain in northwestern peanut, sorghum and soybean production areas earlier this week may have damaged some crops, but the losses should be low. Weather conditions are now improving. Another wave of less intensive rain will impact the same areas this
weekend and Monday returning some flood conditions, but improved weather is expected thereafter.

Australia
is drying out in the west where canola will soon need some moisture. Canola elsewhere in the nation remains favorably rated.

Brazil
corn planting and replanting conditions will be very good over the next ten days as dry weather prevails. Argentina rainfall in the northeast next week may improve some pre-planting soil moisture for corn and sunseed, but much more rain is needed throughout
the nation.
Harvest
weather in Europe will be good in the dry areas and slow in other areas. Dryness in eastern Ukraine, eastern Bulgaria, Romania and Russia's Southern Region has reduced production for this year.

Overall,
weather today will likely continue to provide bullish bias, but its influence will begin to soften with the onset of cooler temperatures, but rain is still needed and crops will remain stressed until significant rain falls.
MARKET
WEATHER MENTALITY FOR WHEAT
Dry
weather in Canada's southern Prairies and the northern U.S. Plains has helped small grain harvesting advance swiftly. Good harvest weather is also occurring in parts of Europe, but there will be some rain induced disruption for some areas in the coming week.

Eastern
Russia's New Lands are drying down to support better grain maturation and harvest conditions. Rain has been a little too frequent in recent weeks raising concern over crop quality. The trend change is welcome.

Australia's
winter crops are still poised to perform well this spring during reproduction, but Queensland needs rain immediately to maintain that outlook. Western Australia is also drying out and will need some timely rain soon. Recent frost and freezes may have negatively
impacted some of the Queensland crop and the combination of the freezes and dryness the state may not yield very well.

Eastern
South Africa needs some rain and that which is coming over the next couple of weeks may offer a little relief.

Argentina's
rain this week was good for Buenos Aires and Entre Rios crops, but it failed to change drought conditions farther to the west and north leaving production potentials low.

Greater
rain may be needed in U.S. hard red winter wheat areas soon to support early planting in unirrigated areas.

Overall,
weather today will provide a mixed influence on market mentality.
Source:
World Weather Inc.
USDA
weekly corn, soybean, wheat export inspections, 11am
U.S.
crop conditions for soybeans, corn, cotton; wheat harvesting progress, 4pm
Statcan
data for Canada wheat, barley, soy, canola and durum production
EU
weekly grain, oilseed import and export data
Ivory
Coast cocoa arrivals
Holiday:
U.K., Malaysia
TUESDAY,
SEPT. 1:
Australia
commodity index
U.S.
Purdue agriculture sentiment
USDA
soybean crush, 3pm
U.S.
corn for ethanol, DDGS production, 3pm
FO
Licht's virtual Sugar and Ethanol Conference, Sao Paulo (Sept. 1-3)
Cotton
outlook update by International Cotton Advisory Committee in Washington
New
Zealand global dairy trade auction
Honduras,
Costa Rica coffee exports
Malaysia
palm oil export data for August 1-31
WEDNESDAY,
SEPT. 2:
EIA
U.S. weekly ethanol inventories, production, 10:30am
UkrAgroConsult's
Black Sea Grain Conference in Kyiv (Sept. 2-3)
Russia's
Agriculture Ministry holds annual conference to discuss production and the industry
HOLIDAY:
Vietnam
THURSDAY,
SEPT. 3:
USDA
weekly crop net-export sales for corn, soybeans, wheat, cotton, pork, beef, 8:30am
FAO
World Food Price Index
Port
of Rouen data on French grain exports
New
Zealand commodity price
FRIDAY,
SEPT. 4:
ICE
Futures Europe weekly commitments of traders report, 1:30pm (6:30pm London)
CFTC
commitments of traders weekly report on positions for various U.S. futures and options, 3:30pm
CNGOIC's
monthly supply-demand report on Chinese feed grains and oilseeds
FranceAgriMer
weekly update on crop conditions
Statcan's
data on Canada wheat, barley, soy, canola and durum stocks
HOLIDAY:
Thailand
Source:
Bloomberg and FI
Reuters
estimates for StatsCan production, due out Monday

Average estimate Lowest estimate Highest estimate Statscan 2019


(mln tonnes)
All
wheat 35.0 30.4 38.4 32.3478
Durum
6.5 5.6 7.2 4.977
Canola
20.0 19.2 21.0 18.6488
Oats
4.8 4.3 5.4 4.2373
Barley
10.3 9.0 11.1 10.3826
Corn
14.3 13.8 15.1 13.4039
Soybeans
6.1 5.9 6.5 6.0451
Lentils
2.7 2.3 3.1 2.1669
Flax
0.550 0.500 0.600 0.4861
Peas
4.6 4.3 4.9 4.2365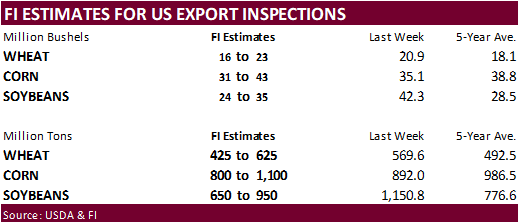 Traditional
funds were about 15,000 contracts more long than expected in down, during a week of massive short covering. Note corn OI fell 206,000 contracts for futures and options combined.





Full
list via Reuters:
FUTURES
+ OPTS Managed Swaps Producer

Net Chg Net Chg Net Chg
Corn
-61,489 49,010 172,109 -2,896 -163,435 -53,942
Soybeans
109,288 2,230 126,177 -7,722 -265,542 -7,622
Soymeal
3,560 -7,419 82,441 -1,756 -123,573 6,750
Soyoil
67,690 10,164 93,308 1,586 -184,408 -14,953
CBOT
wheat 1,517 13,990 97,279 2,933 -93,293 -13,603
KCBT
wheat -21,116 5,889 50,377 2,931 -39,234 -13,489
MGEX
wheat -17,316 4,012 2,069 -139 10,227 -4,091

———- ———- ———- ———- ———- ———-
Total
wheat -36,915 23,891 149,725 5,725 -122,300 -31,183
Live
cattle 62,102 4,335 84,284 200 -150,489 -2,875
Feeder
cattle 7,176 -530 4,876 134 -5,879 842
Lean
hogs 27,202 7,275 48,010 1,390 -77,306 -8,390

US
Personal Income Jul: 0.4% (est -0.3%; prevR -1.0%; prevR -1.1%)
US
Personal Spending Jul: 1.9% (est 1.6%; prevR 6.2%; prev 5.6%)
US
Real Personal Spending Jul: 1.6% (est 1.3%; prevR 5.7%; prev 5.2%)
US
Wholesale Inventories (M/M) Jul P: -0.1% (est -0.9%; prevR -1.3%; prev -1.4%)
US
Retail Inventories (M/M) Jul: 1.2% (est -1.1%; prevR -2.7%; prev -2.6%)
US
Advance Goods Trade Balance Jul: -79.3B (est -72B; prevR -71B)
US
PCE Core Deflator (Y/Y) Jul: 1.3% (est 1.2%; prevR1.1%; prev 0.9%)
US
PCE Core Deflator (M/M) Jul: 0.3% (est 0.5%; prevR 0.3%; prev 0.2%)
US
PCE Deflator (M/M) Jul: 0.3% (est 0.4%; prevR 0.5%; prev 0.4%)
US
PCE Deflator (Y/Y) Jul: 1.0% (est 1.0%; prevR 0.9%; prev 0.8%)
Canadian
Quarterly GDP Annualized Q2: -38.7% (est -39.6%; prev -8.2%)
Canadian
GDP (M/M) Jun: 6.5% (est 5.8%; prevR 4.8%; prevR 4.5%)
Canadian
GDP (Y/Y) Jun: -7.8% (est -9.0%; prev -13.8%)
Corn
Export Developments
Under
the 24-hour USDA reporting system, US exporters sold 324,032 tons of corn to unknown for 2020-21.


December
is seen in a $3.40-$3.85 range.
CBOT
November soybeans ended 13.25 cents higher at $9.5050, same price as September, on Chinese buying of US soybeans and US crop concerns along with persistent dryness in Argentina ahead of seeding season that starts in a couple weeks. Iowa is seeing their worst
drought since 2013, according to the local AgMin. 61% of the state is in a moderate to exceptional drought, up from 45% a week ago. November soybeans high their highest level since January 23.

Funds
bought an estimated net 13,000 soybean contracts, 5,000 soymeal, and sold 3,000 soybean oil.
Offshore
values indicated values for SBO was well overvalued relative to meal this week, and today major profit taking commenced, despite a late week rally in Asian palm oil and Black Sea sunflower oil. CBOT October soybean meal finished up $6.40/short ton and October
soybean oil ended down 21 cents. Soon to be expiring September soybean oil finished up 8 points.

Sunflower
oil Black Sea cash prices were up around 8 percent this week. Malaysian palm futures gained 2.2% this week, ending two straight weekly losses.

The
Sep/Oct soybean oil spread traded all the out to 49 inverse from a short squeeze, prompting us to lower our delivery estimate to 500-1500 contracts from 1500-2500 previous. The trade may not see any soybean deliveries. Soybean meal is expected to fall in
a 150-300 range.
There
was talk China will need to fulfill a large portion of their January soybean coverage. We speculate China might be holding out on January coverage to see if Brazil soybean plantings start early this year. Brazil's weather has been good recently that could
provide early plantings, in my opinion. We think China is less than 15 percent covered for January. We heard earlier Chinese coverage for October was complete, November 65-70% covered, and December 50%.

China
cash crush margins as of this morning, using our calculation, were 90 cents per bushel (91 previous) and compares to 116 cents a week ago and 85 cents around this time last year.

Results
awaited: China's Sinograin will offer 98,831 tons of domestic soybeans on August 28. China's Sinograin sold 51% of the 98,807 tons of soybeans offered at auction earlier this week.

Argentina
grain inspectors will delay a strike set to start today after the government stepped in.

Results
awaited: Algeria seeks 30,000 tons of soybean meal for shipment by September 25, optional origin.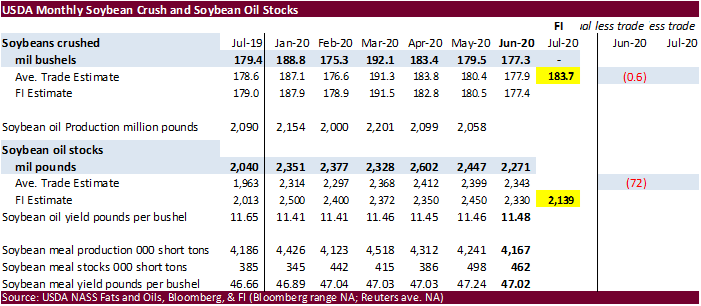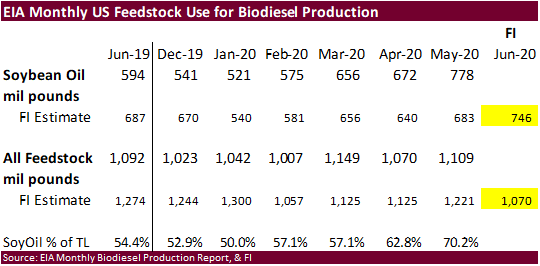 November
soybeans are seen in a $9.25-$10.00 range.
December
soybean meal is seen in a $290-$325 range.
December
soybean oil is seen in a 32.50-35.00 range.