PDF Attached
Wheat
rallied late, pairing much of the losses in corn Soybeans, meal and oil ended lower. No USDA 24-hour sales were posted today. Weather models are showing a good warmup for the US Midwest late this weekend into early next week, with precipitation limited
over the next week. China
sold just over 4 million tons of corn from reserves at an average price of 1,959 yuan per ton. Japan bought 117,063 tons of food wheat.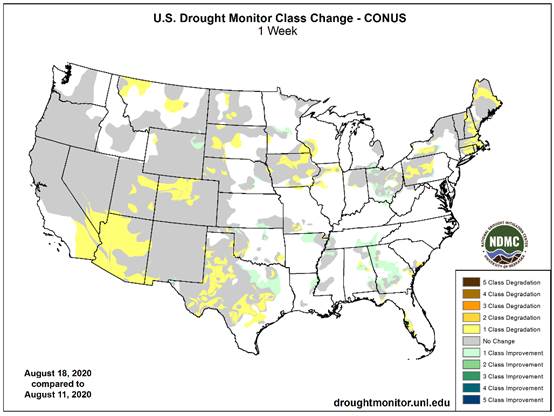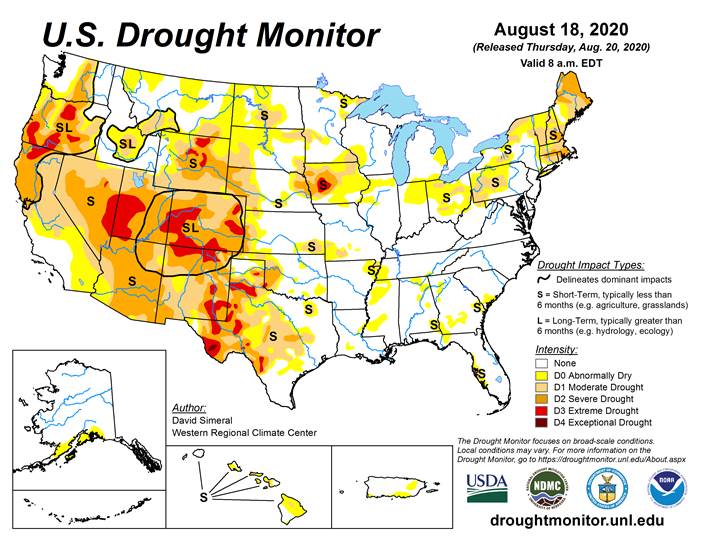 KEY
WEATHER ISSUES OF THE DAY
Tropical
Depression 13 has formed in the Atlantic and will pass to the northeast of the Greater Antilles this weekend

The
most favored path for the storm is for it to move to the west of the Florida Peninsula until it gets close to the Panhandle and then a turn to the northeast is possible

Wednesday's
mid-day and evening model runs tried to shift the high pressure ridge off the Florida east coast to the west or intensify it to shift the storm farther to the west, but this solution does not look as viable today and a return to the old philosophy has returned
taking the storm inland through northwestern Florida and then across Georgia to the Carolinas
Landfall
in northwestern Florida may occur during mid-week next week, but the storm may be large enough in size that western Florida could be impacted with heavy rain and breezy conditions as it moves northward off the west coast
The
greatest wind and flooding rain will occur along the upper west coast of Florida's peninsula and in the eastern half of the Panhandle
Citrus
would not be seriously harmed if this path verifies, but some models are trying to bring the storm over the heart of the peninsula and some caution is advised
Cotton,
corn, peanuts and soybeans from northern Florida and southern Georgia to the Carolinas might be impacted by some heavy rain and flooding, but not much excessive wind is expected based on the latest forecast data and the storm would probably have a low impact
other than flooding
There
is still considerable time for change in this outlook

Tropical
Wave in central Caribbean Sea is still expected to become a tropical depression prior to moving across the Yucatan Peninsula Saturday.


The
storm may break up as it moves across the Yucatan Peninsula and it will try to reorganize as it moves over the western Gulf of Mexico
The
storm is most likely to impact the Texas coast early to mid-week next week and probably the lower or central coast, although confidence is still very low
Heavy
rain and some windy conditions will accompany the storm, but its impact on agriculture will be low other than delaying some harvest activity

Hurricane
Genevieve has brushed the southern Baja California, Mexico coast this morning producing tropical storm force wind and heavy rain over a part of the peninsula resulting in some minor damage to crops and structures

The
storm has weakened to a category one hurricane and its most significant wind speeds remain just offshore at 80 mph.
Genevieve
will move away from North America over the next few days and will likely dissipate over open water in the eastern Pacific Ocean late this weekend

An
impressive cold surge will impact southeastern Australia over the next few days bringing snow to the mountains and freezes to crop areas of Victoria and southern New South Wales

Some
frost and a few freezes may impact northern New South Wales and southern Queensland where winter wheat and barley may experience some threatening conditions

Most
of the winter crops in this region are in the joint to boot stage with some heading in Queensland
Crops
should handle temperatures to 28 degrees Fahrenheit (-2C) in northern New South Wales and to 30F (-1C) in Queensland
World
Weather, Inc. does not believe there will be much, if any, permanent damage to crops

Australia
rainfall in the coming week to ten days will be limited to southernmost parts of the nation with Victoria wettest


Dryness
remains a concern for Queensland and South Australia with some wheat and barley reproduction expected early next month in southern Queensland making rain very important


Argentina
temperatures were quite cold this morning with many 20- and 30-degree Fahrenheit lows

Portions
of the drought-stricken Cordoba reported lows to 12 degrees Fahrenheit in the far west of the province while readings in the upper teens and 20s occurred elsewhere in the province

The
drought helped these temperatures get colder than usual
No
permanent crop damage was suspected, although vegetative development was burned by the freeze
Some
of Cordoba's crop might not have been planted and much of it may not have emerged or established well because of drought

Argentina
still has a good chance for rain during the middle part of next week

The
rain will offer relief from persistent dryness and should translate into improved winter crop conditions for Buenos Aires, southeastern Santa Fe and Entre Rios
Some
relief from dryness is expected in Cordoba and the remainder of Santa Fe, but much more rain will have to occur before the drought can end and before concern over winter crop development will stop
Concern
over spring planting moisture for early corn and sunseed has been rising recently too, but this rain event has to be followed by additional bouts of moisture to improve the planting prospects
No
follow up rain is currently expected through September 4.

Recent
rain in interior southern Brazil has saturated the soil once again and some winter crop areas are now too wet

The
moisture will be good for future corn planting and the establishment of corn that has already been planted

More
rain will fall later today through Saturday in southern Brazil adding a little more concern over the wet bias for winter crops and expanding some moisture increases a little farther north in Sao Paulo

Recent
rain in Brazil has likely induced some citrus and coffee flowering in northern Parana, Mato Grosso do Sul and southern Sao Paulo, but the key coffee areas of southern Minas Gerais have not been negatively impacted

Rain
moving farther north today into Saturday will bring some moisture to coffee, northern citrus and northern sugarcane areas in Sao Paulo and some southern Minas Gerais and Zona de Mata locations, but the impact on coffee will be kept low with little to no flowering
expected

Frost
and freezes will occur in southern Brazil wheat and corn production areas from Rio Grande do Sul to southern Parana over the next two mornings burning some wheat vegetative development

There
is some concern over crops in southern Parana and Santa Catarina, but most of the wheat in those areas is not far enough advanced to be permanently harmed

U.S.
Midwest, Plains and far western states will receive restricted amounts of rain over the next ten days

Net
drying is expected in most areas except the far northern Midwest and from the Ohio River Valley into the Tennessee River Valley and southeastern states where scattered showers are likely
Temperatures
will be seasonable in most of the Midwest, Delta and southeastern states into the weekend, but will trend warmer next week for a little while accelerating drying rates between showers and thunderstorms
Temperatures
in the Great Plains will reach into the 90s frequently over the next week
West
Texas will see a few showers, but no general soaking and temperatures will continue warm
Far
western U.S. heat wave will continue to slowly abate
Northern
U.S. Plains and Canada's central and southwestern Prairies will experience restricted rainfall and warm to hot temperatures

Some
of the greater rain advertised in the Midwest during the last days of August and early September is overdone and will not be a great as advertised by the GFS model run, although cooler air coming southward from Canada will help to induce some rainfall
Cold
air advertised in Canada's Prairies and the north-central United States August 31-September 3 is too intense and will not likely verify

The
06z GFS model predicted the air would be cold enough for frost and freezes in these areas and that will not verify

Excessive
heat occurred in the northwestern U.S. Plains and Canada's central and southwestern Prairies Wednesday

Afternoon
highs were in the 90s to 102 degrees from southern Saskatchewan and southern Alberta into Montana and the southwestern Prairies


Eastern
and southern Ukraine, Russia's Southern Region, southeastern Romania and eastern Bulgaria will continue too dry for at least another ten days, despite a few sporadic showers

Rain
is most likely from Moldova to eastern Bulgaria next week and it may bring a little relief to persistent dryness
Any
showers that occur in eastern Ukraine or Russia's Southern region will be minimal and offer little to no relief to persistent dryness

Russia's
central and eastern New Lands will receive rain the remainder of this week and into early next week, but drying may evolve shortly after that and the change will be welcome

Some
areas in the region are becoming a little too wet and need to dry down to protect small grain and sunseed quality

China
will continue to experience alternating periods of rain and sunshine during the coming week to ten days

Most
of the nation east of Tibet has saturated soil and flooding has been an issue at times throughout the summer

The
exception is the Yangtze River Basin where net drying has been occurring recently

China's
Yangtze River Basin is expected to trend wetter again next week and into early September, but flooding like that of earlier this summer is not expected

Xinjiang
China will continue to experience milder than usual conditions at times over the next week and some rain will fall periodically in the northeast

Recent
temperatures have been milder than usual which may be reducing some of the degree day accumulations for cotton and other crops

India
will receive some heavy rain in central parts of the nation during the coming week to ten days

Flooding
is expected in Madhya Pradesh, southern Rajasthan and parts of Gujarat as well as in a few areas southeast to West Bengal

Rainfall
of 6.00 to more than 15.00 inches may occur by the end of next week
Crop
damage is possible

A
more limited rainfall pattern is expected in far southern India

West-central
Africa will receive a few scattered showers and thunderstorms over the next few days offering some rain to the dry areas of Ivory Coast and Ghana

The
precipitation will be welcome, but more will be needed after weeks of dryness
Seasonal
rains will return to this area late this month and more likely in September

The
longer range outlook calls for abundant rain in these areas later this year

Europe
weather over the next ten days will bring brief periods of rain to many areas, but net drying will continue in central through southern France, Spain, southern Portugal, the Italian Peninsula and eastern Bulgaria to southern and eastern Romania and Moldova

Crop
moisture stress will continue in each of these areas until greater rain falls
Temperatures
will be near to above average over the next ten days
Western
CIS crop areas will experience an erratic rainfall pattern over the next ten days resulting in areas of net drying and some pockets of significant rain

Drying
in the western parts of the CIS will be good for early season crop maturation and harvest progress

Late
season crops in the south will continue stressed, but good soil moisture in the north and west will support crops when rain is not falling
Temperatures
will be seasonable

Interior
southern Pakistan rainfall will be restricted over the next two weeks leaving rice, sugarcane and cotton dependent upon irrigation for normal crop development

Temperatures
will be warmer than usual
Some
areas near the India border will trend a little wetter for a few days

Greater
rain is needed in parts of Myanmar, Cambodia and Vietnam, although very few areas are considered too dry

Rain
is expected to fall periodically over these areas resulting in abundant soil moisture and some local flooding

Indonesia
rainfall continued erratic Wednesday

Recent
rain has been most significant in "portions" of Kalimantan and a few Malaysian locations while more limited in other areas
Rainfall
over the next ten days will continue erratic, but at least some rain will fall in each production area at one time or another
Rain
is needed most in parts of Sumatra and western Java

Ontario
and Quebec weather is mostly good with alternating periods of rain and sunshine over the next two weeks

Temperatures
will be seasonable

South
Africa rain will continue periodically in the far south over the next week, but most of it will be near the coast and it will not be frequent enough to seriously bolster topsoil moisture for long term crop use

Eastern
winter wheat and barley areas still need a general rain to support dryland crops which represent 8% of the total crop in the region
Temperatures
will be cooler than usual

Mexico
precipitation in the coming week to ten days will be greatest in western and southern parts of the nation benefiting many corn, sorghum and dry bean production areas

Coffee,
citrus, sugarcane and many fruit and vegetable crops will also benefit
Northeastern
Mexico will be mostly dry

Some
of the region is still drought stricken

Central
America rainfall will be frequent enough to support all crop needs
New
Zealand rainfall will be above average this week except in southern parts of South Island where it will be lighter than usual

Southern
Oscillation Index was +6.31 this morning and it will continue to rise over the next few days
Source:
World Weather Inc.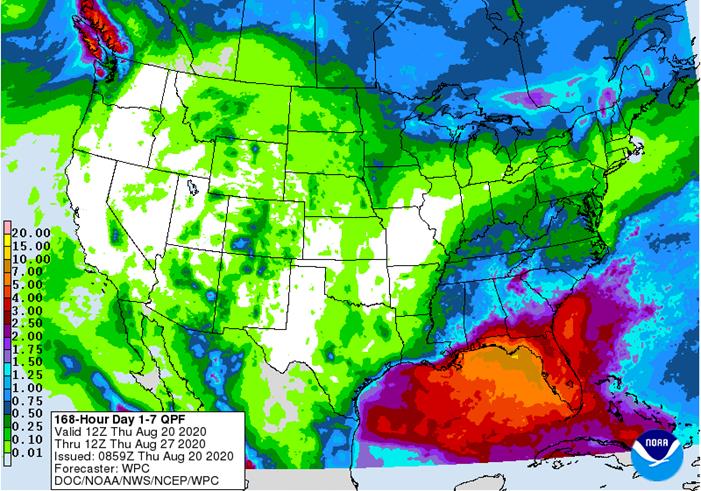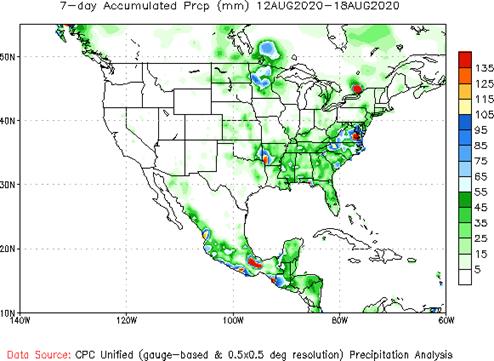 USDA
weekly crop net-export sales for corn, soybeans, wheat, cotton, pork, beef, 8:30am
Brazil
Conab sugar, cane and ethanol production
Port
of Rouen data on French grain exports
China
International Cereals and Oils Industry Summit
USDA
red meat production, 3pm
HOLIDAY:
Malaysia
EARNINGS:
Cherkizovo
FRIDAY,
August 21:
ICE
Futures Europe weekly commitments of traders report, 1:30pm (6:30pm London)
CFTC
commitments of traders weekly report on positions for various U.S. futures and options, 3:30pm
FranceAgriMer
weekly update on crop conditions
China
International Cereals and Oils Industry Summit, day 2
Malaysia
palm oil export data for August 1-20
U.S.
cattle on feed, 3pm
Source:
Bloomberg and FI

USDA
export sales
showed net reductions for current crop-year for soybean oil and soybeans. New-crop soybeans were excellent at 2.57 million tons but new-crop soybean oil were zero. Soybean meal sales were light. Corn export sales were thin for old crop and new-crop were
within expectations. All-wheat sales were within expectations. Pork sales were good at 20,600 tons. Sorghum sales were 122,000 tons for new-crop. Overall, the USDA export sales report might weigh on soybean oil futures prices and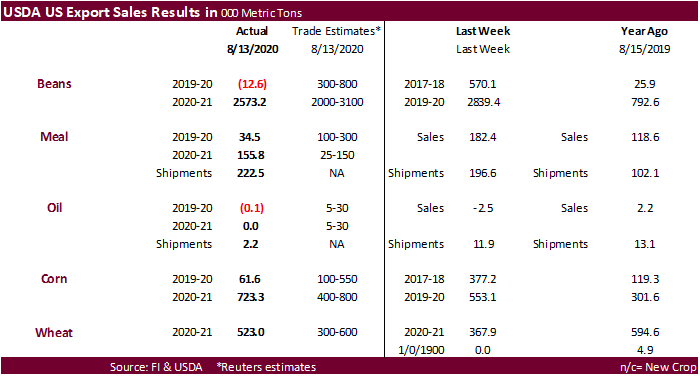 US
Philly Fed Business Outlook Aug: 17.2 (est 20.8; prev 24.1)
US
Initial Jobless Claims Aug 15: 1106K (est 920K; prevR 971K; prev 963K)
US
Continuing Claims Aug 8: 14844K (est 15000K; prevR 15480K; prev 15486K)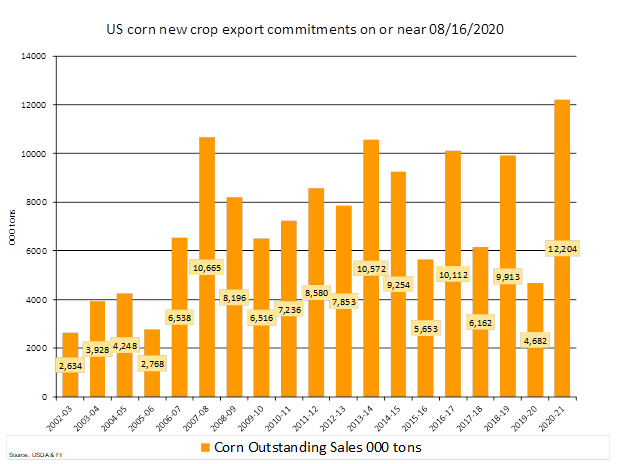 Corn
Export Developments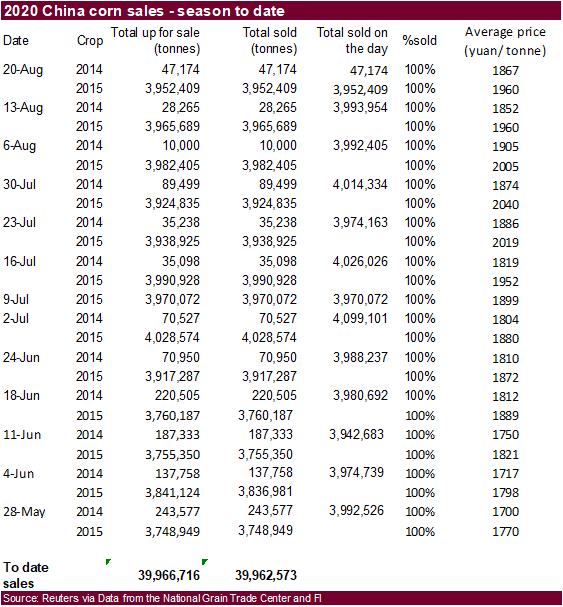 September
corn is seen in a $3.15 and $3.45 range. December $3.20-$3.65 range.
<![if !supportLists]>·
<![endif]>AmSpec reported Aug 1-20 Malaysian palm exports at 925,083 tons, down 20.9 percent from July 1-20 of 1.171MMT.

<![if !supportLists]>·
<![endif]>ITS reported an 18.2 percent decrease to 946,338 tons.

No
USDA 24-hour sales were posted.
Syria
seeks 50,000 tons of soybean meal and 50,000 tons of corn on Aug 25 for delivery within four months of contract signing.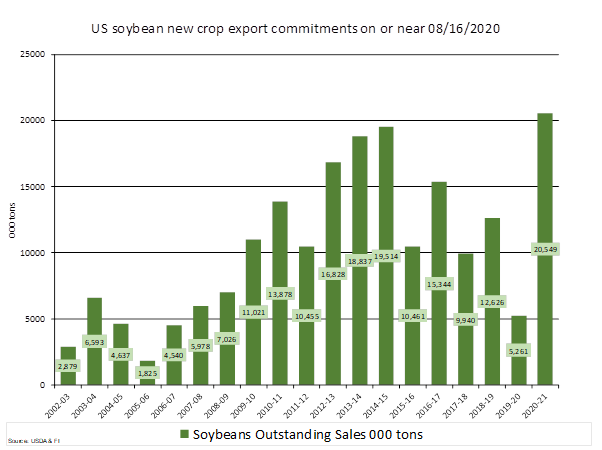 September
soybeans are seen in a $8.80-$9.30 range. November $8.80-$9.50.
September
soybean meal is seen in a $285 to $310 range. December $285-$320.
September
soybean oil range is seen in a 30.00 to 33.50 range. December 29.75-35.00 range.

US
wheat futures
traded mixed but rallied in afternoon trading to close higher. Some traders noted cold temperatures could have negatively impacted the Argentina wheat crop but our weather person believes minimal damage occurred. Production concerns spanning across parts
of Europe added to the positive undertone. Global import interest was robust earlier this week. It will be interesting if Pakistan bought the 1.5 million tons of wheat, they sought earlier this week.

Chicago
September ended at an August 4 high, appreciating 7.50 cents while December settled 6.50 cents higher. KC was up 4 cents (Sep) and MN up 2.50 cents (Sep).

Kazakhstan
harvested 14 percent of their grain as of August 20, about double from a year ago.

Results
are awaited on Pakistan in for wheat. Lowest
offer was $233.85/ton for 200,000 tons of milling wheat.
China
has booked roughly 700,000 tons of wheat from France so far since June 1, and another 700,000 tons of barley. These large bookings, which could expand by 1-2 million tons later in the crop year by China, may impact feedgrain supplies for Europe, enticing
end users to source soybean/canola meal and corn from North America.
Paris
December wheat was down 0.50 euro at 181.25 euros or $214.87/ton.
Results
awaited: Pakistan seeks 1.5 million tons of wheat. Lowest offer was $233.85/ton for 200,000 tons of milling wheat.

Japan
bought 117,063 tons of milling wheat.

Turkey
seeks 390,000 tons of red milling wheat and 110,000 tons of durum wheat on August 25. They also seeks feed barley.


Red
wheat shipment period is between Sep 4 and Oct 10
Durum
shipment period is between Sept. 15 and Oct. 10.
Feed
barley shipment period is between Sept. 11 and Sept. 25.