PDF Attached
Wheat
advanced on strong global import demand and crop concerns for parts of Europe. Soybean complex was little changed while corn fell on lack of bullish news and China/US trade concerns.


KEY
WEATHER ISSUES OF THE DAY
Tropical
Storm Higos moved into Guangdong, China Tuesday and was dissipating today over the interior of that state

Some
flooding and strong wind impacted coastal areas

Tropical
waves in the Caribbean Sea and tropical Atlantic Ocean are still being monitored for impact on North America

A
tropical wave in the Caribbean Sea will reach the Yucatan Peninsula this weekend as a tropical depression or a weak tropical storm

The
system will then move over the Gulf of Campeche later in the weekend or early next week with landfall in northeastern Mexico expected early in the week

A
tropical wave 1000 miles east of the Windward Islands will become a tropical depression and probably a tropical storm as it moves through the northern Leeward Islands and to near Puerto Rico this weekend

The
storm will them move through Hispaniola and Cuba before reaching the eastern Gulf of Mexico

Landfall
will be possible between New Orleans and Tampa, Florida, during mid-week next week, but confidence is very low because of its interaction with the Greater Antilles

Hurricane
Genevieve continues east of western Mexico and will stay out to sea far enough to minimize its impact on western Mexico; however, some wind, rain and rough seas will impact a part of Baja California in the next few days
Better
model agreement is in place today for the U.S. outlook over the next week to ten days after Tuesday's GFS model runs were too wet
U.S.
Midwest, Plains and far western states will receive restricted amounts of rain over the next ten days

Net
drying is expected in most areas except the far northern Midwest and from the Ohio River Valley into the Tennessee River Valley and southeastern states where scattered showers are likely
Temperatures
will be seasonable in most of the Midwest, Delta and southeastern states, but warmer biased at times in the Great Plains and far western United States
West
Texas will see a few showers, but no general soaking and temperatures will continue warm
Far
western U.S. heat wave will continue to slowly abate
Northern
U.S. Plains and Canada's central and southwestern Prairies will experience restricted rainfall and warm to hot temperatures

Excessive
heat occurred in the northwestern U.S. Plains and Canada's central and southwestern Prairies Tuesday

Afternoon
highs were in the 90s to 103 degrees from southern Saskatchewan and southern Alberta into Montana and the southwestern Prairies

Argentina
is still quite dry, but has a chance for rain during mid-week next week

Drought
threatens the nation's wheat crop and possibly early season corn planting later next month
Rain
next week will vary from 0.20 to 0.75 inch with a few greater amounts

Driest
in the west and north and wettest southeast

Southern
Brazil has received enough rain to bolster soil moisture in much of the region recently


Wheat
quality might have been at some risk because of wet conditions, but early corn planting will benefit greatly from the moisture
Cold
air in southern Brazil this weekend and early next week could induce some frost and light freezes which may have some impact on reproducing and filling winter wheat

Eastern
and southern Ukraine, Russia's Southern Region, southeastern Romania and eastern Bulgaria will continue too dry for at least another ten days, despite a few sporadic showers
Russia's
central and eastern New Lands will receive rain the remainder of this week and into early next week, but drying may evolve shortly after that and the change will be welcome

Some
areas in the region are becoming a little too wet and need to dry down to protect small grain and sunseed quality

China
will continue to experience alternating periods of rain and sunshine during the coming week, but the last days of August are starting to look drier for east-central parts of the nation and the change will be welcome

Most
of the nation east of Tibet has saturated soil and flooding has been an issue at times throughout the summer

Xinjiang
China will continue to experience milder than usual conditions at times over the next week and some rain will fall periodically in the northeast

Recent
temperatures have been milder than usual which may be reducing some of the degree day accumulations for cotton and other crops
India
will receive some heavy rain in central parts of the nation during the coming week to ten days

Flooding
is expected in Madhya Pradesh, southern Rajasthan and parts of Gujarat as well as in a few northern Telangana, Chhattisgarh and Odisha locations

Australia
rainfall in the coming week to ten days will be limited to southernmost parts of the nation with Victoria wettest


Dryness
remains a concern for Queensland and South Australia with some wheat and barley reproduction expected early next month in southern Queensland making rain very important


Dryness
in west-central Africa will prevail over the next ten days, although a few more showers and thunderstorms will occur infrequently

The
precipitation will be welcome, but not likely enough to counter evaporation leaving an ongoing need for greater rain
Seasonal
rains will return to this area late this month and more likely in September

The
longer range outlook calls for abundant rain in these areas later this year

Europe
weather over the next ten days will bring brief periods of rain to many areas, but net drying will continue in central through southern France, Spain, southern Portugal, the Italian Peninsula and eastern Bulgaria to southern and eastern Romania and Moldova

Crop
moisture stress will continue in each of these areas until greater rain falls
Temperatures
will be near to above average over the next ten days
Western
CIS crop areas will experience an erratic rainfall pattern over the next ten days resulting in areas of net drying and some pockets of significant rain

Drying
in the western parts of the CIS will be good for early season crop maturation and harvest progress

Late
season crops in the south will continue stressed, but good soil moisture in the north and west will support crops when rain is not falling
Temperatures
will be seasonable

Interior
southern Pakistan rainfall will be restricted over the next two weeks leaving rice, sugarcane and cotton dependent upon irrigation for normal crop development

Temperatures
will be warmer than usual
Some
areas near the India border will trend a little wetter for a few days

Greater
rain is needed in parts of Myanmar, Cambodia and Vietnam, although very few areas are considered too dry

Rain
is expected to fall periodically over these areas resulting in abundant soil moisture and some local flooding

Indonesia
rainfall continued erratic Tuesday

Recent
rain has been most significant in "portions" of Kalimantan and a few Malaysian locations while more limited in other areas
Rainfall
over the next ten days will continue erratic, but at least some rain will fall in each production area at one time or another
Rain
is needed most in parts of Sumatra and western Java

Ontario
and Quebec weather is mostly good with alternating periods of rain and sunshine over the next two weeks

Temperatures
will be seasonable

South
Africa rain will continue periodically in the southwest over the next week, but most of it will be near the coast and it will not be frequent enough to seriously bolster topsoil moisture for long term crop use

Eastern
winter wheat and barley areas still need a general rain to support dryland crops which represent 8% of the total crop in the region
Temperatures
will be cooler than usual

Mexico
precipitation in the coming week to ten days will be greatest in western and southern parts of the nation benefiting many corn, sorghum and dry bean production areas

Coffee,
citrus, sugarcane and many fruit and vegetable crops will also benefit
Northeastern
Mexico will be mostly dry

Some
of the region is still drought stricken

Central
America rainfall will be frequent enough to support all crop needs
New
Zealand rainfall will be above average this week except in southern parts of South Island where it will be lighter than usual

Southern
Oscillation Index was +5.92 this morning and it will continue to rise over the next few days
Source:
World Weather Inc.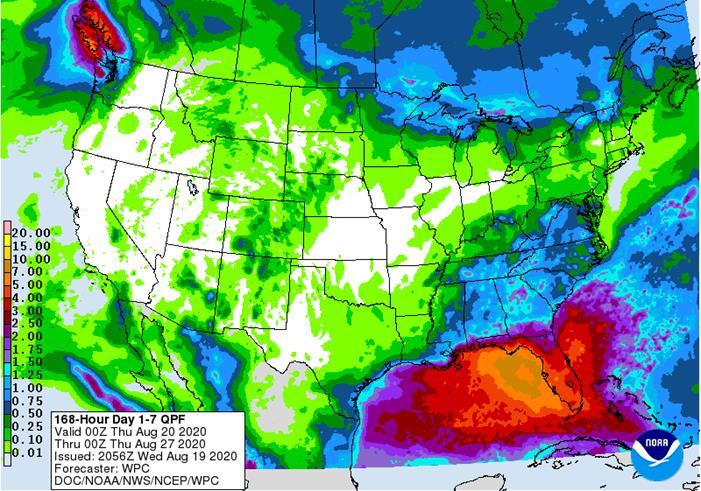 EIA
U.S. weekly ethanol inventories, production, 10:30am
ISO
online conference on Sugar and Health
USDA
total milk production
THURSDAY,
August 20:
USDA
weekly crop net-export sales for corn, soybeans, wheat, cotton, pork, beef, 8:30am
Brazil
Conab sugar, cane and ethanol production
Port
of Rouen data on French grain exports
China
International Cereals and Oils Industry Summit
USDA
red meat production, 3pm
HOLIDAY:
Malaysia
EARNINGS:
Cherkizovo
FRIDAY,
August 21:
ICE
Futures Europe weekly commitments of traders report, 1:30pm (6:30pm London)
CFTC
commitments of traders weekly report on positions for various U.S. futures and options, 3:30pm
FranceAgriMer
weekly update on crop conditions
China
International Cereals and Oils Industry Summit, day 2
Malaysia
palm oil export data for August 1-20
U.S.
cattle on feed, 3pm
Source:
Bloomberg and FI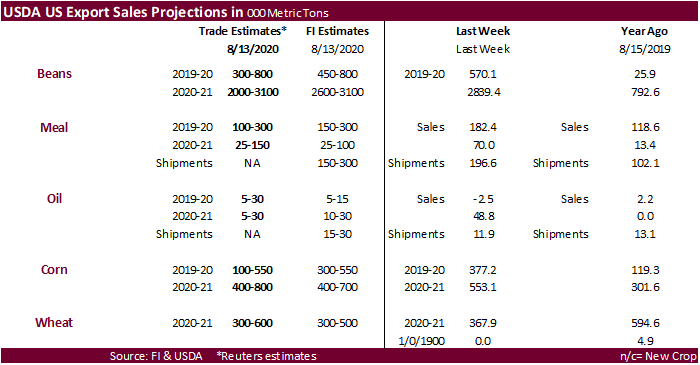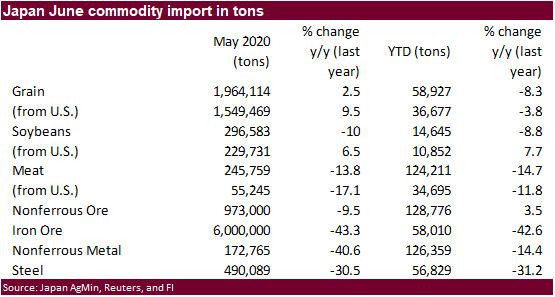 ProFarmer
Stats: based on what FI collected
#
times ProFarmer was below USDA's Aug corn yield over the past 13 years: 8 or 62% of the time
#
times ProFarmer was above USDA's Aug corn yield over the past 13 years: 5 or 38% of the time
#
times ProFarmer was below USDA's Aug soybean yield over the past 13 years: 10 or 77% of the time
#
times ProFarmer was above USDA's Aug soybean yield over the past 13 years: 3 or 23% of the time
Canadian
CPI NSA (M/M) Jul: 0.0% (exp 0.4%; prev 0.8%)
–
CPI (Y/Y) Jul: 0.1% (exp 0.6%; prev 0.7%)
–
CPI Core Median (Y/Y) Jul: 1.9% (exp 2.0%; prev 1.9%)
–
CPI Core Common (Y/Y) Jul: 1.3% (exp 1.6%; prev 1.5%)
–
CPI Core Trim (Y/Y) Jul: 1.7% (exp 1.8%; prev 1.8%)
Canadian
Wholesale Trade Sales (M/M) Jun: 18.5% (exp 10.5%; prev 5.7%)
Weekly
US ethanol production
improved 8,000 barrels from the previous week to 926,000 barrels, just shy of the September 2019 to date average of 929,000 barrels, 10 percent below the week average for the 2018-19 Sep-Aug corn crop year. A Bloomberg poll looked for weekly US ethanol production
to be up 1,000 barrels. US ethanol stocks grew a large 520,000 barrels to 20.270 million, opposite from a predicted 444,000 barrel decrease the trade expected. We see this having little influence on US corn futures. Over the past three weeks weekly ethanol
production average 930,000 barrels. If this average remains unchanged over the next couple weeks, US corn for ethanol use may fall about 19 million bushels shy of USDA's projection of 4.850 billion bushels.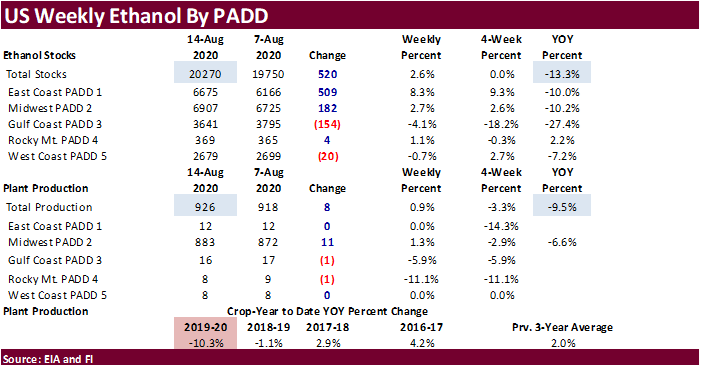 Corn
Export Developments

September
corn is seen in a $3.15 and $3.45 range. December $3.20-$3.65 range.
<![if !supportLists]>·
<![endif]>Aug 1-20 Malaysian palm export data is due out Thursday and we look for a 15 to 20 percent decline from the same period last month. SGS reported 1-15 Aug exports of palm were 20 percent below same
period month earlier at 664,392 tons.
<![if !supportLists]>·
<![endif]>Indonesia is look at increasing palm export tariffs to keep domestic prices of palm oil cheap enough to promote their biodiesel expansion initiative of 30 percent blend rate. That rate may increase
to 40 percent sometime in 2021.
USDA
24-hour: Private exporters sold 132,000 of soybeans to China for 2020-21 delivery.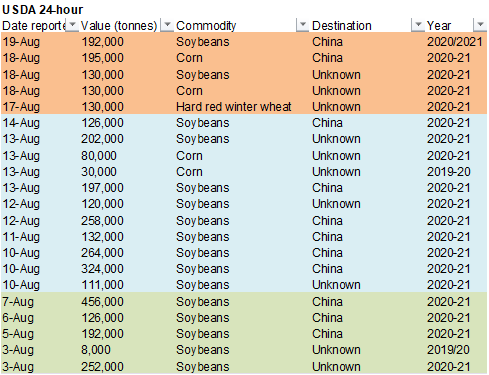 September
soybeans are seen in a $8.80-$9.30 range. November $8.80-$9.50.
September
soybean meal is seen in a $285 to $310 range. December $285-$320.
September
soybean oil range is seen in a 30.00 to 33.50 range. December 29.75-35.00 range.

Algeria
bought about 560,000 tons of milling wheat for Sep and or Oct shipment at around $231-$232/ton.

Results
awaited: Pakistan seeks 1.5 million tons of wheat. Lowest offer was $233.85/ton for 200,000 tons of milling wheat.

Jordan
passed on 120,000 tons of wheat.
Japan
seeks 117,063 tons of milling wheat on August 20.

Japan
is also in for 80,000 tons of feed wheat and 100,000 tons of feed barley (SBS) on August 26 for November 30 loading.

Turkey
seeks 390,000 tons of red milling wheat and 110,000 tons of durum wheat on August 25. They also seeks feed barley.


Red
wheat shipment period is between Sep 4 and Oct 10
Durum
shipment period is between Sept. 15 and Oct. 10.
Feed
barley shipment period is between Sept. 11 and Sept. 25.

Syria
looks to sell and export 100,000 tons of feed barley with offers by Sep 1.




Syria
seeks 200,000 tons of soft wheat from EU/Russia on Sept. 9 and 200,000 tons of wheat from Russia on Sept. 14.
<![if !supportLists]>·
<![endif]>Results awaited: South Korea's Agro-Fisheries & Food Trade Corp. seeks 60,556 tons of rice from Vietnam and other origins, on Aug. 19, for arrival in
South Korea between Dec. 31, 2020, and February 28, 2021.
Updated
8/17/20
Chicago
September is seen in a $4.90-$5.35 range. December $5.00-$5.50 range.
KC
September; $4.15-$4.55 range. December $4.30-$4.75.
MN
September $4.90-$5.25 range. December $5.05-$5.40.
Terry Reilly
Senior Commodity Analyst – Grain and Oilseeds
Futures International │190 S LaSalle St., Suite 410│Chicago, IL 60603
W: 312.604.1366
AIM: fi_treilly
ICE IM:
treilly1
Skype: fi.treilly

Trading of futures, options, swaps and other derivatives is risky and is not suitable for all persons. All of these investment products are leveraged, and you can lose more than your initial deposit. Each investment product is offered
only to and from jurisdictions where solicitation and sale are lawful, and in accordance with applicable laws and regulations in such jurisdiction. The information provided here should not be relied upon as a substitute for independent research before making
your investment decisions. Futures International, LLC is merely providing this information for your general information and the information does not take into account any particular individual's investment objectives, financial situation, or needs. All investors
should obtain advice based on their unique situation before making any investment decision. The contents of this communication and any attachments are for informational purposes only and under no circumstances should they be construed as an offer to buy or
sell, or a solicitation to buy or sell any future, option, swap or other derivative. The sources for the information and any opinions in this communication are believed to be reliable, but Futures International, LLC does not warrant or guarantee the accuracy
of such information or opinions. Futures International, LLC and its principals and employees may take positions different from any positions described in this communication. Past results are not necessarily indicative of future results.