PDF Attached
President
Trump postponed trade talks with China. USD was down sharply and been on the decline for about 8 straight weeks. USDA 24-hour: Private exporters sold 195,000 of corn to China for 2020-21 delivery and 130,000 tons of corn to unknown for 2020-21. Private exporters
also sold 130,000 of soybeans to unknown for 2020-21 delivery. Pro Farmer for the second day reported very good pod counts and corn yields.

KEY
WEATHER ISSUES OF THE DAY
Argentina
is still quite dry, but has a chance for rain during mid-week next week

Drought
threatens the nation's wheat crop and possibly early season corn planting later next month

Southern
Brazil has been receiving rain and will get more periodically into the coming weekend

Wheat
quality might be at some risk because of wet conditions, but early corn planting will benefit greatly from the moisture
Cold
air in southern Brazil this weekend and early next week could induce some frost and light freezes which may have some impact on reproducing and filling winter wheat

Tropical
Wave in the eastern Caribbean Sea is steaming toward the Yucatan Peninsula and will not likely develop much in the next two days, but could become a tropical depression before reaching the Yucatan Peninsula

World
Weather, Inc. believes this system will move across the peninsula and then into northeastern Mexico and/or far southern Texas early next week
Tropical
wave 900 miles southwest of the Cabo Verde Islands in the tropical Atlantic ocean will race toward the northern Leeward Islands the remainder of this week and will develop into a tropical depression within the next couple of days

This
system may be influenced by the Greater Antilles which may limit its intensity for a while
The
system may eventually threaten Florida or the eastern Gulf of Mexico region

Eastern
and southern Ukraine, Russia's Southern Region, southeastern Romania and eastern Bulgaria will continue too dry for at least another ten days, despite a few sporadic showers
Russia's
central and eastern New Lands will receive rain the remainder of this week and into early next week, but drying may evolve shortly after that and the change will be welcome

Some
areas in the region are becoming a little too wet and need to dry down to protect small grain and sunseed quality

China
will continue to experience alternating periods of rain and sunshine during the coming week, but the last days of August are starting to look drier for east-central parts of the nation and the change will be welcome

Most
of the nation east of Tibet has saturated soil and flooding has been an issue at times throughout the summer

Xinjiang
China will continue to experience milder than usual conditions at times over the next week and some rain will fall periodically in the northeast

Recent
temperatures have been milder than usual which may be reducing some of the degree day accumulations for cotton and other crops

India
will receive some heavy rain in central parts of the nation during the coming week to ten days

Flooding
is expected in Madhya Pradesh, southern Rajasthan and parts of Gujarat as well as in a few northern Telangana, Chhattisgarh and Odisha locations

Australia
rainfall in the coming week to ten days will be limited to southernmost parts of the nation with Victoria wettest


Dryness
remains a concern for Queensland and South Australia with some wheat and barley reproduction expected early next month in southern Queensland making rain very important


U.S.
weather was quite dry Monday and temperatures were seasonable in the Midwest, Delta and southeastern states

Temperatures
continued excessively hot in the northwestern Plains and Pacific Northwest into the Great Basin and southwestern desert region

U.S.
weather will be wettest in the southeastern states for a while with daily scattered showers and thunderstorms expected

Rain
in the Delta will be more restricted, but some showers are expected
Midwestern
precipitation should be restricted for the next week to ten days
U.S.
Plains rainfall will be restricted over the next ten days as well, although a few sporadic showers are expected periodically
West
Texas will see a few showers, but no general soaking and temperatures will continue warm
Far
western U.S. heat wave will continue into the weekend and then will be easing next week
Northern
U.S. Plains and Canada's central and southwestern Prairies will experience restricted rainfall and warm to hot temperatures

Excessive
heat occurred in the northwestern U.S. Plains and Canada's central and southwestern Prairies Monday

Afternoon
highs were in the 90s to 103 degrees from southern Saskatchewan and southern Alberta into Montana and the southwestern Prairies


Tropical
Storm Higos formed in the South China Sea Monday and was expected to move through southwestern Guangdong, China Tuesday and then to Yunnan late this week

The
storm will produce very heavy rain and induce some flooding and strong wind possibly damaging some sugarcane, rice and other crops

Dryness
in west-central Africa will prevail over the next ten days, although a few more showers and thunderstorms will occur infrequently

The
precipitation will be welcome, but not likely enough to counter evaporation leaving an ongoing need for greater rain
Seasonal
rains will return to this area late this month and more likely in September

The
longer range outlook calls for abundant rain in these areas later this year

Europe
weather over the next ten days will bring brief periods of rain to many areas, but net drying will continue in central through southern France, Spain, southern Portugal, the Italian Peninsula and eastern Bulgaria to southern and eastern Romania and Moldova

Crop
moisture stress will continue in each of these areas until greater rain falls
Temperatures
will be near to above average over the next ten days

Western
CIS crop areas will experience an erratic rainfall pattern over the next ten days resulting in areas of net drying and some pockets of significant rain

Drying
in the western parts of the CIS will be good for early season crop maturation and harvest progress

Late
season crops in the south will continue stressed, but good soil moisture in the north and west will support crops when rain is not falling
Temperatures
will be seasonable

Southern
Pakistan rainfall will be restricted over the next two weeks leaving rice, sugarcane and cotton dependent upon irrigation for normal crop development

Temperatures
will be warmer than usual

Greater
rain is needed in parts of Myanmar, Cambodia and Vietnam, although very few areas are considered too dry

Rain
is expected to fall periodically over these areas resulting in abundant soil moisture and some local flooding

Indonesia
rainfall increased in central Sumatra Monday

Recent
rain has been most significant in "portions" of Kalimantan and a few Malaysian locations while more limited in other areas
Weather
over the next ten days will continue erratic, but at least some rain will fall in each production area at one time or another

Ontario
and Quebec weather is mostly good with alternating periods of rain and sunshine over the next two weeks

Temperatures
will be seasonable

South
Africa rain will continue periodically in the southwest over the next week, but most of it will be near the coast and it will not be frequent enough to seriously bolster topsoil moisture for long term crop use

Eastern
winter wheat and barley areas still need a general rain to support dryland crops which represent 8% of the total crop in the region
Temperatures
will be cooler than usual

Mexico
precipitation in the coming week to ten days will be greatest in western and southern parts of the nation benefiting many corn, sorghum and dry bean production areas

Coffee,
citrus, sugarcane and many fruit and vegetable crops will also benefit
Northeastern
Mexico will be mostly dry

Some
of the region is still drought stricken

Central
America rainfall will be frequent enough to support all crop needs
New
Zealand rainfall will be above average this week except in southern parts of South Island where it will be lighter than usual

Southern
Oscillation Index was +5.11 this morning and it will continue positive this week
Source:
World Weather Inc.
EIA
U.S. weekly ethanol inventories, production, 10:30am
ISO
online conference on Sugar and Health
USDA
total milk production
THURSDAY,
August 20:
USDA
weekly crop net-export sales for corn, soybeans, wheat, cotton, pork, beef, 8:30am
Brazil
Conab sugar, cane and ethanol production
Port
of Rouen data on French grain exports
China
International Cereals and Oils Industry Summit
USDA
red meat production, 3pm
HOLIDAY:
Malaysia
EARNINGS:
Cherkizovo
FRIDAY,
August 21:
ICE
Futures Europe weekly commitments of traders report, 1:30pm (6:30pm London)
CFTC
commitments of traders weekly report on positions for various U.S. futures and options, 3:30pm
FranceAgriMer
weekly update on crop conditions
China
International Cereals and Oils Industry Summit, day 2
Malaysia
palm oil export data for August 1-20
U.S.
cattle on feed, 3pm
Source:
Bloomberg and FI
US
Building Permits Jul 1.495 Mln (est 1.326 Mln; prevR 1.258 Mln; prev 1.241 Mln)
-US
Building Permits (M/M) Jul 18.8% (est 5.4%; prevR 3.5%; prev 2.1%)
US
Housing Starts Jul 1.496 Mln (est 1.245 Mln; prevR 1.220 Mln; prev 1.186 Mln)
-US
Housing Starts (M/M) Jul 22.6% (est 5.0%; prevR 17.5%; prev 17.3%)
US
corn futures traded two-sided, ending lower by 1.0-4.0 cents led by the September contract to the downside, despite a lower USD. Back month corn contracts paired some losses after USDA reported 24-hour sales for China and unknown to be delivered during the
2020-21 crop-year. Day 2 of the Pro Farmer crop tour reported above yield potential for parts of Indiana and Nebraska. Another reason for the lower trade was the less than expected decline in the US crop condition and increasing trade tensions between the
US and China over the Huawei Technologies situation. December corn was down 3 cents, settling at $3.4175 / bu.

The
USD hit its lowest level since April 2018 and was off 57 points aby afternoon trading.


USDA
24-hour: Private exporters sold 195,000 of corn to China for 2020-21 delivery and 130,000 tons of corn to unknown for 2020-21.

The
Pro Farmer crop tour:

Day
2…Nebraska – Mixed results
Day
2…Indiana – Early results show above yield potential
Day
1…154.35 for 2019 and 166.18 average
Day
1…South Dakota – 179.24 vs. 154.08 for 2019 and 160.02 average
Day
4…Tour will survey much of the devastated areas across IA

The
Iowa AgMin stated that much of the states corn crop is not salvageable after the storm. Iowa's agriculture state department reported more than 57 million bushels of commercial grain storage was destroyed ahead of the upcoming harvest. IA should have plenty
of on and off farm grain storage to absorb the loss of 57-million-bushel capacity. A 57-million bushel lost for Iowa off farm capacity, as of end of 2019, would represent 3.8 percent of total grain capacity of 1.51 billion bushels for the state. Question
we ask was how much grain and oilseeds could have been destroyed from the 2019 harvest. As of June 1, 2020, there were 569.2 million bushels of corn and soybeans stored at off farm facilities and 800 million at on farm for both commodities. What is not factored
in the state department calculation is the on-farm storage. Based on normal disappearance and an estimated 10 million cropland acres affected by the derecho, we think at least 15 million bushels of corn and soybeans could have been lost. See our working
table attached. USDA will collect updated planted data for IA for the September Crop Production report.

A
Bloomberg poll looks for weekly US ethanol production to be up 1,000 at 919,000 barrels (898-945 range) from the previous week and stocks to decrease 444,000 barrels to 19.706 million.

CBOT
corn and soybean registrations were again zero at Toledo and northwest Ohio.




Nigeria
corn production was projected to increase 25 percent to 25 million tons-Maize Association of Nigeria.

China
is a step closer to develop an effective ASF vaccine. They are expanding clinical trials.

China
plans to sell 10,000 tons of pork from state reserves on August 21. About 500,000 tons have been sold so far this season.

Corn
Export Developments

USDA
24-hour: Private exporters sold 195,000 of corn to China for 2020-21 delivery and 130,000 tons of corn to unknown for 2020-21.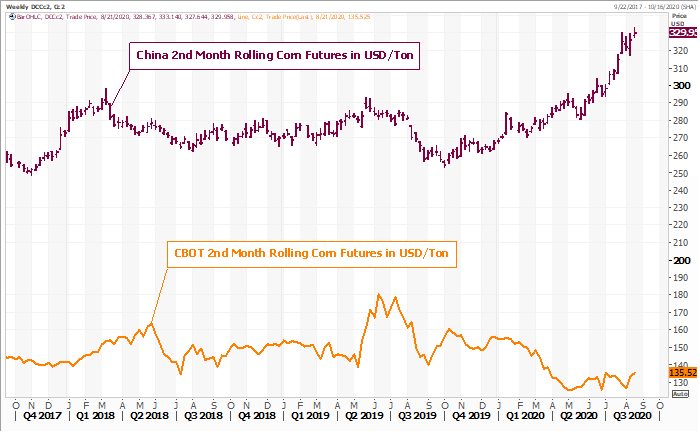 September
corn is seen in a $3.15 and $3.45 range. December $3.20-$3.65 range.
Soybeans
traded two-sided, ending lower on decent US production prospects. US crop conditions dropped only 2 points last week. Technical selling was noted. Soybean meal lost ground today on product spreading, ending $2.10 lower basis Sep. Soybean oil finished 28-38
points higher on good US domestic demand and slowdown in Brazil's crush.
Soybean
oil spreads were under pressure as end users are having a hard time sourcing Q4 supplies and a pickup in interest for Q1. We heard US producer soybean selling was not as robust as previously thought after prices rallied on Monday. It might be possible producers
are holding out to see if China buys more soybeans. USDA reported 130,000 tons of soybeans to unknown. This comes after we
heard China on Monday bought at least one soybean cargo out of the PNW for shipment sometime in Oct or Nov. They were shopping for US Gulf soybeans out of the Gulf but no confirmed trades were noted. China was also looking around for April-August Brazilian
soybeans yesterday and bought at least one Jan/Feb cargo.
Egypt
bought 11,000 tons of sunflower oil at $788/ton. They have not paid that high of price for sunflower oil since January. They passed on soybean oil. Note the lowest offer for soybean oil was about $50-5/ton higher than what they paid in their latest August
9 import tender for 64,500 tons (local tender).
The
morning run for the GFS model was little wetter for the second week of the US weather outlook but the European model remains on the dry side.

The
Pro Farmer crop tour:

Day
2…Nebraska – Mixed to mostly good results
Day
1…Ohio – 1155.68 pods vs. 764.01 for 2019 and 1039.74 average
Day
1…South Dakota – 1250.86 pods vs. 832.85 for 2019 and 919.04 average
USDA
24-hour: Private exporters sold 130,000 of soybeans to unknown for 2020-21 delivery.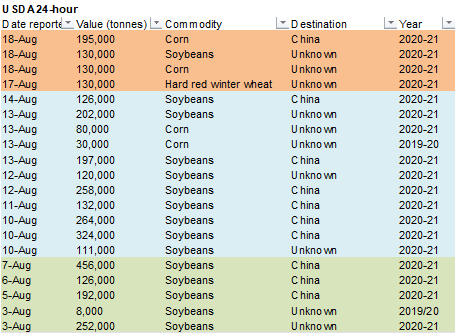 <![if !supportLists]>·
<![endif]>Egypt's GASC bought 11,000 tons of sunflower oil at $788.00/ton C&F for Oct 25-Nov 20 shipment. They were in for 30,000 tons of soybean oil and 10,000 tons of sunflower oil. Lowest offers were
$788.00 for sunflower oil and $789.50 for soybean oil.
Early
2020 data show U.S. biodiesel production levels largely unchanged since 2019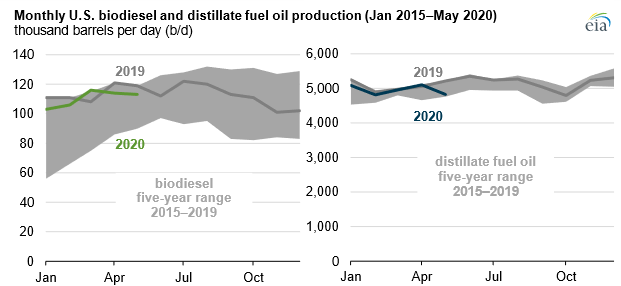 https://www.eia.gov/todayinenergy/detail.php?id=44796&src=email

September
soybeans are seen in a $8.80-$9.30 range. November $8.80-$9.50.
September
soybean meal is seen in a $285 to $310 range. December $285-$320.
September
soybean oil range is seen in a 30.00 to 33.50 range. December 29.75-35.00 range.

Japan
seeks 117,063 tons of milling wheat on August 20.
We
head the Philippines and Taiwan are in for wheat.
Results
awaited: Algeria seeks at least 50,000 tons of milling wheat on August 18 for Sep shipment.

Results
awaited: Pakistan seeks 1.5 million tons of wheat on August 18.
Turkey
seeks 390,000 tons of red milling wheat and 110,000 tons of durum wheat on August 25. They also seeks feed barley.


Red
wheat shipment period is between Sep 4 and Oct 10
Durum
shipment period is between Sept. 15 and Oct. 10.
Feed
barley shipment period is between Sept. 11 and Sept. 25.

Syria
looks to sell and export 100,000 tons of feed barley with offers by Sep 1.




Syria
seeks 200,000 tons of soft wheat from EU/Russia on Sept. 9 and 200,000 tons of wheat from Russia on Sept. 14.
<![if !supportLists]>·
<![endif]>Results awaited: Mauritius seeks 6,000 tons of white rice on August 17 for October through December delivery.

<![if !supportLists]>·
<![endif]>South Korea's Agro-Fisheries & Food Trade Corp. seeks 60,556 tons of rice from Vietnam and other origins, on Aug. 19, for arrival in South Korea between Dec. 31, 2020, and February 28, 2021.
Updated
8/17/20
Chicago
September is seen in a $4.90-$5.35 range. December $5.00-$5.50 range.
KC
September; $4.15-$4.55 range. December $4.30-$4.75.
MN
September $4.90-$5.25 range. December $5.05-$5.40.
Terry Reilly
Senior Commodity Analyst – Grain and Oilseeds
Futures International │190 S LaSalle St., Suite 410│Chicago, IL 60603
W: 312.604.1366
AIM: fi_treilly
ICE IM:
treilly1
Skype: fi.treilly

Trading of futures, options, swaps and other derivatives is risky and is not suitable for all persons. All of these investment products are leveraged, and you can lose more than your initial deposit. Each investment product is offered
only to and from jurisdictions where solicitation and sale are lawful, and in accordance with applicable laws and regulations in such jurisdiction. The information provided here should not be relied upon as a substitute for independent research before making
your investment decisions. Futures International, LLC is merely providing this information for your general information and the information does not take into account any particular individual's investment objectives, financial situation, or needs. All investors
should obtain advice based on their unique situation before making any investment decision. The contents of this communication and any attachments are for informational purposes only and under no circumstances should they be construed as an offer to buy or
sell, or a solicitation to buy or sell any future, option, swap or other derivative. The sources for the information and any opinions in this communication are believed to be reliable, but Futures International, LLC does not warrant or guarantee the accuracy
of such information or opinions. Futures International, LLC and its principals and employees may take positions different from any positions described in this communication. Past results are not necessarily indicative of future results.