PDF Attached
Corn
steady to 2 lower
Soybeans
steady
Wheat
steady to 3 lower
US
corn and soybean crop conditions declined 2 points. Spring wheat improved by one. Large rally in CBOT ag commodities today. US weather will be dry this week. Under the 24-hour announcement system, private exporters sold 130,000 tons of HRW wheat to unknown.
Inspections and NOPA crush reports were supportive.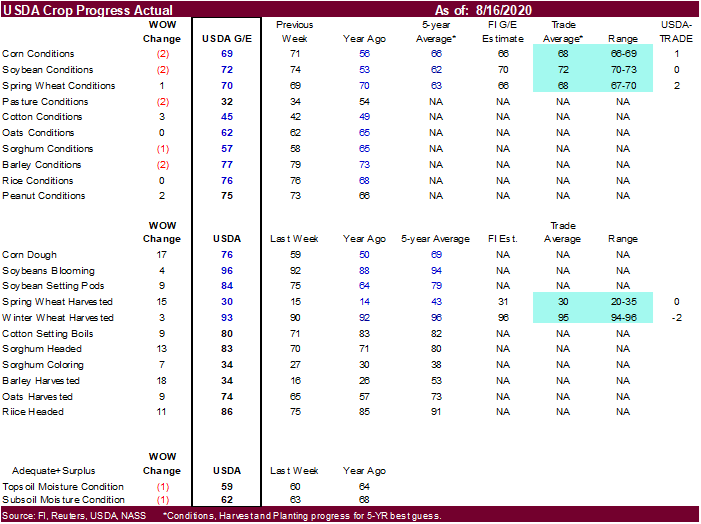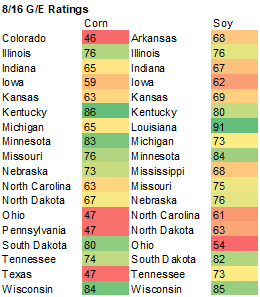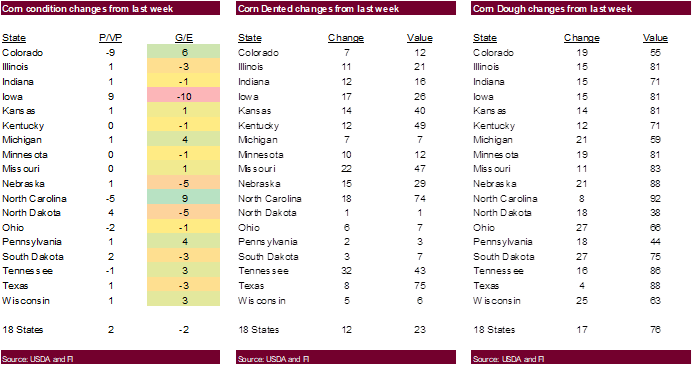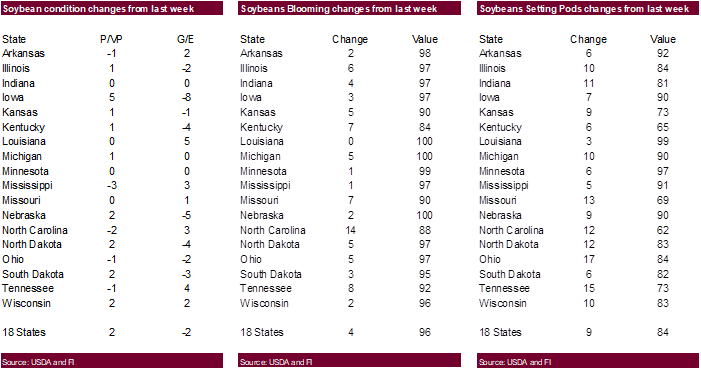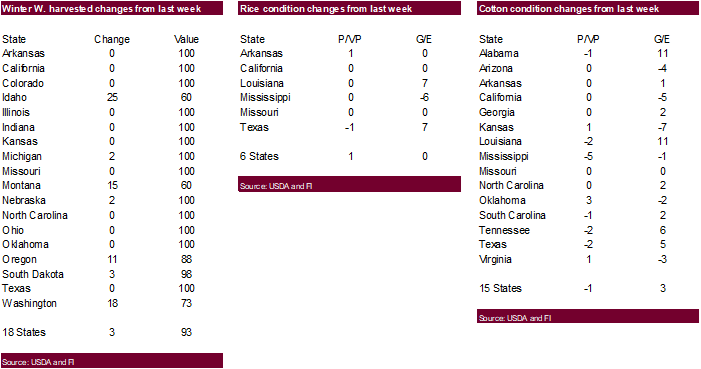 NOT
MANY CHANGES DURING THE WEEKEND
U.S.
weekend weather was wettest in the upper Midwest with some heavy rain in Minnesota where flooding continued after starting late last week

Net
drying occurred across many other Midwestern locations
Rain
was heavy in North Carolina and Virginia where some flooding resulted
Scattered
showers of lighter intensity occurred in the Delta and southeastern states keeping the southeastern states abundantly moist and only offering pockets of improved soil moisture in the Delta
Scattered
showers in western Texas helped to bring down afternoon temperatures during the weekend, but temperatures were hot late last week

Rainfall
was mostly less than 0.50 inch, but highest temperatures slipped to the 90s after being well over 100 Friday

Most
of the central through northwestern U.S. Plains and far western states were dry
Excessive
heat occurred in the western United States during the weekend

Extreme
highs to 123 degrees Fahrenheit occurred at Needles, California
Highs
of 100 to 106 as far north as Washington and Oregon
Arizona
cotton areas experienced extreme highs ranged from 108 to 116 degrees stressing crops and inducing a huge demand for irrigation
The
extreme temperatures also impacted northwestern Mexico
Temperatures
were seasonable in the eastern parts of the nation
U.S.
outlook does not support much rain in the heart of the Midwest, the Great Plains or far western U.S. this week

Scattered
showers will occur in the northern Midwest and throughout the southeastern states
Net
drying is expected elsewhere, although there will be a few periodic showers
Crop
stress will be on the rise in areas that already have limited soil moisture including parts of Iowa and surrounding areas and the Delta into the Tennessee River Basin


Crop
production potentials will not change in this coming week, but the topsoil will dry down making rain next week more important for late season crops

Weekend
rain in Ohio and southeastern Michigan will buy those areas a little time before turning too dry since soil moisture was already rated poorly Friday before the rain fell
U.S.
weather outlook next week will bring a couple of frontal systems into the Midwest offering some additional cooling after a brief period of warming and some rain

Net
drying will continue in the Plains and southwestern Corn Belt through much of next week
Southwest
monsoon flow will remain restricted
Increased
tropical activity in the Atlantic Ocean, Caribbean Sea and Gulf of Mexico in the next two weeks may contribute to less rain in the Plains and heart of the Midwest
Warm
weather will prevail in the central and western U.S. through next week
The
Tropics and subtropics should be closely monitored

We
are moving into the a more favored period for tropical cyclone development; the most favored period for storm development through the end of this month

Tropical
Storm Josephine dissipated during the weekend
Tropical
Storm Kyle dissipated during the weekend
Tropical
disturbances are present in the tropical Atlantic, but they may be slow to evolve into tropical cyclones

Tropical
disturbance will be possible in the Gulf of Mexico next week after evolving in the Caribbean Sea later this week – this system may impact Texas early next week, but it is too soon to have much confidence
A
second tropical disturbance may move across the Lesser Antilles late this week and into the weekend and could develop further, but it may interact with the greater Antilles keeping its intensity variable

This
system could be headed for the eastern Gulf of Mexico for mid- to late-week next week, but confidence is extremely low
West
Texas will experience a few showers and thunderstorms erratically over the next two weeks

Resulting
rainfall will not be enough to seriously change soil or crop conditions, but may hold down temperatures periodically
U.S.
northwestern Plains and southwestern Canada's Prairies will not receive much rain for the next week favoring harvest progress for early season crops, but stressing some of the late season crops

Rain
is possible next week that might offer some temporary reprieve from this week's drying
Manitoba
crop weather will be best for late season crops
Temporary
dry and warm weather in Alberta will be welcome for many crop areas that have been too wet this summer in the west and north
Alberta
will receive rain in the west and north this weekend and possibly again during mid-week next week keeping the west and north wet
Eastern
and southern Ukraine into Russia's Southern Region will continue dry or mostly dry through much of the next ten days

Crop
moisture stress will continue to rise threatening unirrigated, corn, soybeans, sunseed, potatoes, sugarbeets and other crops
Russia's
eastern New Lands will continue to receive periods of rain this week and a few areas may get a little too wet raising some concern over sunseed and spring wheat quality

Weekend
rainfall in France impacted much of the nation with 0.10 to 0.40 inch and a few local totals over 1.00 inch


Most
of the greatest rainfall was in the far eastern parts of the nation
Rain
elsewhere in Europe during the weekend was greatest from southeastern Germany to Romania, Serbia, Bosnia and a few areas in western Bulgaria

From
0.35 to 1.35 inches, but several areas reported up to 2.25 inches and there a few totals that reached up near and over 5.00 inches in Macedonia and Montenegro
Weekend
temperatures were a little warmer than usual with highs in the upper 70s and 80s north and 80s and lower to a few middle 90s south
Some
rain fell in the dry areas of Ghana and Ivory Coast during the weekend, but coverage was poor in Ivory coast

Rainfall
varied from 0.25 to 0.40 inch in Ghana while one location in western coffee and cocoa areas in Ivory Coast received up to 3.00 inches


Many
other areas in Ivory Coast were dry
Dryness
in west-central Africa will prevail over the next ten days, although a few more showers and thunderstorms will occur infrequently

The
precipitation will be welcome, but not likely enough to counter evaporation leaving an ongoing need for greater rain
Seasonal
rains will return to this area late this month and more likely in September

The
longer-range outlook calls for abundant rain in these areas later this year
Europe
weather over the next ten days will bring brief periods of rain to many areas, but net drying will continue in central through southern France, Spain, southern Portugal, the Italian Peninsula and eastern Bulgaria to southern and eastern Romania and Moldova

Crop
moisture stress will continue in each of these areas until greater rain falls
Temperatures
will be near to above average over the next ten days
Western
CIS crop areas will experience an erratic rainfall pattern over the next ten days resulting in areas of net drying and some pockets of significant rain

Drying
in the western parts of the CIS will be good for early season crop maturation and harvest progress

Late
season crops in the south will continue stressed, but good soil moisture in the north and west will support crops when rain is not falling
Temperatures
will be seasonable
India
weather over the next ten days to two weeks will be abundantly wet with bouts of flooding from Chhattisgarh, Odisha and parts of northern Telangana through Madhya Pradesh to parts of southern Rajasthan and portions of Gujarat

Some
crop damage will be an increasing risk as time moves along
Temperatures
will be a little milder than usual in the wettest areas keeping evaporation rates low
Interior
southern India will experience net drying
Southern
Pakistan rainfall will be restricted over the next two weeks leaving rice, sugarcane and cotton dependent upon irrigation for normal crop development

Temperatures
will be warmer than usual
Weekend
rain in India was locally heavy in eastern Madhya Pradesh where nearly 10.00 inches resulted in one location. Rainfall of 1.00 to 4.00 inches occurred in Rajasthan except in the northwest where no more than 0.92 inch resulted

Other
areas of moderate rain occurred in Telangana and near the west coast from Goa through western Maharashtra to southern Gujarat
Dry
weather occurred in the far south and in pockets of Bihar, Jharkhand, northern Madhya Pradesh and from Haryana into Punjab
Himachal
Pradesh also received some heavy rainfall of more than 8.00 inches resulting in some local flooding
Pakistan
was mostly dry and very warm during the weekend
Southeastern
Manitoba received some welcome rain briefly Friday into Saturday morning

Rain
totals ranged up to 1.35 inches with one location getting nearly 2.50 inches
Mostly
dry weather occurred in many other areas in the Prairies and temperatures were seasonable
Rain
fell across Thailand, Laos and some immediate neighboring areas during the weekend resulting in good soil moisture and crop conditions
Greater
rain is needed in parts of Myanmar, Cambodia and Vietnam, although very few areas are considered too dry

Rain
is expected to fall periodically over these areas resulting in abundant soil moisture and some local flooding
Indonesia
rainfall was erratic and very light during the weekend in Sumatra, western Java and Sulawesi

Rain
was more significant in "portions" of Kalimantan and a few Malaysian locations, but more rain is needed in parts of the region
Weather
over the next ten days will continue erratic, but at least some rain will fall in each production area at one time or another
China
rainfall during the weekend was most significant in central Sichuan where flooding resulted after 27.75 inches of rain resulted

Heavy
rain also fell in western Shandong were 4.00 to 12.91 inches resulted

Some
flooding occurred in western Shandong and northwestern parts of North Korea with more than 8.00 inches resulting in North Korea

Rainfall
of 1.00 to more than 7.00 inches occurred in many other areas from southern Gansu and Shaanxi to southern Hebei and the remainder of Shandong

Some
areas in Heilongjiang and southern Liaoning also reported rain with amounts to 0.83 inch except in eastern Heilongjiang where a local total of 5.51 inches resulted

Heavy
rain also continued in Guangxi where another 2.25 to more than 7.70 inches resulted during the weekend after significant rain fell late last week
Net
drying occurred in the Yangtze River Basin where sunny and warm weather prevailed
China
will experience alternating periods of rain and sunshine during the coming week to ten days

Most
areas will be impacted with rain at one time or another
Rainfall
will be lightest and least frequent in the lower Yangtze River Basin and interior southeastern parts of the nation
Xinjiang,
China weather during the weekend included scattered showers and thunderstorms some of which were locally heavy in the northeast

Northeastern
areas were wettest and coolest

Highest
temperatures in the northeast were limited to the 70s and lower 80s

Dry
and warm weather occurred in the west with highs in the lower 90s and lows were in the 60s
Tropical
Disturbance near the northern tip of Luzon Island has potential to develop into a tropical cyclone this week

Movement
will be west northwesterly toward southwestern Guangdong and southern Guangxi with landfall possible Wednesday and Thursday

Heavy
rain is expected from these areas to the Vietnam/Guangxi, China border in the second half of this week
Australia
reported rain in many crop areas during the Friday through Sunday period, although amounts were mostly light

The
moisture was still beneficial for most crops
Rainfall
ranged from 0.05 to 0.62 inch in New South Wales, up to 0.43 inch in South Australia, 0.05 to 0.88 inch in southeastern Queensland while 0.35 to 0.88 inch resulted in New South Wales and amounts to 0.79 inch in Victoria
Temperatures
were mild to warm
Australia's
weather over the next ten days will not include much rain outside of coastal areas

Victoria
will be wettest with some 1.00 to 3.00 inches expected by Sunday
Rain
elsewhere will be less than 0.30 inch
Queensland
will be dry and rain will be limited in interior crop areas
Temperatures
will be close to normal in the west and south and a little cooler than usual in the southeastern corner of the nation
Argentina
will be mostly dry for the next week to 8 or 9 days

Scattered
showers are expected in the last days of August, but the resulting precipitation will not be significant enough to change drought status

Argentina
weather during the weekend was dry and mild to warm with highs in the 50s and 60s south and in the 60s and 70s north followed by morning frost and freezes
Southern
Brazil received rain during the weekend from southern and central Mato Grosso do Sul to southern Sao Paulo, Parana to northern Rio Grande do Sul

Rain
amounts varied from 1.00 to 4.00 inches in Parana and 0.35 to 1.50 inches in most other areas
Temperatures
were seasonably mild in far southern Brazil and warm elsewhere

Extreme
highs in the 90s to 102 degrees Fahrenheit occurred in most of central through northern parts of Brazil
Brazil
rain this workweek will be greatest from southern Mato Grosso do Sul to Parana where 2.00 to more than 6.00 inches of rain will result by Friday

Follow
up rain is expected next week, but it will be much lighter
Some
flooding will occur this week which may threaten some of the winter wheat crop
Lighter
rain will occur farther north in Sao Paulo, southern Minas Gerais and Rio de Janeiro this week and next week with the only concern being for coffee in a few of the mountainous areas where a little flowering is possible
Early
season corn planting will increase following this rainy period
Much
cooler than usual temperatures will occur this week from southern Brazil and Paraguay into eastern and central Argentina

Next
week will continue cool in Argentina
Ontario
and Quebec weather is mostly good with alternating periods of rain and sunshine over the next two weeks

Temperatures
will be seasonable
South
Africa rain will continue periodically in the southwest over the next week, but most of it will be near the coast and it will not be frequent enough to seriously bolster topsoil moisture for long term crop use

Eastern
winter wheat and barley areas still need a general rain to support dryland crops which represent 8% of the total crop in the region
Temperatures
will be cooler than usual
Mexico
precipitation in the coming week to ten days will be greatest in western and southern parts of the nation benefiting many corn, sorghum and dry bean production areas

Coffee,
citrus, sugarcane and many fruit and vegetable crops will also benefit
Northeastern
Mexico will be mostly dry

Some
of the region is still drought stricken
Central
America rainfall will be frequent enough to support all crop needs
New
Zealand rainfall will be above average this week except in southern parts of South Island where it will be lighter than usual

Southern
Oscillation Index was +4.70 this morning and it will continue positive this week
Source:
World Weather Inc.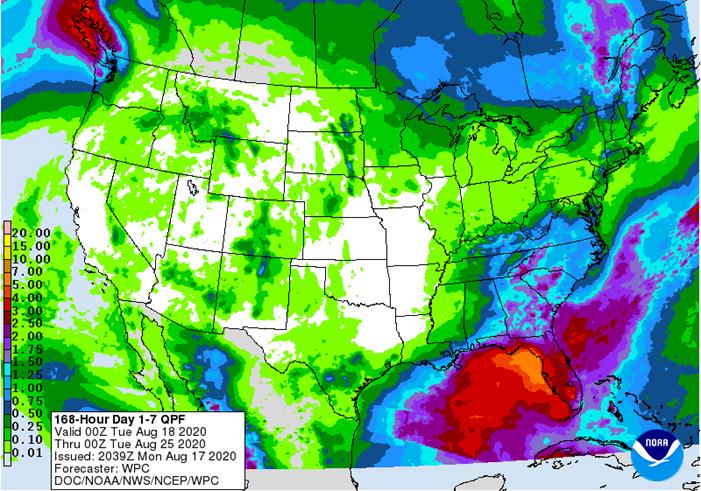 USDA
weekly corn, soybean, wheat export inspections, 11am
U.S.
crop conditions for soybeans, corn, cotton; wheat harvesting progress, 4pm
U.S.
monthly green coffee stockpile data from Green Coffee Association
EU
weekly grain, oilseed import and export data
Ivory
Coast cocoa arrivals
HOLIDAY:
Indonesia
TUESDAY,
August 18:
New
Zealand global dairy trade auction
WEDNESDAY,
August 19:
EIA
U.S. weekly ethanol inventories, production, 10:30am
ISO
online conference on Sugar and Health
USDA
total milk production
THURSDAY,
August 20:
USDA
weekly crop net-export sales for corn, soybeans, wheat, cotton, pork, beef, 8:30am
Brazil
Conab sugar, cane and ethanol production
Port
of Rouen data on French grain exports
China
International Cereals and Oils Industry Summit
USDA
red meat production, 3pm
HOLIDAY:
Malaysia
EARNINGS:
Cherkizovo
FRIDAY,
August 21:
ICE
Futures Europe weekly commitments of traders report, 1:30pm (6:30pm London)
CFTC
commitments of traders weekly report on positions for various U.S. futures and options, 3:30pm
FranceAgriMer
weekly update on crop conditions
China
International Cereals and Oils Industry Summit, day 2
Malaysia
palm oil export data for August 1-20
U.S.
cattle on feed, 3pm
Source:
Bloomberg and FI
USDA
inspections versus Reuters trade range

Wheat
461,699 versus 400000-600000 range
Corn
1,036,985 versus 800000-1100000 range
Soybeans
785,075 versus 425000-800000 range

GRAINS
INSPECTED AND/OR WEIGHED FOR EXPORT

REPORTED IN WEEK ENDING AUG 13, 2020

— METRIC TONS —
————————————————————————-

CURRENT PREVIOUS
———–
WEEK ENDING ———- MARKET YEAR MARKET YEAR

GRAIN 08/13/2020 08/06/2020 08/15/2019 TO DATE TO DATE
BARLEY
1,996 0 0 2,461 2,938
CORN
1,036,985 1,288,883 510,334 40,312,783 46,168,508
FLAXSEED
0 0 0 317 48
MIXED
0 0 0 0 0
OATS
0 0 0 800 299
RYE
0 0 0 0 0
SORGHUM
83,934 109,012 56,802 4,723,598 1,999,455
SOYBEANS
785,075 785,568 1,158,755 40,950,167 43,485,255
SUNFLOWER
0 0 0 0 0
WHEAT
461,699 476,698 564,632 5,625,441 5,521,334
Total
2,369,689 2,660,161 2,290,523 91,615,567 97,177,837
————————————————————————-
CROP
MARKETING YEARS BEGIN JUNE 1 FOR WHEAT, RYE, OATS, BARLEY AND
FLAXSEED;
SEPTEMBER 1 FOR CORN, SORGHUM, SOYBEANS AND SUNFLOWER SEEDS.