PDF Attached includes updated S&D's and price projections

Another
258k soybeans were announced by USDA for China
and 120k to unknown. Initial reaction to USDA's Aug report was neutral to bearish, but the market responded by short covering positions in corn and soybeans. Wheat ended lower in Chicago and MN, mixed in KC. Traders remain focused
on the weather event that occurred Monday.

US
corn old and new crop stocks were reported 43 and 44 mil bu lower than expected, respectively, but US production was reported just over 100 million bushels above trade expectations. New-crop world production was upward revised 7.8 million tons to 1.171 billion
tons, 58.6 million tons above 2019-20. Global stocks were upward revised 2.4 MMT to 317.5 million tons from last month (2.8MMT below trade expectations). EU 2020 corn production was lowered 0.5MMT. SA 2020-12 production was unchanged.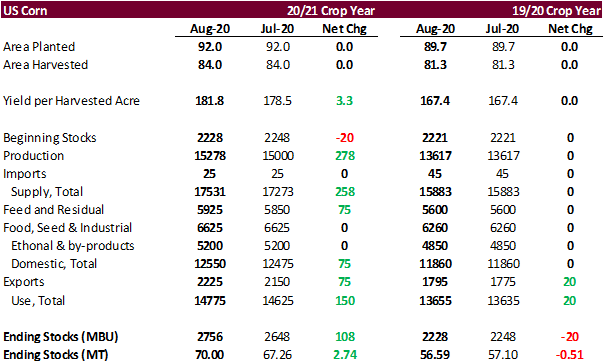 US
soybean old crop stocks within expectations but new-crop was upward revised 86 million bushels, a bearish indicator. USDA did not upward revise old crop soybean exports, too low in our opinion. US soybean production came in 171 million bushels above trade
expectations as the yield was reported at a record 53.3 bushels per acre, above previous 51.9 for 2016-17. Brazil 2019-20 soybean exports were taken up 4.5 MMT to 93.5 million tons. World soybean production was taken up 7.9 million tons, offset by an upward
revision to 2020-21 China imports by 3.0 million to 99 million. We believe China will import of 100 million tons of soybeans in 2020-21. Brazil soybean exports were taken up 1 million tons for 2020-21 to 84 million tons, 9.5 million below 2019-20.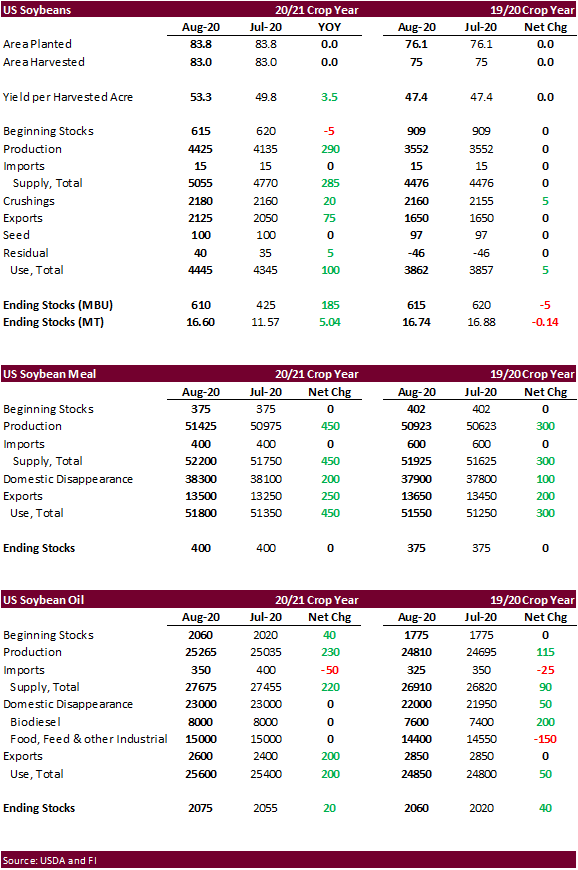 US
wheat stocks were reported 21 million bushels below expectations although production came in slightly above expectations. World wheat was downward revised 3.3 million tons in large part to a 4 million ton decrease to the EU wheat crop. World ending stocks
were taken up 2 million tons. Ukraine 2020-21 wheat production was lifted higher by 0.5MMT and Russia by 1.5MMT. USDA took Brazil wheat production higher by 1.1MMT to 6.8MMT.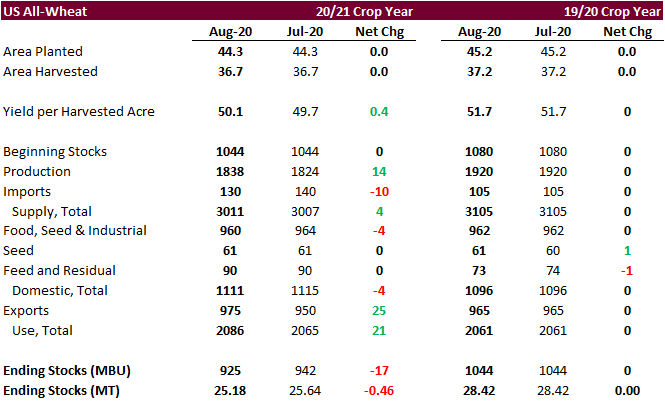 We
see this report as less influential for price reaction unlike other August report years, but short covering rallied soybeans and corn. The trade will shift back their focus to US weather developments and impact from the recent derecho that ripped across IA
and IL. Another focus point the trade will be watching will be upcoming soybean and corn shipments after China committed a good amount of product. Look for prices to remain subdued over the short term. If crop damage was not as widespread as speculated
early this week, we would not rule out $2.95 Dec corn, $8.40 Nov soybeans, and $4.75 Dec Chicago wheat.

Note
on crop damage: IA damage via twitter…
https://twitter.com/kennedyclouds/status/1293262701934895110?s=21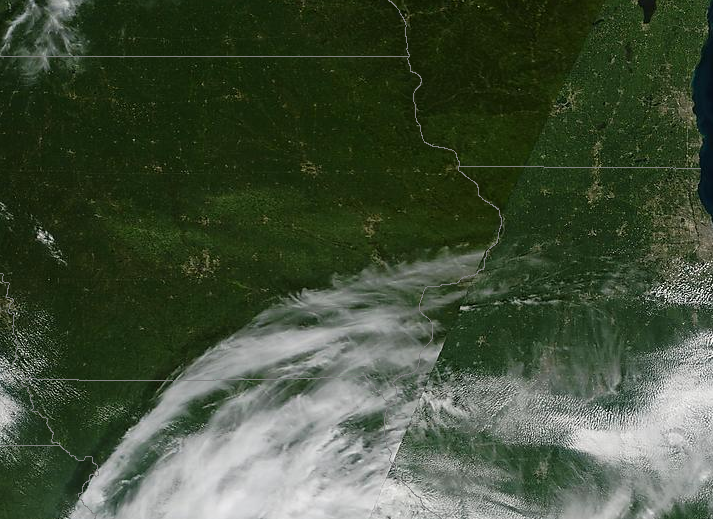 WEATHER
HOT SPOTS IN THE WORLD
Argentina
remains too dry and concern remains for its wheat and barley production potential

Cordoba
remains driest with parts of Santa Fe, La Pampa and northwestern Buenos Aires drying out recently
The
trend will not change much for at least the next week
Cordoba
is unlikely to see significant rain for the next two weeks
World
Weather, Inc. is looking for a little better opportunity for some rain in September in the driest areas

China's
flooding is over and the Yangtze River Basin is drying out

The
drying trend will continue for the next couple of weeks
Some
locally heavy rain and local flooding is still possible in northern parts of the nation periodically in the next two weeks, but no new crop damage is expected

India
may be facing a greater amount of flooding next week and into the following weekend as rain intensity increases along with its persistence

A
close watch on Madhya Pradesh and immediate neighboring areas is warranted for the next couple of weeks
Most
of India's crops remain in very good condition, despite some ongoing dryness in northwestern Rajasthan, Himachal Pradesh and Jammu and Kashmir

Russia's
New Lands have either received significant rain recently or going to be receiving it in this coming week

Spring
wheat and sunseed crop improvements have occurred recently and will continue, although some of the coming improvement is occurring a little late


Reports
of lower corn production have been received from Ukraine

Dryness
in Ukraine and Russia's Southern Region has been serious in recent weeks and all unirrigated summer crop yields are likely down


Eastern
and southern Ukraine and most of Russia's Southern region away from Krasnodar and Georgia has been too dry for many weeks

Relief
from dryness is unlikely for at least another week to ten days, but some rain may come later this month

The
moisture will arrive too late, however.

Relief
from drought in France, Germany, Belgium, the U.K. and Netherlands will begin today and last for the next week


Improving
soil moisture will be great for future winter crop seeding, but may only stop the recent declines in summer crop condition and yield

A
reversal in the production potential losses in France is highly unlikely, but the rain will stop the decline

West-central
Africa dryness in Ivory Coast, Ghana and neighboring areas is not unusual for this time of year, but the dryness started early and has festered long enough to be of some concern to rice, sugarcane, coffee and cocoa

Seasonal
rains are expected to return, albeit a little slower than usual
Once
the seasonal rains resume they may become heavy in late September and October

U.S.
weather looks non-threatening for the next two weeks

Showers
will occur in the first week of the outlook benefiting many areas, but not all
Cooler
than usual conditions in the Midwest next week will greatly reduce evaporation, slow crop development rates and conserve soil moisture


Crop
conditions will be mostly good

Warming
in the last ten days of August will come with much less rainfall and the impact will be to dry down many Midwestern crop areas, but that will only benefit corn maturation


Some
soybeans could become stressed, but the growing season will be winding down before too long limiting the amount of time that dryness could impact crops

West
Texas will get some showers and thunderstorms this week and into early next week, but they will be brief and light failing to soak the region

Sufficient
moisture will be present to help keep temperatures from becoming excessively hot

Highest
temperatures the remainder of this week will occur through Saturday when readings range from 97 to 108 degrees Fahrenheit

Temperatures
will not be quite as warm late in the coming weekend or next week due to some higher relative humidity and a few showers


High
temperatures may slip to the upper 80s and 90s

U.S.
northwestern Plains and southwestern Canada's Prairies will not receive much rain for the next ten days favoring harvest progress for early season crops, but stressing some of the late season crops
Far
western U.S. weather will be mostly dry and warm during the next ten days as the monsoon flow remains sporadic and light
Ontario
and Quebec weather is mostly good with alternating periods of rain and sunshine over the next two weeks

Recent
rain bolstered topsoil moisture and removed concern over dryness
Xinjiang,
China weather during the weekend was warm and dry

Highest
temperatures reached the 80s Fahrenheit northeast and the 90s to 108 in other crop areas
The
region will not likely see much change in weather this week
Cotton
and other crops are suspected of developing favorably, although cool conditions in the minor production areas of the northeast have reduced yields and may be delaying maturation for some crops.

More
frequent and more abundant rain is expected in mainland areas of Southeast Asia during the coming ten days

The
moisture boost will be good for rice, sugarcane, coffee and a host of other crops

Flooding
rain is expected in western and southern Myanmar over the next couple of weeks
Rain
continues erratic and mostly absent in Sumatra, Java and parts of Borneo in Indonesia and Malaysia

Temperatures
have been ebbing warmer than usual as well
Rainfall
will continue erratic and light for a while in these areas, but some slowly increasing rainfall is expected late this week through most of next week

Philippines
rain recently has been bolstering soil moisture in many areas from western Luzon Island southward to northern Mindanao

Recent
rainfall has been supportive of crops and little change will occur over the next ten days

South
Africa rain will continue periodically in the southwest over the next couple of weeks, but most of it will be near the coast and it will not be frequent enough to seriously bolster topsoil moisture for long term crop use

Eastern
winter wheat and barley areas still need a general rain to support dryland crops which represent 8% of the total crop in the region
Temperatures
will be cooler than usual

Australia
rainfall will impact most winter crop areas during the next ten days

However,
much of the resulting rain will be light and there will be some ongoing need for greater rain in Queensland and South Australia
The
bottom line remains a very good outlook for the nation's winter crops, although there will still need follow up rain to fix long term moisture deficits in Queensland as well as South Australia

Southern
Brazil will receive rain today through August 20 and it will be good for winter wheat, corn planting and early corn establishment

Most
of the precipitation will fall in Rio Grande do Sul, Santa Catarina, Parana, Paraguay and southern Mato Grosso do Sul leaving areas to the north drier biased; including Sao Paulo and a few locations in southern Minas Gerais and Rio Grande do Sul
Dry
weather is expected elsewhere in Brazil except coastal areas from Espirito Santo to Bahia where rain is expected periodically

Mexico
precipitation in the coming week to ten days will be greatest in western and southern parts of the nation benefiting many corn, sorghum and dry bean production areas

Coffee,
citrus, sugarcane and many fruit and vegetable crops will also benefit
Northeastern
Mexico will be mostly dry

Some
of the region is still drought stricken

Central
America rainfall will increase this week and continue plentiful next week
New
Zealand rainfall will be below average this week and above normal in parts of the nation in the August 20-26 period
Southern
Oscillation Index was +3.86 this morning and it will continue positive most of this week
Tropical
Depression 06W remains south of Japan's main islands will move toward the southern Ryukyu Islands over the next several days

The
storm is very small and expected to move west southwesterly over open water for the next few days while changing little in intensity
The
system is not likely to impact any major landmass as a significant tropical cyclone


Tropical
Depression Eleven is still far from land in the Atlantic Ocean and it is expected to become a tropical storm and pass northeast of the northern Leeward Islands this weekend

Source:
World Weather Inc.
7
Day Precipitation Outlook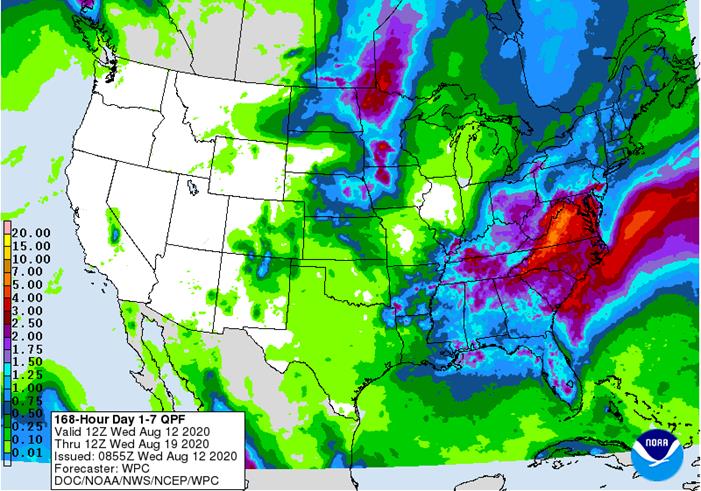 USDA's
monthly World Agricultural Supply and Demand (Wasde) report, noon
China
CASDE monthly crop supply and demand report
Vietnam
data on coffee, rice and rubber exports in July
EIA
U.S. weekly ethanol inventories, production, 10:30am
U.S.
soybean, corn acreage, noon
EARNINGS:
BRF, Marfrig
HOLIDAY:
Thailand
THURSDAY,
August 13:
USDA
weekly crop net-export sales for corn, soybeans, wheat, cotton, pork, beef, 8:30am
Port
of Rouen data on French grain exports
New
Zealand Food Prices
EARNINGS:
JBS, Olam
FRIDAY,
August 14:
ICE
Futures Europe weekly commitments of traders report, 1:30pm (6:30pm London)
CFTC
commitments of traders weekly report on positions for various U.S. futures and options, 3:30pm
FranceAgriMer
weekly update on crop conditions
EARNINGS:
Golden Agri-Resources
SATURDAY,
August 15:
Malaysia
palm oil export data for Aug 1-15 from AmSpec
Source:
Bloomberg and FI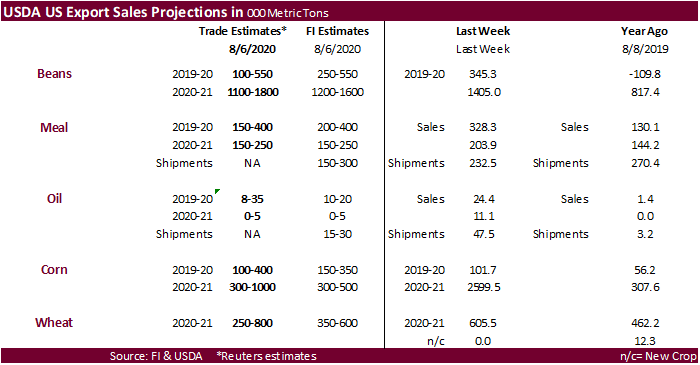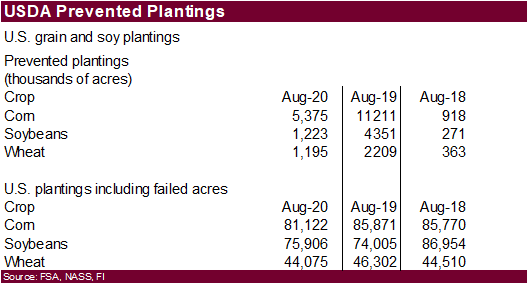 US
CPI (M/M) Jul: 0.6% (est 0.3%; prev 0.6%)
US
CPI Ex Food, Energy (M/M) Jul: 0.6% (est 0.2%; prev 0.2%)
US
CPI (Y/Y) Jul: 1.0% (est 0.7%; prev 0.6%)
US
CPI Ex Food, Energy (Y/Y) Jul: 1.6% (est 1.1%; prev 1.2%)
US
Real Avg Weekly Earnings (Y/Y) Jul: 4.3% (prevR 4.7%)
US
Real Avg Hourly Earnings (Y/Y) Jul: 3.7% (prevR 4.1%)
Corn
futures ended 2.25-3.75 higher on short covering despite what was perceived as a bearish report. With an 18.7 percent projected US 2020-21 STU, up from 16.3% for 2019-20, and a massive short position held by funds, it's hard to justify a short position in
this market, at least for the short term, when traders rallied the corn market after USDA reported a record corn yield. Funds bought an estimated net 10,000 corn contracts. Another supporting factor was a higher trade in energies and downward revisions to
Black Sea corn production estimates by private companies. WTI
crude oil rallied $1.10 by 2:00 PM CT.
The
Iowa State AgMin mentioned about 10 million acres were potentially impacted by the derecho storm on Monday, and tens of millions of bushels of commercial grain storage, and millions of bushels of on-farm grain storage was impacted, destroyed, or severely damaged.
Combined soybean and corn harvested acres for IA were reported by USDA at 22.870 million, with 59 percent comprising of corn. If one were to back in say, 50 percent of 10 million acres dedicated for corn, and an average yield of 190 bu/acre (202 was reported
for August report for IA), that would equate to roughly 950 million bushels of corn affected by the derecho storm or 35 percent of the projected US carryout of 2.756 billion. We don't think all of the area will be a loss, but even is a quarter of that amount
translates to a total loss would amount to 238 million bushels, 9 percent of USDA's projected 2020-21 carryout. Note USDA increased the 2020 US corn crop by 290 million bushels from their June estimate.


Black
Sea wheat estimates are seeing an upgrade but corn estimates are shrinking. SovEcon raised its forecast for Russia's 2020 wheat crop by 1.6 million tons to 80.9 million tons and for barley by 500,000 tons to 19.5 million tons. However, they applies a downward
revision to the corn crop by 1.2 million tons to 13.6 million tons lowered the total 2020 grain crop by 400,000 tons to 126.1 million tons. Earlier today Ukraine grain traders union UGA decreased their production estimate for Ukraine corn to 36.4 million
tons from a previous estimate of 38.9 million tons, citing dry weather. Ukraine harvested 35.9 million tons of corn in 2019.

China's
National Meteorological Center warned of heavy rainstorms for parts of China's northwest, north, northeast, southwest and southeastern coastal areas until Thursday.

The
European Union re-introduced their import duty for corn, increasing their levy to 5.48 euros ($6.42) per ton.
Bloomberg
Economics: China's shortfall in meeting its phase-one commitments. It found that "purchases fell substantially short in agriculture, where staying on track to hit the target over the first six months of 2020 implied exports of almost $17 billion; actual purchases
came in at just $6.5 billion." "U.S. energy exports reached only about a fifth of their target."

The
USDA Broiler Report showed eggs set in the US down 1 percent and chicks placed down 3 percent. Cumulative placements from the week ending January 4, 2020 through August 8, 2020 for the United States were 5.95 billion. Cumulative placements were down slightly
from the same period a year earlier.
The
ethanol data was perceived to be bearish for US corn futures. Weekly
US ethanol production declined 13,000 barrels to 918,000, opposite from a Bloomberg trade poll expecting an increase of 14,000 barrels. Ethanol stocks decreased 596,000 barrels. The trade was looking for an increase of 77,000 barrels.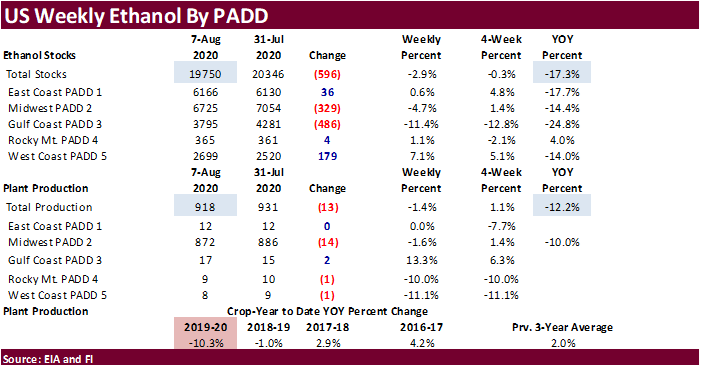 Corn
Export Developments
<![if !supportLists]>·
<![endif]>Israel seeks on July 20 seeks about 200,000 tons of corn and 350,000 tons of soybean meal.

<![if !supportLists]>·
<![endif]>Taiwan's MFIG on August 13 seeks up to 65,000 tons of optional origin corn for October 28-Nov 16 shipment. Egypt is in for wheat.

September
corn is seen in a $3.05 and $3.25 range. December $2.95-$3.35 range.
Soybeans
ended 7.25-12.50 cents higher, soybean meal $0.10-$0.40 higher, and soybean oil up sharply by 94-104 points. Part of the reason for soybean oil to rally by a large amount was higher WTI crude oil. Soybean oil also rallied from higher overnight palm oil futures.
Soybeans traded above its 50-day MA. Short covering was a major factor for the soybean rally, despite USDA reporting a US soybean production that would be the second largest in history. USDA did raise their outlook for China soybean imports to a record 99
million tons for 2020-21, from 96 million in July. Note USDA has an 84 million Brazil soybean export outlook for Brazil, down 9.55 million from 2019-20, an indication they are still confident China will continue to buy US soybeans throughout next year.

Funds
bought an estimated net 8,000 soybeans, bought 1,000 soybean meal and bought 9,000 soybean oil.

We
heard China bought up to 5 US Q4 soybean cargoes out of the Gulf and PNW on Tuesday.

US
and China officials will meet soon to discuss the Phase One trade deal.
In
its monthly CASDE update, China increased its soybean import projection and corn consumption for 2019-20. China looks for 96 million tons of soybeans to be imported this crop year, up 2 million tons from previous.

China's
Sinograin will sell 24,611 tons of domestic soybean reserves on Thursday.
The
third month palm futures contract rebounded overnight to end up 40 points and cash was up $2.00/ton on Indonesia production data. China vegetable oil prices were down 1.1-2.4 percent, meal slightly lower and soybeans down 44 yuan or 0.3%.

Gapki
estimated Indonesia palm oil stocks at the end of June increased 12% to 3.95MMT from 3.53 million tons in May. June palm production rose 13.6% to 4.51 million tons from 3.97 million tons a month earlier.

SGS:
Malaysian palm Aug 1-10 palm exports fell 19.4 percent to 372,067 tons from 461,806 tons month ago.

<![if !supportLists]>·
<![endif]>Under the 24-hour reporting system, private exporters reported:
–Export
sales of 258,000 metric tons of soybeans for delivery to China during the 2020/2021 marketing year
–Export
sales of 120,000 metric tons of soybeans for delivery to unknown destinations during the 2020/2021 marketing year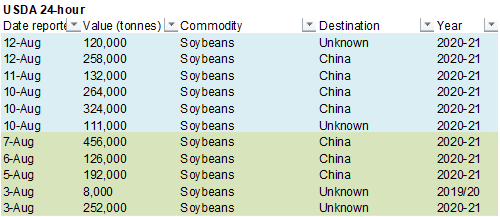 <![if !supportLists]>·
<![endif]>Israel seeks on July 20 seeks about 200,000 tons of corn and 350,000 tons of soybean meal.

NOPA.
We
are hearing downtime during July was larger than June and much larger than July 2019.


September
soybeans are seen in a $8.60-$8.95 range. November $8.60-$9.00.
September
soybean meal is seen in a $280 to $290 range. December $285-$300.
September
soybean oil range is seen in a 30.00 to 32.50 range. December 29.75-33.00 range.

Jordan
passed on 120,000 tons of optional origin wheat for Nov-Dec shipment.
Egypt
after the close announced they are in for wheat. Payment will be at sight. Yesterday Egypt bought 120,000 tons of Russian wheat.

Syria
seeks 200,000 tons of soft wheat from EU/Russia on Sept. 9 and 200,000 tons of wheat from Russia on Sept. 14.
<![if !supportLists]>·
<![endif]>The World Food Program plans to send 50,000 tons of wheat to Lebanon.

Pakistan
seeks 1.5 million tons of wheat on August 18.
Syria
looks to sell and export 100,000 tons of feed barley with offers by Sep 1.



<![if !supportLists]>·
<![endif]>Vietnam July rice exports increased 6.5 percent from June to 479,633 tons, bringing year to date exports to 4 million tons, up 0.6 percent.

<![if !supportLists]>·
<![endif]>Mauritius seeks 6,000 tons of white rice on August 17 for October through December delivery.

<![if !supportLists]>·
<![endif]>South Korea's Agro-Fisheries & Food Trade Corp. seeks 60,556 tons of rice from Vietnam and other origins, on Aug. 19, for arrival in South Korea between Dec. 31, 2020, and February 28, 2021.
Updated
8/12/20
Chicago
September is seen in a $4.70-$5.15 range. December $4.80-$5.30.
KC
September; $4.00-$4.40 range. December $4.10-$4.45.
MN
September $4.75-$5.05 range. December $4.95-$5.25.
Terry Reilly
Senior Commodity Analyst – Grain and Oilseeds
Futures International │190 S LaSalle St., Suite 410│Chicago, IL 60603
W: 312.604.1366
AIM: fi_treilly
ICE IM:
treilly1
Skype: fi.treilly

Trading of futures, options, swaps and other derivatives is risky and is not suitable for all persons. All of these investment products are leveraged, and you can lose more than your initial deposit. Each investment product is offered
only to and from jurisdictions where solicitation and sale are lawful, and in accordance with applicable laws and regulations in such jurisdiction. The information provided here should not be relied upon as a substitute for independent research before making
your investment decisions. Futures International, LLC is merely providing this information for your general information and the information does not take into account any particular individual's investment objectives, financial situation, or needs. All investors
should obtain advice based on their unique situation before making any investment decision. The contents of this communication and any attachments are for informational purposes only and under no circumstances should they be construed as an offer to buy or
sell, or a solicitation to buy or sell any future, option, swap or other derivative. The sources for the information and any opinions in this communication are believed to be reliable, but Futures International, LLC does not warrant or guarantee the accuracy
of such information or opinions. Futures International, LLC and its principals and employees may take positions different from any positions described in this communication. Past results are not necessarily indicative of future results.