PDF Attached
Under
the 24-hour reporting system, private exporters reported to the U.S. Department of Agriculture export sales of 456,000 tons of soybeans for delivery to China during the 2020/2021 marketing year. For Monday we look for US crop conditions to improve one point
for corn, soybeans, and spring wheat.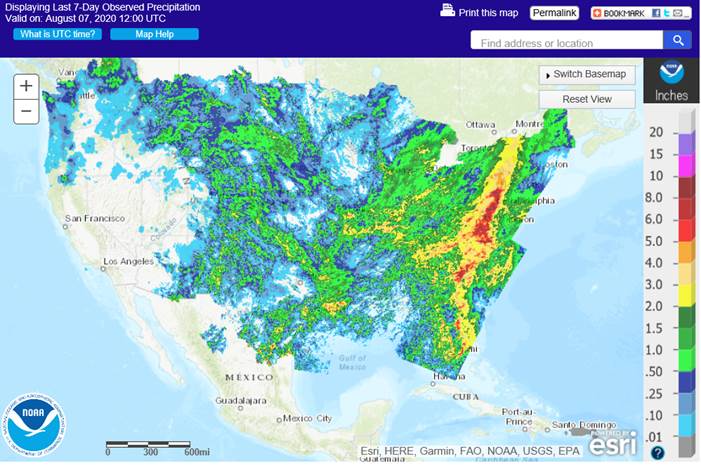 Kudos
go to the European weather forecast model run from late last week for its prediction of excessive rain in northern China and the Korean Peninsula

Seven
day totals ranged from 5.00 to 10.00 inches from Shaanxi to Hebei and Shandong, China with local totals to 16.50 inches in Shandong and east-central Hebei
Rainfall
in North Korea and northern South Korea has ranged from 5.00 to 10.00 inches with local totals to 20.31 inches as of this morning


Another
4.00 to 12.00 inches will occur throughout the Korean Peninsula over the next several days worsening flood conditions

China's
heavy rain event is mostly over, although lingering rain in Shandong and northern Jiangsu is expected today

The
world's tropical regions have quieted down for now, but World Weather, Inc. sees the Atlantic Ocean Basin coming alive again in another 10-12 days

The
western and eastern Pacific Oceans have been rather quiet with tropical cyclones this season especially the west with only a few storms since January which is well below average

U.S.
weather will be dominated by a "dirty" ridge of high pressure this weekend and next week allowing showers and thunderstorms to scatter over and under it while temperatures trend a little warmer

The
end result will be good for crops
Some
rain will reach into Iowa's dry region and neighboring areas of the northwestern Corn Belt offering some short-term relief from dryness
Another
dry region in the Delta and Tennessee River Basin will get scattered showers in the coming week that will be beneficial for crops even though significant relief to long term dryness is not very likely
A
good mix of rain and sunshine will impact other areas in the Midwest and southeastern states over the next ten days
Net
drying will occur in much of the high Plains region, despite some scattered showers in the next ten days due to warm temperatures

U.S.
week two weather needs to be closely monitored for a possible bout of faster drying and warmer temperatures

Some
of the longer range forecast models have been suggesting limited southwest monsoon moisture and a reduction in Gulf of Mexico moisture flowing northward into the Midwest during the August 14-20 period while a stronger ridge of high pressure builds over a part
of the Plains and Midwest

This
is a recipe for faster drying and some folks may be caught off guard by the faster drying rates

However,
subsoil moisture will carry most crops through the drier and warmer period without much production threat except in the drier areas noted above


West
Texas crop areas will experience a few showers infrequently over the next two weeks and temperatures will be a little warmer than usual with extreme highs of 100 to 106 at times over the coming week
U.S.
northwestern Plains and neighboring areas of Canada's Prairies will continue to experience poor rainfall distributions and warm temperature biases for a while resulting in low soil moisture and some crop stress

The
environment will be good for early season crop maturation and harvesting

U.S.
Delta weather will receive some restricted rainfall and warm temperatures resulting in ongoing low soil moisture and the same will be true for the Tennessee River Basin

Canada's
Prairies will cool down briefly this weekend and then warm up again next week

Additional
cooling is expected near mid-month
Showers
will be a little too erratic and often light to have a big impact on crops or field conditions

Net
drying is expected in many areas

August
14-20 may trend wetter in southeastern parts of the Prairies

Ontario
and Quebec weather is mostly good with alternating periods of rain and sunshine over the next two weeks

Recent
rain bolstered topsoil moisture and removed concern over dryness
Net
drying is expected for a while in this coming week, but crop conditions will remain very good

Xinjiang
China experienced warm temperatures and most dry conditions in key cotton production areas Wednesday while the northeast part of the province was a little milder than usual and reported a couple of showers

Xinjiang
weather is not likely to change much in the next week or two

Alternating
periods of rain and sunshine will impact much of eastern China over the next two weeks resulting in favorable crop development

Net
drying is expected in the middle and lower Yangtze River Basin during the coming week with some rain possible in the August 16-20 period
Flooding
in the northern and lower Yellow River Basin will subside in this coming week as alternating periods of rain and sunshine continue
Most
crops in eastern China will either be improving or experience status quo conditions in the next ten days

Any
flooding will be confined to Shandong and northern Jiangsu today and in a few random other locations during the remainder of the next week to ten days

Rain
is needed in Ivory Coast and Ghana where amounts over the past 30 days were well below average

The
region is not likely to see much moisture of significance for a while (at least two weeks)
Temperatures
may be a little cooler than usual as well

Rain
in Europe recently has been restricted to mostly eastern crop areas

Temperatures
are warming up in western parts of the continent and will be very warm to hot for a while this weekend before shifting to the central parts of the continent next wee

France,
the United Kingdom, Belgium and a few neighboring areas will experience limited rainfall through the weekend and very warm to hot temperatures and then a chance for rain will evolve

Highest
temperatures through Monday will be in the 80s and 90s with readings over 90 as far north as southern England and as far east as Germany
Rain
next week in these western European crop areas will vary from 0.50 to 2.50 inches with western France and southern parts of the U.K. wettest


Portions
of eastern Russia's New Lands are still a little too dry and not likely to see much relief into early next week, but rain prospects are improving for later next week

Rain
is expected in the Ural Mountains region periodically in the next couple of weeks and some of that rain may be heavy at times over the next five to seven days

The
moisture will be good for immature spring wheat and sunseed, but early maturing crops may find the wet biased conditions a threat to grain quality

Dryness
in the eastern New Lands will maintain some stress and downward pressure on spring wheat and sunseed yields in some of the driest areas

Rain
is advertised in a part of this dry region next week and if it verifies late season crop improvements will be possible

Production
losses in the eastern New Lands should not be dramatic because it was not persistently hot and dryness was rarely at a critical level, but enough stress occurred to raise a little concern over production for a part of the region

Dry
weather is also expected in Ukraine a many areas southeast into Russia's Southern Region and parts of western Kazakhstan during the next two weeks
Southeast
Asia rainfall is expected to continue erratic with a need for greater rain in parts of Indonesia and Malaysia

Much
of Indonesia and Malaysia were dry Thursday and rainfall will continue erratic and sometimes notably less than usual into next week

Recent
rain in eastern Thailand, Laos and northern Vietnam improved crop and field conditions after poor rainfall earlier this summer, but the region has begun to dry down again

Greater
rain is needed in western and southern Thailand

Flooding
rain is expected in western and southern Myanmar over the next couple of weeks
Flooding
is also expected along India's west coast and in a few random locations in central and eastern India during the next ten days
Northwestern
India (mostly northwestern Rajasthan) will continue too dry for the next ten days along with parts of southern Pakistan

Irrigated
crops will remain in favorable condition, but significant rain is needed for the dryland crop
Southern
India will also experience an erratic rainfall pattern for a while and greater rain would be welcome

Recent
rain in interior central and northern India has dropped below average in recent weeks

A
boost in rainfall is needed and it may be a little slow in coming

Most
crop conditions are still rated favorably, but getting a boost in rainfall later this month will be very important

Australia's
rainfall outlook remains very good with much of the nation's wheat, barley and canola to get timely rainfall in the next ten days support improved crop establishment prior to the more aggressive growth season beginning in late August and September
Argentina's
drought stricken wheat areas will continue dry for a while with little chance for change in Cordoba or Santa Fe which are two important wheat production areas.


Buenos
Aires wheat conditions are still rated favorably along with some in southeastern Santa Fe, Entre Rios and a few areas in La Pampa

Southern
Brazil will receive rain next week and it will be good for winter wheat

Most
of the precipitation will fall in Rio Grande do Sul, Santa Catarina, Parana, Paraguay and southern Mato Grosso do Sul leaving areas to the north a little dry

Rain
will soon be needed for early season corn planting and emergence and for improving wheat production potentials

Dry
weather is expected over this coming week in most of Brazil except coastal areas from Espirito Santo to Bahia where rain is expected periodicall

Mexico
precipitation in the coming week to ten days will be greatest in western and southern parts of the nation benefiting many corn, sorghum and dry bean production areas

Coffee,
citrus, sugarcane and many fruit and vegetable crops will also benefit
Northeastern
Mexico will be mostly dry

Some
of the region is drought stricken

Central
America rainfall will increase later this week and become more significant next week
New
Zealand rainfall will be below average during the coming week, but August 16-20 is expected to trend much wetter
Southern
Oscillation Index was +5.04 this morning and it will continue to rise over the next few days
Source:
World Weather Inc.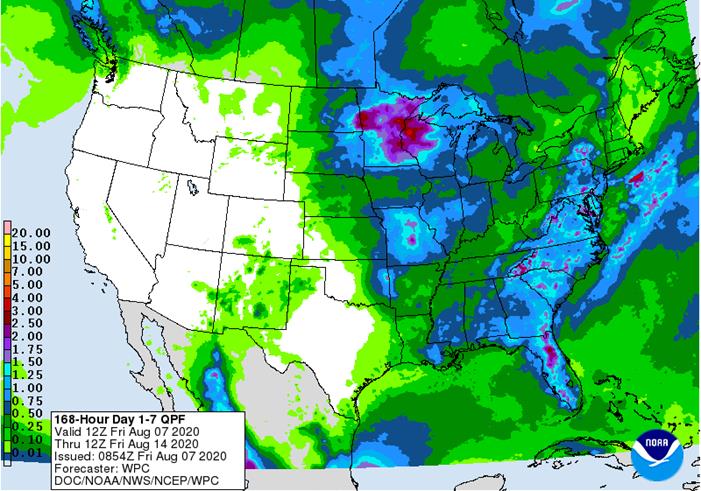 USDA
weekly corn, soybean, wheat export inspections, 11am
U.S.
crop conditions for soybeans, corn, cotton; wheat harvesting progress, 4pm
ISO
webinar on Covid-19/macro outlook for sugar
Malaysian
Palm Oil Board data on July end-stockpiles, production, exports
Malaysia
palm oil export data for August 1-10
EU
weekly grain, oilseed import and export data
Ivory
Coast cocoa arrivals
Brazil
Unica cane crush, sugar production (tentative)
HOLIDAY:
Japan, Singapore
TUESDAY,
August 11:
Brazil
Conab releases area, production and yield data for corn, soybeans
EARNINGS:
Wilmar
WEDNESDAY,
August 12:
USDA's
monthly World Agricultural Supply and Demand (Wasde) report, noon
China
CASDE monthly crop supply and demand report
Vietnam
data on coffee, rice and rubber exports in July
EIA
U.S. weekly ethanol inventories, production, 10:30am
U.S.
soybean, corn acreage, noon
EARNINGS:
BRF, Marfrig
HOLIDAY:
Thailand
THURSDAY,
August 13:
USDA
weekly crop net-export sales for corn, soybeans, wheat, cotton, pork, beef, 8:30am
Port
of Rouen data on French grain exports
New
Zealand Food Prices
EARNINGS:
JBS, Olam
FRIDAY,
August 14:
ICE
Futures Europe weekly commitments of traders report, 1:30pm (6:30pm London)
CFTC
commitments of traders weekly report on positions for various U.S. futures and options, 3:30pm
FranceAgriMer
weekly update on crop conditions
EARNINGS:
Golden Agri-Resources
SATURDAY,
August 15:
Malaysia
palm oil export data for Aug 1-15 from AmSpec
Source:
Bloomberg and FI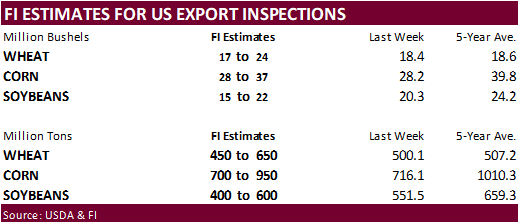 FUTURES
+ OPTS Managed Swaps Producer

Net Chg Net Chg Net Chg
Corn
-172,820 -29,540 209,085 993 -62,257 36,037
Soybeans
44,219 -17,942 141,433 12,432 -187,971 17,978
Soymeal
-20,985 -1,521 85,798 8,687 -96,907 199
Soyoil
48,333 10,784 85,831 1,982 -154,167 -16,210
CBOT
wheat 1,178 -520 89,060 8,524 -83,337 -5,815
KCBT
wheat -25,811 -6,786 49,369 1,310 -25,166 5,004
MGEX
wheat -22,000 -875 2,365 52 14,119 1,385

———- ———- ———- ———- ———- ———-
Total
wheat -46,633 -8,181 140,794 9,886 -94,384 574
Live
cattle 38,179 4,556 83,657 965 -130,215 -4,133
Feeder
cattle 6,612 1,160 4,933 725 -5,223 -624
Lean
hogs 13,571 2,850 46,625 1,219 -60,886 1,694
Source:
CFTC, Reuters and FI

<![if !supportLists]>·
<![endif]>US Change In Nonfarm Payrolls Jul: 1763K (est 1480K; prevR 4791K; prev 4800K)
<![if !supportLists]>·
<![endif]>US Unemployment Rate Jul: 10.2% (est 10.6%; prev 11.1%)
<![if !supportLists]>·
<![endif]>US Average Hourly Earnings (M/M) Jul: 0.2% (est -0.5%; prevR -1.3%; prev -1.2%)
<![if !supportLists]>·
<![endif]>US Average Hourly Earnings (Y/Y) Jul: 4.8% (est 4.2%; prev 5.0%)
<![if !supportLists]>·
<![endif]>US Change In Private Payrolls Jul: 1462K (est 1200K; prevR 4737K; prev 4767K)
<![if !supportLists]>·
<![endif]>US Change In Manufacturing Payrolls Jul: 26K (est 255K; prevR 357K; prev 356K)
<![if !supportLists]>·
<![endif]>US Gvt Payrolls: 301K (prevR 54K; prev 33K)
<![if !supportLists]>·
<![endif]>US Average Weekly Hourly All Employees Jul: 34.5 (est 34.4; prev 34.5)
<![if !supportLists]>·
<![endif]>US Labour Force Participation Rate Jul: 61.4% (est 61.8%; prev 61.5%)
<![if !supportLists]>·
<![endif]>US Underemployment Rate Jul: 16.5% (prev 18.0%)
<![if !supportLists]>·
<![endif]>US Wholesale Inventories (M/M) Jun F: -1.4% (est -2.0%; prev -2.0%)
–
Wholesale Trade Sales Jun: 8.8% (est 5.0%; prev R 5.7%)
<![if !supportLists]>·
<![endif]>Canadian Net Employment Change Jul: 418.5K (est 380K; prev 952.9K)
<![if !supportLists]>·
<![endif]>Canadian Unemployment Rate Jul: 10.9% (est 11.0%; prev 12.3%)
<![if !supportLists]>·
<![endif]>Canadian Full Time Employment Change Jul: 73.2K (prev 488.1K)
<![if !supportLists]>·
<![endif]>Canadian Part Time Employment Change Jul: 345.3K (prev 464.8K)
<![if !supportLists]>·
<![endif]>Canadian Hourly Wage Rate Permanent Employees (Y/Y) Jul: 5.7% (est 5.4 %; prev 6.8%)
<![if !supportLists]>·
<![endif]>Canadian Participation Rate Jul: 64.3% (est 64.5%; prev 63.8%)
We
look for USDA to increase to 2.300 billion bushels when reported by USDA on August 12 from current 2.150 billion bushels, up from 1.775 billion for 2019-20. US corn new-crop comments are running at their highest level since at least 2002-03, from our analysis.
They actually could be at a record.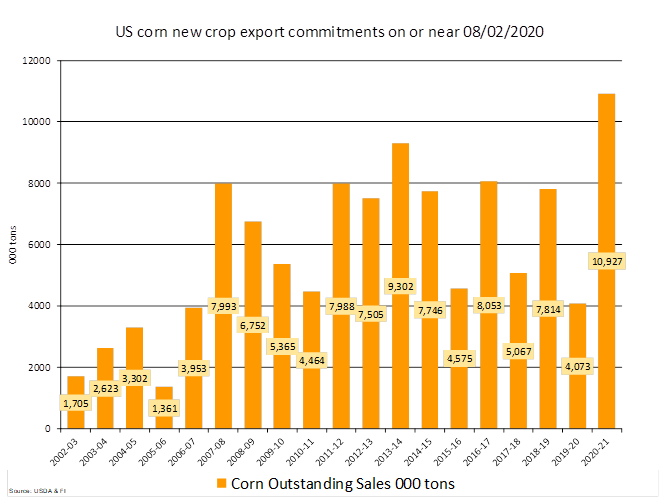 China
corn futures traded lower on Friday and at one point were head for their largest weekly decline since December 2018. China has been scrambling to find alternative feedgrains to replace expensive corn. They are sourcing feed wheat for animal use.

FranceAgriMer
reported as of August 3, the corn crop rating declined to 74% against 77% in the previous week, following a three point decline the previous week. They compare to 60 percent a year ago.

Reuters:
"The Renewable Fuels Association spent $339,676 toward lobbying efforts during the second quarter, according to a U.S. Senate database that tracks lobbying disclosures. That was down 12% from the same time last year and 4% from the prior quarter."
Corn
Export Developments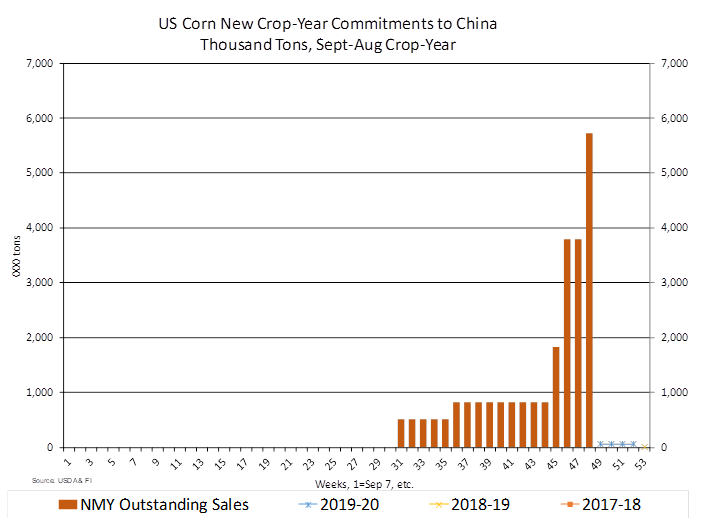 Source:
Reuters and FI
September
corn is seen in a $3.00 and $3.25 range. December lows could reach $2.95 (Updated 8/3). The US is staring down at a large crop.